---
Crew
Director – Natalie Erika James, Screenplay – Natalie Erika James & Christian White, Producers – Jake Gyllenhaal, Anna McLeish, Riva Marker & Sarah Shaw, Photography – Charlie Sarroff, Music – Brian Reitzell, Visual Effects – Unityfx (Supervisors – Murray Curtis & Gene Hammond-Lewis), Special Effects – DTFX (Supervisor – David Trethewey), Prosthetic Makeup/Creature Designer – Larry Van Duynhoven & Scarecrow Studios, Production Design – Steven Jones-Evans. Production Company – AGBO Films/Carver Films/Nine Stories.
Cast
Bella Heathcote (Sam), Emily Mortimer (Kay), Robyn Nevin (Edna), Chris Bunton (Jamie)
---
Plot
Kay and her daughter Sam travel to the countywide to see if Kay's aged mother Edna is alright. They arrive at her home only to find Edna missing and indications around the house that she has lapsed into dementia. Edna then makes a return but is vague about where she has been. Medical checks prove that she is cogent and in good health. Kay starts making plans to move Edna into a retirement home in Melbourne. Sam protests that Edna is not being consulted about this and suggests to Edna that she move into the house to look after her. However, they cannot be certain if Edna is gradually losing her mind or there are more sinister forces in the house.
---
Relic – not to be confused with the monster movie The Relic (1997) – was a directorial debut for Australian director Natalie Erika James. James had previously made four short films. For a complete unknown, James has managed to bring on board some impressive names with the film being produced by A-list actor Jake Gyllenhaal and his production company Nine Stories and executive producer by Anthony and Joe Russo, the directors of Avengers: Infinity War (2018) and Avengers: Endgame (2019) via their production company AGBO Films.
Natalie Erika James says she came up with the idea for the film after a trip to Japan to visit her grandmother who was suffering Alzheimer's and failed to even recognise who Natalie was. This has been extended out into a horror film that sits in an interesting place of ambiguity where dementia is posited as an explanation that sits alongside traditional elements of the haunted house film.
Relic is a beautiful slow burn of a film. Natalie Erika James takes her time in building. The film in very minimalist in nature. All it is is a house – with some very occasional ventures out into the adjoining woods and town – and three actresses with minor appearances from one or two others but for no more than a couple of scenes. (This could in fact in the ideal Bechdel Test film where the only significant characters present are all women and the only men present are on the periphery of the film. Moreover, no men are ever discussed in anything more than a couple of lines of dialogue about the dead grandfather).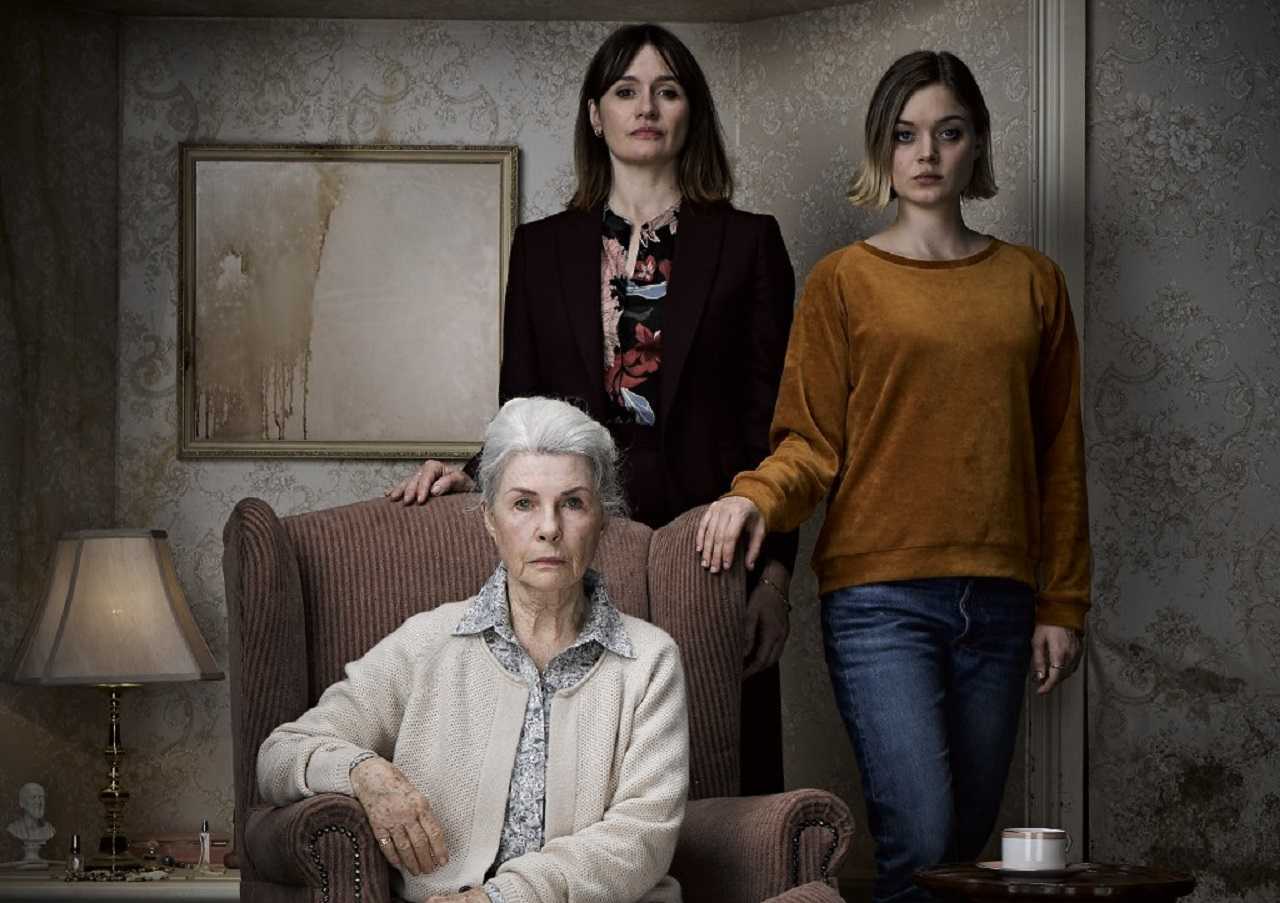 The house has been set dressed to resemble a particular era. (It drew me back very much to the homes of various relatives growing up as a child that always felt as though one were stepping back in time to a museum of a different era swathed in dusky antiquity). We are slowly absorbed by the horror of Robyn Nevin losing her mind. Something else might be happening but we can't place a finger on it. We are not quite sure what all the scenes with Robyn Nevin developing blackened skin on her chest, the various knockings in the wall, the on again/off again tumble drier and Nevin burying photographs in the woods is all about.
Even when we find out what is going on, we are not quite sure what is going on. You make the assumption at the outset that Relic is a haunted house film but it isn't. It's more like one of the sinister houses that appear to be topographically shifting and/or expanding similar the ones we have in films like Burnt Offerings (1976), Rose Red (2002), Girl on the Third Floor (2019) and in particular You Should Have Left (2020). Unlike most standard haunted house films, there is no backstory – there is mention made of the grandfather's shed and the window taken from it and you expect this to have some relevance to what happens but it never does. The film is so enigmatic about what is happening that I reached the end puzzling over even what theme categories to tag it in and what kind of capsule description to give it.
That said, when Natalie Erika James finally lets the film play off, it is with considerable effect. [PLOT SPOILERS] This comes during the scenes where Bella Heathcote discovers a hidden doorway in a room and opens it to find a labyrinth of rooms, only to become trapped in a maze of walls and doors that lead nowhere except more halls and rooms, even when she breaks through the walls. We finally come to the bizarre image of her and Emily Mortimer smashing through a wall and emerging from the mantel above the fireplace. The other fine image is where Emily Mortimer finally peels the skin off Robyn Nevin's body, stripping her down to a wizened blackened figure and how all three generations, Nevin, Mortimer and Bella curl up in a line on the bed. The film's fadeout on this image is an enigmatic and haunting as the final photograph at the end of The Shining (1980).
---
---