---
Philippines. 2011.
Crew
Director/Photography – Yam Laranas, Screenplay – Aloy Adlawan & Yam Laranas, Producer – Jose Mari R. Abacan, Music/Soundscapes – Johan Söderqvist, Visual Effects Supervisor – Nathaniel Robite, Prosthetics Designer – Mackoy Alabado, Production Design – Joey Luna. Production Company – GMA Films.
Cast
T.J. Trinidad (Luis Medina), Rhian Ramos (Ate Lara), Lexi Fernandez (Janine), Carmina Villaroel (Carmela), Marvin Agustin (Boy's Father), Barbie Forteza (Ella), Alden Richards (Teenage Luis), Louise Delos Reyes (Joy), Derrick Montaserio (Brian), John Regala (Chief), Ynn Asistio (Martha), Renz Valerio (Boy Luis), Jacklyn Jose (Sisters' Mom)
---
Plot
Janine accompanies her neighbour Joy and Joy's boyfriend Brian on a drive. They take a detour down a closed off road where they are followed by a mysterious car that becomes increasingly threatening in its actions, as well as appearances of the ghostly figure of a girl with a plastic bag over her head. Luis Medina is one of the police officers that investigate the scene afterwards. For him, it brings back memories of a case in 1998 where two girls went missing after being abducted and imprisoned by the young man who lived in the woods. This is in turn connected to an incident back in 1988 when a young boy was abused by his religious extremist mother and told that it was a sin to go out of doors or even associate with women.
---
The Road – not to be confused with John Hillcoat's post-holocaust film The Road (2009) or the Cormac McCarthy novel it is based on – is an entry in the Asian horror film that hails from the Philippines. Filipino horror is not exactly a genre that stands out – unless one wants to look back at the 1970s and the heyday of US-shot exploitation cinema beginning with Mad Doctor of Blood Island (1969) and its sequels and ilk. After the popularity of Japan's Ring (1998) and Ju-on: The Grudge (2003), numerous copies seeking to exploit the J-horror fad spread all around the Asian Pacific region and had imitators in countries like South Korea, Thailand, Taiwan, even Indonesia.
Amid this wave, Yam Laranas appears to be determined to be the premiere Filipino horror director of the 00s. He had previously ventured into the horror genre with the well-received The Echo (2004) and then its US English-language remake The Echo (2008), as well as the supernatural horror Patient X (2009), Abomination (2018), Aurora (2018) and Nightshift (2020).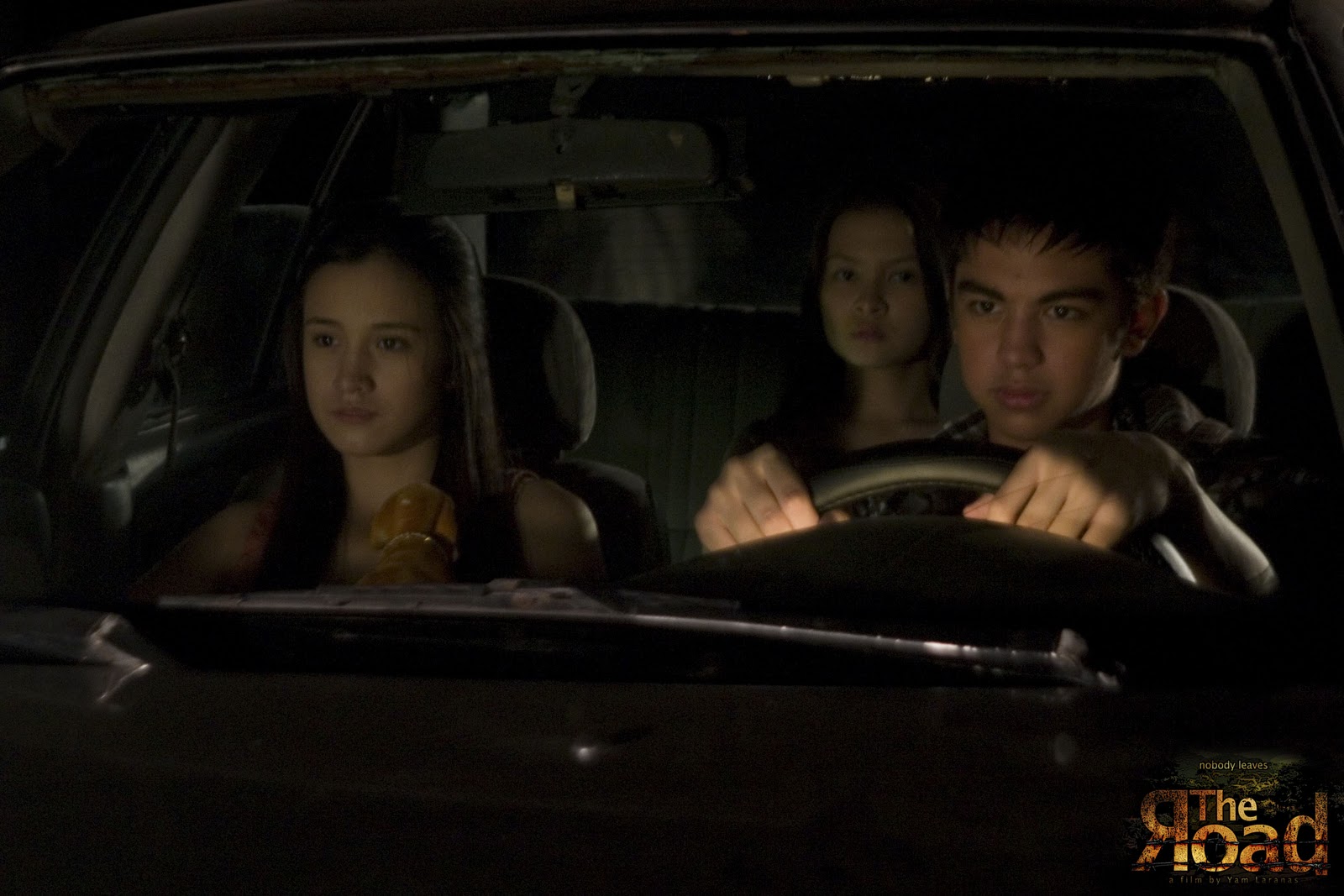 The Road starts promisingly by offering up a multi-stranded story that crosses different eras with each section jumping back a decade and offering explanations and surprise revelations about the foregoing characters we have seen. Yam Laranas does a low-key job as a director. That said, during the opening 2008 sequence, he manages to convey quite a reasonable degree of haunted atmosphere in the scenes with the three friends being pursued down a private road by a mysterious vehicle and a dead body with a plastic bag over its head turning up everywhere.
The second story is somewhat quieter – Laranas never pushes it for the torturous extremes that many other works in the imprisonment genre have but the episode has a spooky spin to it as Rhian Ramos escapes and then discovers the voice of her friend calling is really that of a ghost. The final segment manages to juggle the mix of ghost story and psycho film well – which has almost never worked in combination on screen – and it too holds a number of surprises that gently bring the film together. More of a quiet film than one that is out and out spooky but modestly effective nevertheless.
---
---