---
Crew
Directors – (Episodes 1&2) Mike Flanagan, (Episodes 3&4) Michael Fimognari, (Episode 5) Emmanuel Osei-Kuffour, Jr., (Episodes 6&7) Axelle Carolyn, (Episode 8&9) Viet Nguyen & (Episode 10) Morgan Beggs, Teleplay – (Episodes 1&10) Mike Flanagan & Leah Fong, (Episode 2) Julia Bicknell, Mike Flanagan & Leah Fong, (Episode 3&9) Mike Flanagan & Elan Gale, (Episode 4) Jamie Flanagan & Mike Flanagan, (Episodes 5&8) Julia Bicknell & Mike Flanagan, (Episode 6) Mike Flanagan & Chinaka Hodge, (Episode 7) – Jamie Flanagan, Created by Mike Flanagan & Leah Fong, Based on the Books of Christopher Pike, Producer – Kathy Gilroy, Photography (Episodes 1-2&5-7) – James Kniest, (Episode 3&4) Michael Fimognari, (Episode 8&9) Corey Robson & (Episode 10) Lindsay George, Music – The Newton Brothers, Visual Effects – Zoic Studios (Supervisor – Rob Price), Special Effects Supervisor – Quinn Rockhill, Makeup Effects – Masters FX, Production Design – Laurin Kelsey. Production Company – Intrepid Pictures.
Cast
Iman Benson (Ilonka), Igby Rigney (Kevin), Ruth Codd (Anya), William Chris Sumpter (Spencer), Annarah Cymone (Sandra), Aya Furukawa (Natsuki), Sauriyan Sapkota (Amesh), Adia (Cheri), Heather Langenkamp (Dr Georgia Stanton), Samantha Sloyan (Shasta), Zach Gilford (Mark), Matt Bedel (Tim), Emilia Baranac (Katherine), Crystal Balint (Maggie), Rahul Kohli (Vincent Beggs), John C. McDonald (Christopher Perry), Henry Thomas (Freedom Jack), Alex Essoe (Poppy Corn), Michael Trucco (Frederick), Jason O'Mara (Pale Man), William B. Davis (The Mirror Man)
---
Plot
It is 1994. Teenager Ilonka is diagnosed with terminal thyroid cancer that has spread to her lungs and is given less than a year to live. After some internet research, she asks to be sent to the Brightcliffe hospice run by Dr Georgina Stanton. Ilonka has found reports of Julia Jayne who experienced a miraculous cure in 1968 and believes that the place holds secrets that can allow others to achieve this. Signing in, she then discovers that the other teenage patients hold The Midnight Club where they gather in the library at midnight and tell ghost stories. As Ilonka becomes wound up in the lives of the other Midnight Club patients, she seeks the secrets of Ancient Greek rituals that are hidden at Brightcliffe.
---
Director Mike Flanagan has emerged as one of the major genre names in the last few years. Flanagan caught genre attention with his fourth film, the extraordinary Absentia (2011) and then passed through several Blumhouse collaborations, Oculus (2013), Hush (2016) and Ouija: Origin of Evil (2016), and other works like Before I Wake (2016) and a duo of Stephen King adaptations Gerald's Game (2017) and Doctor Sleep (2019).
Flanagan hit his peak when he adapted the Shirley Jackson novel into the Netflix mini-series The Haunting of Hill House (2018) to great acclaim. Since then, Flanagan has found a welcome home on Netflix, creating various horror TV Mini-Series. He created, oversaw and directed one episode of the Hill House follow-up The Haunting of Bly Manor (2020) and went on to make Midnight Mass (2021), while producing, directing two episodes and co-writing all of the episodes of The Midnight Club. In addition, he has an adaptation of Edgar Allan Poe's The Fall of the House of Usher (1839) waiting in the wings.
Rather than classic ghost stories, Flanagan this time turns to more recent source material with the works of US author Christopher Pike (presumably no relationship of the original captain of the USS Enterprise) who writes horror tales for the Young Adult market. The mini-series is drawn from Pike's novel The Midnight Club (1994), while each of the episodes is named after one of the stories that appear in the collection. Pike's works had previously been adapted as the US tv movie Fall Into Darkness (1996) and the Canadian tv series Spooksville (2013-4), which only lasted for one season.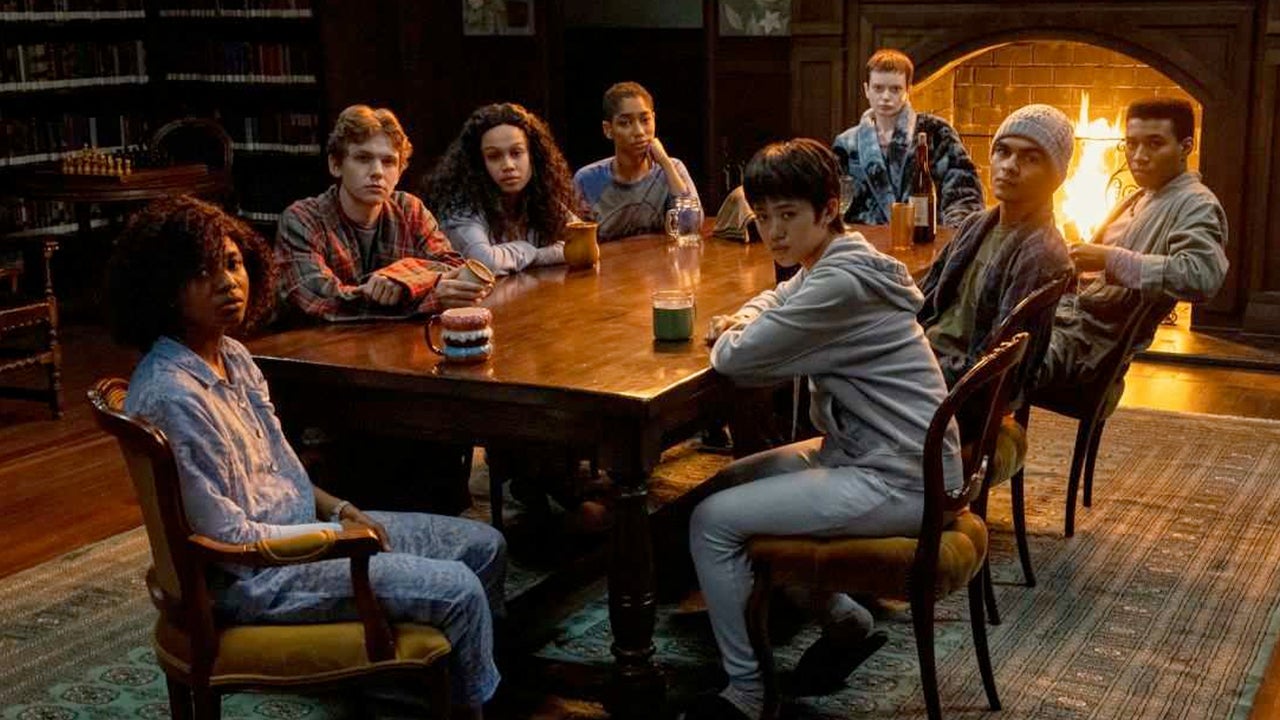 You assume at the outset that The Midnight Club is going to be an Anthology series akin to Tales from the Crypt (1989-96) or maybe a Goosebumps story. Mike Flanagan says he was inspired by the Canadian series Are You Afraid of the Dark? (1990-6, 1999-2000, 2019- ), which features a group of teenagers called The Midnight Society who sit around in the woods telling ghost stories. What you are also reminded of is the recent trilogy of R.L. Stine adaptations – Fear Street 1994 (2021), Fear Street 1978 (2021) and Fear Street 1666 (2021) – that took books written for an adolescent audience and filmed them with much more adult sensibilities.
That said, the anthology label isn't entirely inaccurate. We do have kids in a hospice who gather to tell stories. On the other hand, the stories they tell are not the primary focus of the mini-series. They are part of each episode but the majority of each story is focused on the kids, their interactions and the secrets and possibly miraculous nature of the hospice. I was disappointed with Mike Flanagan here as the stories themselves are nothing special. There is none that could stand up there as worthy of the original The Twilight Zone (1959-63) or The Outer Limits (1963-5) – the best of these is See You Later about a nuclear war videogame that ends up with a series of interesting time travel convolutions (although you suspect this would have worked far better as a feature-length film).
The primary focus of the series is the characters and their interactions. In some regards, this is a standard Young Adult work akin to something like the various DeGrassi tv series that just happens to be set among a set of patients in a hospice. We follow the assorted dramas – the Christian girl who learns tolerance of the gay character with AIDS; his reconciliation with his religious mother; the romantic connection between two of the couples.
Of these, the entre show gets stolen by the abrasively sharp-tongued performance from Ruth Codd, an Irish actress with an amputated right leg who was discovered on TikTok and had never acted before this. Another surprise among the cast is Heather Langenkamp, once Nancy in A Nightmare on Elm Street (1984), now in her late fifties (although looking well into her sixties). I'd dismissed Langankamp as a superficial actress in the Elm Street films but she has matured and gives a performance of some substance here.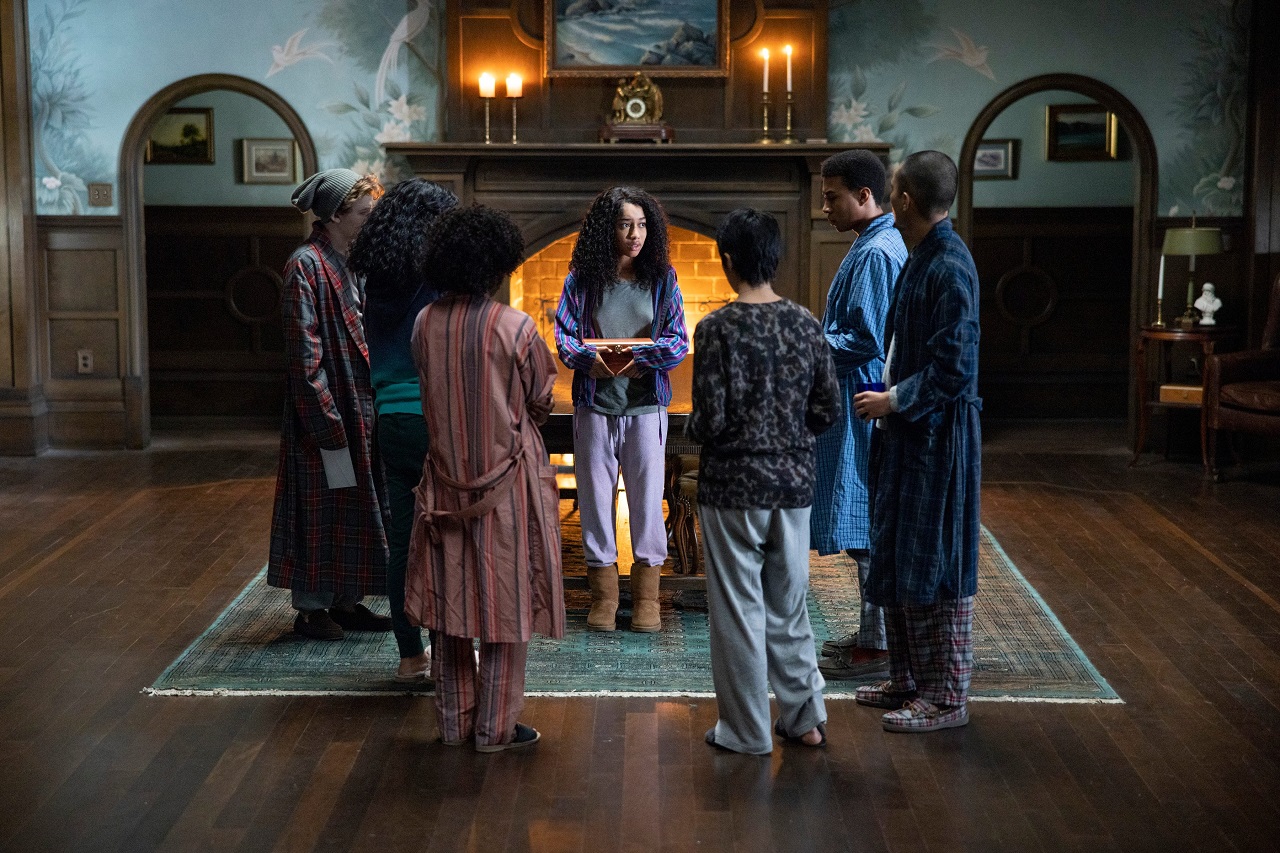 There is a B plot about the hospice being the place where one woman walked away from it supposedly miraculously healed – the identity of this characters is fairly easy to guess (I was able to do so from a third of the way through the series). There is also talk about the cult who lived at the building in the past, although given that the series extends to ten episodes of around 50 minutes each, the cult become a Chekov's Gun that are raised but then forgotten about (although the final scene of the show gives some hint that this is being held back for a possible second season).
I have expected amazing things from Mike Flanagan's series. By contrast, I thought The Midnight Club was okay but nothing that came anywhere near ending up on my Top 10 of the year list as Flanagan's last three horror mini-series have. The Flanagan directed opening episode might have the world record for the largest number of jumpscares but in all honesty I wouldn't have noticed if I hadn't seen it mentioned somewhere – certainly, looking back at the series there is not a single one of them that stands out. Indeed, the entire series is singularly lacking in the eerie otherworldly jumps and scares that denote Flanagan's other shows – there is not a single "boo" moment that I end up remembering as I write this up a couple of days after finishing watching the show.
If anything, The Midnight Club serves as another of Mike Flanagan's meditations on the nature of religion and death. Midnight Mass came with a standout scene where Zach Gilford gave an extraordinary soliloquy for the atheist death. The entire series here is centred around a group who have a series of terminal diagnoses, which is something that Flanagan and his co-writers do not shy away from depicting. They get in some solid scenes with the Christian girl (Annarah Cymone) coming to an understanding of how her prejudice affects the gay guy (William Chris Sumpter), while almost the entire final episode has been construed as an illustrated version of Elizabeth Kubler-Ross's stages of grief.
(Nominee for Best Supporting Actress (Ruth Codd) at this site's Best of 2022 Awards).
---
Trailer here
---