---
USA. 2004.
Crew
Director/Screenplay – Sheldon Wilson, Producers – Sheldon Wilson, Martin Mathieu, Jason Ninness & John Tarver, Photography – John Tarver, Music – Steve London, Makeup Effects – Patrick Magee, Production Design – Don Clark. Production Company – Deco Filmworks.
Cast
Timothy V. Murphy (Sheriff Jack Sheppard), Stan Kirsch (Deputy Stuart Dempsey), Lindsay Stoddart (Deputy Laura Russell), Rocky Marquette (Boy), Patty McCormack (Helen Reedy), Natalie Avital (Darby Owens), John Kapelos (Leroy Riley), Steve Eastin (Detective Ray Russell), Chris Hendrie (Albert Underhill), Myron Natwick (Harvey), Tara Killian (Amy Underhill)
---
Plot
The town of Shallow Valley is closing down following the completion of a big dam project. The personnel at the sheriff's station are packing up to move on when a naked boy covered in blood walks in. The boy is placed in a holding room but sits and says nothing as they puzzle over who he is. The police find increasingly stranger things about the boy – each of his fingerprints corresponds to a person who has gone missing in the area, including a girl whose disappearance Sheriff Jack Sheppard feels responsible for, while the boy's face is found to be a composite of the faces of each of the missing. The boy also leaks blood that causes those that touch it to have shock flashes of the sins that others hide. At the same time, a hooded killer is also claiming victims in the area.
---
Shallow Ground – which should not be confused with Danny Boyle's fine thriller Shallow Grave (1994) – is an independently made film that gained a modest acclaim at various international horror festivals. It was low budget ($72,000) effort, made largely as a labour of love by the principal talents. The cast are mostly unknowns – the only recognizable names are those of Patty McCormack, once the 11 year-old evil child in The Bad Seed (1956); Canadian actor John Kapelos, probably best known as the human cop partner on tv's Forever Knight (1992-6); and Stan Kirsch who was a regular on tv's Highlander (1992-8).
Shallow Ground brims with a constant strangeness of imagery – the naked boy bleeding from his eyes and mouth or covered in blood and at one point in spiders; the pool of blood creeping under the door and turning direction; the boy's fingerprints turning out to each be one of the missing people in the area; and (rather improbably) deputy Stan Kirsch managing to tear up photos of the missing and finding that they form into a composite of the boy. You cannot deny that director Sheldon Wilson creates Shallow Ground as a film filled with constant weirdness.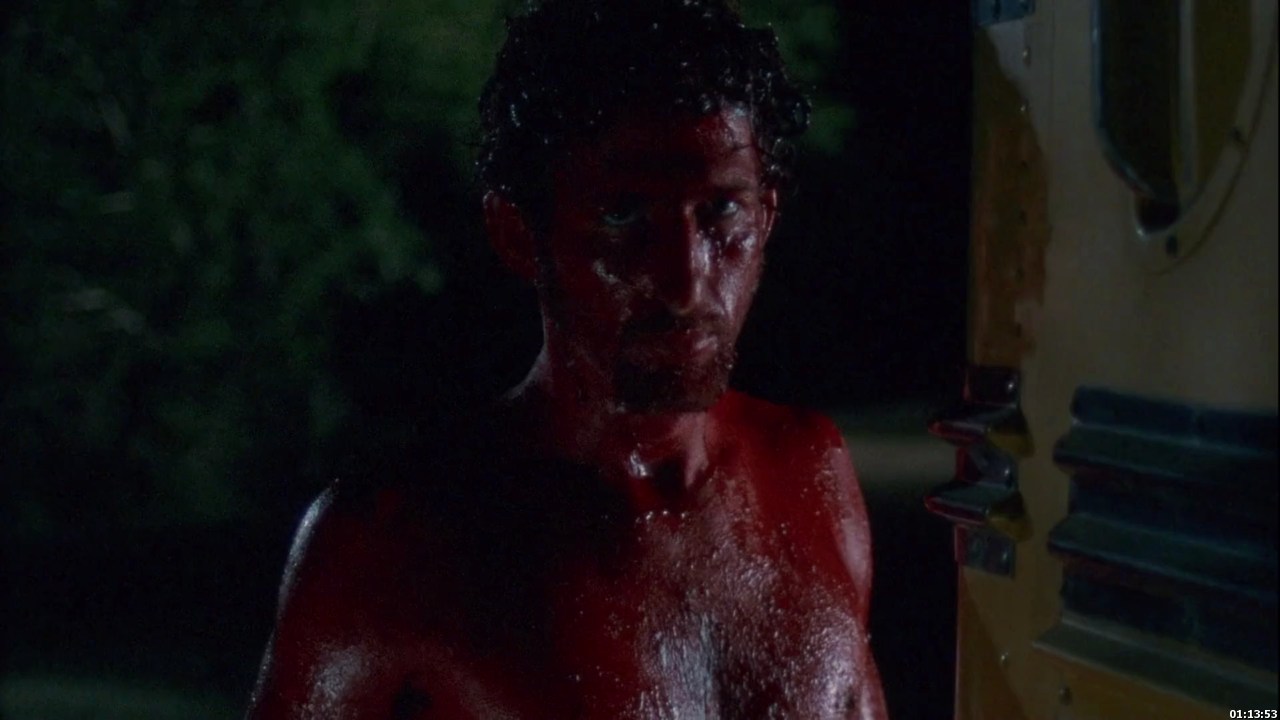 What you also have to accept is that Shallow Ground is a film driven entirely by a novice filmmakers' constant straining for effect. This is particularly the case when it comes to the soundtrack. This is perpetually attempting to pump up atmosphere with slithering strings, groaning horns and slams and bangs, which becomes distractingly over-emphatic in its straining to keep suggesting something sinister happening in even the most innocuous of happenings, like John Kapelos getting out of his truck or talking about renewing his fishing licence. Much of the time – like the first third of the film – Shallow Ground is almost entirely driven by this over-hyped soundtrack.
The other complaint is that Shallow Ground is a film of entirely surreal effect and that none of it makes any sense. There is no explanation of why the dead seem to be coming back everywhere. If the boy is a composite of the murdered dead then why is he targeting people that are not connected to the killings? If he has comes back to seek retribution from the killer then why does the bulk of the film take place in the police station with the boy sitting there manifesting blood and the like when the police station has nothing to do with the murders? There is the confused sense that this seems to be happening to enact vengeance but none of this is made clear. It is also not clear why the killer is tying people up in the woods and killing them. There is also an epilogue where a zombie appears, rams its fist through the boy and tears his heart out, which makes no sense and is connected to nothing else in the film.
Director Sheldon Wilson subsequently went onto make a string of other genre films, mostly for cable release with the likes of Kaw (2007), Carny (2009), Screamers: The Hunting (2009), Mothman (2010), Red: Werewolf Hunter (2010), Killer Mountain (2011), Snowmageddon (2011), Cold Spring (2013), Scarecrow (2013), The Hollow (2015)v, Shark Killer (2015), The Unspoken (2015), The Night Before Halloween (2016), Stickman (2017) and Dead in the Water (2018).
---
---