aka Vengeance: The Demon
---
Crew
Director – Stan Winston, Screenplay – Mark Patrick Carducci & Gary Gerani, Story – Mark Patrick Carducci, Stan Winston & Richard C. Weinman, Inspired by a Poem by Ed Justin, Producers – Richard C. Weinman & Howard Smith, Photography – Bojan Bazelli, Music – Richard Stone, Creature Effects – Alec Gillis, Richard Landon, Shane Patrick Mahan, John Rosengrant & Tom Woodruff Jr, Production Design – Cynthia Kay Charette. Production Company – Lion Films/Billy Blake
Cast
Lance Henriksen (Ed Harley), Jeff East (Chris), John DiAquino (Joel), Cynthia Bain (Tracy), Brian Bremer (Bunt Wallace), Florence Schauffler (Haggis), Joel Hoffman (Steve), Kimberly Ross (Kim), Kerry Remsen (Maggie), Matthew Hurley (Billy Harley), Buck Flower (Mr Wallace)
---
Plot
A group of friends from the city head up to a backwoods cabin for a weekend. While joyriding, they accidentally kill storekeeper Ed Harley's young son Billy. Grief-stricken, the good-hearted Ed goes to the witch Haggis and sells his soul in order to raise a three-metre tall demon to wreak vengeance on his son's killers.
---
It seems entirely appropriate in a decade where horror became driven almost entirely by gooey makeup and creature effects that the makeup men themselves should eventually become the creative forces behind films – in the 1980s and 90s, Chris Walas, Tom Savini, John Carl Buechler, Tom Burman, Screaming Mad George, Bob Keen, Gary J. Tunnicliffe and others all took up the directorial reins to varying effect. In this potentially interesting effort, Oscar-winning makeup man Stan Winston takes the director's seat. Co-written by Gary Gerani, the author of several books on fantastic cinema (albeit mediocre ones), Pumpkinhead/Vengenace: The Demon certainly promised to be better than the average monster movie.
The central three-metre tall title creature is amazing. Stan Winston allows his lighting cameraman to go overboard on the mood lighting, transforming the forest into a realm saturated in perpetual blue mist – it is like Ridley Scott's lighting scheme for Alien (1979) transformed into some demented outdoor disco.
On the minus side, there is surprisingly little effect to all this atmosphere. The teen victims are entirely faceless and their dispatches are conducted with frustratingly little ceremony or surprise. Pumpkinhead is a noble attempt to create a new type of monster movie, but placing a new monster in old surroundings is not enough for that to work and the film as a whole is disappointingly routine.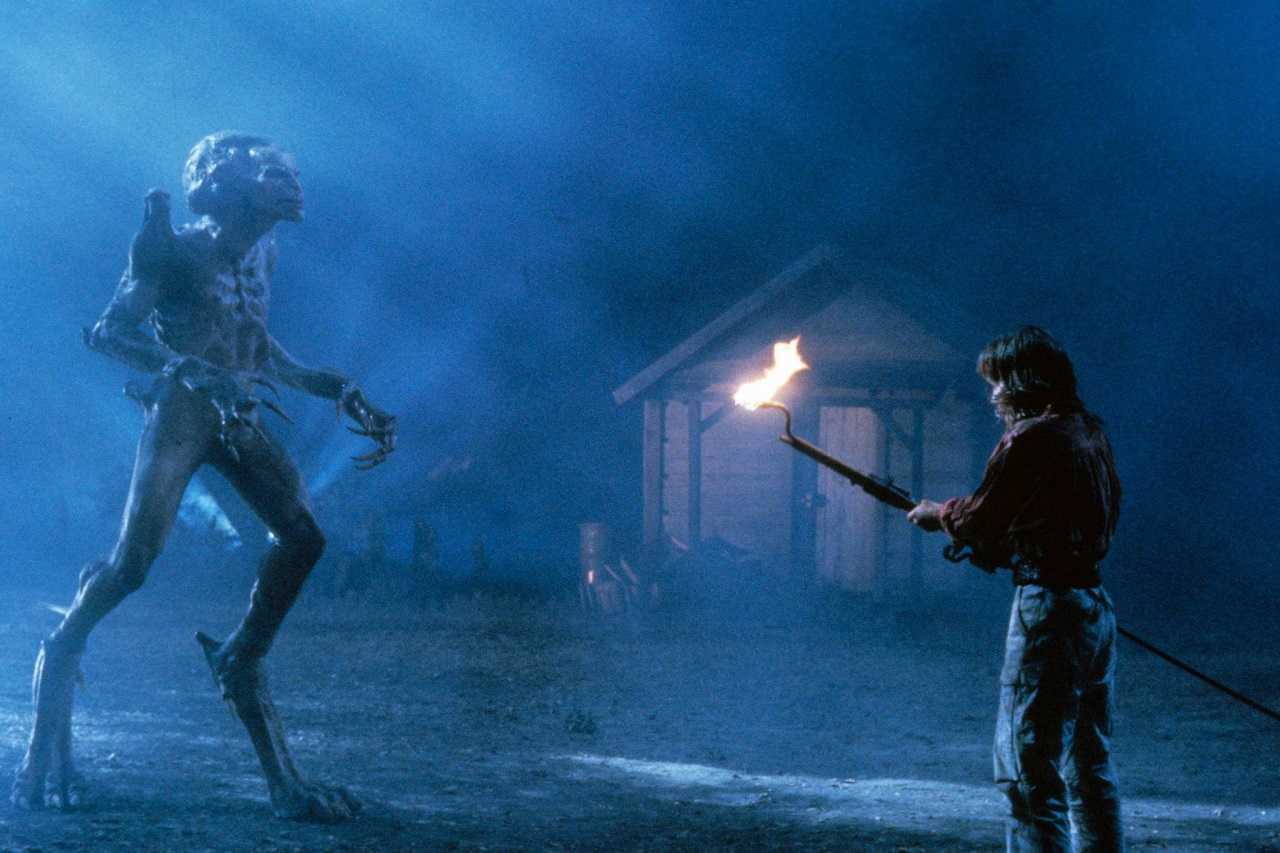 Stan Winston's greatest successes come from his cast. Florence Schauffler, in old age makeup that makes her look around 110 and with a creaky backwoods accent that reveals a disturbing intelligence cackling inside, is terrifying. Lance Henriksen maintains a fine grasp of regional accent and creates a good deal of conviction in what should have been a role of considerable moral ambiguity. Unfortunately it never is and the film displays little affinity for the tapping of Henriksen's wrath and hurt. The journey to the graveyard and revival of the creature should be emotionally wrought scenes – after all, they do involve Lance Henriksen's selling his soul to the Devil – but instead are routine.
Pumpkinhead II: Blood Wings/The Revenge of Pumpkinhead II: Blood Wings (1994) was a sequel. In the 00s, the franchise was revived for a series of further sequels with Pumpkinhead: Ashes to Ashes (2006) and Pumpkinhead: Blood Feud (2007). Lance Henriksen does not appear in Blood Wings but returned for the subsequent two sequels.
Stan Winston's next and only other directorial outing was the terrible Upworld/A Gnome Named Gnorm (1991) about a cop partnered with a gnome. There were persistent rumours for several years that Winston would direct a remake of the sf classic Forbidden Planet (1956) but this did not emerge and Winston returned to doing what he does best, creating creature effects, up until his death in 2008. In other genre material, Stan Winston also co-directed T2 3-D: Battle Across Time (1991), the Universal Studios theme park ride based on Terminator 2: Judgment Day (1991), and the 38 minute videoclip for Michael Jackson's Ghosts (1997). Winston also served as producer on the cable tv series Creature Features, a series of films made using the titles of 1950s B movies – The Day the World Ended (2001), Earth vs. the Spider (2001), How to Make a Monster (2001), She Creature (2001) and Teenage Caveman (2001). Winston also formed Stan Winston Productions, which produced Wrong Turn (2003) and The Deaths of Ian Stone (2007).
---
---