---
USA. 1983.
Crew
Director/Producer – Jim Sotos, Screenplay – Erwin Goldman, Photography – James L. Carter, Music – Tommy Vig. Production Company – Sweet Sixteen Productions/Productions Two.
Cast
Bo Hopkins (Sheriff Dan Burke), Aleisa Shirley (Melissa Morgan), Susan Strasberg (Joanne Morgan), Dana Kimmell (Marci Burke), Patrick MacNee (Dr John Morgan), Steve Antin (Hank Burke), Sharon Farrell (Kathy Hopkins), Don Stroud (Billy T. Franklin), Don Shanks (Jason Longhadow), Logan Clark (Jimmy), Michael Pataki (George Martin), Henry Wilcoxon (Greyfeather), Larry Storch (Earl), Michael Cutt (Frank), Glenn Withrow (Johnny Franklin), Tony Perfit (Tommy Jackson)
---
Plot
In the small Texas town of Sun Valley, Sheriff Dan Burke is faced with a spate of murders. All of the victims are those who have been hanging out with sultry Melissa Morgan who is about to turn sixteen next week. Dan's teenage daughter Marci conducts her own investigation. The murders are blamed on Indians working on Melissa's father's archaeological dig of but neither Dan or Melissa believe that to be the case.
---
Sweet Sixteen was the third film for Jim Sotos (born Dimitri Sotirakis). Sotos had previously made the martial arts documentary The Super Weapon (1976) and Forced Entry (1979), a horror film about a serial rapist. He followed Sweet Sixteen with two comedies Hot Moves (1984) and Beverly Hills Brats (1989) and then disappeared from the radar. Sweet Sixteen did receive theatrical distribution but was not widely seen when it came out.
Sweet Sixteen plays out in fairly standard ways. There are a series of murders of people that are attracted to or make out with teenager Aleisa Shirley. The big question the film hangs on is whether she Alesia is the killer or it is one of the other characters hanging around the periphery. Though Sweet Sixteen appears as a femme fatale film, Jim Sotos draws more on the slasher film of the day, (For an overview of the genre see Slasher Films).
One ends up having some issues with the film, particularly the suggestions that the title sets up. We have Aleisa Shirley as a girl who we are told is fifteen but is turning sixteen next week. Despite the legal age in the US being eighteen, the film clearly sexualises this fifteen-year-old girl. We see scenes of her tempting and making out with boys, other scenes where the camera focuses on her undressing and one scene where she goes skinny-dipping and emerges from the lake nude. Now Aleisa Shirley was around twenty at the time the film was made so there is technically nothing illegal going on. On the other hand, the film does claim she is fifteen-going-on-sixteen and does a good deal to make its audience erotically respond to this supposed underage girl, which does seem to be heading into a decidedly taboo area.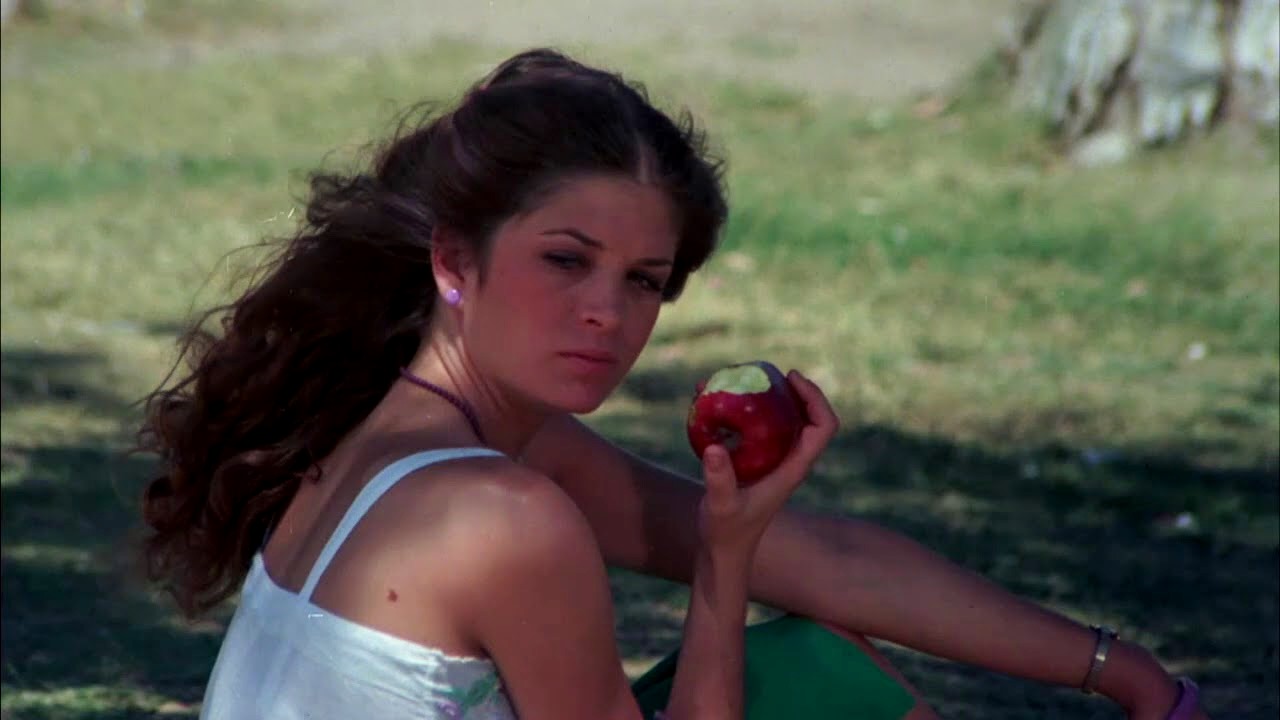 One of the major pluses of the film is Bo Hopkins in the lead. Emerging out of tv into 1970s exploitation cinema, Hopkins became a regular B movie trouper where he comfortable slotted into roles like these as Southern sheriffs and law enforcement types. He is playing about the 178th such role here but does so with an effortless and extremely affable ease. There is also Patrick MacNee, John Steed of tv's The Avengers (1962-9) fame, as the sweet sixteen year-old's archaeologist father, and Susan Strasberg, daughter of the celebrated acting coach Lee Strasberg, as her mother.
The most frustrating thing about the film is the ending. The film expends much effort to suggest that Aleisa Shirley's Melissa is some kind of temptress and that maybe she is killing the people she tempts. There is also a red herring created with the suggestion that this may be the American Indian characters hanging around. Or possibly even that it might have something to do with Melissa's father Patrick MacNee's archaeological dig.
Instead however [PLOT SPOILERS], the film reaches an ending where none of this is the case and the real killer is revealed to be Melissa's mother Susan Strasberg. She had a sister who was committed to an asylum and in some muddled writing Strasberg appears to have developed a split personality of her sister that is doing all the killing. On the other hand, this explanation is revealed to be not the case either as revealed by the final shot that closes in on Aleisa Shirley in freeze frame as she returns home and is revealed to be holding a bloodied knife under her coat.
---
---