USA. 2016.
Crew
Directors/Screenplay – Jay Lender & Micah Wright, Producer – Mark V. Lagrimas, Photography – Tudor Mircea, Music – Jonathan Wandag, Visual Effects – DSG (Supervisor – Dragos Stefan), Special Effects Supervisors – Morbx FX, Daniel Parvulescu & Ian Von Cromer, Production Design – Monica Sorescu. Production Company – Best Served Cold Productions/Warsong Entertainment.
Cast
Brigid Brannagh (Becky Westlake), David Alpay (Greg Abernathy), Kris Lemche (Alex Torini), Carrie Genzel (Kate Banks), Dimitri Diatchenko (Vladimir Filat), Mia Faith (Sarah Ellroy), Cristian Balint (Goran Potsnir), Mircea Constantinescu (Constable)
---
Plot
The crew of the US reality tv series Home Hunters Global return to the tiny village of Pavlovka, Moldova to follow-up on Sarah Ellroy after she relocated there with her husband Goran six months earlier. The locals are extremely superstitious and the crew nearly cause an incident when they sneak a camera into the church and covertly film a ceremony. When the new crewmember Becky Westlake jokingly calls the show's host Kate Banks a witch in the town tavern, the locals suddenly turn cold. The next day, while they are filming out at Sarah's house, the locals surround the house and begin an assault.
---
They're Watching was the first film from the team of Jay Lender and Micah Wright who had previously worked together developing videogames, while Lender also has a background in storyboarding and animation. The two took the film production crew to shoot in Romania – although in that they were actually shooting in Transylvania, one wonders who they did not use that location's association in the horror genre rather than maintain the fiction that everything takes place in neighbouring Moldova.
I have reached a point where I have started to switch off the Found Footage film. In the horror genre at least, it has reached the same point that the zombie and haunted house film has where all of its genre permutations are starting to feel worked out and that filmmakers are now starting to repeat themselves. As I settled in to watch yet another Found Footage film, I had low hopes for They're Watching. That said, the film began to surprise me.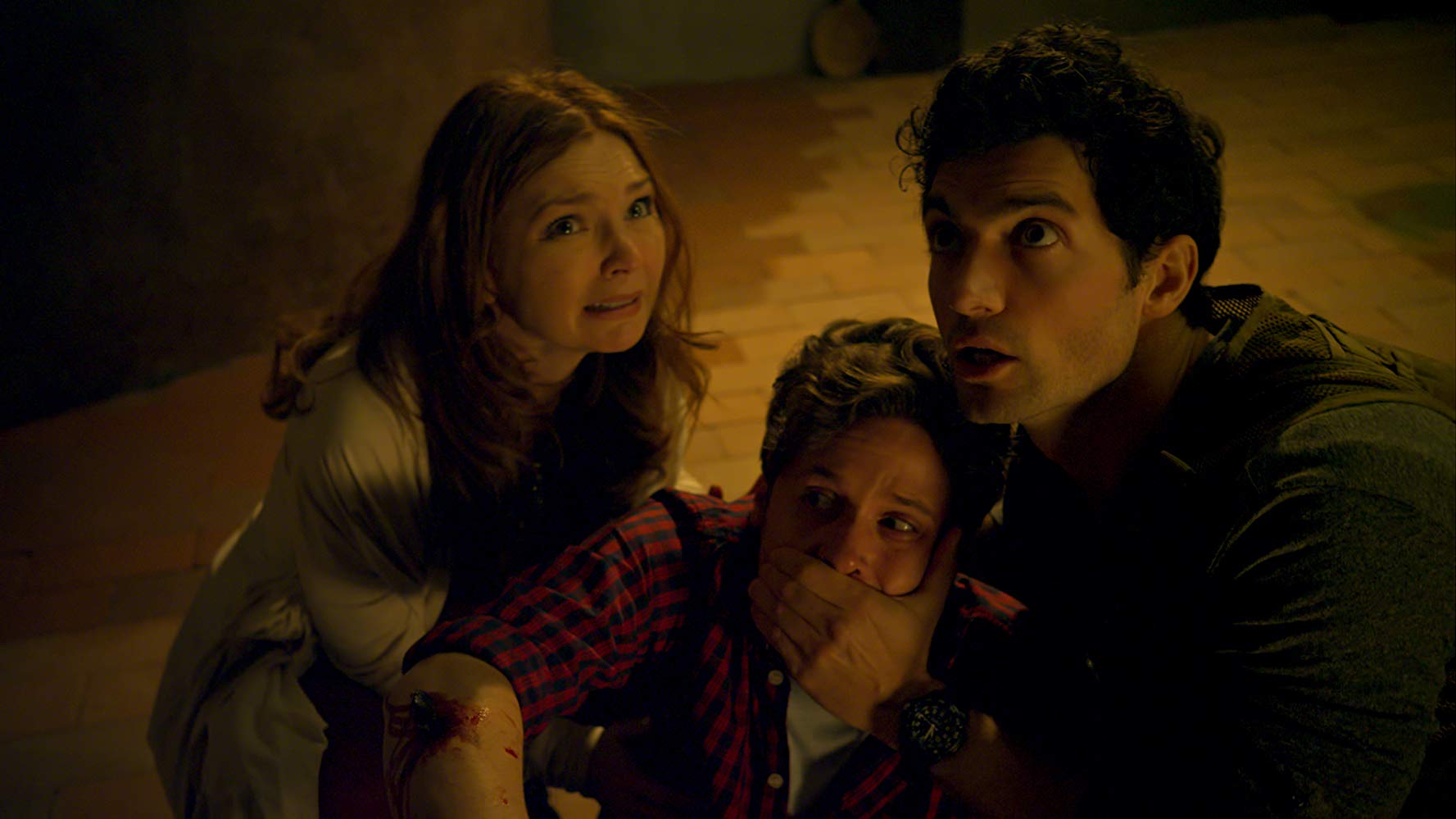 As They're Watching starts in, one's ennui quickly evaporates and it proves an interesting and engrossing film. Lender and Wright are well attuned to their characters. The actors have clearly worked together to create a naturalistic rapport and bounce off each other with a casual ease and sense of humour. There are some great pieces – in particular, a musical improv scene in the pub, which the actors actually shot in camera without any post dubbing.
Lender and Wright build a fair degree of paranoia out of the threatening menace from the villagers – old crones standing watching in the street, a group gathered in the woods beyond the house, and especially in the scene where the crew nearly provoke an incident by surreptitiously filming inside the church. The constant presence of the toads makes one think that we might be in for a full length reworking of Richard Stanley's The Mother of Toads episode of The Theatre Bizarre (2011).
Where They're Watching totally wins you over is in its last few minutes [PLOT SPOILERS] where Mia Faith finally comes into her powers and goes amok in the woods, levitating tree stumps to attack people with others being bloodily torn apart in mid-air, heads split open, one of the cameraman levitated into the air while holding the camera and plunged through several different bodies (all seen from the camera's point-of-view), others massed by frogs, magic lightning bolts or being set alight. It's a bravura sequence that totally wins the show over.
---
---