---
Crew
Director – Vincent Masciale, Screenplay – Luke Barnett, Producers – Luke Barnett, Heather Kasprzak, Natalie Rose Masicale & Vincent Masciale, Photography – Shan Liljestrand, Music – Dustin Morgan, Special Effects/Makeup Effects – Laurie Hallak. Production Company – Lone Suspect.
Cast
Lucas Neff (Joe Foster), Caitlin Stasey (Lindsay Gains), Chris Marquette (Ben Davidson), Stephanie Drake (Ashleigh Davidson), Richard Riehle (Bill Peterson), Patrick Renna (Tom), Abigail Breslin (Jennifer Adams), Mark Moses (Abe), Eric Lange (Officer Smith), Naomi Grossman (Cat)
---
Plot
Joe Foster is a slacker living in the Hollywood Hills with his girlfriend Lindsay Gains and avoiding making much effort to find a job. Joe is obsessed with horror movies and it is nearing Halloween. He takes Lindsay out to a haunted house themed restaurant but finds it lame. They are then approached by somebody who has overheard the conversation and gives Joe a card for Fear, Inc., which promises to create custom-made scares. Their friends, married couple Ben and Ashleigh Davidson, come to stay where the topic of Fear, Inc. comes up but Ben warns Joe, saying he has heard that Fear, Inc. has a reputation as dangerous and disturbed. On impulse, Joe calls the number on the card only to be told that they are all booked up. Shortly thereafter, disturbing things begin to happen – Joe is attacked and then witnesses as his neighbour is stabbed. As masked figures surround the house, Joe is excited, believing it to be Fear, Inc., while the others hide in terror. As the others are tortured, captured and killed, Joe is placed through a harrowing ordeal where he cannot be certain whether what he is experiencing is real or being staged.
---
Fear, Inc. was a directorial debut for Vincent Masciale who previously had credits mostly as an editor on assorted tv shows. Masciale expands the film from a four-minute short film of the same title he made in 2014.
Fear, Inc. is essentially a rehash of the David Fincher thriller The Game (1997) in which Michael Douglas finds himself plunged into a nightmare filled with people trying to kill him and his being dumped in another country, before the big pullback that revealed that all of this was set up by a company that specialises in twisting everything people know on its head in an elaborate game. Before that, the idea went back to The Magus (1969) where Michael Caine finds himself on a Greek island in the midst of a series of elaborate reality-bending charades put on by Anthony Quinn
Fear, Inc. spins the idea in terms of the horror film – it even comes with slasher-themed homages to the various kills – which makes a kind of sense when you think about it. A very similar idea, albeit without the horror homages, was conducted the same year in Happy Birthday! (2016).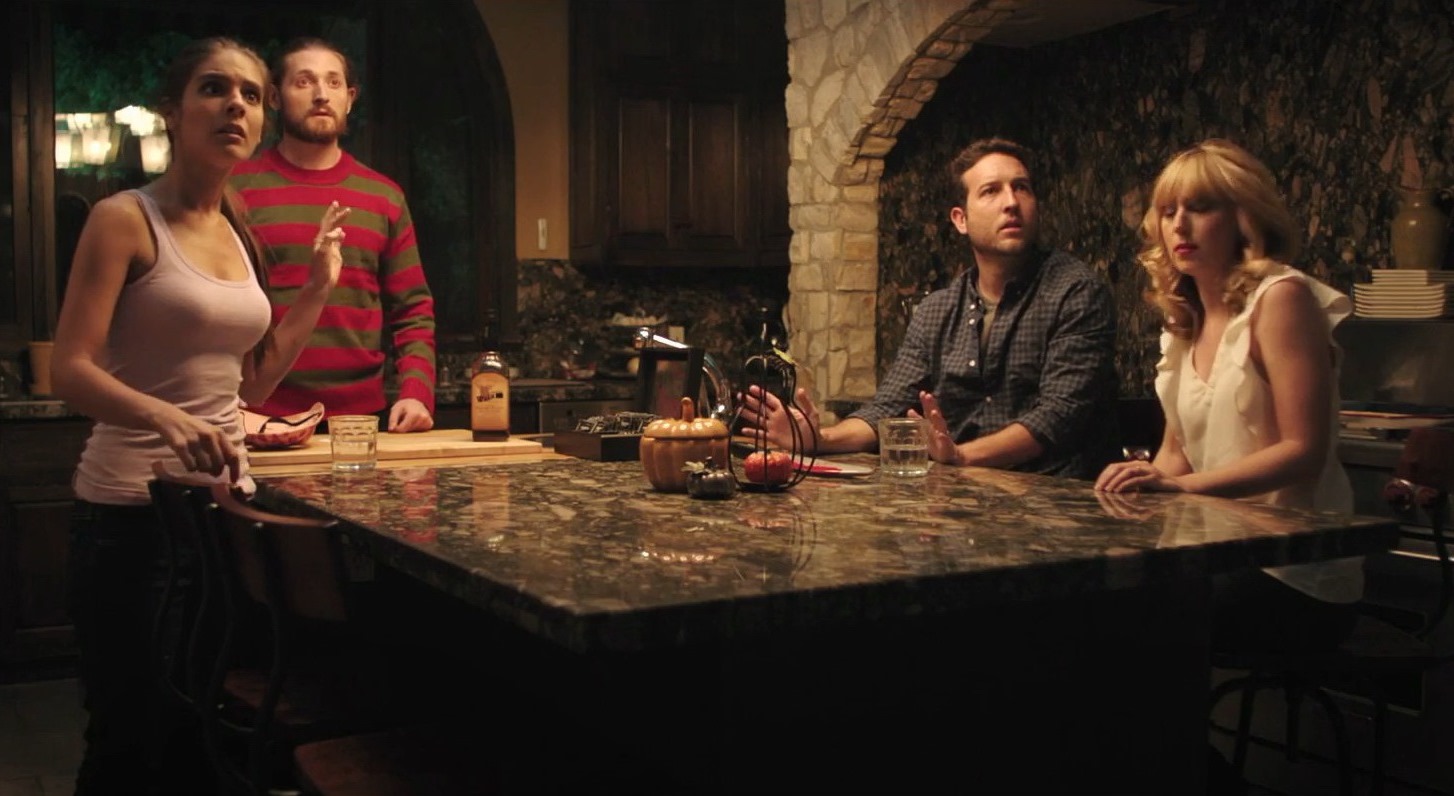 The film works rather well. Lucas Neff is written and played as an unappealing slacker/stoner where it feels hard to have sympathy for him as a protagonist. On the other hand, this has undeniable amusement when the assault begins and all of the others are flipping out and screaming in terror while he remains in the midst excited about being part of the simulation. And as the game goes on where Neff maybe kills one of the Fear. Inc. people by accident and then seems to be being dragged into a wholly different game where he is fighting for his life, the film hits the sense of rubber reality that these Game/Magus films operate by on its nose.
The only thing that didn't work for me was the final twist where [PLOT SPOILERS] the organisers of the game are revealed to be a gang of murderous killers who enjoy slaughtering all the participants afterwards, which causes the tenuous semi-plausibility of the scenario to snap it altogether.
One of the more amusing things is how the film comes waist-deep in genre homage and references – jokes about Halloween (1978), The Shining (1980), A Nightmare on Elm Street (1984), Cobra (1986), even comparisons to The Game itself. Moreover, the various killing set-pieces are all modelled on classic horror films – Richard Riehle is stabbed in an attack modelled on Drew Barrymore in Scream (1996); Stephanie Drake impaled to a tree with arrows through her out of Friday the 13th (1980); and Chris Marquette imprisoned in a chair where Lucas Neff has to cut the key out of his body from Saw (2004).
---
---