---
Crew
Director/Screenplay – Jim Cummings, Producers – Kathleen Grace, Matt Hoklotubbe, Michael J. McGarry, Natalie Metzger, Matt Miller & Benjamin Wiessner, Photography – Natalie Kingston, Music – Ben Lovett, Visual Effects Supervisor – Mike Cisneros, Special Effects Supervisors – Charles Roundy & Ryan Roundy, Creature Designer – Lauren Wilde, Production Design – Charlie Textor. Production Company – New Form/Vanishing Angle.
Cast
Jim Cummings (Deputy John Marshall), Riki Lindhome (Detective Julia Robson), Robert Forster (Sheriff Hadley), Chloe East (Jenna Marshall), Jimmy Tatro (P.J. Palfrey), Will Madden (Paul Carnury), Kelsey Edwards (Liz Fairchild), Annie Hamilton (Brianna Paulson), Hannah Elder (Hannah Marten), Skyler Bible (Officer Gutierrez), Anna Sward (Carla), Daniel Fenton Anderson (Coroner Gary), Rachel Day (Brittany Marshall), Demetrius Daniels (Officer Chavez), Kevin Changaris (Officer Bo), Chase Palmer (Brock), Kenneth Applegate (Ricky)
---
Plot
John Marshall is deputy to the aging Sheriff Hadley in the small Utah town of Snow Hollow. He and the police force suddenly have to deal with a series of murders of women around the town. Body parts are missing, while there are paw prints and evidence that the victims are being attacked a very tall animal. Another deputy starts mentioning a werewolf attack and the killer is quickly nicknamed 'The Wolfman of Snow Hollow'. Fearful for his own teenage daughter Jenna's safety and at the ridicule being heaped upon the police department, John determines to find the killer, while dismissing increasing evidence that suggests it is a werewolf.
---
The Wolf of Snow Hollow comes from triple-talented threat Jim Cummings who not only plays the lead role but also writes and directs the film. Cummings had been producing films and directing short films throughout the 2010s, as well as acting in other people's films, although nothing major. His previous feature-length film as director/writer was Thunder Road (2018) in which he also played a police officer.
Jim Cummings catches your attention right out of the starting gate with the film's line-up of quirky, well-rounded characters. The writing is snappy and sharp – you feel at times that with a twist of only a couple of degrees on the dial that everything could have played out as an outright comedy. Cummings also uses rapid fire editing schemes that are constantly jumping between scenes – most notedly during the interviews of the various witnesses – that keeps you on your toes trying to keep up.
Aside from directing and writing, Jim Cummings also plays the lead role of the smalltown deputy having to step into the role of the sheriff. It is a film where much of the show is driven by the constant rage of the central character with Cummings giving a performance filled with eruptions of anger, chewing out subordinates for their incompetence or else firing people on the spot, although in ways that are more comical than alarming.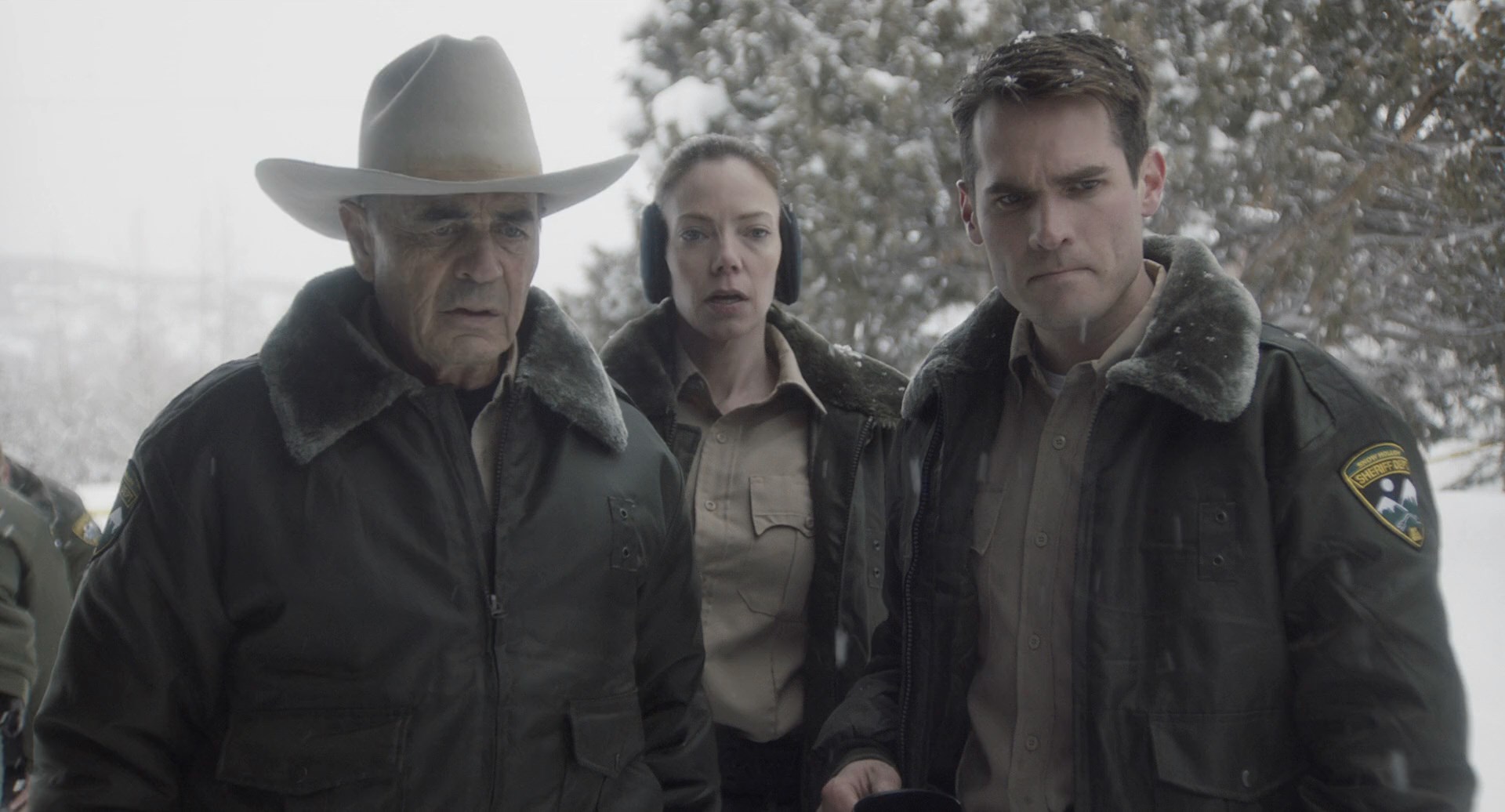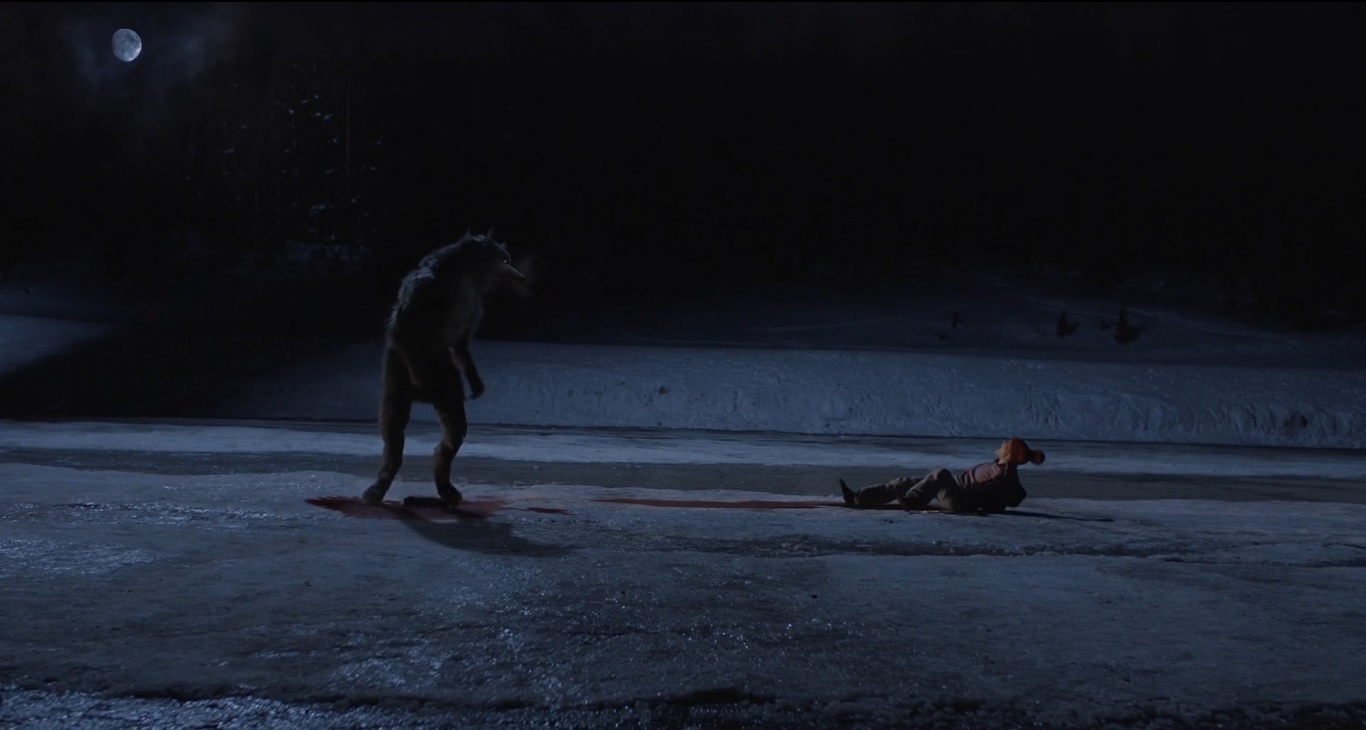 The actual role of the sheriff is played by Robert Forster in what would be Forster's last role following his death in 2019. He and Cummings have an amusing thing where Cummings is constantly chiding him over not taking retirement. You are left with the impression that the size of the role ended up being cut due to Forster's health issues.
Though The Wolf of Snow Hollow sets out to be a Werewolf Film, the wolf is not that important to it. Most of the film is focused around Cummings' deputy and his investigation of the murders, Apart from one scene where Jim Cummings pursues the wolfman through the streets shooting at it, the wolf is only there by evidence of its attacks. Of course, the end of the film [PLOT SPOILERS] reveals that there is no werewolf, that it is actually a serial killer who dons a wolf costume to go out and prey.
---