---
Crew
Director – Derrick Borte, Screenplay – Carl Ellsworth, Producers – Lisa Ellzey, Mark Gill & Andrew Gunn, Photography – Brendan Galvin, Music – David Buckley, Visual Effects Supervisor – Daniel Lee, Special Effects Supervisor – Matt Kutcher, Production Design – Frederick Waff. Production Company – Solstice Studios/Ingenious Media.
Cast
Russell Crowe (Man/Tom Cooper), Caren Pistorious (Rachel Flynn), Gabriel Bateman (Kyle Flynn), Jimmi Simpson (Andy), Austin P. McKenzie (Fred Flynn), Julene Joyner (Mary), Stephen Louis Grush (Leo)
---
Plot
Rachel Flynn is driving her son Kyle to school before heading to work. At an intersection ahead, a man in a 4×4 truck refuses to move when the lights change. Rachel passes around him, while honking in annoyance at the man. He retorts by driving up alongside her, yelling about her lack of manners and then trying to block the road ahead. Rachel gets away but the man follows her to a gas station and then runs over another customer who comes to her aid. Rachel discovers the man has stolen her cellphone. He has left another and calls her, taunting that he is going through her contacts list and going to take revenge against everybody in her life.
---
Unhinged had the distinction of being the first film to go into wide release in the US during main Corona Virus shutdown of theatres in 2020. The film shuffled around schedule dates with the apparent intent of being the first film to be released. There it did some surprisingly reasonable box-office (earning some $20 million) but received lukewarm critical reception.
The film is directed by German-born director Derrick Borte who has made US films such as The Joneses (2010), H8RZ (2015), London Town (2016) and American Dreamer (2018), most of which can be categorised as dramas and thrillers. The script comes from Carl Ellsworth who emerged from tv animation in the 1990s to script films like Red Eye (2005), Disturbia (2007) and the remakes of The Last House on the Left (2009) and Red Dawn (2012).
I watched Unhinged without much enthusiasm. Firstly based on its lukewarm reception and secondly because the idea of a film based around road rage seems limited in concept. The surprise turns out to be that Unhinged is a watchable and quite reasonable film. Sitting down to watch does lead to some unusual thoughts. The first thing that goes through one's head as we see Russell Crowe is "Hmm Russell sure has bulked up during lockdown." The second, as we watch the opening scene where he breaks into a home and sets it alight, is "what an incredible bleak film for people to brave out to see in the midst of quarantine." The other irony in watching it as a film during quarantine is just how much it is a pre-quarantine film that assumes life is as normal.
Watching Unhinged, you realise it is essentially a modern version of Steven Spielberg's first film Duel (1971). In Duel, motorist Dennis Weaver attracts the ire of a sinister black truck after he tries to pass it on the highway whereupon it proceeds to harass and pursue him down the highway with murderous intent. The major difference between the two is that in Duel the truck was an inanimate force where we never saw the driver, whereas here Russell Crowe is very much visible and personified (even if he is only ever referred to as 'Man' – he does give his name as Tom Cooper at one point although it is not clear if this is his real name).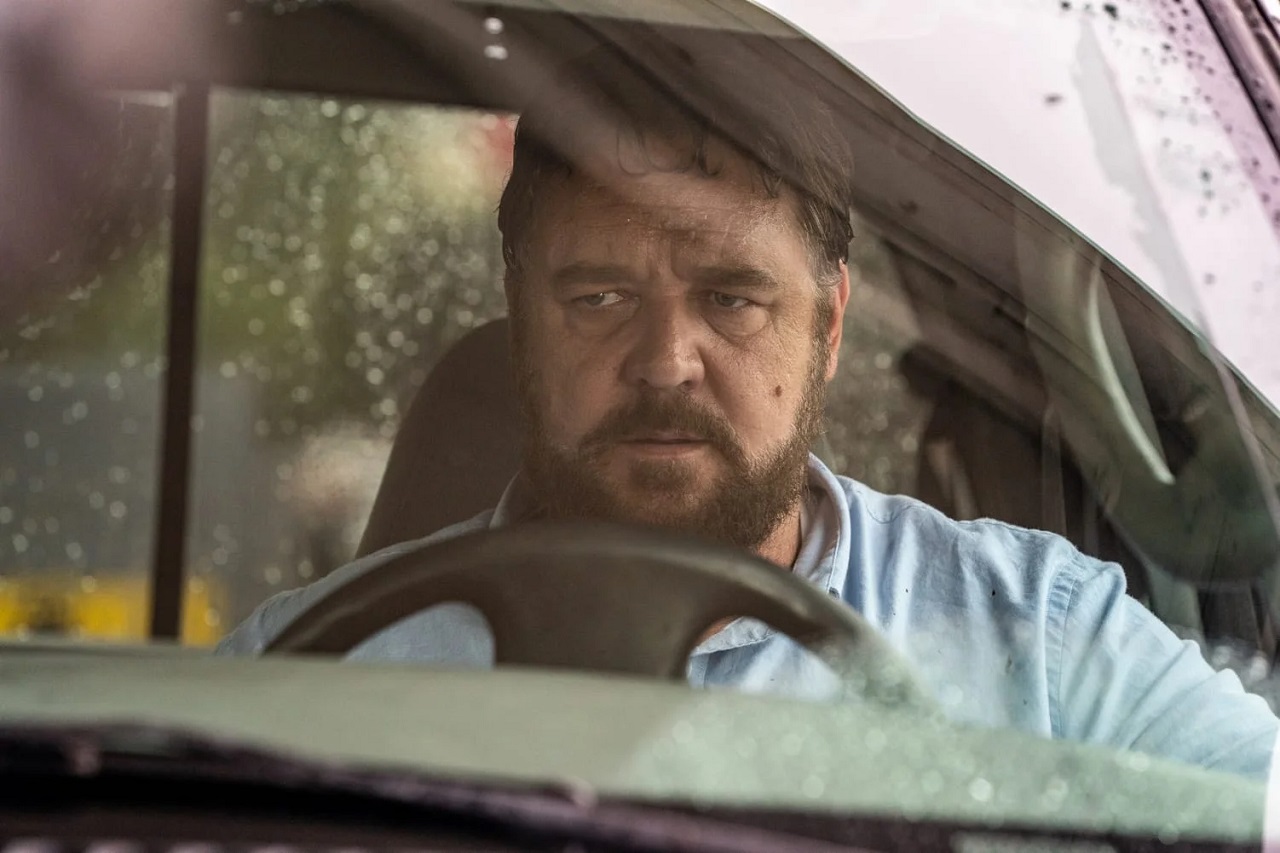 You could point to other films like The Hitcher (1986) in which Rutger Hauer proceeds to make C. Thomas Howell's life a misery and attack and twist every aspect of his life around against him or Changing Lanes (2002), another road rage based film that had Ben Affleck and Samuel L. Jackson at one another's throats after a fender bender. Although if there was any other filmic source of inspiration you could point to it would be Falling Down (1993) in which Michael Douglas snaps and goes on a shooting rampage against the petty frustrations of life – in both films the antagonist snaps after losing their job. Essentially both films become works about white male rage – about loss of empowerment, lots of yelling over disrespect and imagined slights, plus blaming women for making their lives hell (and here also divorce lawyers).
Like Falling Down, Unhinged is a film that seems permeated by the frustrations of modern life. The opening credits play out against a series of news clips of road rage incidents. Caren Pistorious is fired from her job because she is held up by traffic on the freeway. Everywhere we see incidents where traffic is jammed, while Derrick Borte gives us several occasions where Caren Pistorious drives out into traffic and there is the sudden loud explosion of noise as she is nearly hit by a vehicle she didn't see coming. It is also worth keeping in mind that the film's star Russell Crowe was charged in 2005 over an incident where he threw a telephone at the concierge of a New York hotel, which cannot help but seem to overshadow the role he plays here.
Once Derrick Borte puts his foot to the film's figurative pedal, Unhinged does gain quite a reasonable level of tension with Russell Crowe barrelling through the streets in his vehicle and (less effectively) the neighbour's minivan. There are some undeniably shock jumps – like where Russell Crowe abruptly smashes a cup into Jimmi Simpson's face and then proceeds to stab him, or his assault on Austin P. Mackenzie and Julene Joyner. Russell Crowe gives a performance of angry ferocity that feels like he really means it.
The scenes where Crowe steals Caren Pistorious's phone and makes her life misery – accessing her appointments, transferring funds from her bank account, going through her contacts list – are rather alarming in showing just how much damage one person can do with access to a cellphone. That said, the film does require some magical leaps of technology at various points – that someone just happens to leave a non-password protected cellphone lying around about or the ability to track interconnected devices.
(Nominee for Best Actor (Russell Crowe) at this site's Best of 2020 Awards).
---
Trailer here
---