---
Crew
Directors – (Episodes 1-4) Carl Tibbetts & (Episodes 5-6) Jon Jones, Teleplay – Gaby Hull, Producer – Lisa Osborne, Photography – Oli Russell, Music – Jon Opstad, Visual Effects – Lexhag, Special Effects Supervisor – Toby Stewart, Production Design – Jamie Lapsley. Production Company – BBC Studios.
Cast
Babou Ceesay (DI Jackson Mendy), Hermione Corfield (Freddy Lane/Lily Watkins), Dipo Ola (Baba Lenga), Eve Myles (DI Lola Franks), Vicki Pepperdine (DSI Susan Smart), Kris Marshall (Cian Fitzgerald), Nigel Harman (Simon Goodbridge), Neil Stuke (Darren Cork), Babirye Bukilwa (DC Dominique Parkes), Freya Durkan (Young Lily), Perry Fitzpatrick (Johnny Cartwright), Sharlene Whyte (Gill Mendy), Stefan Rhodri (Larry), Tom Andrews (Matt Bowers), Rebecca Charles (Francine Ford), Sylvie Erskine (Young Frederica)
---
Plot
Baba Lenga is a refugee, a former child soldier from the Congo. working as a bathroom attendant in a London nightclub. He comes across Simon Goodbridge forcing himself on escort Freddy Lane in the alleyway outside the club. He intervenes to beat Simon up. Afterwards, Beba and Freddy become lovers. Freddy then asks Baba's help in dealing with Simon. She agrees to go around to Simon's flat on the promise of sex, ties Simon up and then lets Baba in to kill him. The detectives assigned to the case are DI Jackson Mendy, who has just transferred from Anti-Corruption, and his more seasoned junior officer DI Lola Franks. CCtv footage leads them to Freddy and they both regard her as suspicious. Freddy and Baba then contrive to hang Matt Bowers, a man who is harassing Freddy for owed money, in the park, making it appear a suicide and claiming responsibility for killing Simon. Baba and Lola find this suspicious and pursue the investigation despite their superior seeing it as closed. Both Jackson and Lola are fighting personal issues, he taking what she sees as an absurdly optimistic attitude in ignoring his wife's cheating. Lola meanwhile has been using heroin to cover trauma. Together the two of them pursue leads as Freddy and Baba go on to kill others.
---
We Hunt Together was a mini-series made by the BBC that aired in six one-hour episodes. It is a work from the pen of the rising name of Gaby Hull, who had written episodes of Benidorm (2007-18) and the mini-series' Cheat (2019) and Two Weeks to Live (2020), as well as the film The Dark Mile (2017).
We Hunt Together is a Police Procedural. It follows two storylines – one about Dipo Ola and Hermione Corfield on their murder spree, and the other about detectives Babou Ceesay and Eve Myles as they investigate and try to stop the couple. The mini-series seems intended in the vein of other couple on the run/murderous crime spree films such as Bonnie and Clyde (1967), The Honeymoon Killers (1970) and Natural Born Killers (1994).
The story could be boiled down to a regular feature-length film – you suspect it didn't need to have to be told in six one-hour episodes. On the other hand, what makes the show is the writing and in particular the character arcs. The show is based around four people – two killers, two detectives. All four characters are given equal screen time. As the show progresses, we uncover the troubled backgrounds of all four and the ways each is dealing with their issues, all in ways that mirror the others. This runs from Freddy running from her past and trying to kill those who rejected her; Baba the Congolese child soldier attempting to earn divine redemption even as he is drawn back in to kill again; Jackson who greets everything with an upbeat optimism and is philosophical about his wife's infidelity; and Lola who has started using heroin to blank out the pain of guilt over her involvement in an accident. Indeed, the mirroring even extends to the title where you are not sure if the 'we hunt' refers to the couple on the killing spree or the pursuing detectives.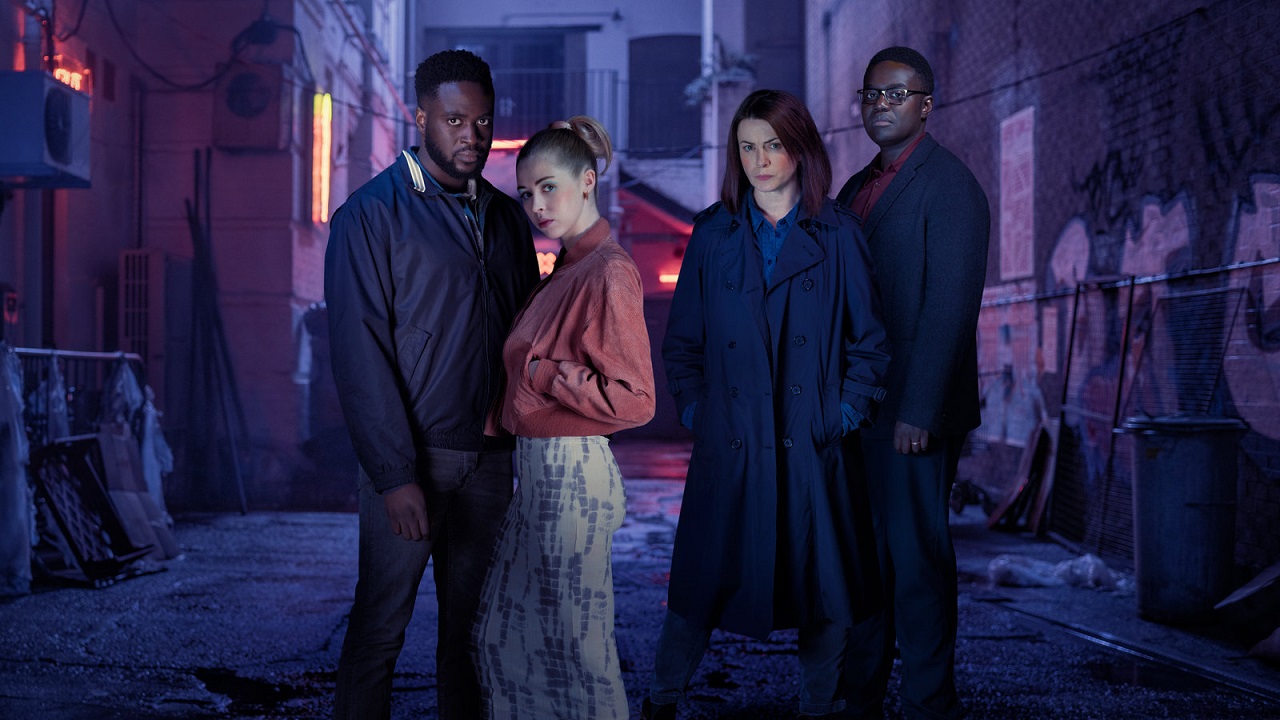 The show would be nothing without the four excellent performances that drive it. Hermione Corfield is a name on the rise in the last couple of years and I am happy to cite as one of the most talented of the current crop of young British actresses. She owns the show with her dangerous psychopathic girl on the wrong side of the tracks. Paired with her, Dipo Ola gives a strong and effective performance that aches with an earnestness and sincerity.
Welsh actress Eve Myles is another name who has been doing some great work on British tv in the last few years in shows like Torchwood (2006-11), Broadchurch (2013-7) and especially Keeping Faith (2017- ). Here she is made down dowdy and gives a performance that is curtly curtailed, while gradually revealing layers of complexity beneath. Babou Ceesay plays a character at first glance you would expect to belong in a comedy show but pulls an unusual role off with a great deal of winning charm. It is these four performances between them that make the series.
A second series has been announced.
(Nominee for Best Original Screenplay, Best Actor (Babou Ceesay) and Best Actor (Dipo Ola) at this site's Best of 2020 Awards).
---
Trailer here
---