---
Crew
Director/Screenplay – Babak Anvari, Based on the Novella The Visible Filth by Nathan Ballingrud, Producers – Babak Anvari, Christopher Kopp & Lucan Toh, Photography – Kit Fraser, Visual Effects Supervisor – Raoul Yorke Bolognini, Visual Effects – Atomic Arts (Supervisors – Justin Cornish & Brooke Lyndon-Stanford), Goodbye Kansas Studio (Supervisor – Ben White) & Nvizible (Supervisor – Jamie Wood), Special Effects Supervisor – David Khalil Nami, Makeup Effects – Alterian Studios, Inc. (Supervisor – Tony Gardner), Production Design – Chad Keith. Production Company – AnnaPurna Pictures/Two & Two Pictures/Aza Films.
Cast
Armie Hammer (Will), Dakota Johnson (Carrie Lynch), Zazie Beetz (Alicia), Brad William Henke (Eric), Karl Glusman (Jeffrey), Kerry Cahill (Rosie), Terence Rosemore (Duane Rhodes), Jim Klock (Patrick), Luke Hawkz (Marvin), Martin Bats Bradford (Doug)
---
Plot
Will, a barman at Rosie's Bar in New Orleans, picks up a cellphone someone leaves behind and takes it home. He is disturbed when someone on the other end starts messaging him, pleading for help and saying they are being attacked but dismisses it as a prank. Later he finds photos and video clips of murdered bodies on the phone. The mysterious owners of the phone then begin making taunting calls. Will begins to experience hallucinations of disturbing figures, while his life rapidly starts to fall apart.
---
Babak Anvari is an Iranian-born filmmaker resident in the UK. He gained attention with his short film Two & Two (2011), which led to making the full-length Under the Shadow (2016), a fascinating horror film set during Iran's Cultural Revolution. He subsequently went on to direct I Came By (2022), as well as to produce the horror anthology series Monsterland (2020) and the horror film Treat (2021). I enjoyed Under the Shadow and was intrigued to see what Babak Anvari did next. Wounds is based on the novella The Visible Filth (2015) by new and rising horror author Nathan Ballingrud.
If you didn't know anything about Babak Anvari's background, you would simply assume that Wounds was a regular independent American horror film. There have been a host of cellphone horror films of late such as One Missed Call (2003) and sequels, Cell (2016), Selfie from Hell (2018) and ones about mysterious groups on the internet and mobile media – The Den (2013), Open Windows (2014), Nerve (2016), Unfriended: Dark Web (2018). Unlike these other films, the agency behind the cellphone is even more vague and mysterious than usual and it not clear what type of threat it is that is warping Armie Hammer's reality.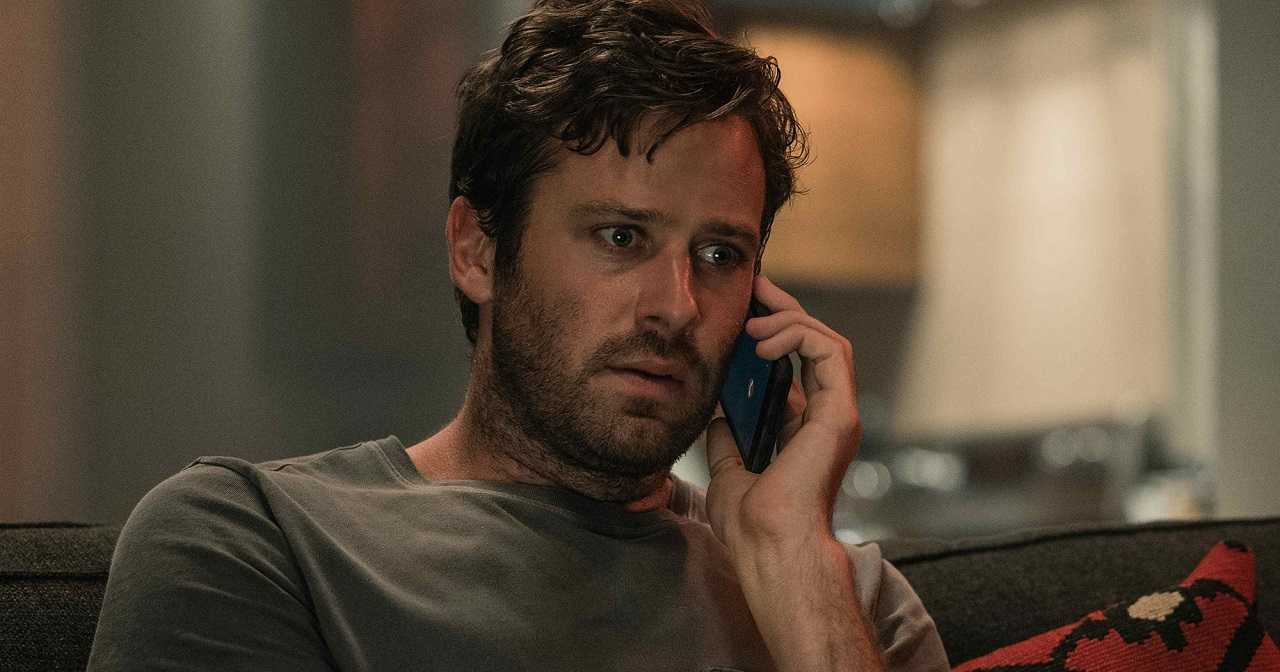 That said, Wounds unfolds quite nicely and Babak Anvari creates an atmosphere that is spooky and unsettling. Anvari is clearly aiming for a sense of the uncanny rather than just regular jumpshocks. There is an unsettling scene as Arme Hammer gets up out of bed and finds a figure seated at his dining room table with their back to him before they spit broken teeth out across the table and their head keeps unsettlingly shifting its shape as they talk, all before the figure gives Armie the ominous threat that something else is watching him sleep.
The opening scene features Armie Hammer at his most confident and assured where he is a calm centre of friendliness at the neighbourhood bar and treats everyone as a friend. The rest of the film is about his fall from that perch and descent into darkness. The film seems almost set up to turn everything we initially see on its head – he choosing to try and make out with Zazie Beetz only to read the signals all wrong; he splitting up with girlfriend Dakota Johnson only to realise that this means her kicking him out and he has nowhere to live; the gradual descent into alcoholism, filthy and unshaved appearance, not to mention the increase throughout of cockroaches to the point they overrun everything. (The whole plot about Armie Hammer's life falling apart as a result of cellphones had uncanny real-life mirrorings in 2021 where Hammer was investigated by police and his career effectively Cancelled over sexts he had allegedly sent). The film reaches an abrupt and unclear fadeout.
---
Trailer here
---