---
Crew
Director/Photography – Robert Rodriguez, Screenplay – Racer Max [Rodriguez] & Robert Rodriguez, Based on the Chapter I Was a Human Lab Rat from the Book Rebel Without a Crew by Robert Rodriguez, Music – Rebel Rodriguez, Makeup Effects – Lauren Hatfield. Production Company – Double R Productions.
Cast
Roby Attal (Rob/Red 11), Lauren Hatfeld (Magenta 6), Steven Brudniak (Head Doctor), Alejandro Rose-Garcia (Score), Rebel Rodriguez (Knife), Pierce Bailey (Spoiler), Grant Garrison (Doctor), Brently Heilbron (Doc Sock), Michael Fischer (Movie Guy), Carlos Gallardo (Camacho), Katherine Willis (Administrator), Elizabeth Trieu (Heart Tech), Katy Harris (Vampira), Eman Esfandi (Funny Guy), Ulysses Montoya (James), John Valley (Reedy Tech), Racer Max (Black Shirt), Jasmine Balais (Jasmine Camacho)
---
Plot
Rob has signed up to act as a human lab rat in a drug trial to get money in a hurry. Rob and his friend James borrowed $7000 from the cartel to make a movie but interest on the loan quickly ballooned to $52,000. Inside the facility, Rob is assigned to Red group. He and the fellow subjects are placed under a strictly controlled regimen with rules about what they can and cannot do. Rob receives a call from James just as he is killed by the cartel for attempting to flee to Mexico. The cartel tell Rob they will be waiting when he gets out in three days' time. After seeing other subjects become sick from the drugs and being told that they will be sent home with full pay, Rob endeavours to get sent home early in order to evade the cartel. After taking pills from one of the other groups, Rob gets sick but is taken to the hospital in the basement of the facility. There he finds himself caught in a mind-boggling blur of what he cannot be sure is illicit experiments, a conspiracy to steal samples to sell to a rival company, where the drugs may have given them psychic powers, or everything may be a drug-induced hallucination.
---
Robert Rodriguez has become a major director since the 1990s, delivering works like From Dusk Till Dawn (1996), Spy Kids (2001), Sin City (2005), Machete (2010) and Alita: Battle Angel (2019). Throughout this time, Rodriguez has built his own studio and launched multiple concurrent film franchises. Moreover, he has repeatedly brought his own family into the business – son Racer Max co-writes the script for Red 11, while his other son Rebel composes the score and both sons make acting appearances in the film. (See below for a full list of Robert Rodriguez's other genre films).
Rodriguez's first film was El Mariachi (1993), which he shot himself in guerrilla style in Acuna, Mexico, on a budget of $7000, which he had raised himself mostly while signing up as a human lab rat at a drug testing facility. Rodriguez published his diary of the experience with the book Rebel Without a Crew: Or How a 23-Year-Old Filmmaker with $7,000 Became a Hollywood Player (1995).
With Red 11, Rodriguez returns to make a film based on that experience. Red 11 was made for the same $7000 budget that Rodriguez made El Mariachi (apparently not inflation adjusted – it would $12,000 in 2019), To prove that anybody could do it, Rodriguez also made a six episode tv series Rebel Without a Crew: The Robert Rodriguez Film School (2021) – he appears at the start of the film here to introduce the tv series as a challenge to show that anybody can make a film.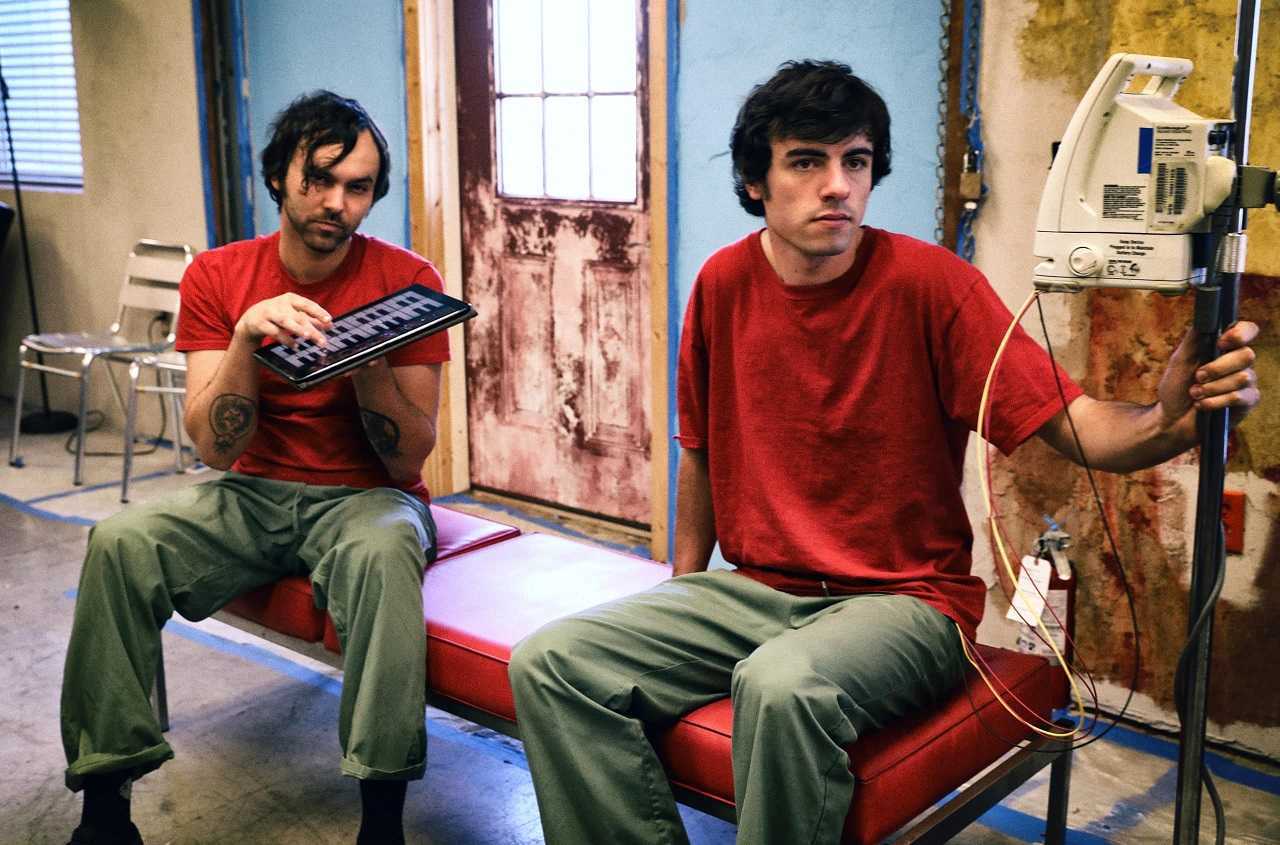 That said, one suspects the process is not quite as easy as Rodriguez makes it out to be – not everyone has access to their own studio and equipment, not to mention twenty plus years' experience as a filmmaker and a family who have joined in the tradition, as well as a name with collateral that can draw others to the project.
The depiction of the drug testing facility – for the first half of the film at least – comes with a mixture of resigned realism and wry cynicism on the behalf of the volunteers. This is something that Rodriguez and Racer Max portray fairly well. If there is even a percentage of truth to the depiction, it is alarming that such unregulated medical experimentation is allowed to take place in the US without any apparent official sanction or government oversight. Certainly, when it gets to the point where the central character is having his life threatened because of unpaid cartel money, it makes you wonder exactly what it is that Rodriguez had to go through to get his film made.
While the first half of the film plays as a darkly laced comedy, the second half becomes something else altogether. Once we get down to the basement area, the plot becomes a mind-boggling mix of elements involving sinister experiments, industrial spies trying to steal samples for rival pharmaceutical companies, the drug producing Psychic Powers including telepathy and telekinesis, and shootouts with the cartel. Added to this is a series of reality blurrings or at least a state of paranoia where you cannot be certain what is real and what might be a Drug Hallucination and the suggestion that the group might be perpetual lab rats and have been there all their lives. It is a mad concoction where the film bites off an ambitious plot, even if the Rodriguezs' eventually allow everything to get away with it.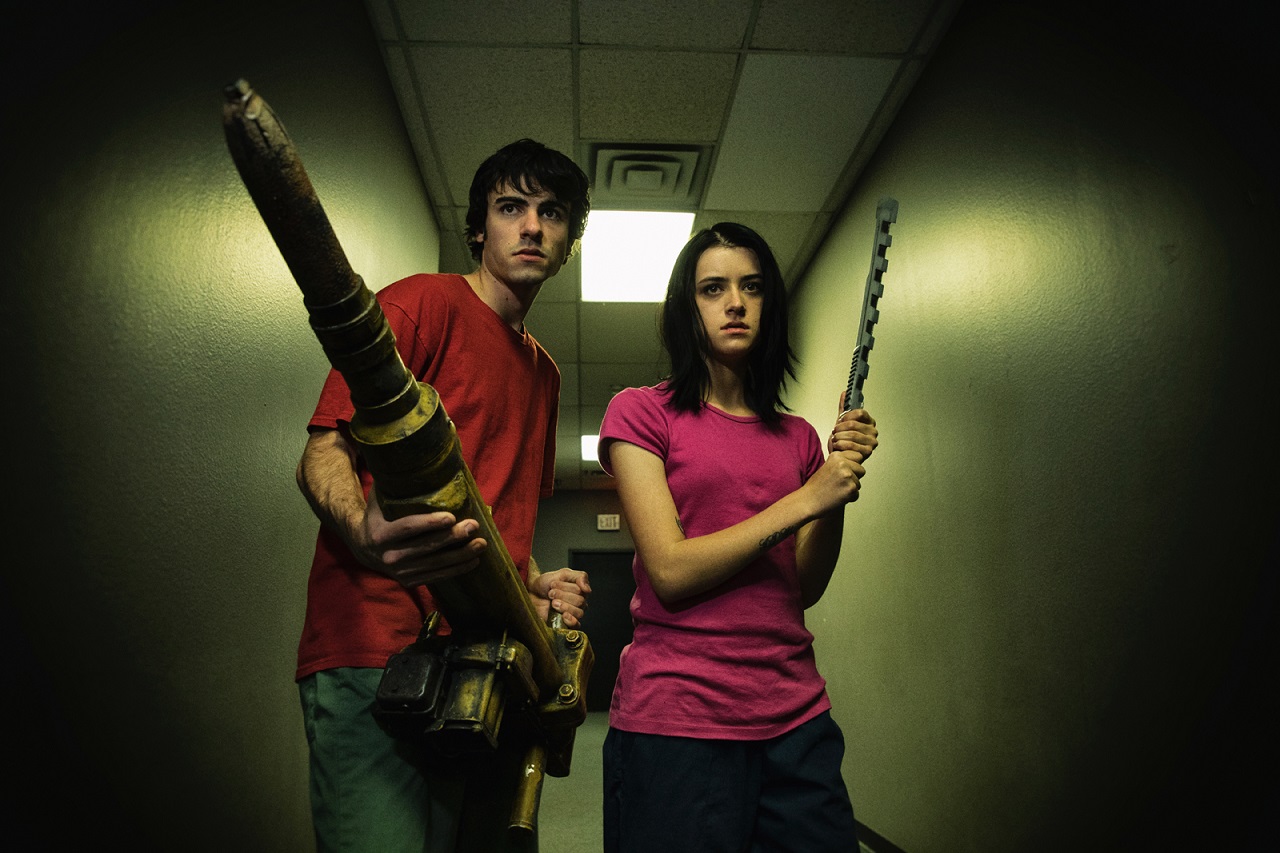 As always with a Robert Rodriguez film, Red 11 is peopled with quirkily offbeat characters. The scene-stealer of much of the show ends up being the appealingly meta characters of Alejandro Rose-Garcia who walks through the film composing a score for each scene on a portable keyboard. Elsewhere, we get the bullying Pierce Bailey who turns up in every scene to spoil the twists of well-known films that Movie Guy (Michael Fischer) is watching. Racer Max gives a charismatic performance as Knife.
Robert Rodriguez's other films of genre interest are the vampire/getaway thriller From Dusk Till Dawn (1996); the witty teen body snatchers film The Faculty (1998); the juvenile spy adventure Spy Kids (2001) and sequels Spy Kids 2: Island of Lost Dreams (2002), Spy Kids 3-D: Game Over (2003) and Spy Kids: All the Time in the World (2011); the graphic novel adaptation/film noir pastiche Sin City (2005) and Sin City: A Dame to Kill For (2014); the children's film The Adventures of Sharkboy and Lavagirl in 3-D (2005); the zombie film Planet Terror (2007), half of the Quentin Tarantino collaboration Grindhouse (2007); the children's film Shorts (2009); Machete Kills (2013), a sequel to his earlier Mexican-themed action film that frequently enters into science-fiction territory; the manga adaptation Alita: Battle Angel (2019); and the kid superheroes film We Can Be Heroes (2020). Rodriguez has also produced From Dusk Till Dawn 2: Texas Blood Money (1999), From Dusk Till Dawn 3: The Hangman's Daughter (2000) and Predators (2010), as well as developed the tv series From Dusk Till Dawn (2014-6).
---
Trailer here
---