aka Warlords of the 21st Century
---
Crew
Director – Harley Cokliss, Screenplay – Irving Austin, John Beech & Harley Cokliss, Story – Michael Abrams, Producers – Lloyd Phillips & Rob Whitehouse, Photography – Chris Menges, Special Effects – Jonnie Burke & Kevin Chisnall, Production Design – Gary Hansen & Kai Hawkins. Production Company – New World Pictures.
Cast
Michael Beck (Hunter), Annie McEnroe (Corlie), James Wainwright (Colonel Straker), Randolph Powell (Judd), John Ratzenberger (Rusty), Diana Rowan (Charlene), John Bach (Bone), Bruno Lawrence (Wired Willie), Kelly Johnson (Alvin)
---
Plot
After the Oil Wars, civilisation has splintered up into small self-sufficient communities. Across the countryside comes Colonel Straker, ruthlessly smashing and enslaving each community underneath him with his armoured battletruck. When the mysterious motorcycle-riding Hunter rescues Corlie, a woman Straker keeps as prisoner, Straker swears vengeance against him.
---
If there were not a Mad Max 2 (1981), it is unlikely there would have been a Battletruck. It was one of the first among a whole industry of Mad Max copies that cluttered up the 1980s most of which were made in Italy. This comes from Roger Corman's New World Pictures and at least has the distinction of being better budgeted than most of New World's films (and subsequent Mad Max copies).
The likenesses between Mad Max and Battletruck are often tedious – both films have plots where a small democratic gas-hoarding post-holocaust community is holed up by a motorised warlord and are saved by an archetypal Eastwoodian Man With No Name. The Mad Max film was always a Western where the post-holocaust landscape substituted for the American frontier. Battletruck reveals the Mad Max genre's debt to the Western more so than ever – it is hard not to read motorbikes for horses, or James Wainwright's villain as a ruthless land-baron. There is even a scene where the hero is wounded and must bite the bullet.
Unlike most of the Mad Max 2 clones, which sold themselves on their action content, the action here is pallid. Certainly, the battletruck looks great – and has a breathtaking slow-motion end going over a cliff – but Battletruck is distinctly lacking in slam-bang heroics. These often consists of little more than a handful of aerial shots following motorcycles as they buzz across the barren Central Otago (New Zealand) countryside.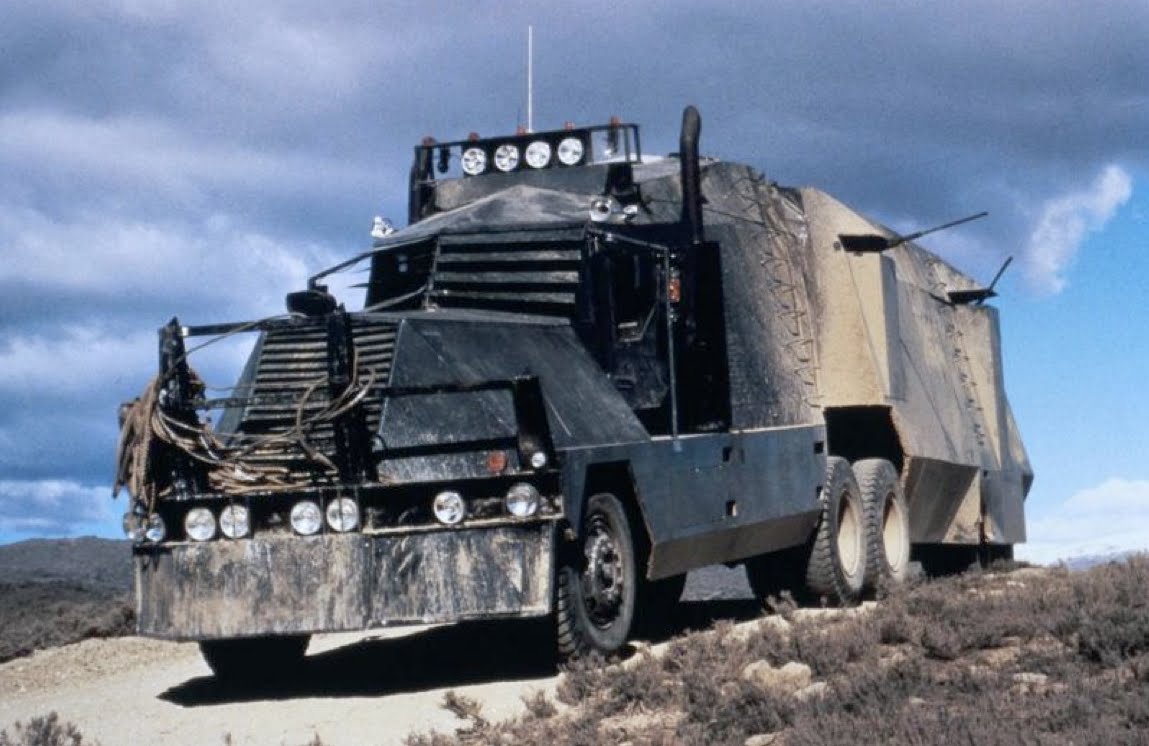 Battletruck does have it over many of the Mad Max clones in that there is a modicum of plot and depth to the creation of post-holocaust society – the images of people eking a living look believable, rather than most of the Mad Max imitators, which only set out to be comic-book action films and paid no regard to the background of the worlds they took place in.
James Wainwright gives a performance that captivates whenever he is on screen, although Michael Beck lacks much heroic stature. Bruno Lawrence, on the other hand, gives an extremely silly performance.
Director Harley Cokliss (who in later years started calling himself Harley Cokeliss presumably so as to avoid jokes about his name) is a potentially worthwhile director who has always hung around the genre without having had a major hit. Cokliss debuted with the well-considered children's film The Glitterball (1977) and has turned out occasionally passable films such as this, Black Moon Rising (1986) and Dream Demon (1988). Cokliss may well be known more known for the films he did not direct than those he did – the aborted Thongor in the Valley of the Demons sword-and-sorcery project in the late 1970s and for The Empire Strikes Back (1980), for which he served as second unit director. In the 1990s, Cokliss has virtually disappeared from cinema screens, eking out a subsistence with tv work for sword-and-sorcery shows such as Hercules: The Legendary Journeys (1994-9), Xena: Warrior Princess (1995-2001) and The New Adventures of Robin Hood (1996-8); a handful of children's fantasy tv movies – The Ruby Ring (1997) and An Angel for May (2002) – and the occasional action film such as Malone (1986) and Pilgrim (2000).
---
Trailer here
Full film available online here:-
---