---
Crew
Director – Fred Olen Ray, Screenplay – Scott Ressler, Producer – Harel Goldstein, Photography – Laszlo Regos, Music – William Belote, Special Effects – Don Powers, Makeup Effects – More Than Skin Deep (Supervisor – John Naulin), Art Direction – Corey Kaplan. Production Company – Warlords Productions.
Cast
David Carradine (Dow), Dawn Wildsmith (Danny), Sid Haig (The Warlord), Fox Harris (Colonel Cox), Ross Hagen (Beaumont), Robert Quarry (Dr Mathers), Brinke Stevens (Dow's Wife)
---
Plot
In the post-holocaust desert, Danny is saved from mutants by Dow, the clone of a former war hero. Danny joins Dow on his mission for the government to retrieve a genetic scientist who is held prisoner by The Warlord and being forced to create a mutant army for him. Dow also has a more personal mission to get back his wife who is being held in The Warlord's harem.
---
Fred Olen Ray is a director who specializes in cheap B-budget video releases that veer between tattiness and self-conscious cynicism. All of Fred Olen Ray's films are rip-offs of other films or deliberate parrotings of 1950s science-fiction films, served up with cheap effects and semi-clad bimbos – The Adventures of Taura: Prison Ship Star Slammer (1986), The Phantom Empire (1986) and Dinosaur Island (1994). Ray also made a number of softcore titillation and erotic films and was the director who was most associated with the early 1990s Scream Queens fad through films like Hollywood Chainsaw Hookers (1988), Bad Girls from Mars (1991), Scream Queen Hot Tub Party (1991) and Attack of the 60 Foot Centerfolds (1995), which mostly seemed to consist of girls with minimal acting talent taking their clothes off. (A full list of Fred Olen Ray's genre films is at the bottom of the page).
On one level, Warlords is a bad rip-off of Mad Max 2. The action scenes are dire – people jump off cliffs before the explosions that are meant to throw them go off, others stand still for people to turn around and shoot them. There is an extremely bad creature in a bag effect that is accompanied by an unbelievably annoying squeaky voice voiceover.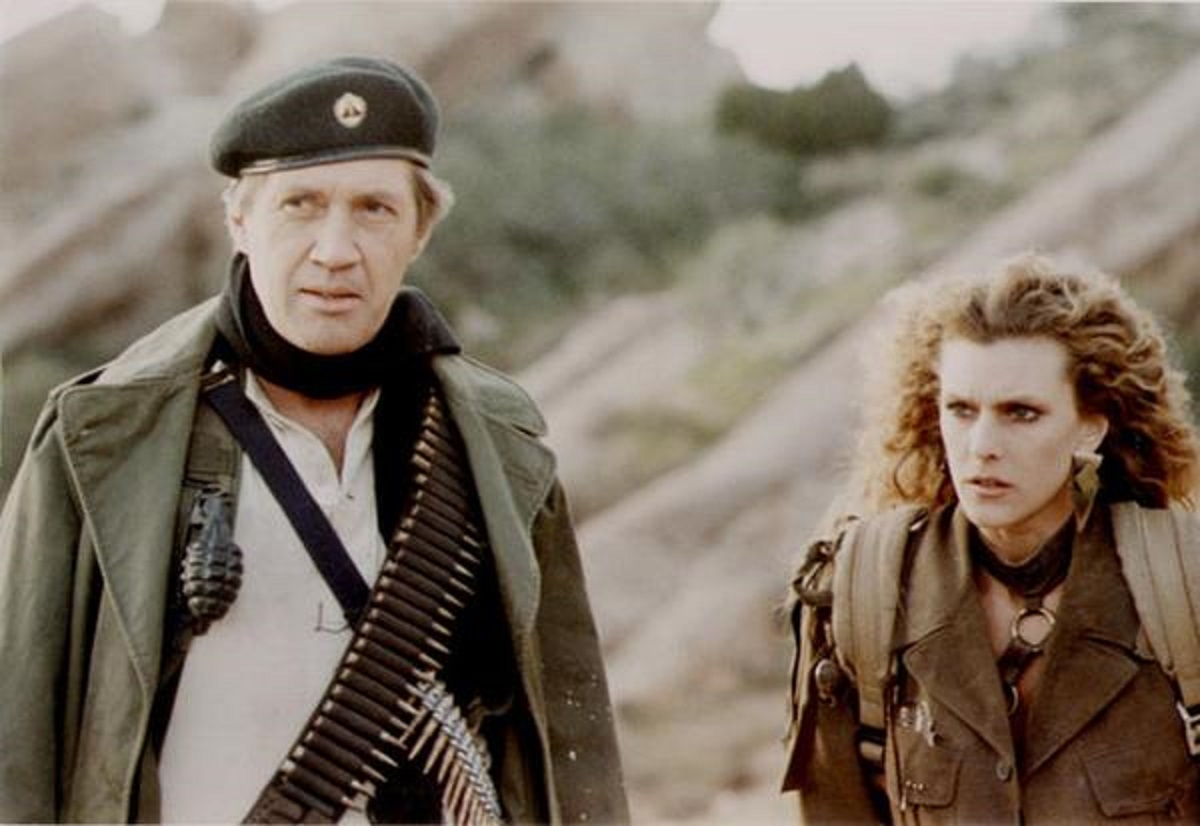 However, Warlords is also schlocky fun. Fred Olen Ray stirs the exploitation pot with an undeniable vigour – various topless women, bondage and leather fetishism scenes, mindless action, taunting villains in capes, a heroine with a cynical mouth. The central players – David Carradine and Olen Ray's wife Dawn Wildsmith, who is awful but nevertheless entertaining in her consistent attempt to play as some sort of post-holocaust cheap tramp – take an amusingly laidback attitude to the film. Whatever its shortcomings elsewhere, Warlords has a tongue-in-cheek attitude that covers much.
Fred Olen Ray has made a lengthy list of genre films. These include:- The Brain Leeches (1977), The Alien Dead/It Fell from the Sky (1980), Scalps (1983), Biohazard (1984), The Tomb (1985), The Adventures of Taura: Prison Ship Star Slammer (1986), The Phantom Empire (1986), Cyclone (1987), Beverly Hills Vamp (1988), Deep Space (1988), Hollywood Chainsaw Hookers (1988), Alienator (1990), Bad Girls from Mars (1990), Spirits (1990), Haunting Fear (1991), Scream Queen Hot Tub Party (1991), Wizards of the Demon Sword (1991), Evil Toons (1992), Little Devils (1993), Dinosaur Island (1994), Mind Twister (1994), Possessed By the Night (1994), Attack of the 60 Foot Centerfolds (1995), Cyber Zone/Droid Gunner (1995), Invisible Mom (1995), Star Hunter (1995), Night Shade (1996), Passionate Revenge/Friend of the Family II/Hell Hath No Fury (1996), Hybrid (1997), Little Miss Magic/Kidwitch (1997), Billy Frankenstein (1998), Dear Santa/My Dad Santa (1998), Illicit Dreams 2 (1998), Invisible Dad (1998), Active Stealth (1999), Fugitive Mind (1999), Invisible Mom 2 (1999), The Kid with X-Ray Eyes (1999), Prophet (1999), Critical Mass (2000), Sideshow (2000), Kept (2001), Stranded (2001), Venomous (2001), Thirteen Erotic Ghosts (2002), Final Examination (2003), Bikini-a-Go-Go/Curse of the Erotic Tiki (2004), Genie in a String Bikini (2004), Haunting Desire (2004), Teenage Cavegirl (2004), Glass Trap (2005), Tomb of the Werewolf (2005), Bikini Girls from a Lost Planet (2006), Bikini Pirates (2006), Ghost in a Teeny Bikini (2006), Bewitched Housewives (2007), The Girl With Sex-Ray Eyes (2007), Nuclear Hurricane (2007), Super Ninja Bikini Babes (2007), Polar Opposites (2008), Solar Flare (2008), Tarzeena, Queen of Kong Island (2008), Voodoo Dollz (2008), Dire Wolf (2009), Silent Venom (2009), Bikini Frankenstein (2010), Bikini Jones and the Temple of Eros (2010), Housewives from Another World (2010), Turbulent Skies (2010), Twilight Vamps (2010), Lady Chatterly's Ghost (2011), Little Witches (2011), Rewind Time Machine (2011), Super Shark (2011), Dirty Blondes from Beyond (2012), Abner the Invisible Dog (2013), After Midnight (2014), Unwanted Guest (2016), Stage Fright (2017) and The Twin (2017).
---
Trailer here
---