---
Crew
Director/Screenplay – Skye Braband, Producers – Skye Braband, Sarah De Leon & Marty Lang, Photography – Matt LaCorte, Music – Bryan Arata, Visual Effects – Sero Alto Inc & SNEDFX, Production Design – Kelsi Teramae. Production Company – ZigZag Pictures/The Malt Shop.
Cast
Christy St. John (Addy Jackson), Steve Marvel (Sam Gladwell), Julie Dolan (Deborah Gladwell), Seneca Paliotta (Birch), Hari Williams (Lotus), Reggie Koffman (Chompy), Udo Kier (Voice of Chompy)
---
Plot
Out of the blue, middle-aged Sam Gladwell receives a text message from Addy Jackson, saying that she is his daughter. Sam meets with Jackson, where it seems that she was conceived with a girl he was involved with 24 years ago before they split up. As Sam and Jackson talk in the park, they see a man on the street opposite approach a young girl and swallow her whole. Later Jackson panics when the same man turns up at her apartment. She flees to Sam for help but Sam's wife Deborah thinks this means he is having an affair with Jackson. Jackson is forced to abduct Sam at knife point. Pursued by the man with the giant mouth whom they nickname Chompy, they go to get the help of Jackson's friend Lotus but he takes a roofie to prevent a girl at a party from drinking it and passes out. They then meet Birch, a young girl they find wandering the street. As Chompy follows, they realise he is not the threat they think and that the real threat is Birch who is turning everyone she meets into an army of identical little girls. They manage to stop her just after she turns Steve's foot into a child's one. Together they set out to stop the army of Birches but Deborah has just run over Chompy, the one person who might be able to stop Birch.
---
Chompy and the Girls was a directorial debut for Skye Braband, a promising young director.
The film opens on a rather hilariously pantomime as Christy St. John attaches a pink cord to the light on the ceiling. We then see her conducting a series of mimes with her hand through the noose of the cord, before standing up to hang herself – only this doesn't go well and she is left with the tips of her feet touching the floor and trying to push herself up to complete the job. This has an eccentricity to it that immediately sells the film to you.
Skye Braband gives the film a sense of deadpan humour that is oddly appealing. Everyone present plays in perfect straight-faced even as the situation around them becomes increasingly ridiculous. The film gets quite outlandish with the introduction of Chompy. The first scene where we see him devouring a girl on the street is shot in wide angle so we don't see too clearly what is happening. But the subsequent scenes with people being pursued everywhere by the unassuming looking Reggie Koffman who has a giant mouth that comes all the way down to his stomach have a bizarrely sinister effect.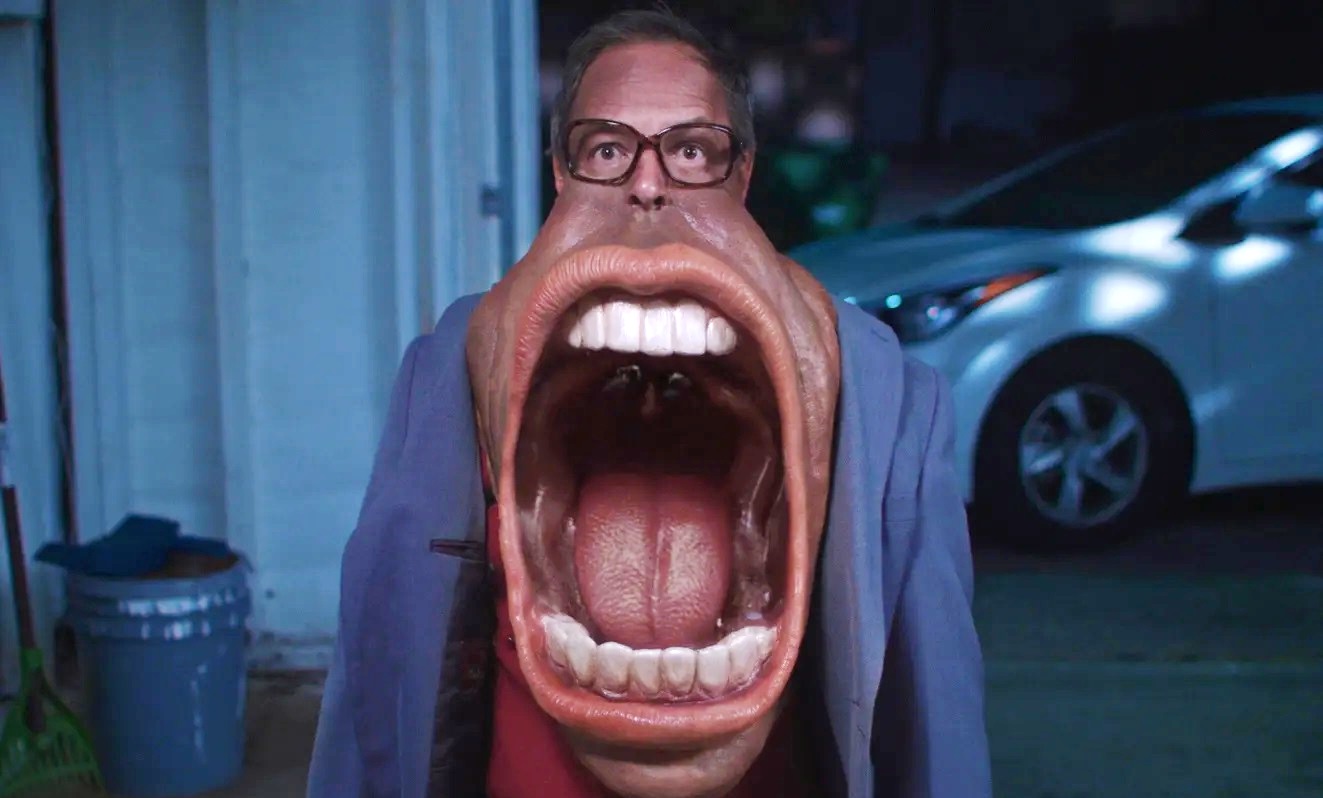 The film contorts through some entertainingly absurd scenes – some of these with Hari Williams swallowing a roofie go off at a tangent that doesn't quite come off. However, the majority of the film is perfectly in tone – none the more so than the bizarre dogleg that comes in mid-film where Christy St. John and Steve Marvel realise that Chompy is not the villain they think (although quite what Chompy is is something the film never bothers to tell us) whereupon they enter its stomach (which proves to be a portal to another dimension (?) and converse with an entity voiced by Udo Kier).
They then join forces with Chompy to fight the army of little girls who are inhabited by an entity (whose nature is equally unexplained) that is turning everyone it comes across into an army of identical little girls. One of the Birches attacks Steve Martel at one point and leaves him with a child's foot before the others drive it off. They team with Chompy to find the army of little girls only for Steve Marvel's wife (Julie Dolan) to turn up and run Chompy over.
The bizarre wackiness of the film is made all the more by the lack of explanations of what is going on – I, for one, had to reaally scratch my head and try and figure out what theme tags I was going to give the film below. Is it an alien invasion film? A body snatchers film? A Lovecraftian comedy? A film about an other-dimensional entity? The characters seem to walk through reacting to everything with perfect deadpan. In this respect, Christy St. John and Steve Marvel, both unknown faces, give fine performances and deliver everything in perfect character, he in particular doing a great job of getting down the dull, milquetoast man.
---
Trailer here
---