---
Crew
Created by Chris White, Creative Director – Saman Kesh, Story – Saman Kesh & Chris White, Producers – Saman Kesh, J.D. Lifshitz, Raphael Margules, Brad Miska, Kimberly Stuckwisch & Chris White, Music – John Beltran, Visual Effects – Bossk Productions. Production Company – Epic Pictures/Screen Time/Boulderlight Pictures/Bloody Disgusting/Going Rogue.
Day 01: Lockdown
Crew
Director – Jeff Desom, Screenplay – Jeff Desom & Saman Kesh, Story – Chris White, Producer – Jimmy Loweree, Photography – John Schmidt, Production Design – Jessica Garrison. Production Company – Little Ugly.
Cast
Kathy Khanh (Ash), Julianne Collins (Liz), Aric Generette Floyd (Jake), Rory Anne Dahl (Rory), Christopher Black (Mr Johnson)
Knockers
Crew
Director – Saman Kesh, Screenplay – Ed Hobbs & Saman Kesh, Photography – Starr Whitesides, Visual Effects Supervisor – Jordan Allen, Production Design – Anne Sperling.
Cast
Josh Peck (Vince), Lina Esco (Becky), Dugan O'Neal (Patrick), Bailee Cowperthwaite (Rose)
Lamaj
Crew
Director – Dugan O'Neal, Screenplay – Saman Kesh & Dugan O'Neal, Photography – Todd Banhazl, Production Design – Caitlin Hawkins.
Cast
Kyp Malone (Jamal Atkins), Kristina Lear (Kathy), Bira Vanara (Leo), Wilson Bethel (Ricky)
Interstitials
Crew
Director – Saman Kesh, Screenplay – Saman Kesh & Chris White, Photography – Luke Sargent
Cast
Darius Levante (Dr Alan Price), David Hemphill (Martin Midnight)
---
Plot
Day 01: Lockdown:- A group of students are in class when something happens outside. Their teacher receives a call and has to leave in a hurry. The group cautiously venture outside, finding the hallway filled with a mysterious shifting wall. Knockers:- All over the world, mysterious doors of seemingly alien origin have appeared. A substantial percentage of the population has ventured through then and failed to return. Scientists nicknamed Knockers have been recruited to go through and explore the realm on the other side. One group of Knockers, consisting of Becky, her boyfriend Vince and Patrick, are given a fifteen-minute window to venture through a door. This leads into a regular-seeming house where they find that the rules of normal reality no longer apply. Lamaj:- Former scientist Jamal Atkins calls his colleague and friend Kathy to him. She arrives with her boyfriend Leo. Jamal shows them that he has a door on his property and has found a mean to communicate with it. This then becomes a source of conflict.
---
Doors is an anthology film. It is produced by Brad Miska who had previously been behind the anthologies V/H/S (2012) and sequels, Southbound (2015), World of Death (2016) and Portals (2019), the latter of which had a very similar premise to this about a series of portals that lead to other dimensions appearing all over the world. Much of the creative direction of the show was shaped by Iranian expatriate Saman Kesh. All three directors had only made short films and music video prior to this. The film was shot over a three-year period.
The first segment is titled Day 01: Lockdown as the episode opens but just Lockdown on the end credits. It is focused on a quartet of schoolchildren as the event that precipitates the arrival of the doors occurs outside (demonstrated quite effectively by nothing more than sound effects, the roof of the classroom rattling and alarmed phone calls). The episode follows the children as they are left alone and tentatively venture outside the room to find the hallway filled by one of the doors, which has the peculiar habit of reflecting their thoughts back to them as intertitle cards. The performances and the tensions between the group are well drawn, before the episode reaches an abrupt ending.
It is not until after the first episode that we get any explanation of what is happening. Here we get one of Saman Kesh's Interstitials that explains the concept of the doors and how they have appeared all over the world and people have been disappearing through them. The voiceover is accompanied by some superb photography and drone shots of land and cityscapes that are hauntingly empty of all human life. At a guess, these would appear to have been shot during the Corona Virus lockdown of 2020.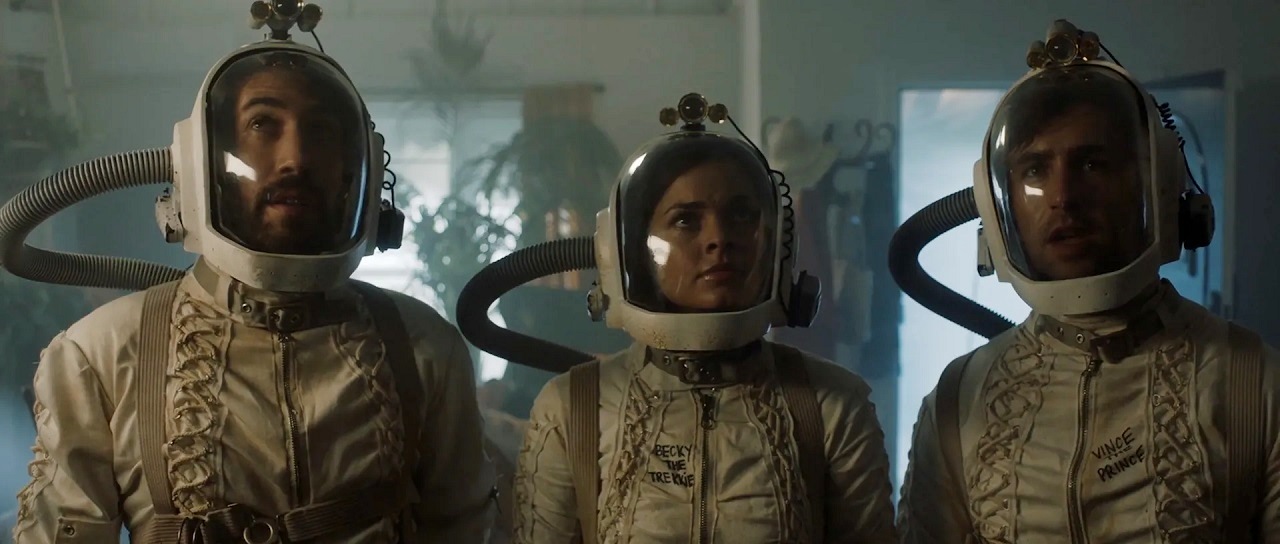 The best segment of the film is the second, which is also the longest, Saman Kesh's Knockers. This involves a trio of characters (one of which is played by Dugan O'Neal, director of the third segment Lamaj) who venture through one of the portals into a world where the rules of normal reality no longer apply. Ever since Stalker (1979), I have been sucker for these sorts of films where people venture into some kind of alien zone. See also the likes of Cube (1997), the Beyond episode of The Animatrix (2003), The Lost Room (2006), Monsters (2010), YellowBrickRoad (2010), How to Save Us (2014) and Annihilation (2018).
The episode strikes even before they enter the door with images of the group entering a regular house in vac suits only to see regular household items tilted at an angle with an explanation offered about how the door is drawing objects towards it. Inside they encounter a regular house but where everything is white, including a kitchen where cutlery has been arranged in strange patterns, baby bottles are stacked atop each other and there is an empty crib rocking. Josh Peck passes through a series of bedrooms where the closet opens into another version of the bedroom, each of which is filled with mysterious marble busts.
Elsewhere, Dugan O'Neal enters a bedroom where flower patterns cover the walls and spill out to be draped over the chairs to find a girl waiting on the bed who seems to know him and says they are in a relationship – there is even a photography of the two of them together on the dresser. The drawings on the fridge in the kitchen and the labels on the pill bottles are all blurred, while the landscapes in the pictures on the walls are moving. The episode culminates as Lina Esco encounters three different versions of Josh Peck and tries to decide which is the real one. Throughout Saman Kesh creates an atmosphere that feels genuinely alien and otherworldly.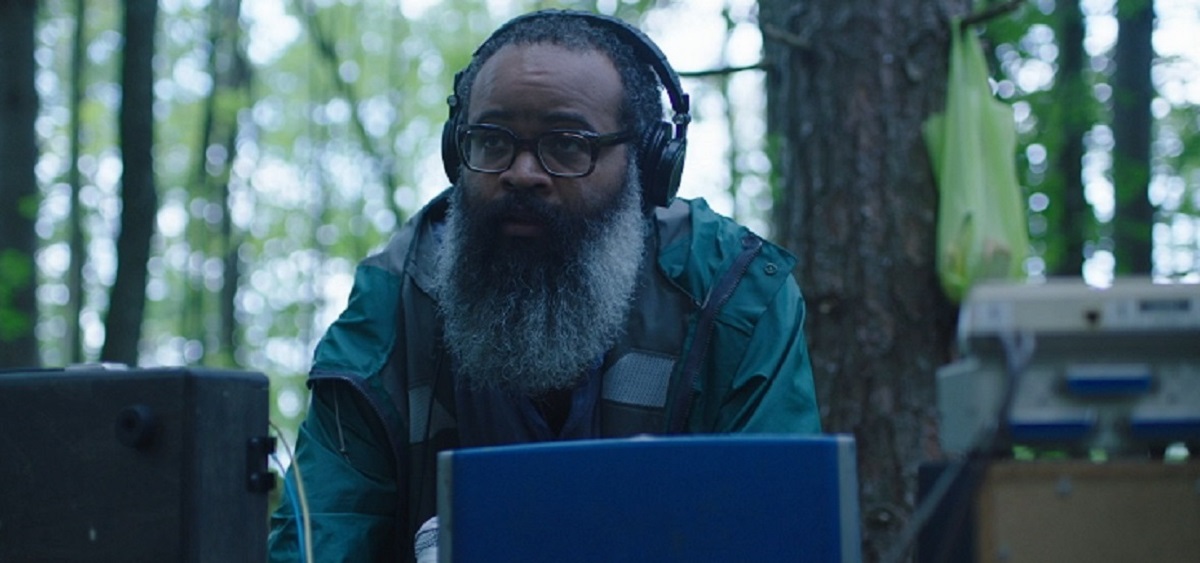 The final segment is Dugan O'Neal's Lamaj with Kyp Malone as a scientist who manages to communicate with the doorways. The discovery goes from wonderment to conflict as Bira Vanara calls the authorities to report the door. Again this is an episode of solid performances that creates a fascinated sense of people trying to confront something inexplicably alien before the episode reaches an abrupt ending.
The finale of the film is another of Saman Kesh's Interstitials, which takes place as a Zoom video call featuring a decidedly creepy performance from Darius Levante as an expert who offers a series of explanations for the doors and urges the interviewer to "embrace your new reality," before things start to get weird.
---