---
Crew
Director/Screenplay – Nick Willing, Producers – Alex Brown & Michael O'Connor, Photography – Jon Joffin, Music – Ben Mink, Visual Effects Supervisors – Barney Curnow & Lee Wilson, Visual Effects – Anthem Visual Effects & The Mill, Special Effects Supervisor – David Barkes, Makeup Effects Design – Toby Lindala, Mad March Design – Schminken Collective, Production Design – Michael Joy. Production Company – Reunion Pictures/RHI Entertainment/Alice Productions Inc/Studio Eight (Alice) Limited.
Cast
Caterina Scorsone (Alice Hamilton), Andrew Lee Potts (Hatter), Matt Frewer (White Knight/Sir Charles Eustace Melville Fotheringay III), Kathy Bates (Queen of Hearts), Philip Winchester (Jack Chase/Jack Heart), Timothy Webber (Carpenter/Robert Hamilton), Colm Meaney (King of Hearts/Winston), Charlotte Sullivan (Duchess), Eugene Lipinski (Doctor Dee/Doctor Dum), Alan Gray (White Rabbit), Geoff Redknap (Mad March), Tim Curry (Dodo), Harry Dean Stanton (Caterpillar), Dave Ward (Walrus), Alex Diakun (Rat Catcher), Teryl Rothery (Carol Hamilton), Nancy Robertson (Dormouse), Zak Santiago (10 of Clubs), Tom Heaton (Duck)
---
Plot
Alice Hamilton is a present-day martial arts instructor. She invites her boyfriend Jack Chase home for dinner to meet her mother. There Jack presents Alice with a ring and tries to persuade her to come away to meet his family that night but she says he is hurrying things too fast. Alice runs after Jack to return his ring only to see him snatched by a man known as The White Rabbit who then demands the ring from her. Alice follows the White Rabbit as he drags Jack away through a mirror and then falls through herself. She finds herself in a bewildering world known as Wonderland that is ruled by the tyrannical Queen of Hearts. Seeking to find Jack, she falls into the company of the roguish Hatter. The Queen of Hearts has been abducting people (nicknamed Oysters) from Earth and placing them in a trance state in a perpetual casino where they are harvested of emotions that are distilled for use as intoxicants in Wonderland. The ring that Jack has given Alice is the Stone of Wonderland, the much sought-after artifact that can open up the Looking Glass that the Queen of Hearts needs to travel between the two worlds. The Queen of Hearts marshals all forces to get the ring back from Alice. Joined by the Hatter and the aging half-crazed White Knight, Alice flees across Wonderland. During her journey, she learns that that her father who disappeared when she was a child is also being held somewhere in Wonderland.
---
Alice is a tv mini-series from director Nick Willing and Reunion Pictures/RHI Entertainment, the same team-up that produced Tin Man (2007) a couple of years earlier. Tin Man fascinatingly took the basics of The Wizard of Oz (1939) and conducted a modernised version that retold the familiar aspects of the story in science-fictional terms – The Scarecrow physically had parts of his brain removed; Toto became a human-dog shapechanger; rather than being rusted, The Tin Man was kept in cryogenic suspension and so on – while everything was set in a quasi-Steampunk alternate world.
One suspects that the production of Alice, which aired in December 2009, was also cannily designed to tie in with the publicity for the high-profile Tim Burton film Alice in Wonderland (2010), which premiered three months later. It should also be noted that Nick Willing had earlier conducted a straight tv mini-series version of Alice in Wonderland (1999) for the same people behind RH1 who were then operating as Hallmark Entertainment. Nick Willing and RHI next went onto make Neverland (2011), which similarly retells Peter Pan (1904).
With Alice, Nick Willing, Reunion and RHI Entertainment have attempted to take the same approach they did in Tin Man in giving science-fictional interpolations to Lewis Carroll's Alice's Adventures in Wonderland (1865) and Through the Looking Glass (1871). As with Tin Man, the familiar characters have been given radical spins. Within the first few minutes, we meet the White Rabbit but now he is a sinister lackey of the Red Queen who abducts Jack through the looking glass. Tweedledum and Tweedledee now become two sinister torturers; The Knave of Hearts is reconceived as Alice's boyfriend.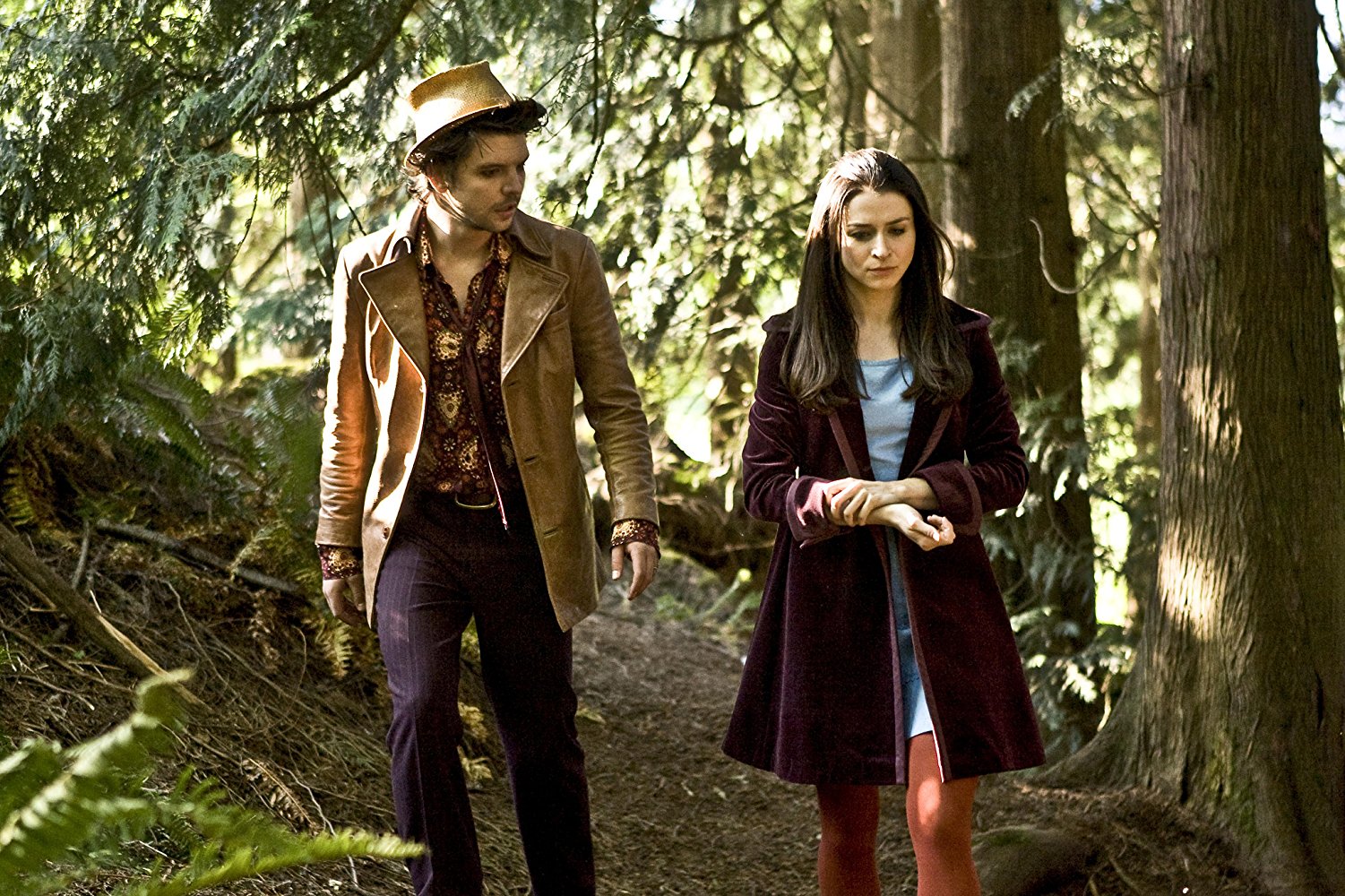 The mini-series' most radical revamping has been the character of the March Hare who is now reimagined as an assassin who has been raised from the dead and converted into a cyborg with a ceramic rabbit's head to replace his missing human head. There are some fascinating analogues of familiar scenes from the book – Alice doesn't take pills that cause her to shrink and enlarge, although there is a scene where the White Rabbit traps her inside a room that starts compacting in on her. The Red Queen's flamingos are reconceived as bizarre pink flamingo-shaped flying cycles.
There are other equivalents of the Caterpillar, the Dormouse, the Dodo, the Walrus (a man with a handlebar mustache), although somewhat disappointingly these only consist of people that have been given the name of Wonderland characters and nothing else. (Surprisingly absent is the character of the Cheshire Cat, which one would have thought would have been a natural for a work like this). Alice has been given a modernisation with her familiar eggshell blue pinafore having been worked over into a smart one-piece mini, while she now finds employ as a martial arts instructor, which allows her to kick ass once in Wonderland far more than any other screen Alice.
The main problem that Alice faces is that neither of the Lewis Carroll books had much in the way of plot so it has been necessary to create elements that provide the mini-series with narrative drive, including giving Alice a quest to find her father, creating the fantasy McGuffin of the Stone of Wonderland ring that everybody is seeking, as well as the Red Queen having been extruded out to become the equivalent of a standard fantasy villain.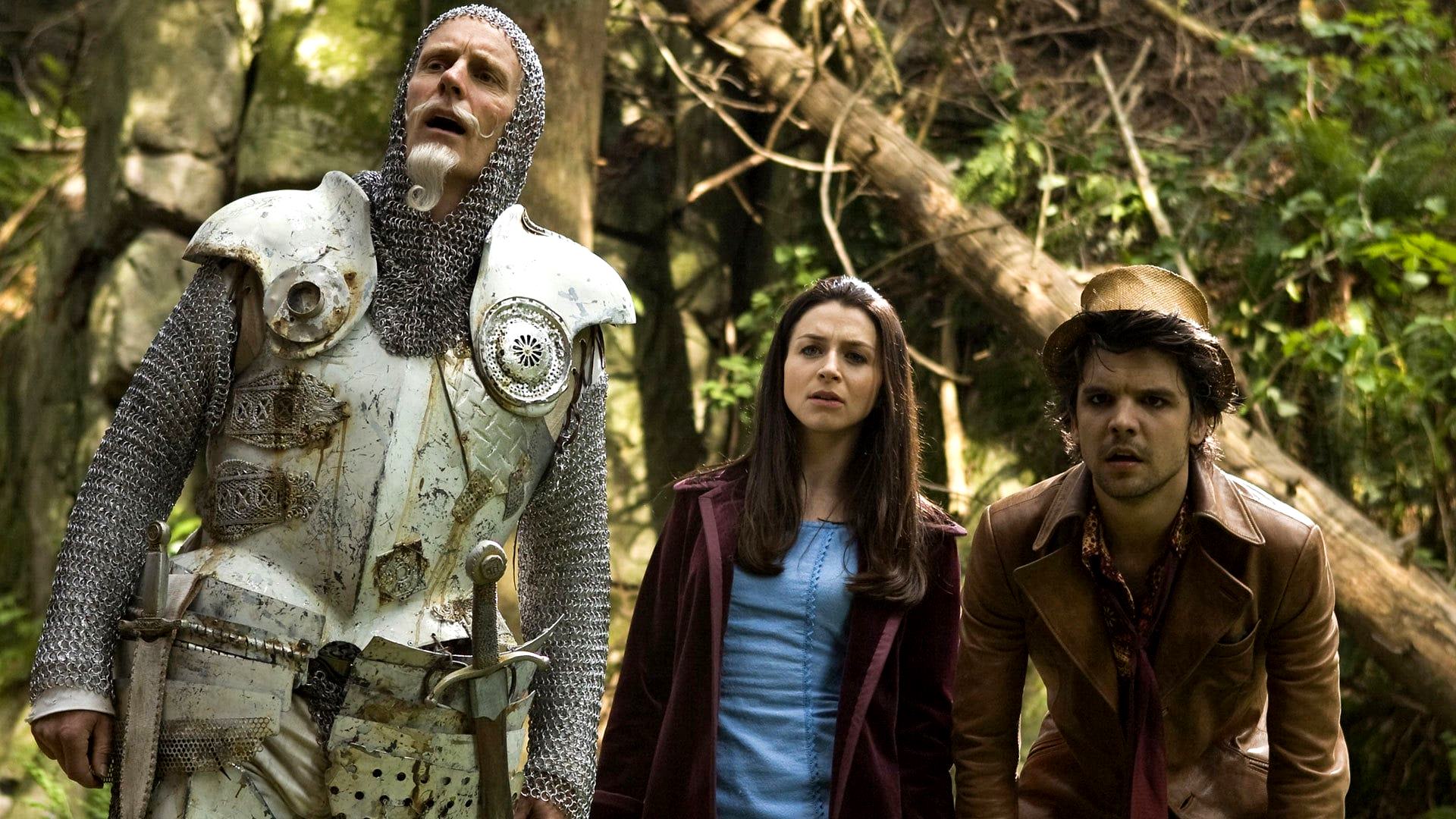 Here Alice shares the same approach taken by the Tim Burton Alice in Wonderland in that both works seek to expand the Lewis Carroll books out beyond a nonsense picaresque and do so by drawing on the tropes of the modern fantasy film. Both solve their problems in similar ways – the familiar characters are given backstories, the story is treated more as epic fantasy than absurdism, the Red Queen becomes an evil tyrant dominating the land and the Mad Hatter has his role expanded to become Alice's principal companion. Alice is also bumped up in age from a young girl to a young woman and there are confused and never fully explained suggestions that she could be "The Alice" of legend.
Caterina Scorsone is perhaps a little quiet as Alice but emerges with understated strength as the mini-series progresses. As The Hatter (with the Mad aspect now somewhat de-emphasised), Andrew Lee Potts, a rising young British actor of the last few years, is probably a little too boyish for what the part requires and certainly nowhere near mad enough to compete with almost any other cinematic playing.
The two best performances come from Kathy Bates and Matt Frewer. Kathy Bates is a great actress who has never done anything to match her role in Misery (1990) so it is great seeing her back in full swing as the Red Queen. She wields wonderfully autocratic force and magnificently dominates every scene in which she appears. Equally, Matt Frewer is an adept and intelligent actor whose failing in recent years has been giving in towards broad and hammy playing. Here Frewer has an enormous amount of fun going completely wacky as the White Knight. Indeed, his eccentricities make for one of the most endearing characters in the mini-series (and also the one character of the show that is most authentic to their original Lewis Carroll counterpart).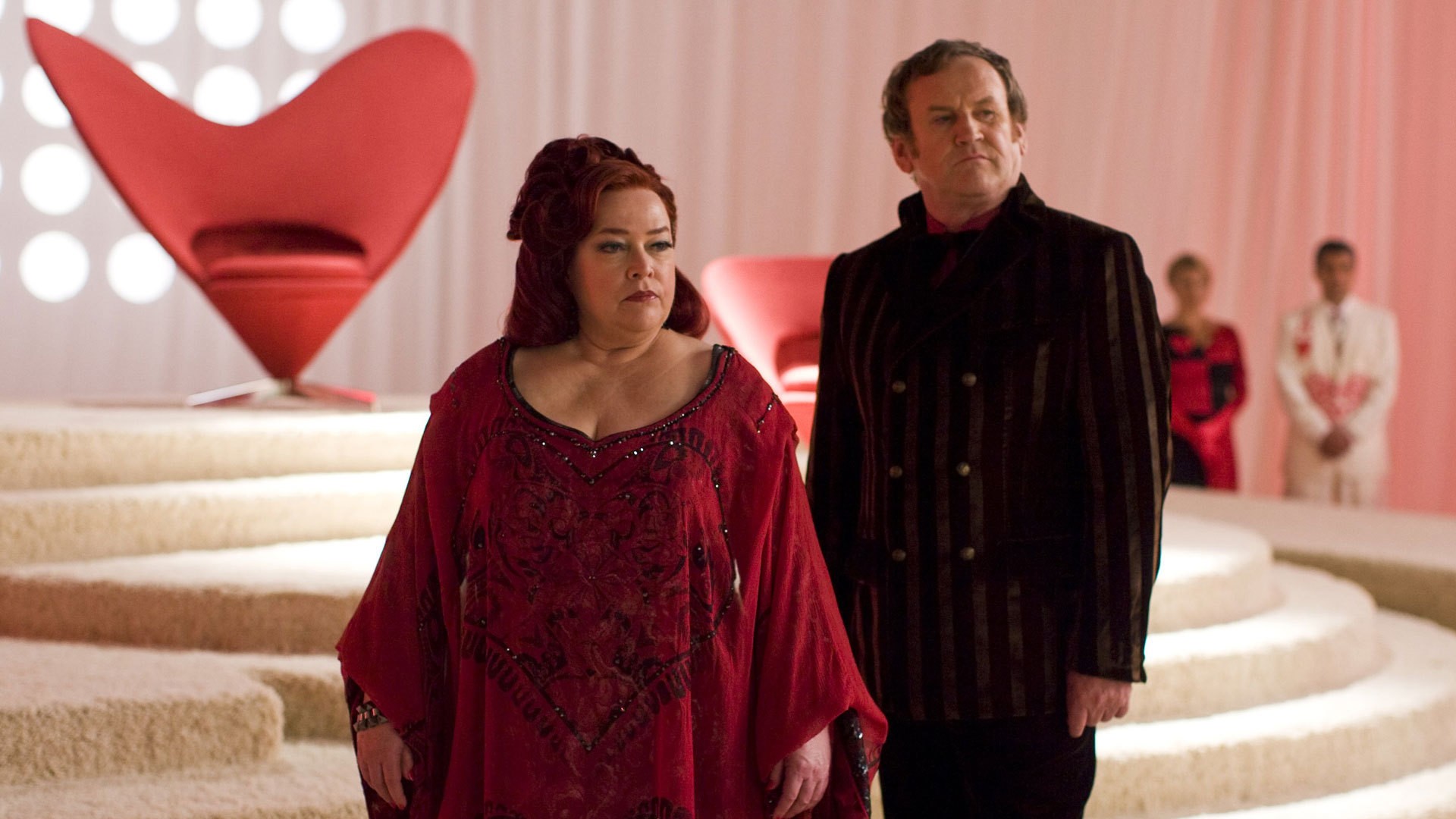 The production design and visual effects team attempt something slightly different than the Steampunk look employed on Tin Man. Wonderland is designed as a ruined contemporary cityscape that is all canyons plunging between buildings with narrow ledges of doorways along the outside or canals running through the middle of the city.
There are some fascinatingly offbeat designs, including a flying vehicle designed as a beetle and a bus that has been converted into an elevator, or the Happy Hearts casino, which comes with blinding red suit patterns on a pure backlit white design scheme. (The idea of the casino where gamblers perpetually win and are secretly harvested has been lifted from the Battlestar Galactica (1978) pilot/film). The visual effects used to create the Jabberwocky and extend the city locations to something not quite familiar are modestly effective and convincing.
Nick Willing's other genre works are:- Photographing Fairies (1997), the occult thriller Doctor Sleep/Close Your Eyes/Hypnosis (2002), the thriller The River King (2005), the horror film Altar (2014) and tv mini-series such as Alice in Wonderland (1999), Jason and the Argonauts (2000), Tin Man (2007) and Neverland (2011). Willing also conceived/produced the tv mini-series The Infinite Worlds of H.G. Wells (2001).
The other screen adaptations of Alice in Wonderland are:- Alice in Wonderland (1903), a silent British short; Alice's Adventures in Wonderland (1910), a silent American short; Alice in Wonderland (1915); Alice Through the Looking Glass (1928); Alice in Wonderland (1931), the first sound version; Paramount's Alice in Wonderland (1933) with an all-star cast of the day including W.C. Fields, Cary Grant and Gary Cooper; the partly stop-motion animated French Alice in Wonderland (1949); the classic Disney animated version Alice in Wonderland (1951); the NBC tv version Alice in Wonderland (1955); the modernised Hanna-Barbera animated tv special Alice in Wonderland, or What's a Nice Kid Like You Doing in a Place Like This? (1966); the NBC tv production Alice Through the Looking Glass (1966); the all-star British film Alice's Adventures in Wonderland (1972) featuring Michael Crawford, Ralph Richardson, Peter Sellers, Spike Milligan and Dudley Moore; the BBC tv production Alice Through the Looking Glass (1974); the Italian tv mini-series In the World of Alice (1974); a 1976 Argentinean film version; a pornographic version Alice in Wonderland (1976); a Spanish film version Alice in Spanish Wonderland (1979); the Belgian film Alice (1982), which features equivalents of the Wonderland characters in the modern world; a US tv production Alice in Wonderland (1982); a US tv version Alice at the Palace (1982) with Meryl Streep as Alice; a BBC musical version A Dream of Alice (1982) with Jenny Agutter as Alice; a British tv series Alice in Wonderland (1985); Irwin Allen's all-star tv mini-series Alice in Wonderland (1985) featuring Roddy McDowall, Telly Savalas and Shelley Winters; a BBC tv series Alice in Wonderland (1986); the animated Alice Through the Looking Glass (1987); having been combined with the Care Bears in the animated The Care Bears Adventure in Wonderland (1987); Jan Svankmajer's bizarrely brilliant Claymation animated Alice (1988); Woody Allen's modernised urban spin Alice (1990); the US tv series Alice in Wonderland (1991); the British tv version Alice Through the Looking Glass (1998) with Kate Beckinsale as Alice and an all-star cast; Alice's Misadventures in Wonderland (2004), a modernised indie film take on the story; Malice in Wonderland (2009), a modernised British film that translates Wonderland into an urban environment; Alice in Murderland (2010), an Alice in Wonderland-themed slasher film; Tim Burton's big budget Alice in Wonderland (2010) and its sequel Alice Through the Looking Glass (2016); Alyce (2011), another modernised urban translation; the modernised tv series Once Upon a Time in Wonderland (2013-4); and The Other Side of the Mirror/Alice: The Darker Side of the Mirror (2016), a dark retelling. Also of note is Dennis Potter's tv play Alice (1965), which explores Lewis Carroll's relationship with Alice Liddell, the young girl who became the model for Alice, and the later film Dreamchild (1985) in which the real-life Alice reminisces back on her memories of Lewis Carroll and the writing of the story.
---
Trailer here
Part 1 available here:-
Part 2 available here:-
---