---
Crew
Director – Peter Sasdy, Screenplay – Clive Exton, Based on the TV Series Created by Gerry Davis & Kit Pedler, Producer – Tony Tenser, Photography – Kenneth Talbot, Music – John Scott, Makeup – Tom Smith, Art Direction – Colin Grimes. Production Company – Tigon British.
Cast
Ian Bannen (Dr Dell Shaw), Judy Geeson (Victoria Brown), John Paul (Quist), Simon Oates (John Ridge), George Sanders (Sir Geoffrey), Shelagh Fraser (Mrs Straker), Michael Brennan (Vicar), Percy Herbert (Constable Hartwell), Geoffrey Keen (Sir Henry Layton)
---
Plot
Dr Dell Shaw, an investigator from the British ecological watchdog group Doomwatch, is sent to the remote island of Balfe to file a report on the effects of a recent oil tanker spill. There he becomes fascinated with the mysterious behavioural disorders of the locals – their rudeness and random aggression – and the strange genetic prevalence of thick lips and sloping brows. Investigation shows that the fish in the area are suffering from hormonal disorders, which are being caused by leaking drums of growth stimulants that have been dumped offshore. As a result of eating the fish, the islanders are developing acromegaly, a disorder of excessive hormonal growth, usually the result of family interbreeding, which produces aggression and eventually madness.
---
This was a film spun off from the popular British tv series Doomwatch (1970-72) for the BBC, a show that was way before its time in its championing of environmental issues and no-nonsense accusations of government and corporate cover-ups. Throughout the three seasons of the show, the titular organisation fought such menaces as plastic-eating bacteria, pesticides, intelligent rats and in vitro birth experiments. The series was given an edge of alarming realism in that co-creator Kit Pedler actually did work as a research scientist for the British Government and would reportedly bring reports to the studio and use them as the basis of scripts. John Paul and Simon Oates are retained as the same characters they played in the series.
The Doomwatch film was made by Tigon British, a small company that were trying to become players in the Anglo-Horror arena and imitate the success of Hammer Films. They made a handful minor horror entries including Curse of the Crimson Altar (1968), Blood on Satan's Claw (1971) and The Beast in the Cellar (1970). With Doomwatch, Tigon employed director Peter Sasdy who had made a distinctive impression at Hammer with Taste the Blood of Dracula (1970), Countess Dracula (1971) and Hands of the Ripper (1971), among others.
Doomwatch is not a bad film. Its greatest advantage comes in a credible and scientifically grounded script and a certain topicality of interest regarding then emerging environmental concerns. The problem would seem to be that this is flying in the face of the audience that the film was sold to. Tigon tried to market Doomwatch as a horror film and ended up losing out because it had no monsters and was far too wordy and not scary enough. The climax, for example, tries to push the story into being a horror film by creating a siege with the hero fighting off attacking acromegaly sufferers but Doomwatch is not a horror type film and this feels forced.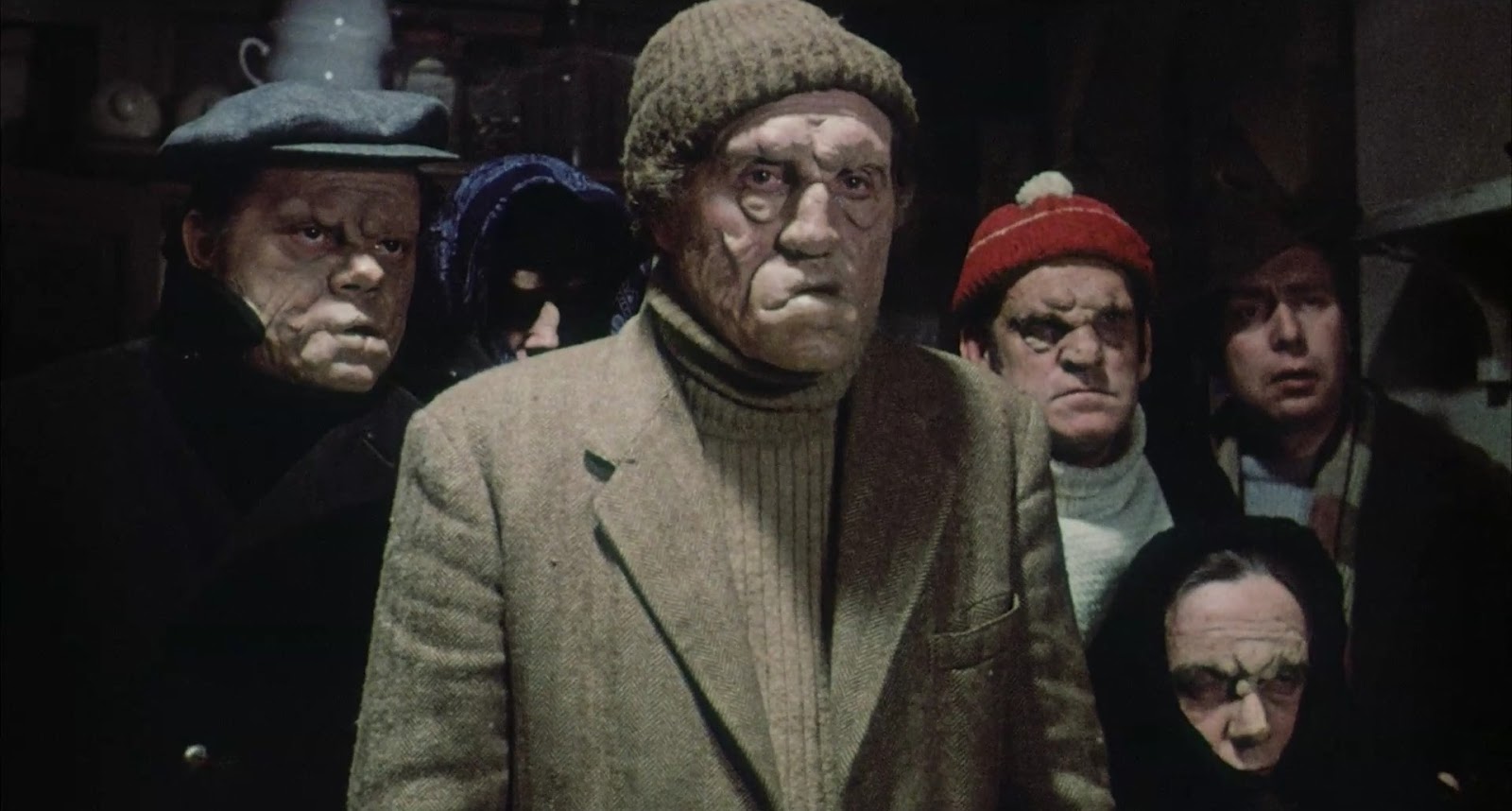 Seen outside of that, Doomwatch is a nice little film. Not too many people ever seem to rate it that highly but it is a decent effort. In fact, it is arguably the best of director Peter Sasdy's films, at least stylistically. Sasdy develops the paranoid parochial atmosphere with a reasonable degree of effect. There is some excellent photography – particularly the underwater scenes and location work. In particular, there is a beautiful shot focused through a glass of water with a gun-toting man seen distorted as he runs along a cliff-top.
Doomwatch was subsequently revived in a tv movie Doomwatch: Winter Angel (1999).
Prior to this, Gerry Davis had served as a script editor on tv's Doctor Who (1963-89, 2005- ) during the Patrick Troughton years. Kit Pedler was hired as the show's scientific advisor. The two are best known as the creators of The Cybermen. Davis later co-wrote The Final Countdown (1980), a time travel film in which a modern aircraft carrier is transported back to the eve of Pearl Harbor.
Peter Sasdy's other genre outings were:– Taste the Blood of Dracula (1970), Countess Dracula (1971), Hands of the Ripper (1971) about Jack the Ripper's daughter, the immortality syndicate film Nothing But the Night (1972), the Nigel Kneale ghost story tv play The Stone Tape (1972), the Satanic impregnation film The Devil Within Her/I Don't Want to Be Born (1975) and the proto-Virtual Reality film Welcome to Blood City (1977).
---
---