---
Crew
Director/Photography (colour + b&w) – Kazuaki Kiriya, Screenplay – Kazuaki Kiriya, Dai Sato & Shotaro Suga, Producers – Hidechi Miyajima, Toshiro Ozawa & Toshiaki Wakabayashi, Music – Shiro Sagisu, Visual Effects Supervisor/Concept Design – Toshiyuki Kimura, CGI Supervisor/Concept Design Artist – Haruhiko Shono, Production Design – Yuji Hayashida. Production Company – Shochiku/Casshern Partners.
Cast
Yusuke Iseya (Tetsuya Azuma/Casshern), Akira Terao (Dr Kotaro Azuma), Toshiaki Karasawa (Burai), Kumiko Aso (Luna Kozuki), Mitsuhiro Oikawa (Kaoru Naito), Kanako Higuchi (Midori Azuma), Hidetoshi Nishijima (Lieutenant Colonel Kamijo), Hideji Otaki (General Kamijo), Fumiyo Kohinata (Dr Kozuki), Jun Kaname (Barashin), Hiroyuki Miyasako (Akubon), Susumu Terajima (Sakamoto), Mayumi Sada (Sagure)
---
Plot
It is many years in the future where a great war between The Eastern Federation and Eurasia has finally been won by Eurasia. Before a conference of scientists, Dr Kotaro Azuma proposes the revolutionary idea of developing neo-cells that will be able to regenerate the human body (he hoping to help his ailing wife Midori), but is decried. Afterwards, a large corporation comes forward offering to back him. Dr Azuma's son Tetsuya volunteers for the military, only to be killed in combat. Just as Dr Azuma receives news of Tetsuya's death, a freak accident occurs in the neo-cell tanks and the body parts being experimented on assemble into a host of mutant creatures that come to life. Most of these are massacred by soldiers but four of mutants escape and abduct Midori and Tetsuya's girlfriend Luna. They set up base in a castle in the mountains, claiming themselves a new species Neo-Sapiens and declaring war against humanity. Meanwhile, Dr Azuma places Tetsuya's dead body into the neo-cell tanks, which causes him to resurrect with vast superpowers. As the Neo-Sapien leader Burai builds an army of killer robots, the only one able to take on and stop the Neo-Sapiens is Tetsuya who claims the name of the native guardian spirit Casshern.
---
Casshern is a live-action remake of an anime tv series Casshan (1973-4), which lasted for 35 episodes. The tv series was later revived as an OVA feature Casshan: Robot Hunter (1993). Throughout the series, Tetsuya Azuma, who has been revived as a superheroic character by his father, battles the evil neo-humans and their robot army, sometimes aided by his robot transformer dog Friender.
Casshern was one of the new blend of fantastic films that came out in 2004-6, all of which experimented with new forms of filmmaking technology to fall halfway between live-action and animation. These include works like Sky Captain and the World of Tomorrow (2004), Sin City (2005) and Ultraviolet (2006) that use the digital backlot technique where sets exist inside the computer and actors are filmed in front of a blue or green screens; Immortal (ad vitam) (2004) and its blend of live-action and animated characters; and The Polar Express (2004), which began the art of performance capture animation rendered from digitally captured actors and/or rotoscoping techniques over live-action footage. In the case of Casshern, director Kazuaki Kiriya made a conscious attempt to blend digital backlot technology to craft a film that resembles anime rendered in live-action.
This results in a film that drips with gorgeously over-ornamented visuals and background texture. The opening takes us on a dazzling tour of the futuristic retro-world that the film exists in – where the background technology is all pistons and clockwork machinery, where giant Albert Robida-styled helicopter vehicles drift through the city skies and massive trains move through dense industrial cityscapes, where giant sculpted faces loom from the sides of skyscrapers and signs are in the Cyrillic alphabet.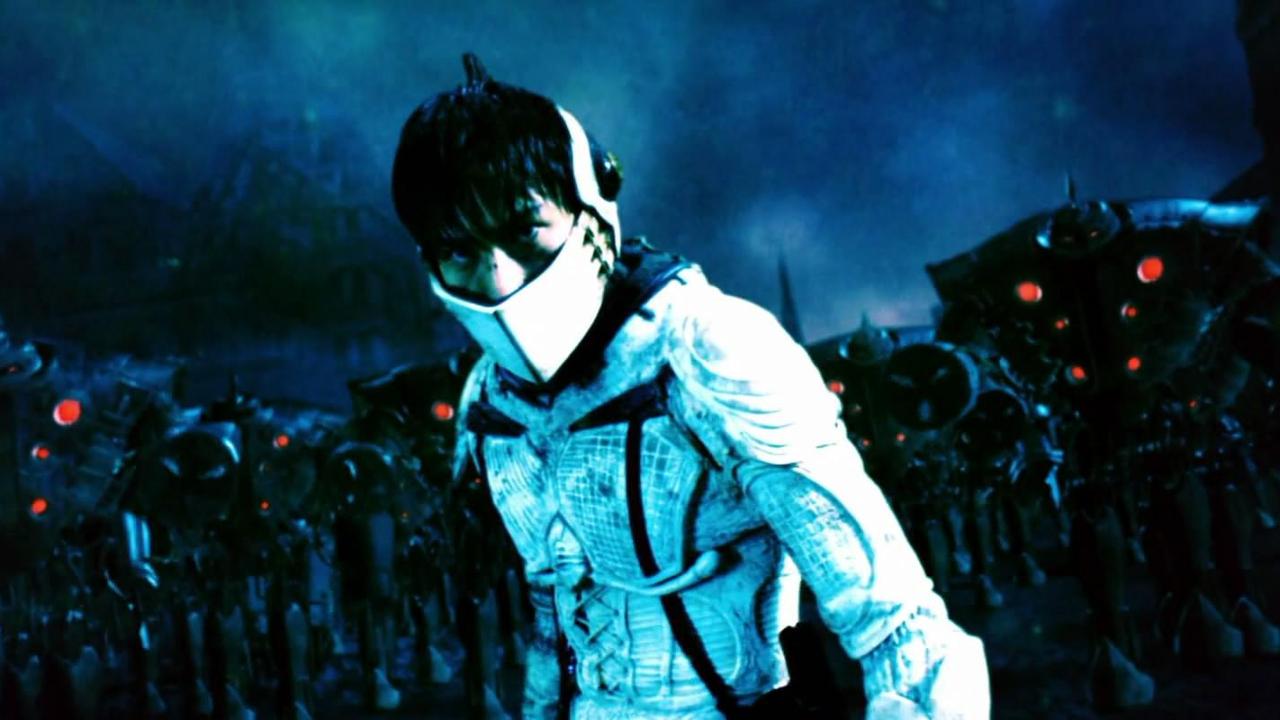 The sets are ornately dressed – Kumiko Aso's bedroom, for instance, seems to be a single pew sitting in the middle of a mausoleum; Kanako Higuchi is held prisoner in a bedroom with a bed that is designed like a blue velvet swan; the lab complex is like an old 1950s nuclear reactor with massive clunky dials and looming black industrial machinery; at a banquet table for the political leaders, classical works of art are projected on the wall behind huge colonnades.
The vehicles throughout the film are stunning – giant robots, flying machines that are like boxes with propellers attached along the outside, squadrons of bombers that look like inverted U-boats or have faces on the front of the planes and Burai's ultimate giant killer robot, which looks somewhat like the ambulatory castle out of the same year's anime Howl's Moving Castle (2004).
There are some amazing action set-pieces, especially the sequence where Tetsuya goes into action against the killer robots – where the Moon occupies three-quarters of the sky and with Tetsuya running up the sides of buildings, catching missiles in his hands, karate chopping robots in half, firing ray blasts from his hips that go through dozens of robots, cutting them up with a sword pulled from one robot's guts, grabbing a robot with a gun turret mounted on it to mow the robots down en masse. This is all capped by the wonderfully stylised images of Tetsuya going to confront Burai, he all in white with Burai in a rippling scarlet red cape. There is also a fabulous climax on the battlefield with Tetsuya racing through the robots to zoom up the face of Burai's uber-robot and turn back the hands of its giant clock-face to blow it up.
Kazuaki Kiriya crafts the action into impeccably iconic shots – like one with Toshiaki Karasawa clambering up a tower, Mitsuhiro Oikawa cruising by overhead in the battlement prow of a helicopter ship as Karasawa rips the flag off and whips it around his shoulder like a cape and stands against a massive full moon that seems with astronomic improbability to fill the whole sky.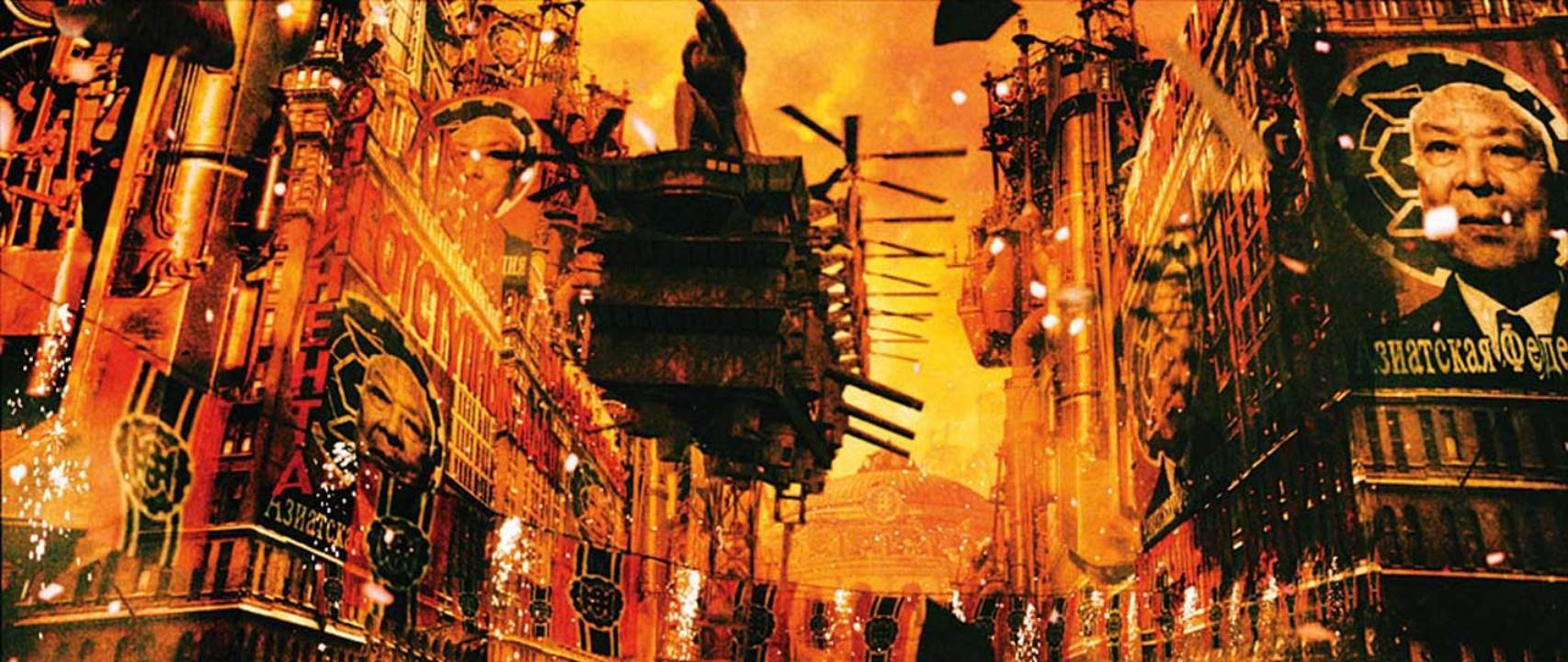 Other times, Kiriya's direction topples over into the corny – especially the scenes of the neo-sapiens sloughing through the mountains where they top a mountain peak and at the moment of total physical exhaustion, their anguish and woe is transformed by a seemingly divine rise of sunlight and the appearance of a mediaeval castle abandoned in the middle of nowhere. It is a scene where Kazuaki Kiriya's desire for the epical topples over into something that has the corniness of a 1950s Biblical epic. Elsewhere – with the lightning bolt that animates the neo-sapiens, some of the swordfight sequences – the action is overlaid by strange cabbalistic symbols, an effect that seems pretentious.
Kiriya aims for Akira Kurosawa-esque extruded drama – much suffering and despairing, oaths of vengeance, speeches about being human, nationhood and love. The film reaches a sentimental ending where Tetsuya and Luna reunite on the battlefield, fireworks rise from the ground and detonate in the sky as they embrace, before a beam of light travels through the Solar System and we then get flashbacks to most of the characters in the film in what seems like alternate settings of domesticity – the old man in a wheelchair, the chief villain with a wife and family – as the voiceover tells us that we hurt others by our existence, that we need to learn to forgive one another and that in doing so there lies hope.
At its heart, Casshern is nothing more than a Frankenstein film fed through the fad for Japanese power-suit superheroes a la Ultraman (1966-7) and the giant killer robot genre. The film goes on too long and often feels that in between all the artistically overdressed scenography that Kazuaki Kiriya is just pumping a cartoon story up with pretensions to the dramatically monumental and artistically meaningful. That Casshern is a triumph of artwork and scenography there is no doubt; that it has anything to say outside of simply being an anime pulp adventure is another question. In terms of intellectual content, Casshern never seems to rise to the level of the artistic dressing that Kazuaki Kiriya presses on it all.
Kazuaki Kiriya next went on to direct the historical epic Goemon (2009) in a similar visually florid and over-ornamented style, followed by the English-language historical epic Last Knights (2015).
(Nominee for Best Production Design at this site's Best of 2004 Awards).
---
---