---
Crew
Director – David Lane, Screenplay – Gerry Anderson & Sylvia Anderson, Producer – Sylvia Anderson, Photography – Harry Oakes, Music – Barry Gray, Visual Effects Supervisor – Derek Meddings, Art Direction – Bob Bell, Puppet Co-Ordinator – Mary Turner. Production Company – Century 21 Cinema.
Voices
Peter Dynley, Ray Barrett, David Graham, Neil McCallum, Jeremy Wilkin, Shane Rimmer, Charles Tingwell, Matt Zimmerman, Alexander Davion, Paul Maxwell, Christine Finn, Sylvia Anderson, Keith Alexander, John Carson, Gary Files, Geoffrey Keen
---
Plot
Brains comes up with a revolutionary new design for an airship, The Skyship 1. However, at the ship's inaugural launch, terrorists shoot the crew and take their place. They take off with Lady Penelope aboard as a passenger unaware of what has happened. They secretly tape everything she says, piecing words together so that they can fake a call from her to International Rescue and bring them to an ambush site. International Rescue outwits the plan but during a fight the ship's gravity compensators are damaged and it crashes into and is precariously impaled on a tower over a missile base. It is up to International Rescue and the Tracy Brothers to affect a rescue – but the only Thunderbird that is capable of doing so is Brains's so-called Thunderbird 6 – a Tiger Moth biplane.
---
This was the second film spun off from Gerry and Sylvia Anderson's puppet tv series Thunderbirds (1965-6). The first film was Thunderbirds Are Go (1966) and this is actually a somewhat better film than that. Thunderbirds Are Go had some excellent model effects and some memorable moments of kitsch but that never quite extended to a dramatically sound film. Thunderbird 6 improves that somewhat.
Certainly, the first half of Thunderbird 6 is indulgent and dramatically weak – the scenes with Parker being befuddled by the pilotless biplane are silly and the middle of the film is almost entirely taken up by travelogue scenes as the airship cruises around the world. There is almost nothing else going on (apart from the taping of Lady Penelope's conversations) and these scenes never amount to anything more than a half-hour time filler.
That said, the film improves markedly once it reaches the climax – the rescue scenes aboard the tower are excitingly mounted and it is certainly much more of a dramatically coherent climax than Thunderbirds Are Go had. The effects, model work and the patented Anderson explosions that everything goes up in are all top-notch.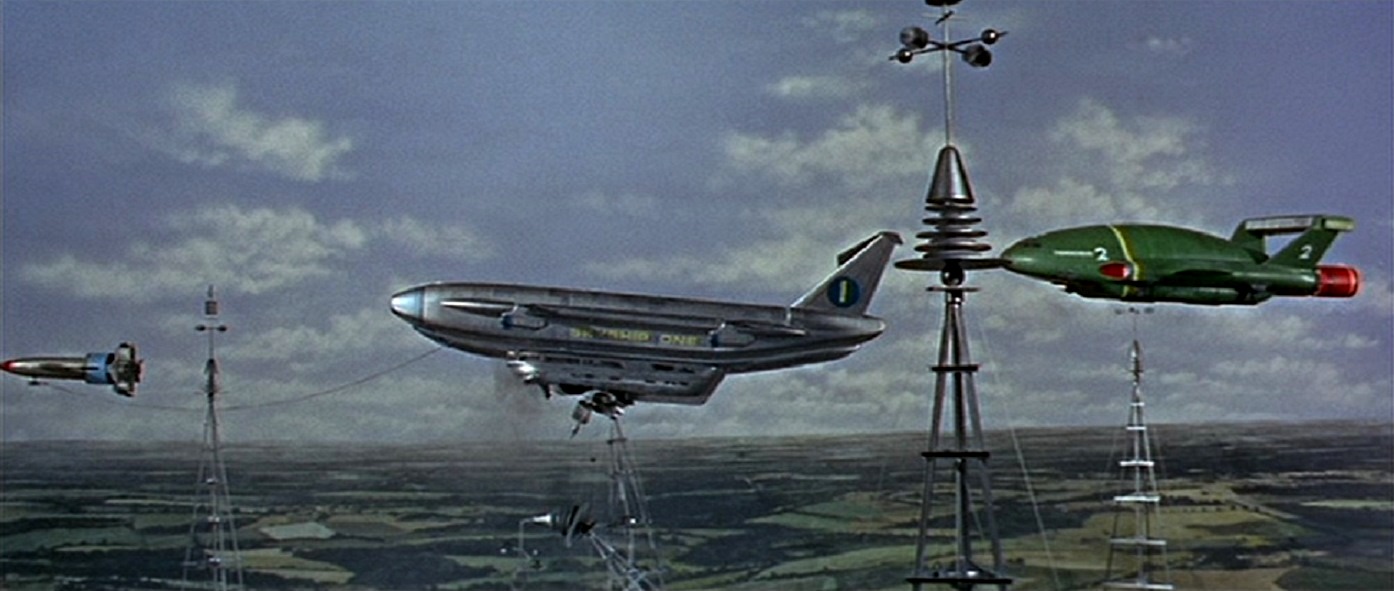 What the film does lack is the kitsch scenes like the images of the Thunderbirds puppets cavorting with puppets of The Shadows in the first film. Certainly, the skyship does display some alarmingly garish psychedelic interior decoration. Lady Penelope's wardrobe is interesting – the films had much bigger budgets than the tv series, allowing an elaborate array of costume changes, outfitting Lady P at the height of contemporary glamour. One of the pluses of the travelogue scenes are some excellent shots of the airship crossing in front of the Grand Canyon, The Sphinx, the Statue of Liberty and so on. It is all capped off by a typically loud and thunderously didactic Barry Gray score.
Thunderbirds (2004) was a disappointing big-screen remake of the tv series. The Thunderbirds were later revived in a CGI-animated tv series Thunderbirds Are Go (2015– ).
The other Gerry Anderson puppet tv series are Torchy the Battery Boy (1957), The Adventures of Twizzle (1958), Four Feather Falls (1960), Supercar (1961-2) and Fireball XL5 (1961-2), Stingray (1963-4), Thunderbirds, Captain Scarlet and the Mysterons (1967), Joe 90 (1968) and the part-live, part-puppet The Secret Service (1969). After that the Andersons abandoned puppet-making for live-action with the science-fiction film Doppelganger/Journey to the Far Side of the Sun (1969) and the live-action tv series UFO (1970-2) and Space: 1999 (1975-7). Following his divorce from collaborative partner Sylvia in 1977 and a number of aborted projects, Anderson made a solo return to puppetry with the likes of Terrahawks (1983-6), Dick Spanner P.I. (1986), Space Precinct (1994-6) and Lavender Castle (1999). Also of interest is Filmed in Supermarionation (2014), a documentary about Anderson's puppet shows, and Gerry Anderson: A Life Uncharted (2022), a documentary about Gerry Anderson's life.
---
---