aka The Last Days of Man on Earth
---
UK. 1974.
Crew
Director/Screenplay/Production Design – Robert Fuest, Based on the Novel by Michael Moorcock, Producers – John Goldstone & Sandy Lieberson, Photography – Norman Warwick, Music – Paul Beaver & Bernard Krause. Production Company – Goodtimes Enterprises/Gladiole Films.
Cast
Jon Finch (Jerry Cornelius), Jenny Runacre (Miss Brunner), Derrick O'Connor (Frank Cornelius), Graham Crowden (Dr Smiles), Hugh Griffiths (Professor Hira), Sterling Hayden (Major Wrongway Lindbergh), Harry Andrews (John), Patrick Magee (Dr Baxter), George Coulouris (Dr Powys), Basil Henson (Dr Lucas), Giles Millinnaire (Dimitri), Ronald Lacey (Shades)
---
Plot
After the death of his father, spy and Nobel Prize winning physicist Jerry Cornelius undertakes a mission to raid his family home, which has been taken over by his brother Frank, in order to rescue his sister Catherine and a microfilm that contains the Final Programme left by his father. He retrieves the microfilm but Catherine is killed in the process. Joined by the mysterious Miss Brunner, a bisexual woman with the habit of consuming her lovers, Jerry travels to Lapland where Miss Brunner and a team of scientists are preparing to launch the Final Programme, which will combine two human beings and produce the messiah to save the world before the coming end.
---
Michael Moorcock may well be the most prolific of all sf/fantasy authors, with over 100 books to his credit. He has created more entire series than most authors write books in their life. Much of Moorcock's early work was hack fantasy, although he has produced much that is memorable – particularly the character of the gloomy anti-hero Elric of Melnibone and the Dancers at the End of Time series set in a decadent future. In the last three decades, Moorcock has become an increasingly more literary writer, defying any easy genre boundaries. One of Moorcock's most popular creations was Jerry Cornelius, which started out as a surreal, psychedelic variation on James Bond in The Final Programme (1968) and whose adventures concatenated through three increasingly more surreal books A Cure for Cancer (1971), The English Assassain (1972) and The Condition of Muzak (1978), as well as subsequent revisitings such as The Entropy Tango (1981), The Opium General (1984) and Firing the Cathedral (2002).
The Final Programme is the only one of Michael Moorcock's books to have been filmed. (Hint: Elric would make an utterly awe-inspiring film some day. For the sake of outright subversiveness, I would love to see a film made of Moorcock's Behold the Man (1966), but that is never likely while there are still fundamentalists in the world). Moorcock did also contribute the script to Amicus's adaptation of Edgar Rice Burroughs's The Land That Time Forgot (1974).
The Final Programme was made by Robert Fuest, a director who emerged with the psycho-thriller And Soon the Darkness (1970) and then had a hit with the sublimely arch Vincent Price vehicle The Abominable Dr Phibes (1971) and its lesser sequel Dr Phibes Rises Again (1972). Unfortunately, Dr Phibes showed Robert Fuest to be a one-hit wonder with his career thereafter being a quick slide downwards though The Final Programme, followed by the terrible Satanist film The Devil's Rain (1975), an episode of the obscure horror anthology Three Dangerous Ladies (1988?) and tv fodder like Revenge of the Stepford Wives (1980) and The Gold Bug (1980).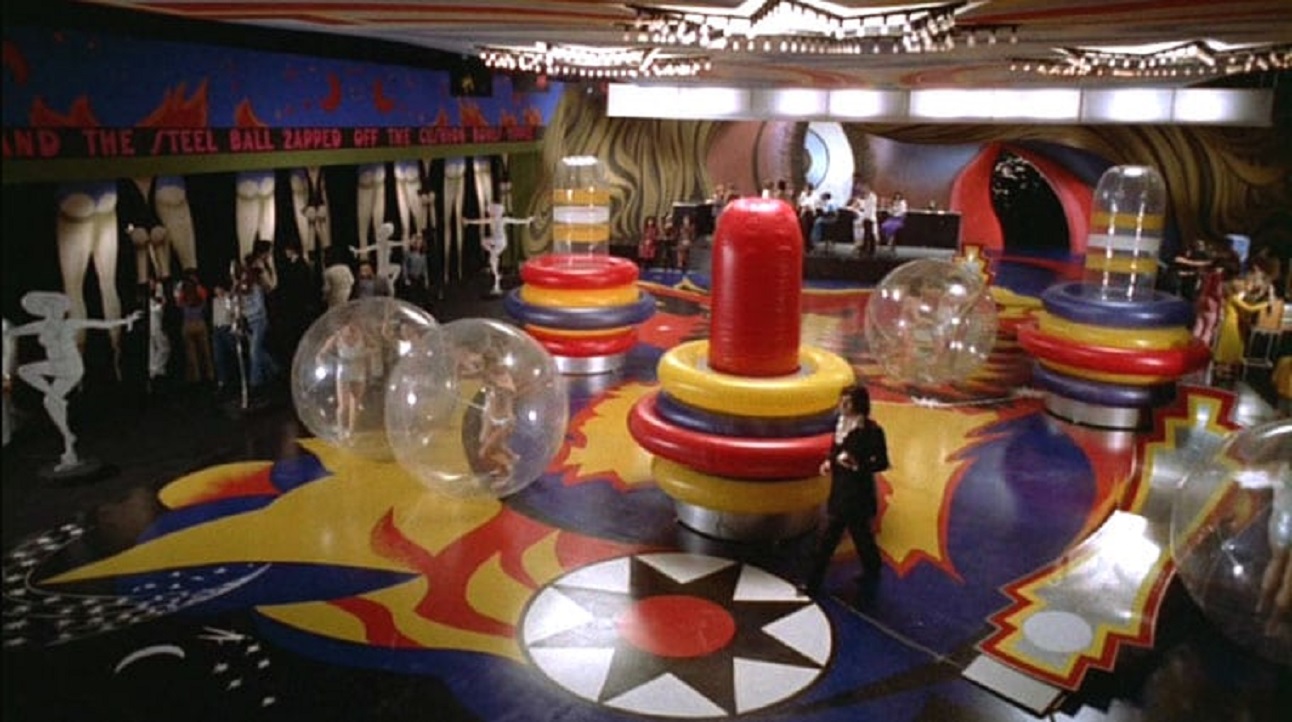 The Final Programme looked initially promising. Robert Fuest incarnates Jerry Cornelius as a dashing, Swinging 60s hero in ruffled opera shirt and velvet frock coat, a figure that one could easily imagine having slid onto the screen direct from the pages of the books. Jenny Runacre makes a distinctive Miss Brunner, assertively strutting through the film in a variety of feather boas and black-leather skinsuits and for some reason physically absorbing her lovers of both sexes.
Robert Fuest (who also acts as production designer) designs some occasionally striking sets – a wall that is a vertical chessboard and becomes either a door or a death-trap depending upon which move one makes; coloured silk tunnels; a pinball arcade of inflatable plastic decor and girls running inside giant plastic balloons. At times, it seems that Fuest is trying to conduct Moorcock as a trippy psychedelic version of The Avengers (1962-9) – a series where he made his directorial debut – if you can imagine it as an Avengers that has embraced Swinging 60s psychedelia and with John Steed as a fey, neo-Victorian adventurer.
Unfortunately, The Final Programme is never as good as it suggests it could have been. While the sets occasionally achieve such, Robert Fuest's direction never achieves the surreally apocalyptic sense of Michael Moorcock's novels. There is a single shot showing car bodies stacked along the Thames embankment that briefly suggests a Moorcockian entropic future but the rest of the film is slow and pedestrian where it should have hit a note of apocalyptic surrealism. Where in the book, Michael Moorcock created wonderful visions – Jerry Cornelius's house where there existed a perpetual party, the climactic scenes with the ambi-sexual messiah crossing Europe drawing the masses like lemmings – Robert Fuest's The Final Programme seems like a dull spy thriller, tripping around dreary locations in Spain and Lapland in search of the microfilm. There is not even any impetus to it as a spy film – the best scenes are those breaching the booby-trapped family mansion after Frank but the rest of the film is dull. The film's final gag where Moorcock's ambi-sexual messiah is replaced by an ape-man who does a Humphrey Bogart impersonation to the camera before loping off into the sunset seems like a bad joke on the book.
---
---