---
Crew
Director/Screenplay/Photography – Dan Lantz, Producers – Adam Danoff & Dan Lantz, Music – David-EFF Studios. Production Company – Impulse-FX.
Cast
Alexis Texas (Andrea), Janice Marie (Judy Miller), Adam Danoff (Darren), Lauren Todd (Temp), Sarah Dewey (Sandra), Robert Heath (Bobby Lee), Dan Lantz (Security Guard), Catherine White (Catherine), Justus White (Norton White), Chris Ready & Robb Stetch (Lab Assistants)
---
Plot
At Zlantoff Industries, a team of scientists have perfected VC-42, a toxin for military use that will turn the enemy into homicidal zombies when infected. As the office celebrates their achievement, the security system has to be rebooted. The company head Bobby Lee inadvertently hits the intercom and broadcasts the sexual romp he is having with secretary Andrea to the entire building. In the hilarity that ensues, lab assistants accidentally drop a vial of VC-42. This infects people in the building, turning them into zombies hungry for the flesh of the living. With the security system off, the survivors are trapped inside and unable to escape.
---
Bloodlust Zombies is another amid the vast shuffling horde of zombie films that have emerged in the 00s following the successes of the likes of Resident Evil (2002), 28 Days Later (2002), the remake of Dawn of the Dead (2004) and Shaun of the Dead (2004). The majority of those following have come from down the low-budget end of the market where the focus is on either plentiful gore or an increasingly tongue-in-cheek presentation. See Zombie Films.
Bloodlust Zombies is a low-budget zombie film, made by a group of newcomers from Pennsylvania. Ever since Jenna Jameson appeared in Zombie Strippers! (2008), adult actresses have been trying to break through as serious actresses in horror – see also the recent werewolf film Half Moon (2010) featuring Tori Black. Alexis Texas has made some 360 pornographic films between 2007 to the present, including titles such as Batman XXX: A Porn Parody (2010), Not Really … The Dukes of Hazzard: A Hardcore Parody (2010), Superman XXX: A Porn Parody (2011), The Incredible Hulk XXX: A Porn Parody (2011) and This Ain't No Ghostbusters (2011). Here we get a couple of scenes where Alexis Texas takes her top off but mostly she holds her end of the show up reasonably well in the acting department.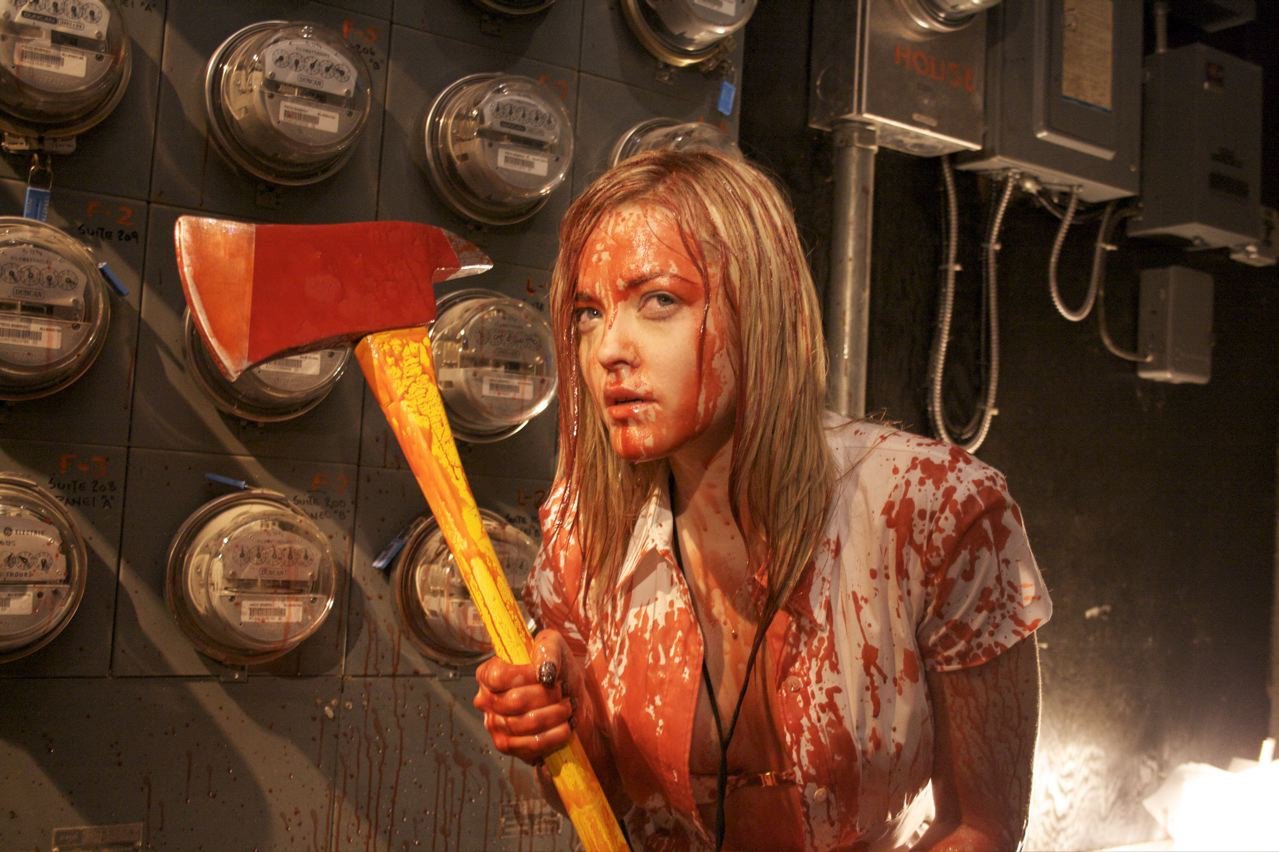 Bloodlust Zombies is made with a better than average competence to the camerawork and editing as low-budget films go. The actors all do a surprisingly professional job in their various roles. The film's main problem is its low-budget. It clearly does not have enough money available to create sets for a convincing looking laboratory or viral containment facility thus we are stuck with a corporation that conducts its experiments in creating zombies inside a standard office building with the film seeming to conceptually swing between whether the victims/infected are scientists or office workers. The gore is relatively tame for the most part and fails to push an envelope or do anything we have not seen before.
Where Bloodlust Zombies works is in that director Dan Lantz has a fine sense of humour and ability to get well-rounded performances out of his cast. There are some particularly good monologues – like where Janice Marie tells off Alexis Texas for playing the bimbo card; where Janice Marie tells how she decided to create the virus after her husband was killed in Afghanistan; or the hilarious encounter between the foul-mouthed temp secretary (Lauren Todd) and Dan Lantz playing a security supervisor; or between Lauren Todd and Adam Danoff where the two of them shooting at each other suddenly turns into a flirtation. It is these scenes that give Bloodlust Zombies its life.
Director Dan Lantz subsequently went on to make the horror films Into the Lion's Den (2011) and Bloodrunners (2017), a vampire film set during the Prohibition era.
---
---