---
Crew
Director/Screenplay – Paul W.S. Anderson, Based on the Capcom Computer Game, Producers – Paul W.S. Anderson, Jeremy Bolt, Bernd Eichinger & Samuel Hadida, Photography – David Johnson, Music – Marco Beltrami, Music Supervisor – Liz Gallacher, Visual Effects Supervisor – Richard Yuricich, Visual Effects – The Computer Film Company London, Special Effects – Die Nefzer GmBh (Supervisor – Gerd Fuechter), Makeup Effects – Animated Extras International & Hacco Von Hugo, Production Design – Richard Bridgland. Production Company – Constantin Film/Davis Film/New Legacy.
Cast
Milla Jovovich (Alice), Michelle Rodriguez (Rain), Martin Crewes (Kaplan), Eric Mabius (Matt), James Purefoy (Spence), Colin Salmon (One), Pasquale Aliardi (J.D.)
---
Plot
A woman wakes up in a large mansion with no memory of who she is. The house is then invaded by an armed commando squad. The squad take her and another man present who also has no memory with them on a journey deep underground via a train station beneath the house. It becomes apparent that the mansion is maintained as a front by the worldwide technology super-conglomerate The Umbrella Corporation to hide its underground biological experimentation laboratory The Hive. The two of them are operatives who maintain the pretence of being a married couple living in the house. That morning, The Red Queen, the Hive's artificially intelligent security system, suddenly went amok and killed all the scientific personnel, as well as unleashing a nerve gas that has temporarily blanked their memories. Inside The Hive, they have to get through the Red Queen's lethal defensive systems to turn her off. However, when they switch the power off, this opens the doors and unleashes the Hive's scientific personnel who have been turned into zombies by the spilt T-virus, as well as a host of even deadlier mutants.
---
Capcom's Resident Evil, which first appeared in 1996, was one of the first of the horror-themed computer games, a genre that has proven surprisingly prevalent since. Capcom drew from the likes of Doom and its splattery dispatches of alien nasties – only Resident Evil upped the splatter and ultra-violence quotient and made the game's entire focus blood and gore. The game was a huge success and even created its own subgenre within console gaming that is referred to as 'survival horror'. The game has since gone through twenty different incarnations, as well as spinning off a series of novelisations, comic books and toys.
Game designer Yoshiki Okamoto acknowledges the strong influence of movies like Sam Raimi's The Evil Dead (1981) and George Romero's trilogy – Night of the Living Dead (1968), Dawn of the Dead (1978) and Day of the Dead (1985) – on Resident Evil. The irony when it comes to this big-budget film adaptation is that by the time it arrives on screen it is a third generation splatter film – it is a film adapted from a computer game that was based on a series of films. There is an even further irony to the film in that in 1998-9 Capcom were in discussion with George Romero to write and direct the film version of Resident Evil – alas, Capcom decided that the script delivered by Romero was not good enough and curtailed his services.
The finished film comes from Paul Anderson. Paul Anderson first emerged several years earlier with the British crime thriller Shopping (1994) and then came to attention with his second film Mortal Kombat (1995), an enjoyable adaptation from another computer game that proved a success. Since then, Paul Anderson has started shaping up as a genre regular with the likes of the haunted spaceship effort Event Horizon (1997), Soldier (1998) and subsequent to this, AVP: Alien vs. Predator (2004), Death Race (2008) and Monster Hunter (2020), as well as The Three Musketeers (2011) and Pompeii (2014). These days Anderson calls himself Paul W.S. Anderson, presumably to avoid confusion with director Paul Thomas Anderson who made Boogie Nights (1997), Magnolia (1999), There Will Be Blood (2007) and The Master (2012).
Resident Evil starts promisingly. After a prologue about the outbreak in the complex, there is a captivating opening with Milla Jovovich waking up naked in a palatial mansion without any memory of her identity and then suddenly being pounced on masked commandos and, before she understands anything about what is going on, being dragged on a journey deep underground aboard a high-speed train and into the foreboding laboratory complex. Alas, almost as soon as the film gets inside the complex, Paul Anderson loses it. While he throws up hordes of zombies and big guns, along with various mutant dobermans, big slimy nasties and rogue AI's, little of Resident Evil is standout. The various sequences – crossing a pipe over a room of zombies, a corridor of lasers – feel like they have been mechanically grafted straight on from game sequences.
Resident Evil is so stripped of any plot, outside of pure kinesis, that we rarely even get to know the names of the characters on screen. Milla Jovovich gets to do a couple of slow motion mid-air twirls borrowed from The Matrix (1999) bouncing off walls and kicking mutant dobermans but there is nothing in Paul Anderson's action that keeps one on the edge of the seat. Resident Evil is a routine film in all ways. Certainly, in comparison to the game's original models, classics like Dawn of the Dead and The Evil Dead, it is absurdly tame – this is clear from the moment when someone's head gets scrunched between a half-open elevator door and the film chooses to cut to black rather than show any blood.
Resident Evil stars Luc Besson's ex-wife Milla Jovovich who gives a remarkably wooden performance. The film clearly tries to model Alice on Angelina Jolie in Lara Croft, Tomb Raider (2001), crafting her as a heroine who strides between kickass tough and sexy, outfitting her in a mini-skirt, combat boots and a gun. Paul Anderson and cinematographer David Johnson put her through some mean poses but there is nothing more than their efforts to Jovovich's performance.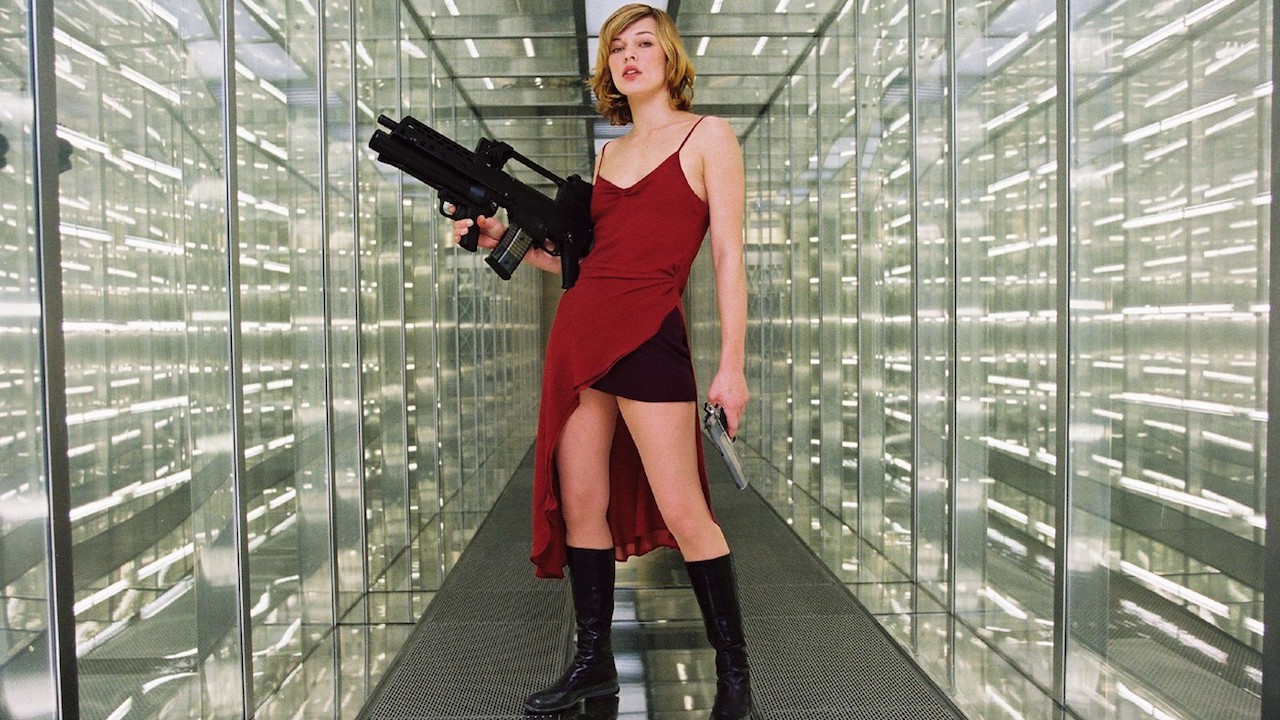 Resident Evil: Apocalypse (2004) was a slightly better sequel and was followed by Resident Evil: Extinction (2007), both featuring return performances from Milla Jovovich. Paul W.S. Anderson was absent as director for both of these but did write the screenplay and produce, before returning to direct Resident Evil: Afterlife (2010), Resident Evil: Retribution (2012) and Resident Evil: The Final Chapter (2016), while there was also the prequel Resident Evil: Welcome to Raccoon City (2021). There were three anime films with Resident Evil: Degeneration (2008), Resident Evil: Damnation (2012) and Resident Evil: Vendetta (2017), as well as the anime tv series Resident Evil: Infinite Darkness (2021) and the live-action tv series Resident Evil (2022).
Aside from directing the abovementioned, Paul W.S. Anderson has also produced the horror film The Dark (2005), another videogame adaptation DOA: Dead or Alive (2006), the sf film Pandorum (2009), Death Race 2 (2010), Death Race 3: Inferno (2012) and Death Race: Beyond Anarchy (2018).
Other films adapted from video/computer games include:- Super Mario Bros. (1993), Street Fighter (1994), Double Dragon (1994), Wing Commander (1999), Final Fantasy: The Spirits Within (2001), Lara Croft, Tomb Raider (2001), House of the Dead (2003), Alone in the Dark (2005), BloodRayne (2005), Doom (2005), DOA: Dead or Alive (2006), Silent Hill (2006), Hitman (2007), In the Name of the King: A Dungeon Siege Tale (2007), Postal (2007), Far Cry (2008), Max Payne (2008), Prince of Persia: The Sands of Time (2010), Tekken (2010), Dead Rising: Watchtower (2015), Angry Birds (2016), Assassin's Creed (2016), Warcraft (2016), Rampage (2018), Pokemon Detective Pikachu (2019), Monster Hunter (2020), Sonic the Hedgehog (2020), Werewolves Within (2021), the tv series Halo (2022- ), Uncharted (2022), Gran Turismo (2023) and the tv series The Last of Us (2023- )
---
---