aka Mimesis: Night of the Living Dead
---
Crew
Director/Story – Douglas Schulze, Screenplay – Douglas Schulze & Joshua Wagner, Producers – Gavin Grazer, Kurt Eli Mayry & Douglas Schulze, Photography – Lon Stratton, Music – Diego Navarro, Special Effects Supervisor/Makeup Effects – Cat Bernier, Production Design – Mark C. Davis Jr.. Production Company – Dead Wait Productions LLC/Motion Picture Institute.
Cast
Allen Maldonaldo (Duane), Taylor John Piedmonte (Russel), David G.B. Brown (Keith), Lauren May Shafer (Judith), Gavin Grazer (Karl), Jana Thompson (Karen), Sid Haig (Director), Carol Ilku (Marilyn), Bryana Dorfman (Kyra), Dan Geric (Benjamin), David Gries (Patrick), Rachel Adams (Alexis), Bill Hinzman (Sheriff Hinzman)
---
Plot
Best friends Duane and Russel are attending a horror convention. There they meet a girl Judith who invites them to an exclusive party afterwards. The two attend but pass out. Russel wakes up to find he and Judith are in a graveyard. They are then attacked by a zombie. They find Ben asleep in a truck and take refuge in a nearby farmhouse as it is surrounded by zombies. Along with others they find in the house, they realise they have been placed inside an elaborate recreation of Night of the Living Dead.
---
Mimesis was the fourth and to that point the most high-profile film from Douglas Schulze. Schulze is a regular horror director and had previously made Hellmaster (1992), Dark Heaven (2002) and The Rain (2009) and would subsequently go on to make The Dark Below (2015).
The interesting premise that Mimesis operates with is that the characters wake up inside a simulation of Night of the Living Dead (1968) where they find that they are the meant to inhabit the familiar roles from the film as the farmhouse is surrounded by zombies. As what is going on becomes apparent, you notice that all of the characters in this film share the same names as either the characters or the actors who played them in Night of the Living Dead. (Night of the Living Dead makes a good point for basing a film around given that the original is in public domain due to lapsed copyright).
On the other hand, while the idea itself holds your attention, I don't feel that Mimesis goes far enough with it. Schulze places the characters in the simulation and has them go through it and that is about it. There is nothing more placed on the idea than that. There is the odd moment where people realise that they cannot escape in the pick-up truck because it is meant to blow up or that they are doomed because nobody is meant to survive in the original film. Essentially though, once he has his replication set up, Schulze does nothing more than repeat it. I wished Schulze had taken the material as far as say Final Girls (2015) and deconstructed the original and/or the zombie film.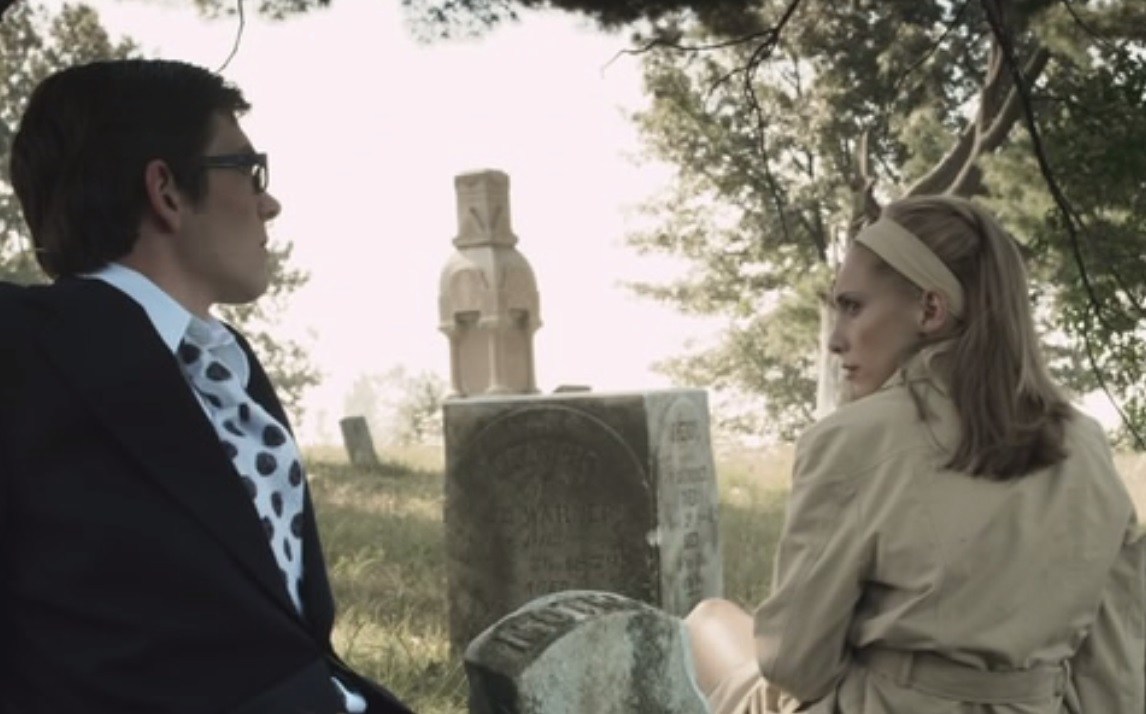 Nor does Schulze give any adequate explanation for the scenario – like what a group of people get out of abducting others and placing them in an elaborate recreation of a classic horror film. You also cannot help but think of the vast potential for things to go disastrously wrong – like if the organisers of the game are playing the zombies, what would happen if the people in the scenario believed it was real and responded exactly as characters in horror films are expected to do and start trying to kill the zombies? People do get killed throughout but who are they – other players? Other enforced participants? Actors using makeups?
The zombie makeups are also not very convincing – they simply look as though the faces of the respective actors have been covered in black and white facepaint, that they are wearing white pupil contacts and nothing more than that. You can sort of justify that in saying that they are actors playing zombies but the effect does not look convincing overall. On the other hand, when it comes to the various killings the film is far gorier than Night of the Living Dead was.
The film comes with plentiful genre in references, including posters of various horror classics in the background and a character at one point rhapsodising about having a poster of Carnival of Souls (1962) signed by "all of the cast – including Herk Harvey." There is a cameo from genre regular Sid Haig who appears at the beginning and then again near the end as a horror director defending his films against charges of inciting violence. Bill Hinzman, who played a zombie in Night of the Living Dead, also makes a brief appearance as the sheriff in the final scene, the last film Hinzman appeared in before his death in 2012.
Douglas Schulze made a sequel with Mimesis: Nosferatu (2018) with the same group trapping people in a simulation of Nosferatu (1922).
---
---