aka Eddie
---
Crew
Director/Screenplay – Boris Rodriguez, Story – Jon Ranells, Producers – Michael A. Dobbin, Ronnie Fridthjof & Boris Rodriguez, Photography – Philippe Kress, Music – David Burns, Visual Effects Supervisor – Daniel French, Prosthetic Makeup Effects – Liz Ciesluk, Production Design – Colleen Marchand. Production Company – Quiet Revolution Pictures/Fridthjof Film/Majika Pictures/Telefilm Canada/Danish Film Institute/Capital Motion Picture Group/Makeamovie.
Cast
Thure Lindhardt (Lars Olafssen), Dylan Scott Smith (Eddie), Georgina Reilly (Lesley), Al Goulem (Harry), Paul Braunstein (Officer Verner), Stephen McHattie (Ronny), Pete Michael Dillon (Charles Tiddings)
---
Plot
The celebrated Danish artist Lars Olafssen takes a job teaching at an art school in the tiny Canadian town of Koda Lake. Lars has an artistic block and has not been able to paint for ten years. One of the people in Lars's class is the simple-minded and unspeaking Eddie. The school principal then asks Lars a favour – Eddie's aunt has recently died and part of her substantial bequeathment to the school is that they look after Eddie. Lars agrees to take the job. However, on the first night, Lars wakes to find that Eddie has climbed out the window while sleepwalking during which he has killed and eaten a rabbit in the woods. At the sight of the dead animal, Lars returns and feverishly begins to paint again. On the next night, he leaves the window open, hoping that Eddie will kill a neighbour's annoying dog – only to find in the morning that Eddie has killed and eaten the neighbour instead. This however gives Lars the impetus to complete a new painting, sell it and use the money to bail the school out of its financial troubles. As the school seeks to expand, Lars finds that he needs to send Eddie out to kill further.
---
Eddie the Sleepwalking Cannibal – technically the title on the credits is just Eddie but Eddie the Sleepwalking Cannibal has been used everywhere else – is a Danish-Canadian co-production. Canadian director/writer Boris Rodriguez has made a couple of other feature-length films before, although these seem so obscure that I am unable to find any information about them.
I thought initially the title Eddie the Sleepwalking Cannibal was a cute way of referring to a zombie and we might be in for something that spoofs the genre maybe along the lines of Shaun of the Dead (2004) or Tucker and Dale vs Evil (2010). However, this is not the case and Eddie the Sleepwalking Cannibal is, just as the title leads you to believe, about a man who walks in his sleep and has a habit of eating human flesh while doing so. It's a rather peculiar notion for a film – but then there have been much stranger over the years.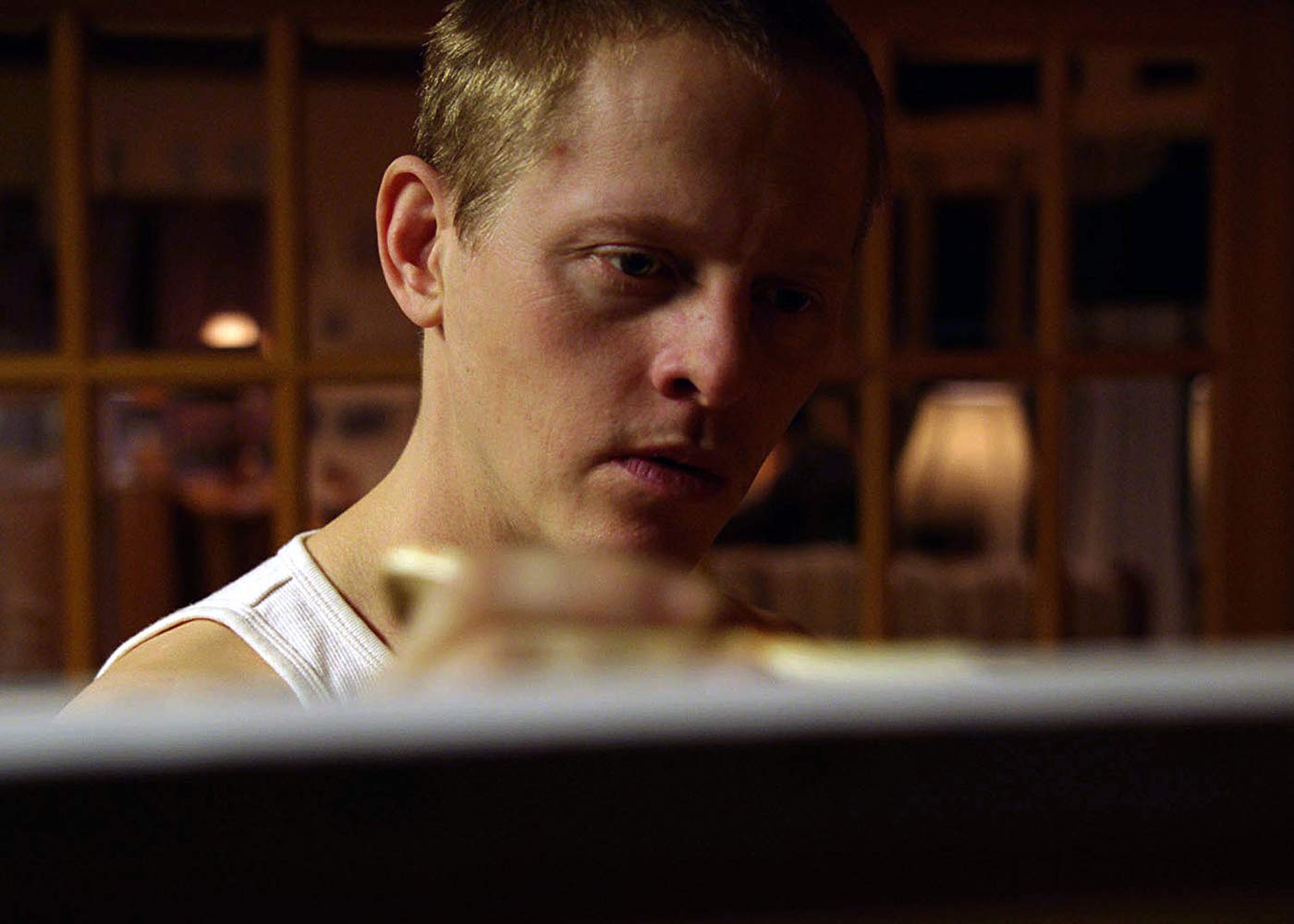 I began to get into Eddie the Sleepwalking Cannibal from its first scene where Thure Lindhardt runs down a deer on the road into town, is kneeling there trying to put it out of its misery by bashing its head in with a rock when he is approached by a local cop (Paul Braunstein) who demands to know what he is doing. It is a scene that in its droll and nonchalant understatement perfectly nails a combination of dry Scandinavian humour and the obliquely offhand deadpan that sometimes passes for Canadian humour.
This same dry black humour runs throughout the film – just the way that Thure Lindhardt turns from nailing boards over the window of Dylan Scott Smith's room and after hearing the dog barking outside instead places a footstool by the open window. Or appealingly nonsensical images with Thure luring Dylan Scott Smith up to kill the boorish fishermen at 8 Mile Lake by dragging a piece of meat behind a snowmobile as the sleepwalking Smith stumbles after him.
The crux of the film turns out to be not so much a comedy about a sleepwalking cannibal but a variant on the killer artist film that we have seen in the likes of A Bucket of Blood (1959), Color Me Blood Red (1965), Blood Bath (1966), Sadisterotica (1969), Cauldron of Blood (1971) and Crucible of Terror (1971). Here the basic premise of the film is that Thure Lindhardt gets inspired to create new works of art every time he sees a slaughtered body.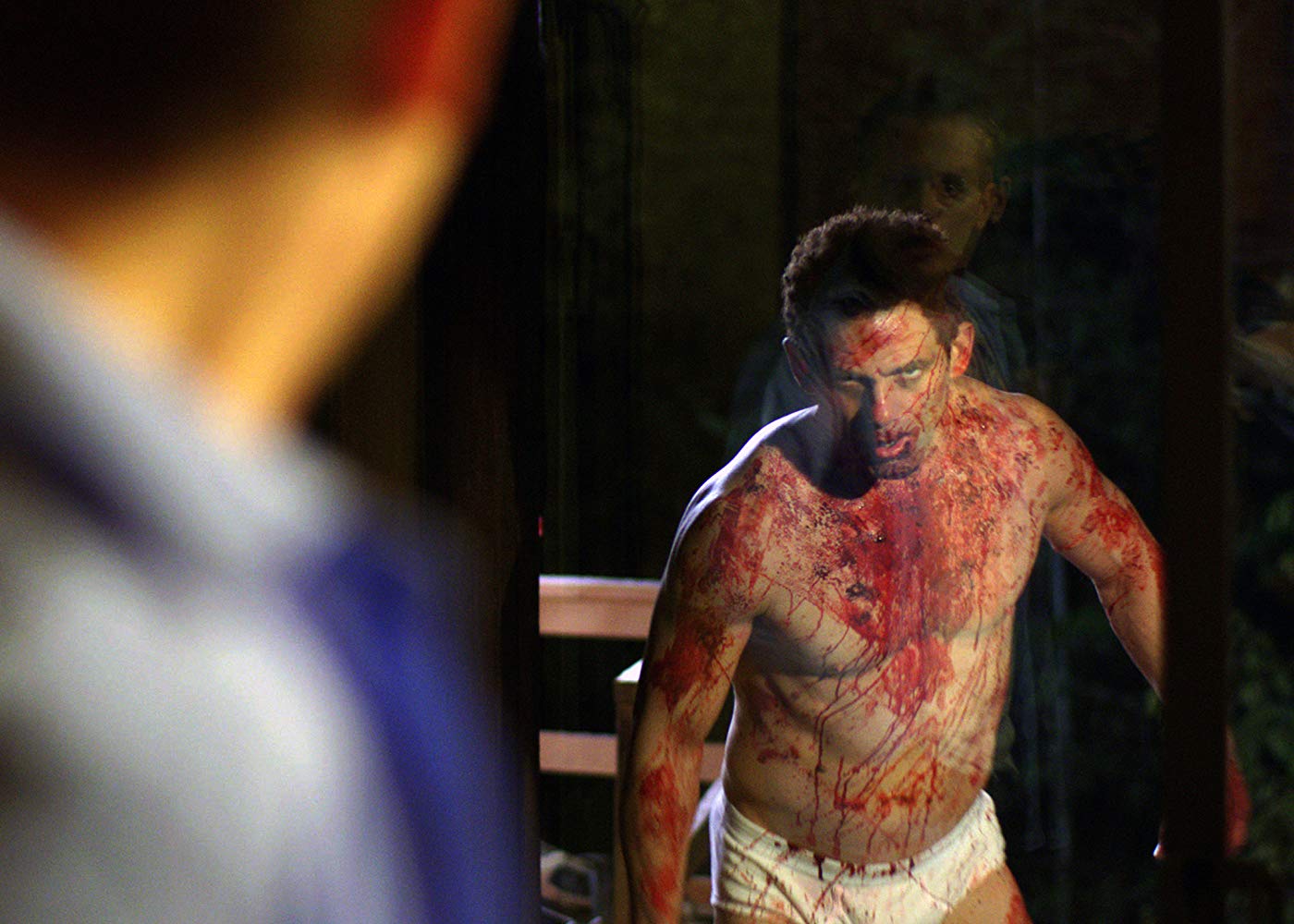 For a time, this works amusingly. Lindhardt's bland looks give the character an innocence that is quite at odds with his actions. Although here the film seems to have oddly mixed moral messages – it has a premise that is dependent on the hero manipulating the mentally handicapped best friend he tends into constantly killing for him so that he can create more works of art and yet it is a film where the hero never seems in the remotest part troubled by the moral complexities that this would surely entail.
Eventually, Eddie the Sleepwalking Cannibal, despite its amusements, is a one-joke film. There is not much more to it than scenes of Dylan Scott Smith going sleepwalking and killing people and Thure Lindhardt getting inspired by this to create his artworks, before trying to think of other ways to get Smith out there so he can do his next painting. The film spends most of its time repeating limited variations and occasionally complications on this before reaching an ending that abruptly wraps everything up.
---
---