---
Crew
Director/Screenplay – Chris Trebilcock, Producers – Paula Devonshire & Glen Wood, Photography – D. Gregor Hagey, Music – Steve Cupani, Animation/Visual Effects – Keyframe Digital Productions Inc., Prosthetics Designer – Francois Dagenais, Production Design – Lisa Soper. Production Company – Devonshire Productions/Viddywell Films/Vigilante Productions/Prodigy Pictures/Telefilm Canada/Ontario Media Development Corporation.
Cast
Katie Findlay (Leah Garrison), Enrico Colantoni (Brendan Garrison), Alex Ozerov (Toby Garrison), Stephen McHattie (Randall Toth/The Dark Stranger), Mark O'Brien (Mark), Jennifer Dale (Dr Anna Parsons), Emma Campbell (Ellen Garrison)
---
Plot
In the months after her mother's suicide, Toronto teenager Leah Garrison is overwhelmed by paranoia and fear every time she tries to go leave the house. She begins to experience hallucinations of figures reaching out of the walls to grab her. She takes refuge in drawing a graphic novel that tells the story of the rag doll Alyra and her journey as she was beset by The Dark Stranger who wanted to take her singing voice. As she works, Leah finds her own blood is being wound into the artwork. As Randall Toth, someone Leah feels uneasy about, presses to obtain her mother's artwork for part of an exhibition, The Dark Stranger emerges from the comic panels to attack those around her.
---
The Dark Stranger was a directorial debut for Canadian filmmaker Chris Trebilcock who had previously worked as an assistant director and made three short films.
The Dark Stranger is a horror film but it is a decidedly different work than most of its contemporaries. It sits for a time in the area of dark allegorical fantasy – offering up a parallel fantasy realm where events mirror those happening in the real world – maybe the nearest you could compare it to is a work like Ink (2009). The latter half where the figures from the created fantasy world of Katie Findlay's graphic novel start to emerge into the real world leave the film in its' more imaginative moments resembling something akin to the fine Paperhouse (1989).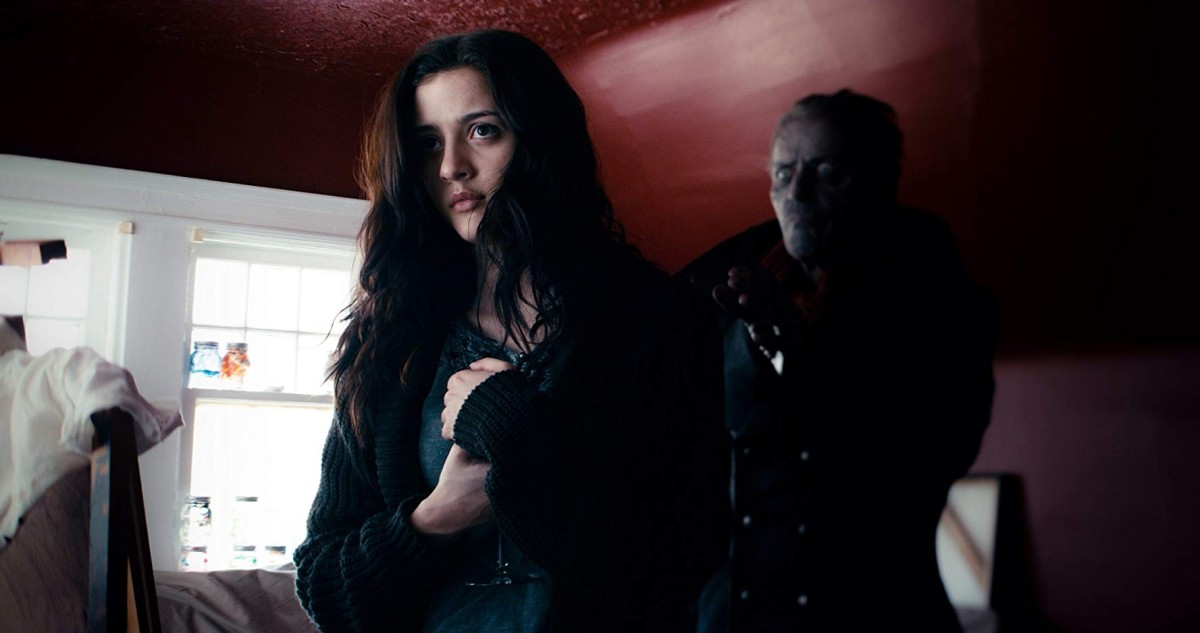 I liked The Dark Stranger on a conceptual level. It is a film of original ideas and has a novel boogeyman. On the other hand, I felt like the delivery of them was pedestrian. Chris Trebilcock peppers much of the film with visions of faces, hands and skeletal arms coming out of the walls and doors, even the page of the graphic novel, although these are mostly standard horror movie effects. Upon looking out the front door, Katie Findlay sees neighbours and passers-by turned into zombies. There is also the unusual effect where Katie Findlay picks up her drawing pen and it melds into her hand like something out of David Cronenberg's Videodrome (1983).
The alternate story going on inside the graphic novel seems interesting but the quality of animation that represents it is of very limited quality. Despite the film's originality of ideas, Chris Trebilcock's playing out of these is extremely ordinary, especially so in the latter half where everything heads in standard horror movie directions.
---
---