Canada. 2012.
Crew
Director – Casey Walker, Screenplay – Christopher Bond & Trevor Martin, Producer – John Griffith, Photography – Kevin C.W. Wong, Visual Effects Supervisors – Casey Walker & Michael P. Mason, Makeup Effects – Chris Bridges, Production Design – Peter Mihaichuk. Production Company – Full Plate Productions/Cave Painting Pictures/Movie Central/The Movie Network/Northern Ontario Heritage Fund Organization/Canadian Heritage/Ontario Media Development Corporation.
Cast
Kristopher Turner (Stephen Williams), Stephen McHattie (Max), Crystal Lowe (Tina), Shawn Roberts (Craig), Kristen Hager (Sarah), Emilie Ullerup (Penelope), George Buza (Captain Cletus), Robert Maillert (Terry)
---
Plot
Stephen and his fiancee Tina, along with Stephen's sister Sarah and best friend Craig, go away to his family cabin for the weekend to plan details of the pending wedding. The others dislike how bitchy and demanding that Tina is and the way that she orders Stephen around. Stephen is then bitten by a mosquito. He wakes up in the morning not feeling well and begins to throw up everything he eats. After discovering a hunger for brains, he concludes that he has become a zombie. He is discovered by the others devouring Tina's pet rabbit but she refuses to give up on the wedding. She determines to do what they need to get Stephen in shape for the ceremony, including buying brains from the local meat market and then luring a live person back for him to devour. Lurking in the area is also the zombie hunter Max who insists that the only good zombie is a dead zombie.
---
The zombie film has almost reached the point of market saturation in low-budget cinema in the latter half of the 00s to the point that one wonders what a new entry coming into the field has left to say. As such, most zombie films now have taken the route of playing everything for comedy and offering up gonzo genre meldings with the likes of Zombie Beach Party (2003), Hood of the Living Dead (2005), Dorm of the Dead (2006), Poultrygeist: Night of the Chicken Dead (2006), Z: A Zombie Musical (2007), Ninjas vs Zombies (2008), Zombie Strippers! (2008), Attack of the Vegan Zombies! (2009), George's Intervention (2009), Romeo and Juliet vs the Living Dead (2009), Stag Night of the Dead (2009), Big Tits Zombie (2010), Santa Claus vs. the Zombies (2010), Abraham Lincoln vs. Zombies (2012), Cockneys vs Zombies (2012), Pro Wrestlers vs Zombies (2014), Zombeavers (2014), MILFs vs Zombies (2015), Scouts Guide to the Zombie Apocalypse (2015), Attack of the Lederhosen Zombies (2016), Pride and Prejudice and Zombies (2016) and Fat Ass Zombies (2020). A surprising number of these zombie films, both serious and unserious, also hail from Canada – see the likes of Breakfast of Imbeciles (2005), Purple Glow (2005), Severed (2005), Awakening (2006), Fido (2006), The Mad (2007), Forest of the Dead (2007), Zombie Cheerleader Camp (2007), Reel Zombies (2008), Autumn (2009), Dead By Dawn (2009), Yesterday (2009), Zombie Beach (2010), Bong of the Dead (2011) and Exit Humanity (2011).
A Little Bit Zombie is made by Casey Walker, it being his feature-film debut after work as a director on various Canadian reality tv and Candid Camera shows. The script is written by Christopher Bond who previously wrote the score for the stage version of Evil Dead: The Musical (2003). Casey Walker makes the claim that A Little Bit Zombie was the first film to have raised its $1.9 million budget by crowd-source funding via a site that he set up at www.mymilliondollarmovie.com.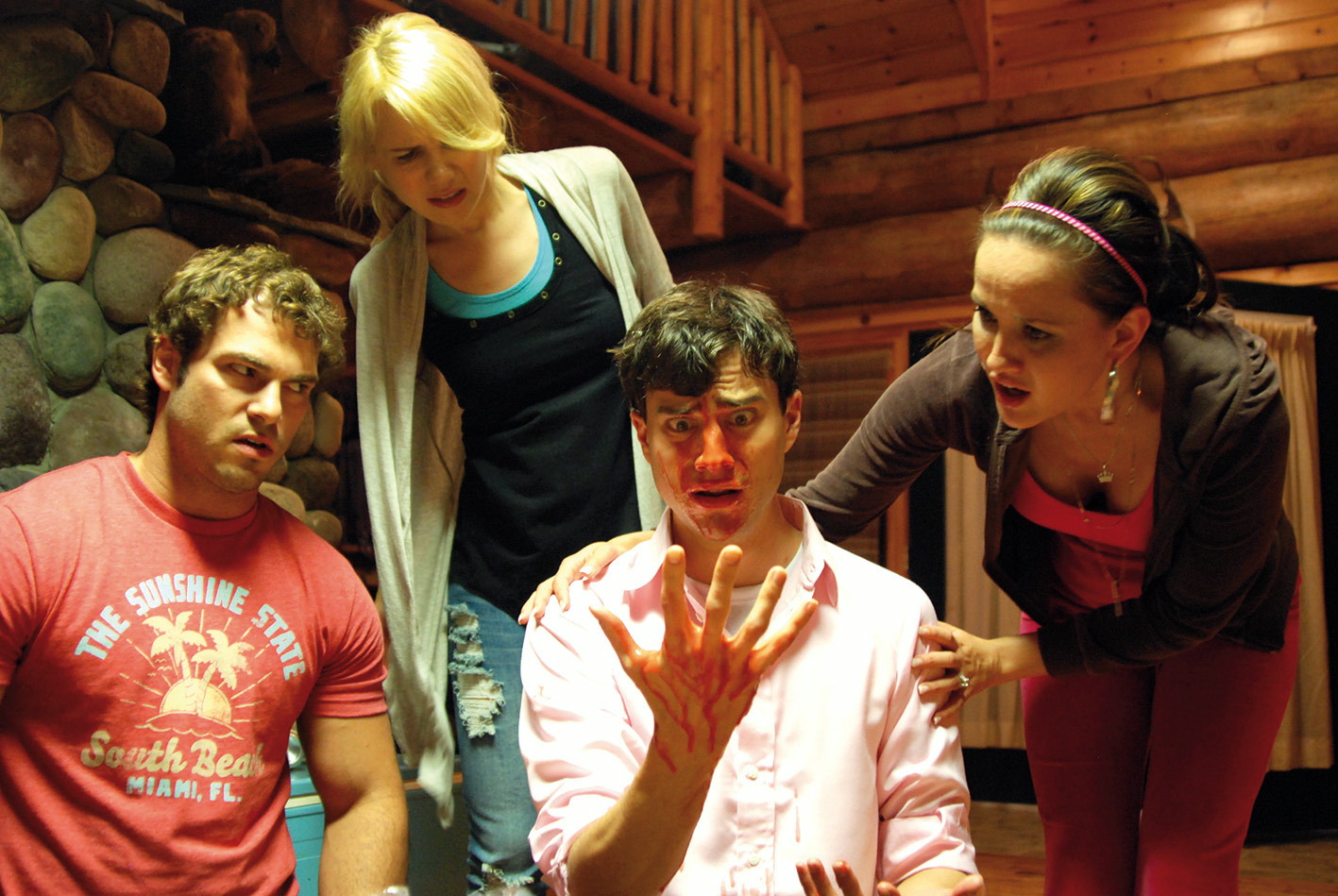 A Little Bit Zombie bravely enters into the overworked market of the zombie comedy. Its particular take is to envision itself as a combination between a Judd Apatow comedy and a zombie film – think something like Knocked Up (2007) conceived more along the lines of a comedy about pre-marital jitters and with zombies added to the mix. You could easily imagine the film played out by the familiar cast of an Apatow film – where Kristopher Turner's downtrodden nice guy would probably be played by Paul Rudd; Crystal Lowe's nightmare bridezilla would make perfect casing for Katherine Heigl; while the bromance elements with best friend Shawn Roberts would be mandatory casting for Seth Rogen.
The film is certainly well cast when it comes to the quartet of friends. All four parts are comedy caricatures – the downtrodden pussy, the uber-bitch fiancee, the horndog best friend, the tomboy sister. Yet all four actors – respectively Kristopher Turner, Crystal Lowe, Shawn Roberts and Kristen Hager – have clearly rehearsed and come together as a sharp ensemble.
On the other hand, A Little Bit Zombie lacks the snappily acerbic writing that usually goes into a Judd Apatow film. It stands on an uneven line between single note caricature and flowing with engaging humour, although generally comes out the latter side by the end. You suspect that the scenes with top-lined Stephen McHattie (the film's most high profile actor and previously known within the genre for Pontypool (2008), the hands-down best entry in the genre of the Canadian zombie film) might have worked better with a more seasoned director. Stephen McHattie gives a cynical rough-edged performance that you suspect would have emerged better in more of a comic-book of a movie – you immediately think of something like Hobo with a Shotgun (2011) – but Casey Walker never quite hits what the scenes need and settles for a more middle-of-the-road note.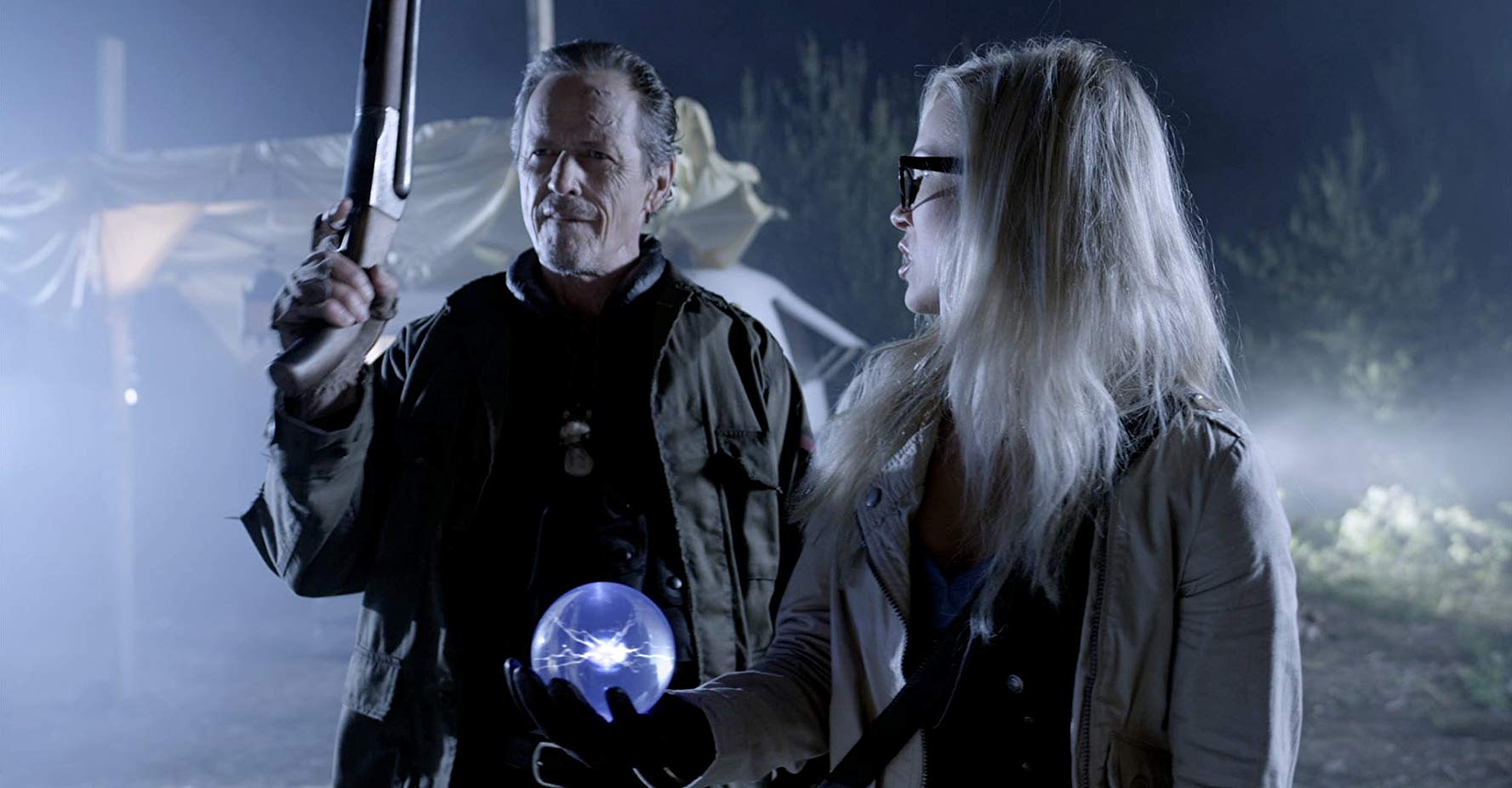 The latter half of the film, which is driven by Crystal Lowe's determination to make the wedding go ahead and accept the fact that her e is a zombie emerge the most successfully with some wacky scenes involving he going shopping for brains or the two girls setting out to seduce a guy that nobody will miss for him to feast upon. Kristopher Turner gets into these scenes with just the right degree of gauche goofiness, coming out as the sort of adorable zombie any girl would want to take home to meet their mother, while Crystal Lowe sweeps much of the film along with the fierceness of her determination.
As zombie films go, A Little Bit Zombie is also surprisingly tame when it comes to the genre's expected buckets of gore and splatter. I don't know if A Little Bit Zombie ever produced any genuine laughs from me, but I at least emerged with a smile. Amiably silly.
Casey Walker has not directed another film but has subsequently produced two other Canadian horror films with The Void (2016) and Pyewacket (2017)
---
---