---
Crew
Director/Photography – Joe Valenti, Screenplay – Billy Pepitone & Joseph Pepitone, Story – Keith Collins, Producers – Keith Collins, Blaze Kelly Coyle & Joe Valenti, Makeup Effects – Blaze Kelly Coyle & Theresa Galeani. Production Company – Valenti Vision Films/Silver Phoenix Entertainment/Keith Collins Media Incorporated
Cast
Keith Collins (Andrew Shelton), Geri Reischl (Claire Thomas), Daniela Rivera (Terri Costas), Brandon Ruckdashel (Detective Dave Benash), Matthew Schultz (Detective Michael Bay), Faith Stanek (Samantha Marks), Theresa Galeani (Elizabeth Micelli), Jessica Tar (Christine Benash), Gregg Valentino (Tony Randazzo)
---
Plot
Andrew Shelton lives with his Aunt Claire who insists on calling herself his mother. Andrew fancies himself a player with the ladies. After seducing the women he meets, he brings them back to his place where he locks them up in a cage in the basement. He then kills them and cooks their flesh as meat that he and Claire enjoy. Now, the disappearance of one of the girls brings two detectives on his trail.
---
The Meat Puppet was the fifth film of New Jersey native Joe Valenti. Valenti's previous films – all non-genre – were low-budget and none have gained particularly high profiles.
The Meat Puppet is a psycho film. It has clearly been made on a low-budget and independently. The only name present one had even vaguely heard of before is Geri Reischl who appeared as the young daughter in Brotherhood of Satan (1971) and has made one or two other minor tv guest appearances. All of that said, The Meat Puppet is not an uninteresting film despite its evident lack of full professional polish.
The most fascinating aspect of the film is Keith Collins' central character (he also produces the film and comes up with the story). He is played as a pathologically charming predator, obsessed with seducing the ladies. Some of the best aspects of the film are the ones where he is describing in chillingly detailed voiceover monologue the various methods he is employing to inveigle women in order to kill them. (You get the clear impression that Valenti, Collins or someone in the film is writing either a personal fantasy or from experience).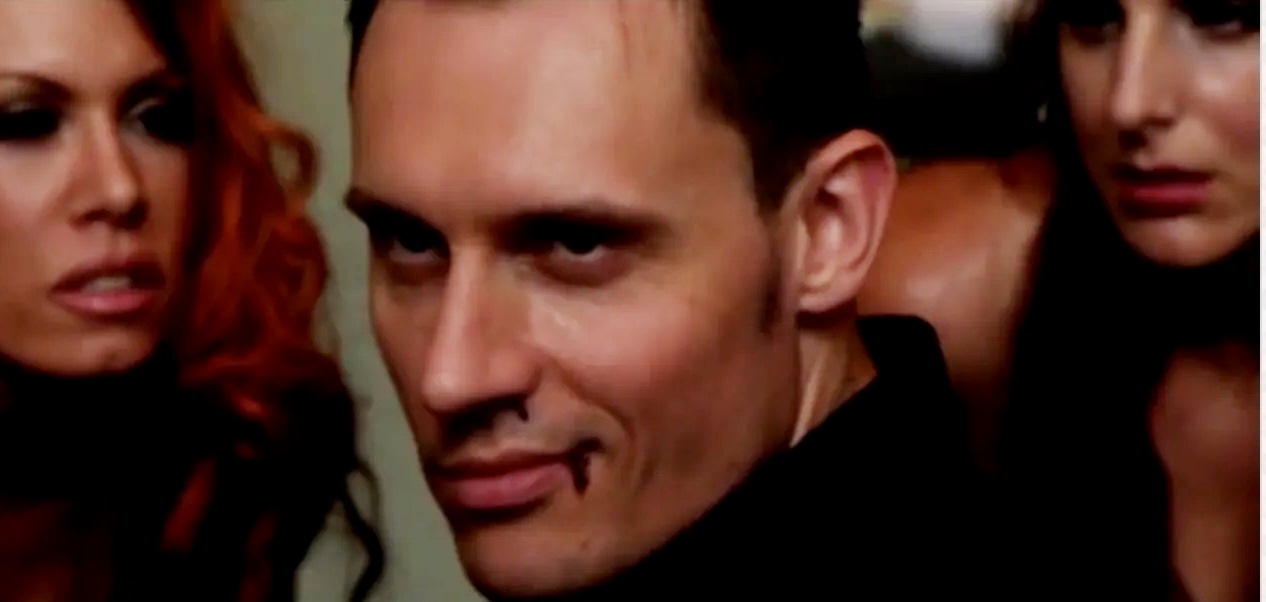 Collins also has an interestingly twisted relationship with Geri Reischl who calls herself his mother and at one point walks in while he is making out with a girl and asks if he wants a threesome. Later, the two are seen cuddled up in bed together, while he brings the body parts of the murdered girls to her after having cooked them and the two sit and enjoy a meal. It is these aspects that push The Meat Puppet past the usual run of the mill psycho film and into some interestingly twisted places.
There are some bits that still remain amateurish – like the police procedural aspect where clearly neither Joe Valenti or anybody involved on the script had talked to any detectives or read up on things. Two homicide detectives are sent out on a missing person's case, while Matthew Schultz's jerkoff attitude, abusing and ridiculing people who come forward with information, would have him hauled up in any self-respecting police department.
There is the odd bit that lacks conviction in the horror scenes too – like the silly scene where Keith Collins severs Theresa Galeani's hand and uses it as an easel to dip his brush in and paint using her blood, while informing her "You had a hand in this," which briefly turns the film into something akin to a camp version of Color Me Blood Red (1965).
---
---