---
Crew
Director – Jeremy Power Regimbal, Screenplay – Joshua Close, Story – Jonathan Tyler Close, Joshua Close & Jeremy Power Regimbal, Producers – Jonathan Tyler Close & Jeremy Power Regimbal, Photography – Norm Li, Music – Keith Power, Visual Effects Supervisor – Sam Trounce, Special Effects Supervisor – Kim Mortensen, Production Design – Tink. Production Company – Kinosmith/CG Productions/Telefilm Canada/Movie Central/The Movie Network/The Lab Films/Sepia Films.
Cast
Joshua Close (Mark Hughes), Selma Blair (Mary Hughes), James D'Arcy (Bobby Zikowski), Rachel Miner (Jane Zikowski), Quinn Lord (Brendon Hughes), Alex Farris (Jared Zikowski), Matt Bellefleur (Toby Hughes), Terence Kelly (Station Attendant)
---
Plot
Husband and wife Mark and Mary Hughes and their son Brendon head off to take a vacation at their backwoods home. There is tension and unresolved grief in the relationship due to the death of their other son. They are woken in the morning by a neighbouring family, Bobby and Jane Zikowski and their son Jared, bringing them some wood. The Zikowskis invite themselves over for dinner. Things abruptly turn nasty as the Zikowskis pull guns on the Hughes family and make them their prisoners.
---
In Their Skin is a Canadian-made thriller. Though the film did screen in some theatres, its intended destination appears to have been as a cable tv movie. It is a directorial debut for Jeremy Power Regimbal. The script interestingly comes from the lead actor Josh/Joshua Close, who was probably previously best known to genre fans as the lead in George Romero's Diary of the Dead (2007).
The title immediately makes you keep thinking of Marina de Van's far superior self-mutilation film In My Skin (2002), although neither are related. The frustration of this is that the term In Their Skin seems to have little significance to the film – in whose skin, you keep asking. In reality, In Their Skin is a variation on the home invasion thriller. There have been a number of other variants on this in the last few years – the likes of The Strangers (2008), the Spanish Kidnapped (2010), You're Next (2011), The Aggression Scale (2012), The Purge (2013) and Berkshire County (2014). In particular, the one film that you are reminded of is Michael Haneke's Funny Games (1997), which Haneke remade far less effectively in English-language as Funny Games U.S. (2007). Replace the politely obtrusive but deadly teenage boys with James D'Arcy and his family and the plot of the two films follow very similar paths.
While Funny Games, The Strangers and even Kidnapped in its crudely brutal way managed to work up an effective degree of tension and cruelty, In Their Skin fails in almost all regards. It sets the stage passably well with the introduction of the gauchely friendly family, even a hint of sexual attraction and flirtation between the two couples and the opposing spouses, before the slip over into unmasked cruelty. While in Funny Games and any other film of its ilk, this is the point the film would get interesting, here it becomes the point where In Their Skin slips into irredeemable banality. You expect from this point that the film put its upper middle-class family through the wringer, shatter their comforts and strip them to barehanded survival and so on.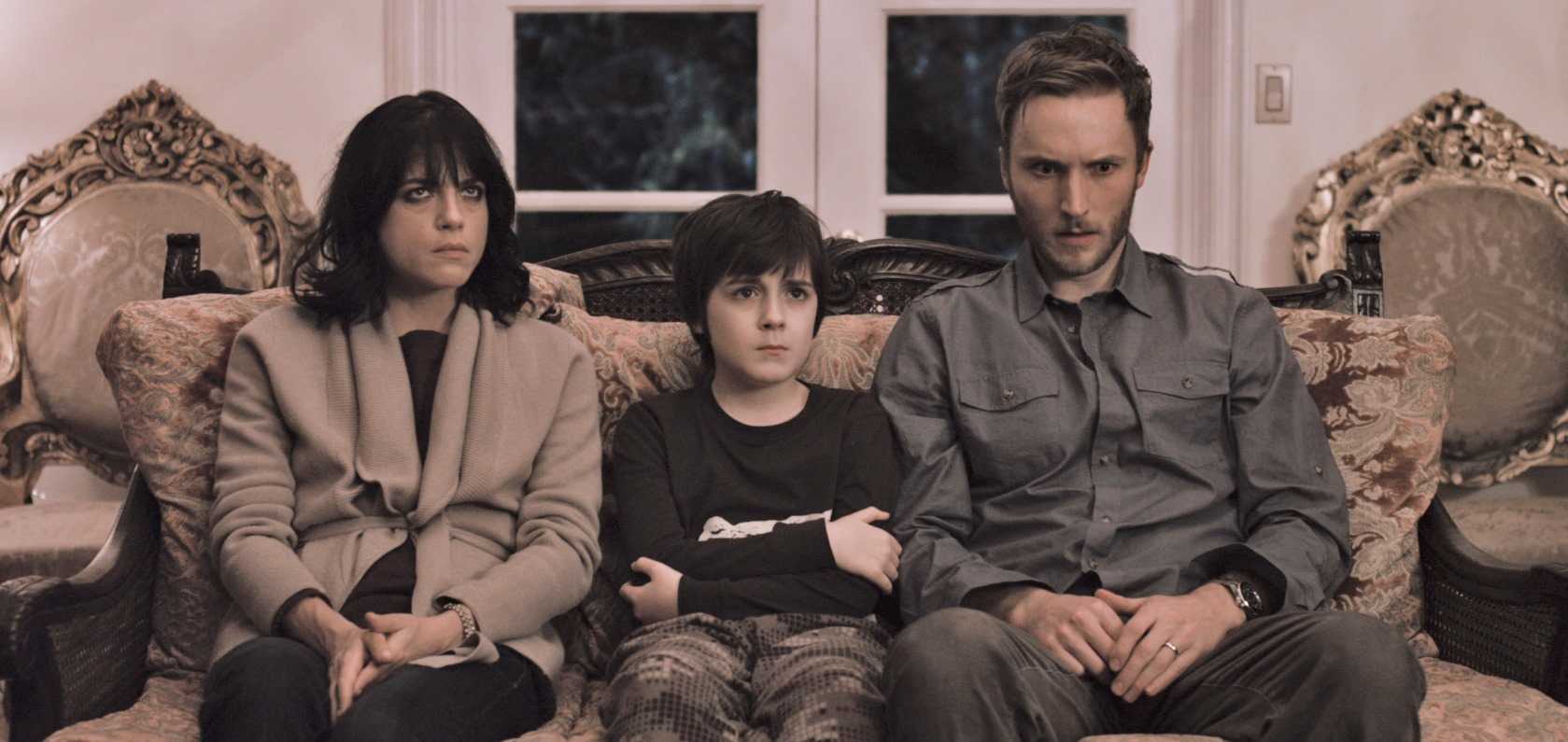 To the contrary, In Their Skin builds its threat up and then lets it go nowhere. At most we get James D'Arcy getting his jollies by watching Joshua Close and Selma Blair have sex and then forcing her to ride on top of him (clothed) – but the scene is directed in an utterly tame way that generates no sense of violation at all. There is a minor fight over the various guns but the level of violence is so tame that this could be screened in a children's tv show.
Other plot elements prove to be stairways to nowhere – there is the spectre of the death of the child in the family that sits like the proverbial elephant in the room and causes stress in the relationship – only this has no bearing at all on the story that follows. It has been some time since one has seen a film that is more cocked to go somewhere only to trip over itself right out of the starting gate.
---
---