---
Crew
Director – Elijah Moshinsky, Teleplay – Malcolm Bradbury, Based on the Novel by Kingsley Amis, Producer – David Snodin, Photography – John McGlashan, Music – Tim Souster, Visual Effects Designers – Stuart Brisdon & Colin Mapson, Optical Effects Supervisor – Roy Field, Designer – Gerry Scott. Production Company – BBC TV/Arts & Entertainment Network.
Cast
Albert Finney (Maurice Allington), Linda Marlowe (Joyce Allington), Sarah Berger (Diana Avery), Natalie Morse (Amy Allington), Nickolas Grace (Tommy Sonnenschein), Nicky Henson (Jack Avery), Michael Hordern (George 'Gramps' Allington), Michael Culver (Thomas Underhill), Josie Lawrence (Lucy), Philip Franks (The Visitor), Michael Grandage (Nick), Robert Schofield (David)
---
Plot
Maurice Allington is the owner of The Green Man, an historic building located not far from Cambridge that he operates as a hotel/restaurant. He drinks far too much and conducts multiple affairs behind the back of his wife Joyce, currently with Diana, the wife of his best friend. Maurice readily recount stories to his dinner guests of the ghost that supposedly haunts The Green Man. He then begins to see ghostly figures around the building and one evening receives a visitation from Thomas Underhill, the 18th Century inhabitant who used dark sorcery to have his way with young women of the area. Underhill implores Maurice's help in digging up his grave to retrieve an occult amulet. At the same time, Maurice tries to bring Joyce and Diana together for a threesome. They surprise him by agreeing, only for the tables to be turned on him when he finds they enjoy each other more than they do him.
---
Kingsley Amis (1922-95) was considered one of the great 20th Century British literary figures. An English lecturer, Amis gained acclaim with his first novel Lucky Jim (1954), which can be considered a semi-autobiographical work about a lecturer who drinks too much and dallies with various women. Amis wrote twenty novels and a good many non-fiction works. He has a surprising number of genre associations. These include New Maps in Hall (1960), a critical look at science-fiction literature, and The Alteration (1976), an alternate history novel in which The Reformation never happened and England remains a Catholic country. Amis also wrote Colonel Sun (1963), the first authorised James Bond novel following the death of Ian Fleming, as well as two other non-fiction Bond books.
The Green Man (1969) was Kingsley Amis's venture into the tradition of the English ghost story. It too received acclaim when it came out. The central character of the genial alcoholic (played here by Albert Finney) who is constantly engaging in extra-marital affairs would appear to be, according to Amis's biographers, a thinly disguised version of Amis himself. The book was adapted by the BBC into a mini-series in three one-hour episodes here. The mini-series was written by Malcolm Bradbury who also held a respected literary position with a number of novels to his name.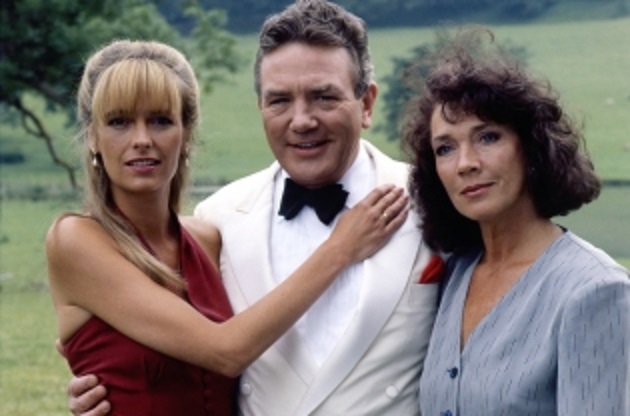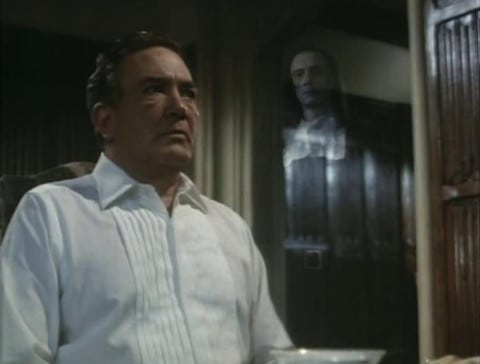 It is important to note when watching The Green Man that it is a ghost story made for BBC arts audiences rather than it is a work pitched to the mainstream horror audiences of the day who were flocking to assorted A Nightmare on Elm Street and Friday the 13th sequels. The difference is never more evident in the choice of director. Rather than an experienced horror veteran, The Green Man was given to Elijah Moshinsky, a director better known for his stage productions of Shakespeare and various operas, who had made a handful of tv movies and one film with the subsequent Genghis Cohn (1993).
The setting is a fine-dining restaurant and features cameos from celebrity food critic and later MP Cement Freud (grandson of Sigmund). Albert Finney makes sidetrips to Cambridge to research the Green Man's history. Even God, who makes an appearance in mid-show as played by Phillip Franks, is seen as a snobbish private school prefect who cuts off Albert Finney's question about alleviating human suffering with a coldly dismissive "No chance of that."
The centre of the show is Albert Finney, who also has a reputation as one of the British acting industry's great drunks and could be considered to be cast fairly much himself. Finney has demonstrated his consummate acting greatness upon numerous occasions and sinks into the role here with ease and owns the show.
The story works well and the show has an endearing like of its central character, particularly when it comes to the ending where Finney essentially shrugs and resigns to accepting who he is. The mini-series does not neglect the ghost story side of things and these receive a full flowering in the third episode.
---
Full mini-series available beginning with Episode 1 here
---