---
Crew
Director – Mick Garris, Teleplay – Stephen King, Based on His Novel, Producer – Mark Carliner, Photography – Shelly Johnson, Music – Nicholas Pike, Visual Effects Supervisor – Boyd Shermis, Visual Effects – VIFX, Special Effects Supervisor – Lou Carlucci, Makeup Effects/Topiary Design – Steve Johnson's XFX, Inc., Production Design – Craig Stearns. Production Company – Lakeside Productions/Warner Brothers Television.
Cast
Steven Weber (Jack Torrance), Rebecca De Mornay (Wendy Torrance), Courtland Mead (Danny Torrance), Melvin Van Peebles (Dick Halloran), Stanley Anderson (Delbert Grady), Pat Hingle (Pete Watson), Elliott Gould (Ullman), John Durbin (Horace Durwent), Wil Horneff (Tony)
---
Plot
Jack Torrance accepts a job as caretaker at The Overlook Hotel in the remote Colorado Mountains while it is closed for the winter season. Jack has a drinking problem, which caused him to lose his previous job as a teacher after he punched out a pupil while drunk. Jack is now in recovery and trying to turn his life around. He, his wife Wendy and seven-year-old son Danny move into The Overlook. Jack intends to spend the winter, where they will be snowed in, to concentrate on writing a play. Before the staff depart, the cook Dick Halloran detects that Danny has a powerful case of what he calls 'the shining' or psychic ability. Halloran warns Danny that the hotel has ghosts and tells him to never go into Room 217. Soon after they settle in, spooky things begin to happen. Jack begins to brood and become angry with Danny over minor matters. As the hotel ghosts start to become stronger, drawing on Danny's shining, they prey on Jack by providing him with alcohol. As Jack sinks into alcoholism once again, the spirits of the hotel urge him to kill Wendy and Danny, wanting to absorb Danny's shining so that they can become more powerful.
---
The Shining (1977) was Stephen King's third novel. The book was of course brought to the screen by Stanley Kubrick as The Shining (1980), which proved very successful, is widely regarded as a horror classic but was roundly criticised by Stephen King fans for ditching many aspects of the book. This six-hour tv mini-series was a remake of the book conducted for tv – one of numerous Stephen King adaptations that were made for tv during the 1990s and 00s – where King himself went back and wrote the script, taking the teleplay much closer to the book than Stanley Kubrick had. The book, King later said, was a metaphor his own struggle with alcoholism during the period of its writing.
The great dread that promptly befell The Shining mini-series was that Stephen King entrusted his script to director Mick Garris. Mick Garris has been the most prolific adaptor of Stephen King's works on screen, having made the likes of Sleepwalkers (1992), The Stand (1994), Quicksilver Highway (1997), Riding the Bullet (2004), Desperation (2006) and Bag of Bones (2011). Mick Garris is also the worst of all of Stephen King's adaptors. Garris is a director who knows no concept of subtlety – all his films come with people, creatures and pop-up effects constantly jumping into the camera like a schlocky carnival haunted house ride. Garris's characterisations are one-dimensional and his films lack almost any intellectual dimension.
In fact, when it comes to comparing the two versions of The Shining, it is difficult to think of two directors more diametrically opposed than Mick Garris and Stanley Kubrick. A cool intellectual who like to leaves things enigmatic and unsaid versus a director who seems to wilfully eschew any intellectual content, lays every single effect on with a trowel and likes to hit audiences over the head until there is no possibility that a single person present has not understood what he is trying to say.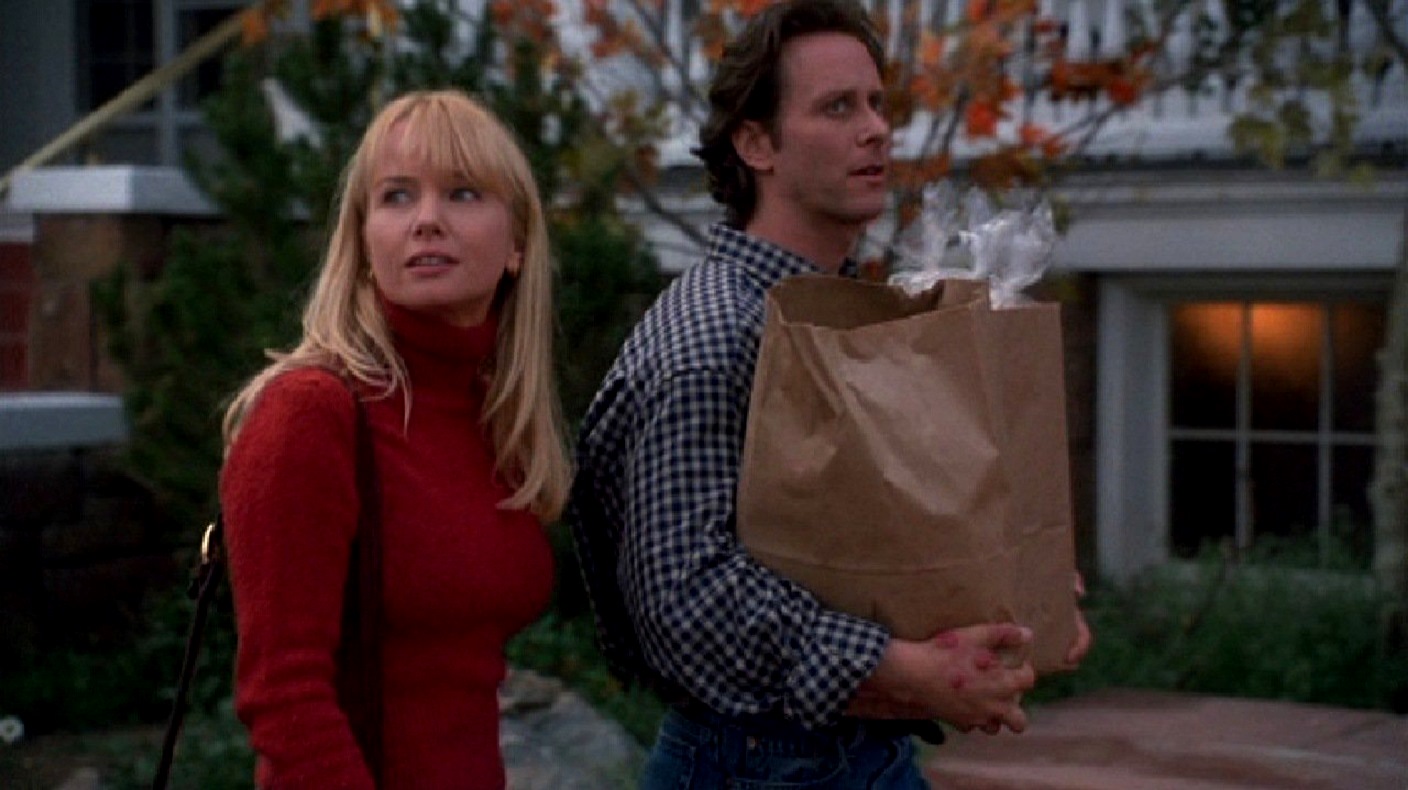 Stephen King's script brings back a number of elements of the book that Stanley Kubrick threw out – Jack's drinking problem and how in the past he broke Danny's arm and was fired for attacking a pupil, Danny's invisible companion Tony, the boiler explosion climax and many of the scenes involving the shining. This time we also get the hedge animals, which Stanley Kubrick cut because it was not technically feasible to animate them in 1980 (which CGI now allows) and substituted an axe-wielding Jack Nicholson running through a hedge maze instead. Certainly, Mick Garris quotes the odd part from the Stanley Kubrick version – most notedly the aerial shot following the family's Volkswagen through the Colorado mountains and their discussion inside the car about the Donner Party.
The surprise about The Shining is that Mick Garris, for about the only time he has touched a Stephen King adaptation, surpasses himself and turns in a halfway reasonable effort. The Shining is certainly not the turkey that one expected at all with Garris directing. Garris completely restrains the perpetual pop-up effects that dog his other films – there is the odd firehose morphing to develop teeth and grocery bag becoming a bloody mallet but these are barely intrusive. In that he is telling a much more psychological chamber drama with only a few characters, Garris pays much more attention to the characters and even delivers their interactions with a degree of subtlety at times.
There are some fine scenes where Garris seems perfectly in touch with Stephen King's writing – the scene with Halloran explaining the shining to Danny and an especially good scene in the lobby where the clearly mentally decaying Steven Weber manages to persuade Rebecca De Mornay that things are going to be fine. Maybe we didn't need some of the shots with cash registers ringing, the fire lighting itself, chairs falling, the jukebox starting up or the swings swinging but Mick Garris's restraint in comparison to his lack of it in his other Stephen King adaptations is nothing short of remarkable.
There are even times when Mick Garris's usual incredibly tiresome there again/not again effects work, especially during Danny's entrance into Room 217 where the build-up to what is on the other side, the firehose maybe popping out and the woman coming after Danny, all hover in a state of eerie unreality. So too do the later scenes where the hedge animals creep up on Danny as he is playing. Another effective scene is the one where Steven Weber enters the ballroom and Garris is constantly pulling away to alternately reveal that the party revellers are either dead or there is nothing there at all, not to mention the considerable effectiveness of the threat when Grady starts persuading Jack to kill his family.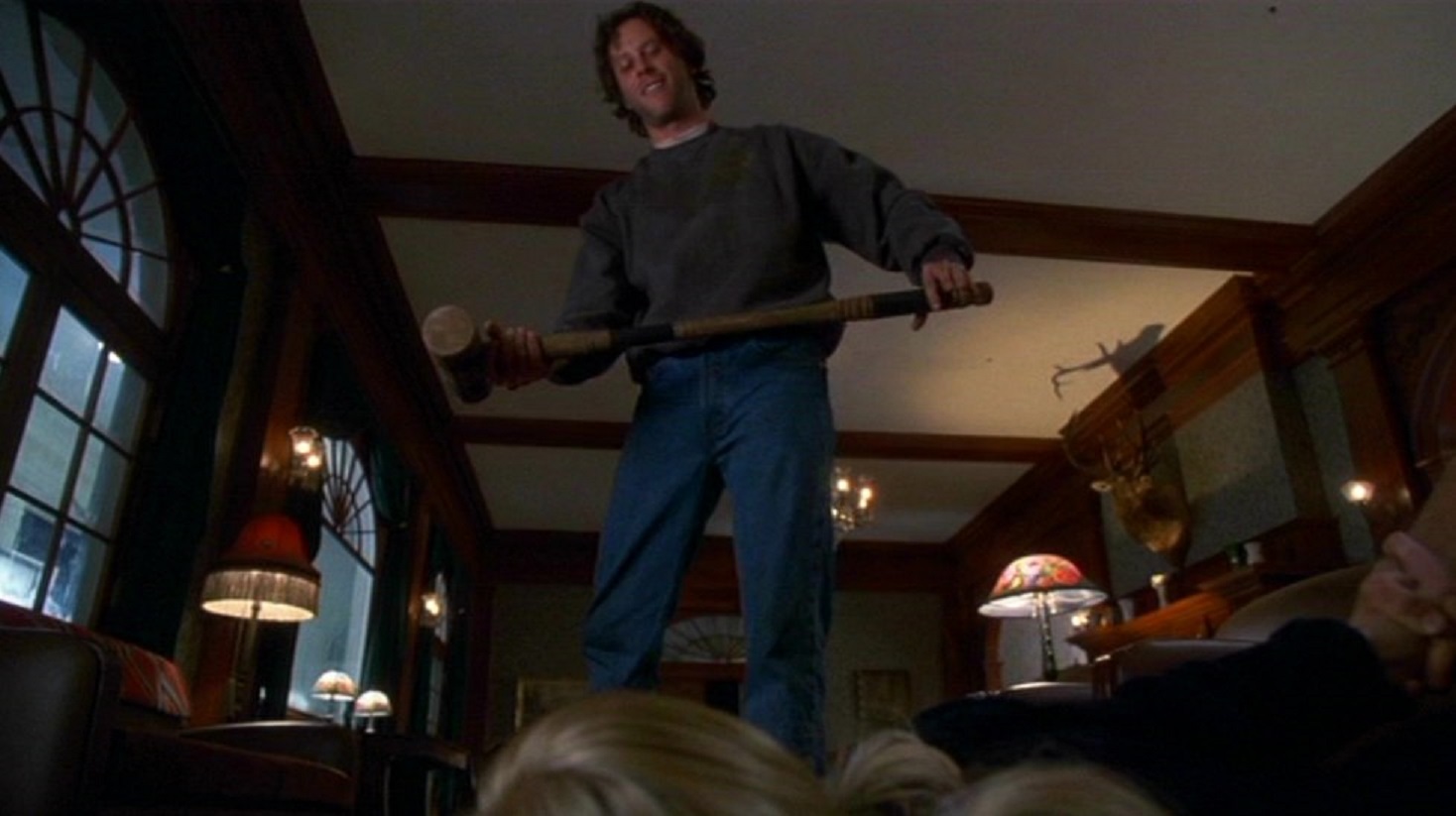 The mini-series gains its feet when Steven Weber goes into full dementia, walking through the halls swinging the croquet mallet. Indeed, this last episode is unusually strong in the degree of menace it creates, where Garris creates considerably more tension and ominous sense of bad things about to explode than any other Stephen King adaptation for the small-screen. Although we maybe could have done without the dreadfully sentimental ten-years-later epilogue with everyone gathering to see Danny graduate, even his father's ghost come to say, "I love you, Danny."
One of the problems I always had with Stanley Kubrick's The Shining was Jack Nicholson. Jack Nicholson did not feel right for the role of Jack Torrance, at least in the way that Stephen King wrote the character in the book. The book's Jack Torrance was always a mild-mannered everyday guy. Steven Weber is certainly much more Stephen King's Jack Torrance that Jack Nicholson ever was. Even so, Weber comes across as a little cocky and certainly makes Torrance seem a less sympathetic character than Stephen King did in the book. (The original casting choice was Tim Daly, Steven Weber's co-star from the sitcom Wings (1990-7). Tim Daly later appeared in the Stephen King mini-series Storm of the Century (1999) and was excellent – he would have been an even better Jack Torrance than Steven Weber, one suspects. To see someone like Tim Daly go mad with an axe would be amazing). Melvin Van Peebles (Mario's father) makes for a very good Dick Halloran, while Rebecca De Mornay has a quiet effectiveness as Wendy. One of the best performances in the show comes from young Courtland Mead who tackles a complex child character with considerable assurance, far more so than the wooden Danny Lloyd did in Stanley Kubrick's The Shining.
Mick Garris also likes to throw in genre quotes and cameos from other directors. Sam Raimi, the director of The Evil Dead (1981) and Spider-Man (2002) turns as the garage attendant who rents the snowmobile to Halloran, and both horror writer David Schow and director Frank Darabont, who made several Stephen King adaptations with The Shawshank Redemption (1994), The Green Mile (1999) and The Mist (2007), have cameos as ghosts. Stephen King turns up as the ghostly big band leader, who notedly manages the Gage Creed Orchestra, which is named after the undead child in King's Pet Sematary (1989). Mick Garris also has a cameo as one of the attendees at the Sidewinder AA meeting.
Doctor Sleep (2019) is a sequel to The Shining, following Danny as an adult.
Mick Garris's other genre works as director include:– Critters 2 (1988) and the cable tv movie Psycho IV: The Beginning (1990); the tv movie anthology Quicksilver Highway (1997), which adapted stories by Stephen King and Clive Barker; the virtual reality tv movie Virtual Obsession (1998); versions of Stephen King's Sleepwalkers (1992), The Stand (1994), Riding the Bullet (2004), Desperation (2006) and Bag of Bones (2011); plus two episodes of the horror anthology Nightmare Cinema (2018). Garris also came up with the stories for Batteries Not Included (1987), The Fly II (1989) and Hocus Pocus (1993), worked as story editor on the Steven Spielberg produced anthology tv series Amazing Stories (1985-7), and has produced the anthology series Masters of Horror (2005-7), Masters of Science-Fiction (2007) and Fear Itself (2008-9).
Other Stephen King genre adaptations include:- Carrie (1976), Salem's Lot (1979), Christine (1983), Cujo (1983), The Dead Zone (1983), Children of the Corn (1984), Firestarter (1984), Cat's Eye (1985), Silver Bullet (1985), The Running Man (1987), Pet Sematary (1989), Graveyard Shift (1990), It (tv mini-series, 1990), Misery (1990), a segment of Tales from the Darkside: The Movie (1990), Sometimes They Come Back (1991), The Lawnmower Man (1992), The Dark Half (1993), Needful Things (1993), The Tommyknockers (tv mini-series, 1993), The Stand (tv mini-series, 1994), The Langoliers (tv mini-series, 1995), The Mangler (1995), Thinner (1996), The Night Flier (1997), Quicksilver Highway (1997), Trucks (1997), Apt Pupil (1998), The Green Mile (1999), The Dead Zone (tv series, 2001-2), Hearts in Atlantis (2001), Carrie (tv mini-series, 2002), Dreamcatcher (2003), Riding the Bullet (2004), 'Salem's Lot (tv mini-series, 2004), Secret Window (2004), Desperation (tv mini-series, 2006), Nightmares & Dreamscapes: From the Stories of Stephen King (tv mini-series, 2006), 1408 (2007), The Mist (2007), Children of the Corn (2009), Everything's Eventual (2009), the tv series Haven (2010-5), Bag of Bones (tv mini-series, 2011), Carrie (2013), Under the Dome (tv series, 2013-5), Big Driver (2014), A Good Marriage (2014), Mercy (2014), Cell (2016), 11.22.63 (tv mini-series, 2016), The Dark Tower (2017), Gerald's Game (2017), It (2017), The Mist (tv series, 2017), Mr. Mercedes (tv series, 2017-9), 1922 (2017), Castle Rock (tv series, 2018-9), Doctor Sleep (2019), In the Tall Grass (2019), Pet Sematary (2019), The Outsider (tv series, 2020), The Stand (tv mini-series, 2020-1), Chapelwaite (tv series, 2021- ), Lisey's Story (tv mini-series, 2021), Firestarter (2022), Mr Harrigan's Phone (2022), The Boogeyman (2023). and Salem's Lot (2023). Stephen King had also written a number of original screen works with Creepshow (1982), Golden Years (tv mini-series, 1991), Sleepwalkers (1992), Storm of the Century (tv mini-series, 1999), Rose Red (tv mini-series, 2002) and the tv series Kingdom Hospital (2004), as well as adapted his own works with the screenplays for Cat's Eye, Silver Bullet, Pet Sematary, The Stand, The Shining, Desperation, Children of the Corn 2009, A Good Marriage, Cell and Lisey's Story. King also directed one film with Maximum Overdrive (1986).
---
---