(C'Est Arrive Pres du Chex Nous)
---
Belgium. 1992.
Crew
Directors/Producers – Remy Belvaux, Andre Bonzel & Benoit Poelvoorde, Screenplay – Remy Belvaux, Andre Bonzel, Benoit Poelvoorde & Vincent Tavier, Story – Remy Belvaux, Photography (b&w) – Bonzel, Music – Jean-Marc Chenut, Special Effects – Bertrand Boudad & Oliver De Lavelaye. Production Company – Benoit-Bonzel-Poelvoorde/Les Artistes Anonyme.
Cast
Benoit Poelvoorde (Benoit Patard), Remy Belvaux (Remy), Valerie Parent (Valerie), Nelly Pappaert (Benoit's Grandmother), Hector Pappaert (Benoit's Grandfather), Jenny Drye (Jenny)
---
Plot
A film crew are making a documentary about Benoit Patard who cheerfully kills people for their money. During the course of the documentary, Benoit happily demonstrates the ins and outs of killing. A friendship grows between Benoit and the filmmakers, he buying them dinner and contributing money when the film runs out of financing, and they in turn aiding him in his crimes.
---
This no-budget Belgian black comedy was a festival hit. It is a highly amusing take on the early 1990s fascination with real-life tv dramas – Cops, Rescue 911, FBI: The Untold Stories, When Animals Attack etc etc (and made just slightly before the whole reality tv fad went meteoric). It was also made over a decade before the hits of The Blair Witch Project (1999) and Paranormal Activity (2007) created the near-ubiquitous Found Footage fad.
In essentially satirising the reality tv fad of the day, Man Bites Dog takes it one step further and is a mockumentary about a serial killer who is happy to demonstrate and tell all about his trade – openly shooting people and then turning to lecture the camera on the art of murder or the proper deadweight for sinking a body. Equally amusing is the camaraderie that develops between killer Benoit Poelvoorde and the film crew – he buying them dinner, drinks, reading his poetry to them and helping them out financially when they run out of money to complete the film, gradually gaining the upper hand and ordering them to dig graves for the bodies, all the while giving them peppy little remonstrations as to what teamship should be about.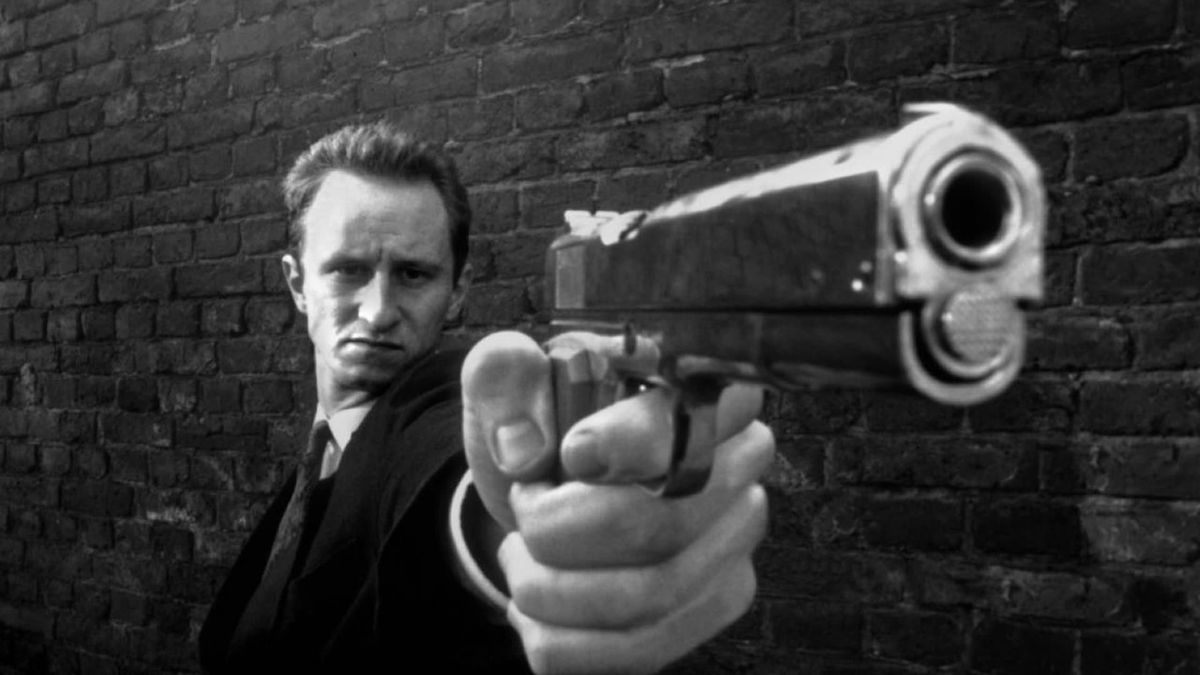 There are times when the film gets sidetracked or goes on too long. Not having any real dramatic structure, the ending smacks of the film having been brought to a close because it needed somewhere to finish. However, there are many pieces that are enormously funny. Like that other great mockumentary This is Spinal Tap (1984) and their problems with exploding drummers, the film crew here have similarly amusing problems with sound men who keep getting shot. There are some extremely funny moments like when Benoit Poelvoorde enters a shootout with another killer only to find he is being followed by his own film crew. Or the menacingly funny birthday party where he shoots one of the guests at random and the others nervously try to continue on with blood splattered over them as though nothing has happened.
A good deal of the film's cheerful perversity comes from star Benoit Poelvoorde's wonderfully exuberant performance. As might be noted, the film cast all have the same names as the directorial team because they are in fact being played by the film's directorial team.
---
Trailer here
Full film available online here here:-
---