---
USA. 2003.
Crew
Director/Screenplay/Photography – Sean Tretta, Based on the Book Murder on Film: The Crimes of William Allen Grone by Iowa Nixon, Producers – Ryan Hutman, Mike Marsh & Sean Tretta, Music – Ryan Hutman. Production Company – Ominous Productions.
Cast
Mike Marsh (William Allen Grone), Ryan Hutman (Roy Walker), Melinda Lorenz (Sarah), Holi Tavernier (Maddy), Jason Dinger (Chuck), Melanie Trimble (Hooker)
---
Plot
In 1998, William Allen Grone was arrested in Arizona and charged as a serial killer. In his possession was found a snuff film showing him murdering a girl. This film is a dramatisation of the events in March 1995 that led up to the making of that film. Grone and his good friend Roy Walker abducted two girls and took them to Roy's junkyard where they imprisoned and proceeded to degrade and torture them, Grone all the while shooting an 8mm film of them doing so.
---
The Great American Snuff Film comes with an ingenious marketing strategy, albeit one borrowed from The Blair Witch Project (1999). Indeed, The Great American Snuff Film could be construed as 8MM (1999) by way of The Blair Witch Project. Essentially, the filmmakers have set out to fool the public into believing that they are watching a true crime story about the making of a snuff film. The real item is supposedly screened at the end and the body of the film hypothetically documents the events leading up to the shooting of the film. [A similar promotional tactic was used in the exploitation film Snuff (1976) and the subsequent Amateur Porn Star Killer (2007) and sequels]. This is presented with utter conviction – the five minutes or so of the snuff film we see at the end are shot in 8mm, without sound and all the grainy processing left intact.
Of course, there was never any serial killer or snuff filmmaker named William Allen Grone – an exhaustive net search on Grone only brings up references to the film. Similarly, the film claims to be based on a non-fiction book about William Grone entitled Murder on Film: The Crimes of William Allen Grone by an Iowa Nixon, although this is a made-up title and a net search for author Iowa Nixon only brings up several entries about Richard Nixon's Iowa primary campaign. The other point against The Great American Snuff Film's authenticity is that surely any film that attempted to screen real film footage of a person murdering someone, which are told has been obtained from police evidence, would be faced by so many lawsuits from family members, from law enforcement agencies for the illegal procurement of evidence and protests from morality groups outraged at the attempt to exploit the material that the finished film would never be released. Sadly, for such an ingenious marketing strategy, it failed to get The Great American Snuff Film a widespread release, although this was probably more due to its hardcore treatment than a failure of conviction. It is amusing to read other reviews where some of the reviewers were taken in and believed they were watching a genuine story.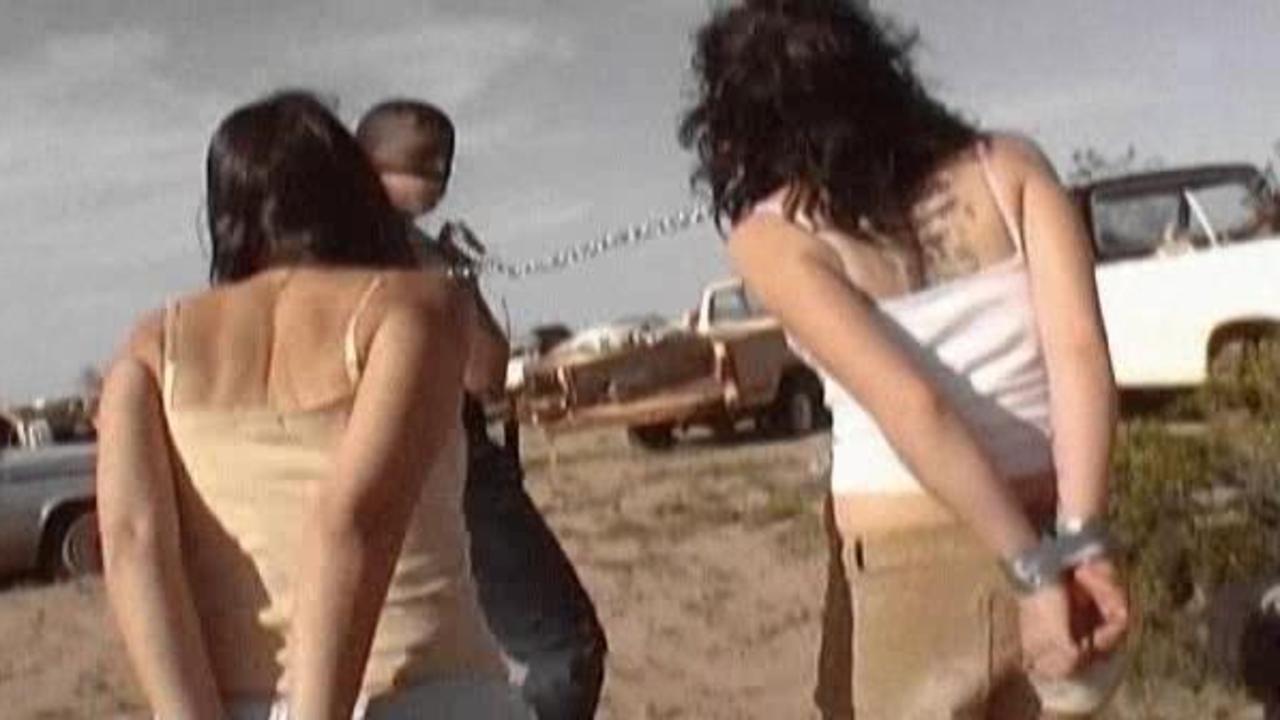 The Great American Snuff Film has been shot on digital video and with frequent handheld camerawork or in a way that contrives to seem shot out of a video camera. This serves to give the grimness a considerable cinema verite strength. Fairly quickly, the film plunges one into a fucked-up headspace. It becomes disturbing watching the brutalities that Mike Marsh and Ryan Hutman visit on the two girls – like a scene where they have the two girls chained up in a steel cage and are stubbing cigarettes out on their exposed skin. Or some of the flashback scenes with Mike Marsh strangling girls by pulling plastic bags over their heads. When the camera focuses in closeup on the two girls attempting to make an escape by wrenching a nail out with their teeth or trying to pull off their own gags, the effect is entirely pitiful.
Mike Marsh also narrates most of the film is a series of voiceover monologues, which are supposedly taken from William Allen Grone's diary entries. Listening to him talk about things in his detached and strangely robotic voice eventually becomes haunting: "Like the dog in his yard, he [best friend Ryan Hutman's Roy] knows who his master is … The freedom he has out here releases him from the wasted formalities of society. But like the dogs in the yard, Roy is an animal." Particularly good is the film's ability to nail Grone's inner psychopathology through these voiceovers – be it his describing the detail of how he processes the 8mm film or his nervous inability to function sexually. There is a particularly chilling passage when Marsh kills Ryan Hutman and then in voiceover says that he feels that he should feel some regret for having killed his only friend but that instead he only feels the same rush that he did with killing all the others. The most disturbed scene is where Marsh picks up a hooker (Melanie Trimble) and then kills her in his house, talking about how he is unable to get an erection "until they stop moving", with the last image of the scene being him climbing on top to fuck her dead body.
Sean Tretta, Mike Marsh and Ryan Hutman later returned with a sequel The Greatest American Snuff Film (2010).
Director Sean Tretta remained within the horror genre for his subsequent films Death of a Ghost Hunter (2007), The Death Factory Bloodletting (2008) and The Frankenstein Syndrome/The Prometheus Project (2010). The Great American Snuff Film at least marks him as a future talent well worth watching. More recently, he has moved into television as a writer/producer on 12 Monkeys (2015-18).
---
Trailer here
---