---
Crew
Director – Joel Coen, Screenplay – Ethan Coen & Joel Coen, Producer – Ethan Coen, Photography – Roger Deakins, Music – Carter Burwell, Production Design – Dennis Gassner. Production Company – Circle Films.
Cast
John Turturro (Barton Fink), John Goodman (Charlie Meadows), Judy Davis (Audrey), Michael Lerner (Jack Lipnick), John Mahoney (W.P. Bill Mayhew), Tony Shalhoub (Ben Geisler), Jon Polito (Lou Breeze)
---
Plot
In 1941, after success with his latest production, playwright Barton Fink is brought to Hollywood by movie mogul Jack Lipnick to write a wrestling movie for Wallace Beery. Holed up in a fleabag hotel, Fink is driven crazy by writer's block and is unable to get started on the project. He meets famous novelist Bill Mayhew who suffers from a drinking problem. Mayhew's secretary Audrey agrees to help Fink out. He sleeps with Audrey, only to wake in the morning and find her dead in his bed. Detectives then arrive to tell Fink that Charlie Meadows, the insurance salesman he has befriended in the next room, is the one responsible for a series of shotgun killings and beheadings.
---
This intensely weird thriller comes from the Coen brothers, Joel and Ethan. The Coen Brothers are a directing-producing-writing team who between them made such stylistically dazzling thrillers as Blood Simple (1983), Raising Arizona (1987), the critically acclaimed Fargo (1996), the hilariously offbeat The Hudsucker Proxy (1994) and the cult The Big Lebowski (1998), along with the likes of O Brother, Where Art Thou? (2000), The Man Who Wasn't There (2001), Intolerable Cruelty (2003), The Ladykillers (2004), No Country for Old Men (2007), Burn After Reading (2008), True Grit (2010), Inside Llewyn Davis (2013), Hail, Caesar! (2016) and The Ballad of Buster Scruggs (2018). Barton Fink made a clean sweep of the Prizes at Cannes, including Best Picture, Best Director and Best Actor.
Barton Fink is a mesmerising puzzle. It seems almost to want to be a thriller with its twist revelations, its lurking psycho, its body in the bed, its mystery box – but the Coen Brothers resolutely refuses to conform to the rules of the genre or let any of the elements jell into a thriller plot. The mysterious box, for instance, is suggested throughout as containing a severed head but is thrown away without ever being opened.
And in their willingness to bend the rules of the game, the Coen Brothers leave one with an atmosphere of weirdness that is hard to shake. The film has a claustrophobic ambience of cavernous, half-lit hotel lobbies, corridors that travel off into unnerving perspective, gloomily lit hotel rooms with oozing wallpaper and half-heard sounds coming through the walls, or camera shots that crawl down plugholes.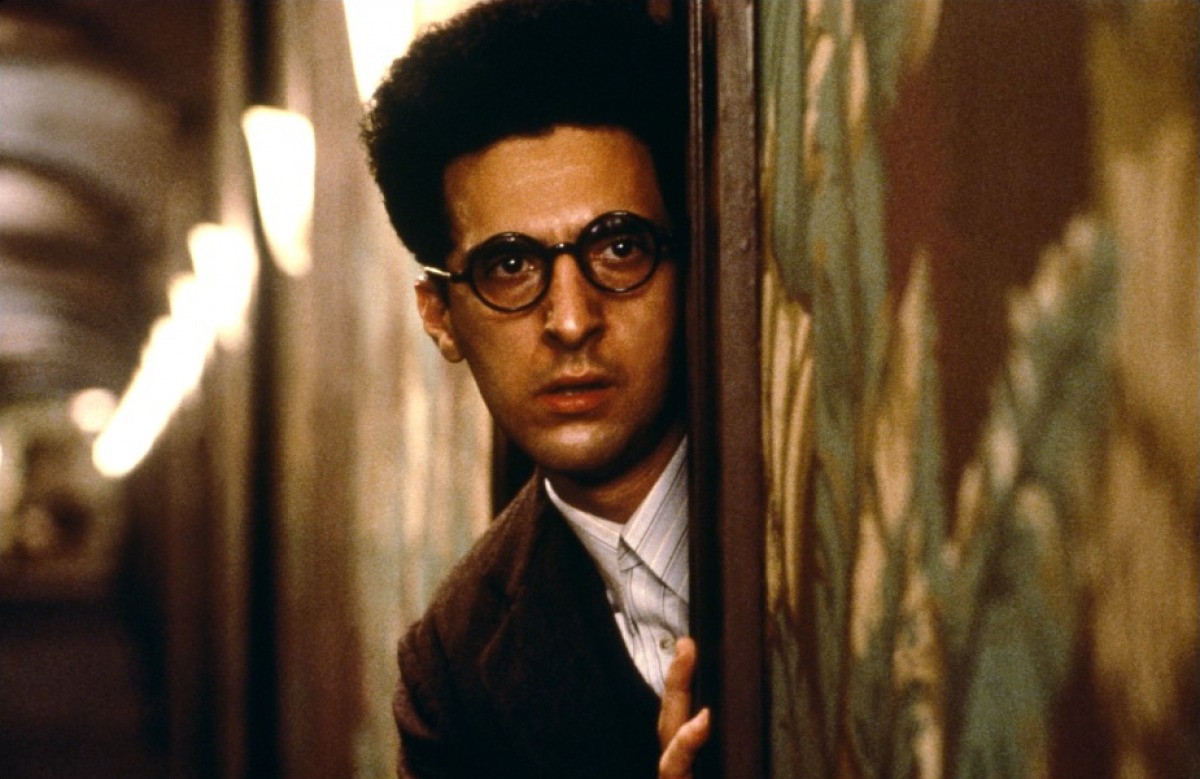 Barton Fink is the sort of film that one might imagine would result if David Lynch was let loose on a film noir remake of Day of the Locust (1975) – indeed, it is the film that one senses Stanley Kubrick wanted to make with The Shining (1980) but became sidetracked. John Goodman's barrelhouse performance is very good. His return as the hotel inexplicably bursts into flames, wielding a shotgun, blowing away the waiting cops while yelling "I'll show you the life of the mind", and then spookily lapsing back into his familiar jocular manner to free John Turturro, before opening the door to depart into his burning room as though nothing is wrong makes for a stunningly surreal, almost hallucinatory climax. The film ends with John Turturro meeting a girl on a beach, which fades out as she reclines in exactly the same pose as the girl in the pin-up portrait in the hotel room.
Barton Fink contains a scathing portrait of Hollywood in the 1940s. What many do not realise is that there is quite a degree of historical accuracy to Barton Fink with many of the characters being only thinly veiled semblances of real figures. Michael Lerner's tyrannical studio chief is based on Louis B. Mayer (of Metro-Goldwyn-Mayer fame); John Mahoney's alcoholic novelist is based on William Faulkner who made a brief sojourn into screenwriting including one Wallace Beery wrestling film Flesh (1932); and the title character is based on screenwriter and acclaimed playwright Clifford Odets who was blacklisted under the McCarthy Communist witch-hunts
---
---