---
Crew
Directors/Producers – Don Argott & Sheena M. Joyce, Photography – Don Argott, Music – Brooke Blair & Will Blair, Animation – Alkemy X. Production Company – 9.14 Pictures/Thruline Entertainment.
Cast
Thomas Andrae, Benjamin Cruz, Athena Finger, Judy Flam, Stacey Friends, Carmine Infantino, Justin Jarymovych, Lev Jarymovych, Maeve W. Joyce-Argott, Dr Travis Langley, Alethia Mariotta, Todd McFarlane, Daniela Nobleman, Marc Tyler Nobleman, Jerry Robinson, Arlen Schumer, Lyn Simmons, Steve Simmons, Charles Sinclair, Kevin Smith, Roy Thomas, Michael E. Uslan, Bonnie Burrell van Stephoudt, Fred Van Lente
---
While the whole world knows of Bob Kane as the creator of Batman, few know of Bill Finger (1914-74) who actually created a great many core aspects of the comic-book mythos. Indeed, Finger was responsible for the look of Batman's costume, the name Bruce Wayne, Batman's origin story, Robin, the Batcave, the Batmobile, many of the super-villains, even terms like 'The Dark Knight' and the name Gotham City.
Back in 1939, inspired by the success of Superman in comic-books the year before, Bob Kane decided to pitch the idea of another superhero to Detective Comics at National Alliance (later to become DC Comics). Kane came up with the name Batman but conceived of the underwheming idea of a figure in red tights wearing a domino mask. He sought the advice of his friend Finger who threw this design out and created the distinctive cape and cowl resembling a bat. Kane sold the idea and signed a contract that stipulated his name be placed on every Batman comic. Batman went on to become possibly the most popular of all comic-book characters and Kane was forever identified in the public imagination as the creator of Batman. However, Finger, who for many years thereafter worked as an uncredited ghostwriter for Kane, went without any recognition for his efforts.
Batman & Bill is a documentary that follows writer Marc Tyler Nobleman and his investigation into the life of Bill Finger. We follow Nobleman as he tries to track down Finger's descendents and the battle to obtain recognition from DC Comics for Finger's work. Nobleman published the results of his quest in a book Bill the Boy Wonder: The Secret Co-Creator of Batman (2012).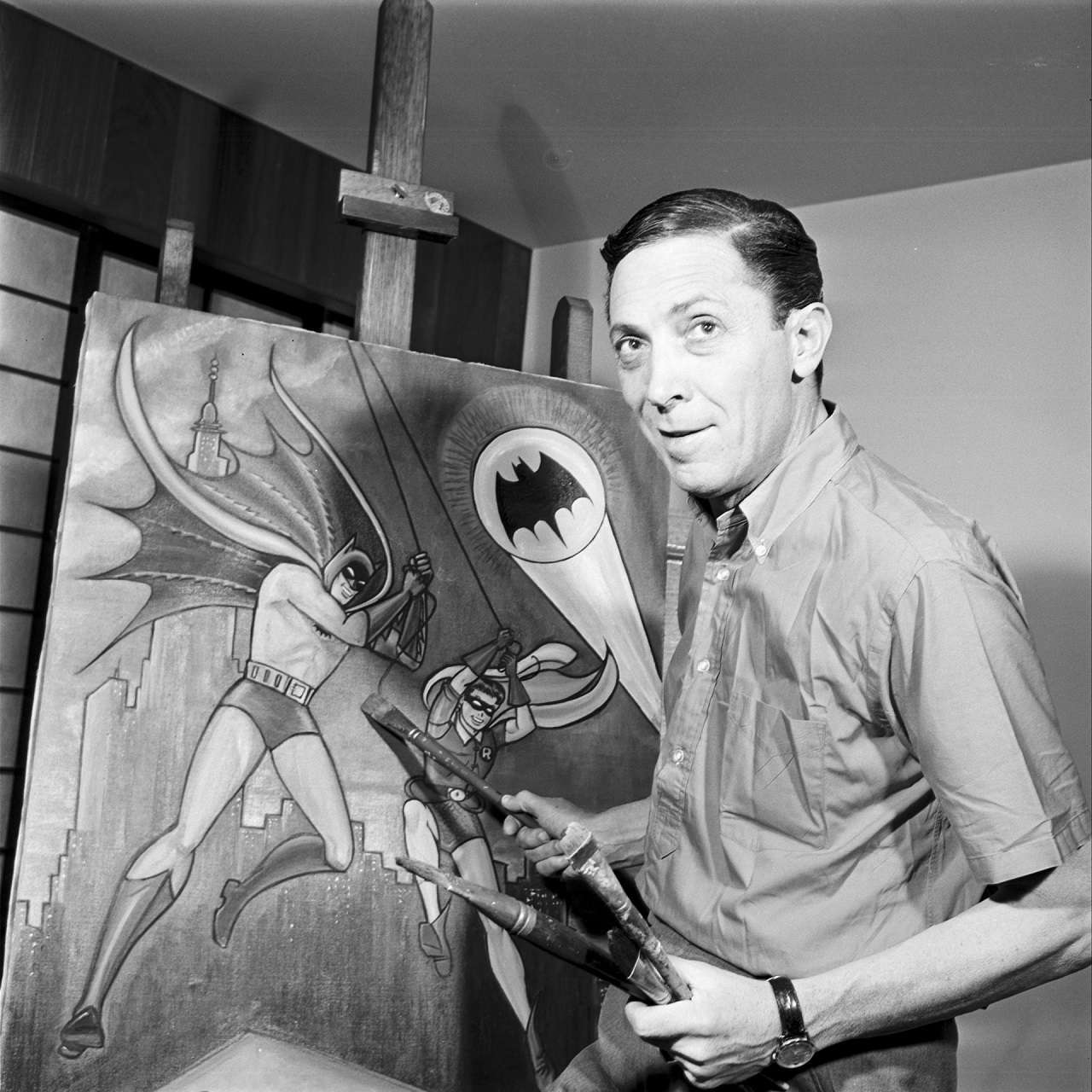 Nobleman traces the revelation about Finger's authorship of the Batman mythos to the very first ever Comicon held at a fleapit New York City hotel in 1965. Nobleman gets interviews with Batman movie copyright holder Michael E. Uslan and Marvel Comics writer Roy Thomas who attended the convention, even a brief audio recording of Finger speaking on a panel. From there, the saga played out in the fanzine Alter Ego after they published an interview with Finger and Bob Kane wrote a harsh and dismissive rebuttal, claiming that he alone created all of Batman.
Thereafter, at the same time as Bob Kane's star rose with the tv series Batman (1966-8) to the point that he was regarded as a celebrity, Bill Finger languished in obscurity. Finger continued to write sporadic stories for DC Comics, even an episode of the Batman tv series, but eventually died alone and unrecognised in 1974 at the age of 59. (His life seems so anonymous that Nobleman is stretched to even find more than a handful of photos of Finger).
Batman & Bill has no reservations about slamming Bob Kane for taking sole credit for the creation of Batman. Even Kane's autobiographer Thomas Andrae, author of Batman & Me: The Autobiography of Bob Kane (1990), comes on board, pouring suspicion on Kane for having had the foresight to date what he claims was the sketch of an embryonic Batman he claims to have made as a teenager in 1934. Andrae highlights passages from the book and his audio interview tapes where Kane admits that Finger's involvement was as much as fifty percent and other areas where it can be seen he was belatedly trying to give credit after having painted himself into a life based on telling a lie.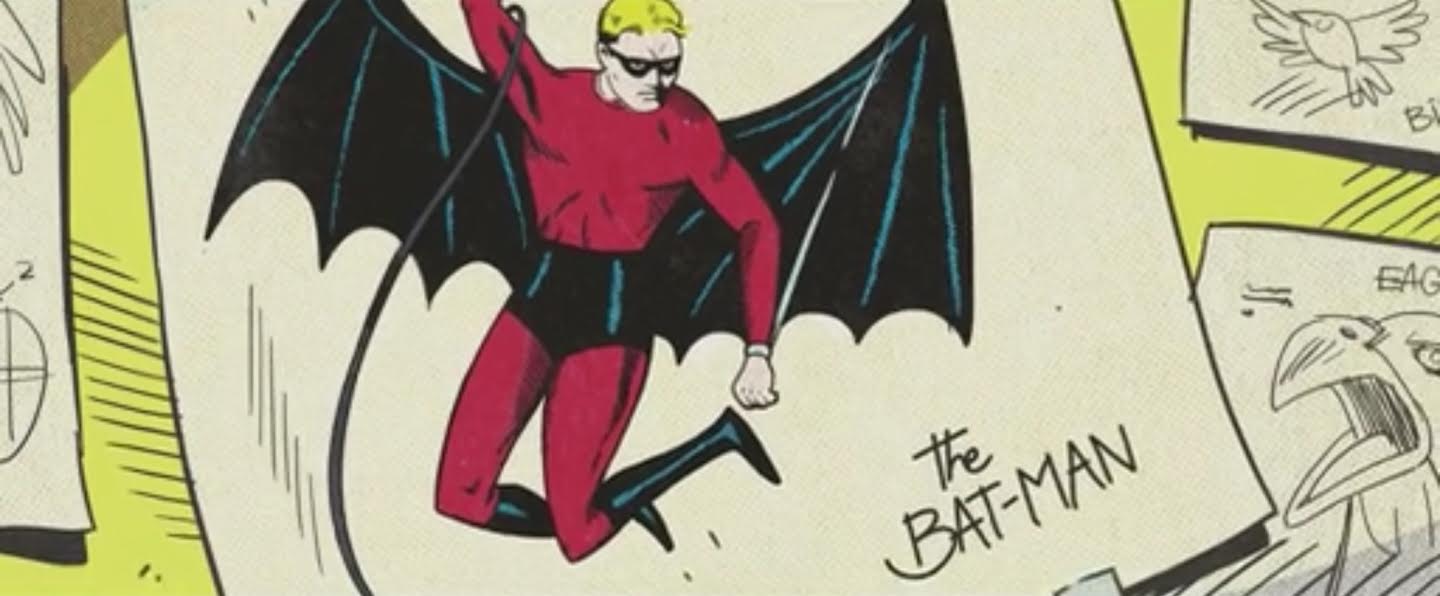 Sometimes the documentary is a little too slavish about following Marc Tyler Nobleman. Did we really need the inclusion of scenes where he and his wife stand around their kitchen discussing the fluoride in toothpaste? Or for Nobleman to bring his kids on to demonstrate that his obsession with Finger has taken over to the point that even they can recite details about him?
Nevertheless, once the film starts to follow Nobleman's detective trail, it becomes an undeniably fascinating story. Much of Nobleman's quest occurred before the film was shot but he recounts in detail his combing through telephone books and calling up hundreds of Fingers to try and find relatives, even staking out Finger's old New York apartment building to try and find people who may have known him. The film becomes the most fascinating during its latter half after Nobleman gave up his quest upon discovering that Finger's only son Frederick was gay (ie. would have had no family) to then learning that Finger had a second wife and following a trail to find that Frederick had a daughter Athena who was born two years after Bill Finger died.
The most moving sections of Batman & Bill come with the discovery of Athena Finger. It is something touching watching her exorcise her lack of closure about being included in her father's death through learning that she is a part of her grandfather's legacy and how his lack of recognition cast a pall over the family's history. The most remarkable sections of the film are those showing her being invited into the DC fold, discovering conventions and being invited by Warner Brothers to attend the premieres of The Dark Knight (2008) and The Dark Knight Rises (2012). Even more remarkable are the last sections of the film where she obtains help from Alethia Mariotta, a relative with legal experience, and they take on DC Comics not expecting to win. The surprise is that DC capitulate and from 2015 Finger has received credit as co-creator of Batman. The final scene of the film is the triumphant one that shows Marc Tyler Nobleman buying a ticket and sitting down in a theatre to watch Batman v Superman: Dawn of Justice (2016) and seeing the credit for Bill Finger come up on the big screen for the first time.
One of the things of genre interest that the documentary never covers is that Bill Finger also had a number of credits as a screenwriter, including writing episodes of tv's '77 Sunset Strip (1958-64) and Batman (1966-8) and the SF films Snow Devils (1967), The Green Slime (1968) and Track of the Moon Beast (1976).
---
---