---
Crew
Director – Guy Maddin, Screenplay – Guy Maddin & George Toles, Producers – Amy Jacobson & Gregg Lachow, Photography (b&w + some shots colour) – Benjamin Kasulke, Music – Jason Staczek, Production Design – Tania Kupczak. Production Company – The Film Company.
Cast
Isabella Rossellini (Narrator), Erik Steffen Maahs (Guy Maddin), Gretchen Krich (Mother), Maya Lawson (Sis), Sullivan Brown (Young Guy), Katherine E. Scharhon (Wendy Hale), Andrew Loviska (Savage Tom), Todd Moore (Father), Kellan Larson (Neddie), Cathleen O'Malley(Young Mother), Suzan Corzatte (Old Mother), Clayton Corzatte (Old Father)
---
Plot
As an adult, Guy Maddin is drawn back to Black Notch Island where he was raised in an orphanage run by his parents. While he wanders the deserted island, Guy remembers phantoms of the past. As a child, his mother ruled the orphanage with an autocratic hand, seeking out the children's guilty secrets with a searchlight mounted in the lighthouse. Guy's father meanwhile spent all his time conducted arcane experiments in his laboratory. Guy was then startled by the appearance of Wendy Hale who, along with her brother Chance, was one half of the celebrity detective duo The Lightbulb Kids. Wendy had come to Black Notch Island to investigate the activities of Guy's parents. Guy developed a crush on Wendy but then Wendy left and returned disguised as her brother Chance. Guy's sister Sis fell for Chance and the two began a covert relationship – one where Wendy was unable to reveal her true self to Sis, even when they planned to marry in secret. Meanwhile, Wendy discovered that Guy's father was extracting fluids from the back of the orphans' brains to provide a nectarite to rejuvenate Guy's mother.
---
Canada's Guy Maddin is one of the most eccentrically fascinating directors in the world. Since the late 1980s, Guy Maddin has made a unique body of films that include Tales from the Gimli Hospital (1988), Archangel (1990), Careful (1992), Twilight of the Ice Nymphs (1997), Dracula: Pages from a Virgin's Diary (2002), The Saddest Music in the World (2003), Cowards Bend the Knee, or the Blue Hands (2003), My Winnipeg (2007), Keyhole (2011), The Forbidden Room (2015) and The Green Fog (2017), as well as a number of celebrated short films. The world of Guy Maddin's films is one filled with a stylistic love of silent movies. Maddin frequently replicates the lighting effects, sets and contorted melodramatic acting of silent cinema. His films always come rent through with over-exaggerated psychodramas and hilariously surreal deadpan dialogue.
Brand Upon the Brain! is an extension of what Guy Maddin did with Cowards Bend the Knee. Like Cowards, Brand Upon the Brain! is an actual silent movie. Brand Upon the Brain! was designed to be performed live at film festivals accompanied by a narrator, an orchestra and foley artists providing the sound effects – at some screenings, Isabella Rossellini appeared in person to conduct her narration live. Maddin also divides both films up into twelve chapters. Similarly, he also conducts the peculiar quirk of naming the protagonist in either story after himself. There are also many of the usual recurring Maddin themes of love triangles, thwarted desire, incest, bizarre childhoods and identity confusions that play throughout the film.
Brand Upon the Brain! is the first time that Guy Maddin has filmed outside of Canada and indeed his native Manitoba. The finance comes from the Seattle-based non-profit production company known only as The Film Company. Brand Upon the Brain! appears to be made with a lower budget than many of Guy Maddin's other films – one of the things it seems to be missing is the wonderful cod-German Expressionist sets that Maddin usually constructs.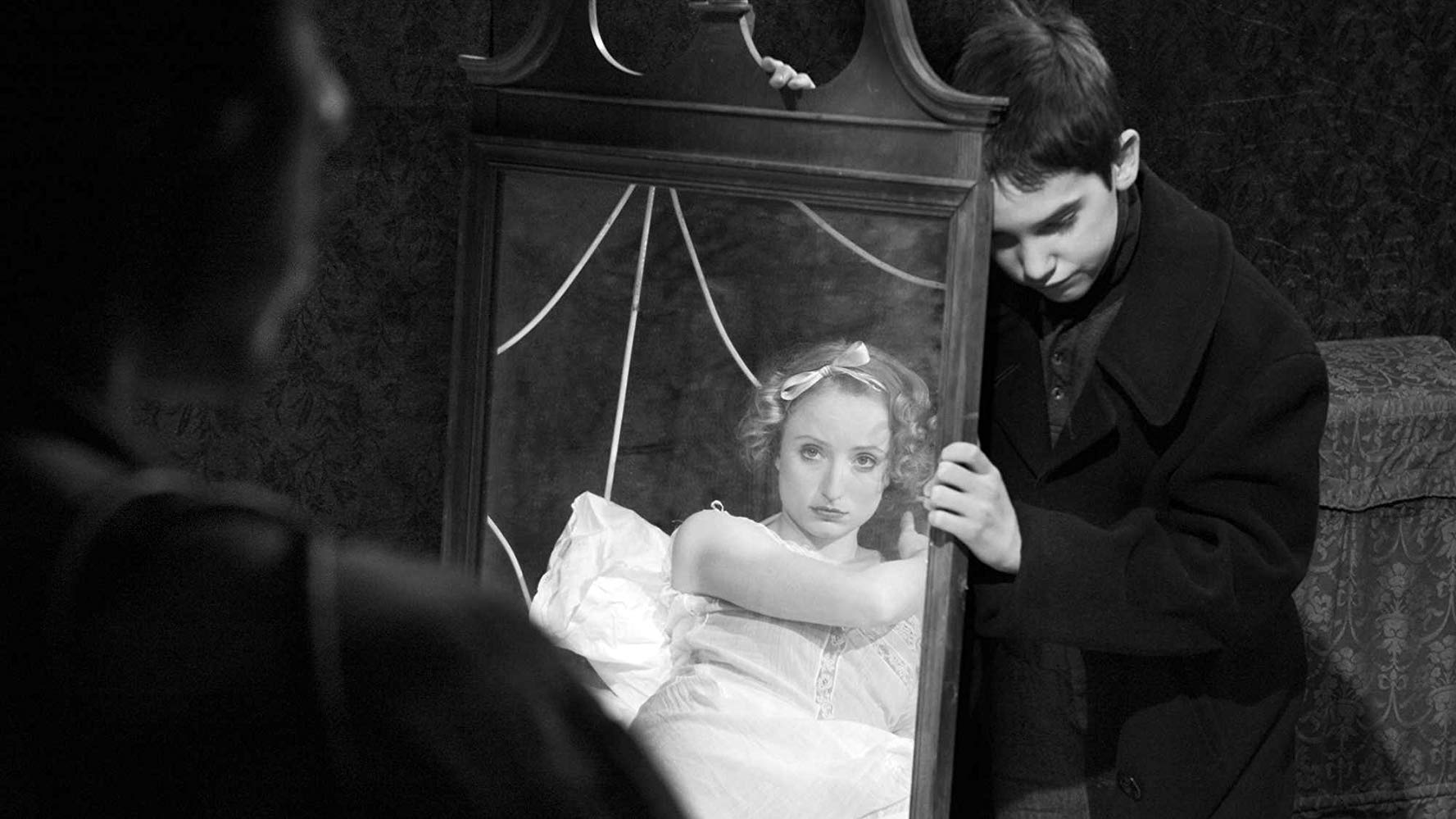 The Guy Maddin film with its stylistic homages to silent cinema, its contorted melodramas and deadpan dialogue is an acquired taste. That said, Brand Upon the Brain! delivers the expected Maddin goods. There is an hysterically convoluted plot involving to wit:- a parody of the child detectives out of 1930s films, including the female detective who poses as her brother by adopting a gender disguise and engages in unrequited love affair with both Guy and his sister (including, at one point, a secret marriage ceremony to the sister who does not realise that she is marrying a girl); Guy's father conducting mad science experiments in the basement, drilling holes in the orphans necks to extract fluids to rejuvenate Guy's mother; the father being revived from the dead by the mother (via heart-to-heart stimulation) in an amazingly kinetic scene that resembles an old Frankenstein movie; occult ceremonies held by the orphans in the woods; caper antics with masked and top-hatted spies, which have clearly been modelled on the silent serials of French director Louis Feuillade; the mother (Gretchen Krich) who spies on the children via a sinister looking telescope situated in the lighthouse eyrie; hilarious little devices like The Gloves of Chastity or The Aerophone (which the film even conducts a cod commercial of sorts for during what it charmingly refers to as 'an interlude').
This is all played with customary Maddin deadpan melodrama to hysterical effect. A great deal of amusement can be had in the various intertitle cards or in some of Isabella Rossellini's deadpan narrations: "Mother could read into children's hearts with her eyes/But preferred to use a searchlight"; "Mother used suicide threats as a teaching aide … She stage-managed her most spectacular suicide to date … What's a suicide without a wedding?"; or "Mother tricked into believing father was still alive by replacing the cremated remains with a hamster and a metronome". The father is resurrected from the dead, whereupon Rossellini breezily comments: "Dead or alive, it's back to work."
As in Cowards Bend the Knee, Guy Maddin employs an amazingly fluid visual style. Maddin never quite goes so far as he did in Cowards in shooting the entire film in a series of stills, but nevertheless frequently edits in the same blurred, undercranked style. The constant kinesis of the camerawork combined with the silent dialogueless drama has an amazingly expressive effect.
---
---