---
Crew
Director/Screenplay – Frank Miller, Based on the Comic Book Created by Will Eisner, Producers – Deborah Del Prete, Gigi Pritzker & Michael E. Uslan, Photography (colour & b&w) – Bill Pope, Music – David Newman, Music Supervisor – Dan Hubbert, Senior Visual Effects Supervisors – Nancy St John & Stu Maschwitz, Visual Effects – Digital Domain, Entity FX (Supervisor – Mat Beck), Fuel VFX (Supervisor – Dave Morley), Furious FX (Supervisor – Kevin Lingenfelser), Look Effects (Supervisor – Max Ivins), The Orphanage (Supervisor – Rick McBride) & Riot (Supervisor – David M.V. Jones), Special Effects Supervisor – Donald Frazee, Makeup Effects – P13 Entertainment, Art Direction – Rosario Provenza. Production Company – Lionsgate/Oddlot Entertainment/Spirit Films LLC.
Cast
Gabriel Macht (The Spirit), Samuel L. Jackson (The Octopus), Eva Mendes (Sand Saref), Scarlett Johansson (Silken Floss), Sarah Paulson (Dr Ellen Dolan), Dan Lauria (Commissioner Dolan), Louis Lombardi (Pathos, Logos, Phobos, Ethos etc), Stana Katic (Officer Morgenstern), Paz Vega (Plaster of Paris), Johnny Simmons (Young Spirit), Seychelle Gabriel (Young Sand), Jaime King (Lorelei Rox), Eric Balfour (Mahmoud), Richard Portnow (Donenfeld), Dan Gerrity (Detective Sussman)
---
Plot
The Spirit operates as a masked crimefighter in Central City. The Spirit has a mysterious ability to recover from all damage, although is unaware of his origins. The Spirit comes up against his frequent nemesis, the criminal mastermind The Octopus who is attempting to procure a Greek amphora that contains the Blood of Heracles, which can make him immortal. During their fight, The Octopus hints that he knows something about The Spirit's origins. As he follows The Octopus's trail, The Spirit realizes he is dealing with Sand Saref, a girl he knew from his childhood. They parted ways after a shooting in which her Uncle Pete was wrongly convicted and has now become a top international thief. At the same time, The Octopus needs The Spirit's blood to complete his formula.
---
The Spirit was a comic-book character created by Will Eisner (1917-2005). Eisner is a legend who was also responsible for creating other comic-books like Blackhawk and Sheena, Queen of the Jungle – see Sheena (1984). The Spirit was produced in a unique format – as a 16-page colour comic-book that was released as an insert in several newspaper Sunday supplements. This lasted from 1940 until 1952, all written and drawn by Will Eisner except for a brief stint where he served in World War II. The strip centred around the masked title character and his various battles against crime. It has become widely regarded as a classic for Eisner's artistic innovations. Indeed, the Comic Industry have named their annual award after Eisner.
The character had previously been adapted to the screen as a tv pilot The Spirit (1987) starring Sam Jones in the role (wearing a purple suit and mask!) but this never went to a series and was reportedly disliked by Will Eisner. The film rights to The Spirit belonged to Michael E. Uslan, a comic-book collector and college professor who has overseen a number of other comic-book properties, including all the Batman films, The Swamp Thing and Captain Marvel. Uslan had talked about mounting a Spirit film off and on for a number of years. Flash forward to 2005 and the death of Will Eisner. At the funeral, Uslan met the noted comic-book artist/writer Frank Miller and approached him with the idea of conducting the film adaptation of The Spirit, wanting to fulfil Will Eisner's request that it be given to someone who could do the job properly.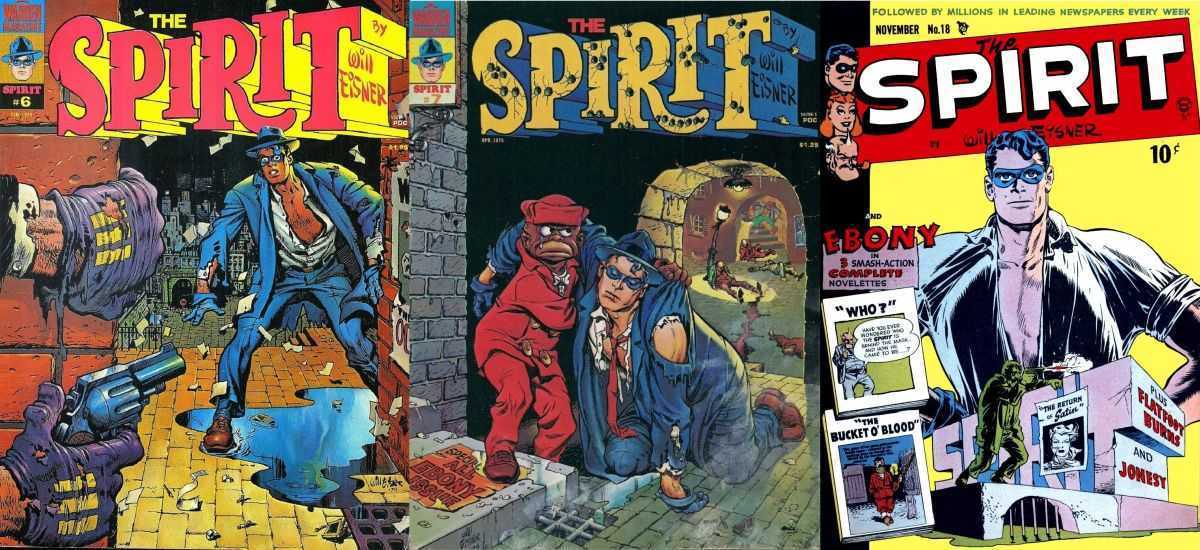 Frank Miller is a legendary name in modern comic-book canon both as writer and as artist. Miller started working at Marvel Comics on various issues of Spiderman, Wolverine and Daredevil. Miller brought a much darker edge into the comics he worked on, notably in revising Daredevil and making it to a best-selling title for Marvel, during which time he created some of the strip's essential characters such as Elektra and Bullseye. Miller also worked over at DC, creating the futuristic samurai series Ronin (1983-4). The most influential title that Miller created, one that still resonates today, was the graphic novel The Dark Knight Returns (1986), featuring an aging Batman. The dark brooding look and the interior spaces that Frank Miller took the character proved enormously influential on the modern graphic novel and comic-book – both Tim Burton and Christopher Nolan owe the interpretation of their Batman films to Miller. Miller drafted a number of other Batman titles such as Batman: Year One (1987), Spawn/Batman (1994) and The Dark Knight Strikes Again (2001-2). After a disagreement with DC, Miller began to work independently in the 1990s, creating a string of titles over which he had greater control with the likes of Give Me Liberty (1990), Hard-Boiled (1990), Sin City (1991-2), Big Guy and Rusty the Robot (1996) and 300 (1998). In these, Miller's frequently dark outlook and politics, his stylistic artwork and love of 1940s film noir started to emerge.
Frank Miller had attracted interest on film before. He had written the screenplays for RoboCop 2 (1990) and Robocop 3 (1993), although expressed considerable disappointment with either of these to the extent that he swore off allowing any of his works to be adapted to the screen for a number of years. A few years later, there were also the screen adaptations of Daredevil (2003) and Elektra (2005), both of which were substantially draw from Miller's creation. Then came Robert Rodriguez's adaptation of Sin City (2005), which Rodriguez persuaded Miller to let him make by shooting a film of one of the shorter stories and then convincing Miller to come on board as co-director. (Frank Miller's co-director credit was under some contention with the Director's Guild at the time but has clearly been resolved enough for him to receive sole director's credit here). Sin City was an enormous success and led to a sequel Sin City: A Dame to Kill For (2014) with a further being planned. This opened a watershed of Frank Miller adaptations, with Zack Snyder making the enormously successful adaptation of 300 (2007) and Darren Aronofsky at one point having announced an adaptation of Ronin, as well as animated adaptations of Miller's graphic novels Batman: Year One (2011), Batman: The Dark Knight Returns Part I (2012), Batman: The Dark Knight Returns Part II (2013) and the tv series Cursed (2020), as well as the sequel 300: Rise of an Empire (2014).
Frank Miller is extremely faithful to the elements of Will Eisner's strip. There is Sand Saref, The Spirit's childhood love turned criminal (who has here been blended with elements from the strip's femme fatale P'Gell); The Spirit's love, the longsuffering commissioner's daughter Ellen Dolan; The Octopus's sidekick Silken Floss; the hero's base in Wildwood Cemetery. There are a few minor changes – we never ever saw The Octopus's face in the comic-strip, for instance. Lorelei Rox had a slightly different role in the comic-book – there she was a siren, whereas here she becomes some angel of death. For many years, The Spirit's origin was left unexplained – just allusions to his having died – although this was later explained by Eisner as being caused by an experiment by Dr Octopus. This has been given more prominence and made into an origin story here. The most notable excision from the film is of The Spirit's sidekick Ebony White. Ebony White was a racially caricatured Black taxi driver who talked in Ebonics and was drawn as to resemble a monkey, which subsequently drew considerable criticism for its racism.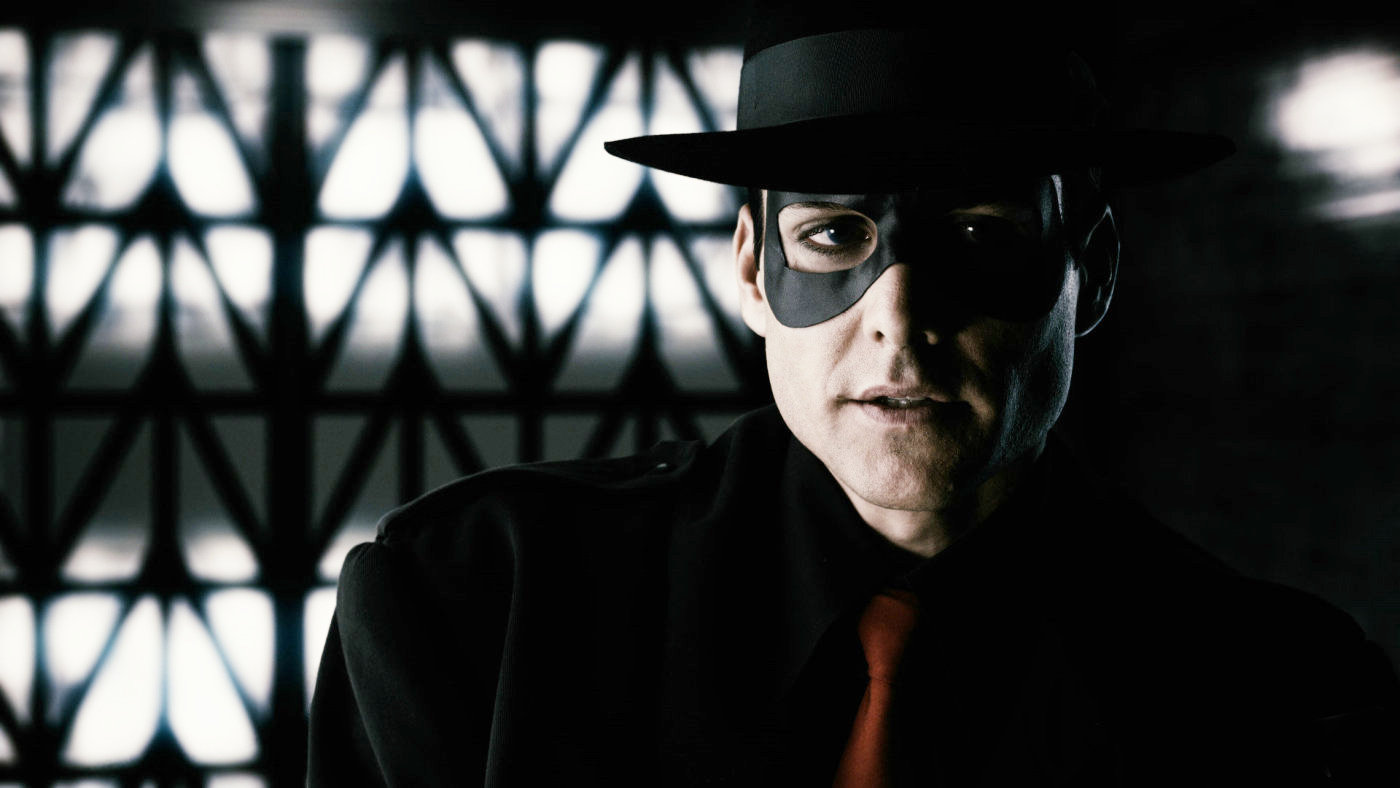 Frank Miller has shot The Spirit in the same style that he and Robert Rodriguez did Sin City – that is to say using digital backlot technology where the film is shot in front of a green screen and the backgrounds are inserted digitally. Frank Miller is one of the few modern directors who has understood the artistic possibilities that this new technology offers filmmakers in terms of creating extraordinarily stylised worlds.
The majority of the film, like Sin City, is shot in a black-and-white that renders the film into a high-resolution two-tone. Some aspects like the soles of the shoes, the shadows in The Spirit's apartment when he wakes or the background skyline become solid white against solid black silhouettes. Like Sin City, Miller also mixes the black-and-white with colour – The Spirit has a red tie throughout while the rest of his suit remains in black-and-white. A number of scenes also break the black-and-white look and have been shot in colour, which come with stylised lighting schemes of their own. Miller creates a seamless noir mood, although deliberately allows modern anachronisms to intrude on the 1940s setting – the use of laptops, photocopiers, as well as the blatant product placement of a Nokia cellphone at one point.
All of that said, The Spirit is a complete head-scratcher as one sits down to watch it. It had one of the most captivating trailers of the year, all of which led one to expect a dark and brooding comic-book superhero adaptation along the lines of The Dark Knight (2008). Contrarily, within the first few scenes, the fight between Gabriel Macht and Samuel L. Jackson's The Octopus seems bewilderingly goofy, almost campy. The characters talk in a parody of hard-boiled film noir dialogue. The more one watches of The Spirit, the more it starts to seem like Frank Miller has taken the visually arresting look he employed on Sin City … only to conduct a remake of something like tv's Batman (1966-8), which took all the heroic epithets and rendered the dialogue in an over-the-top parody of purple prose. That said, this would appear to be being reasonably faithful to the tone of the comic-book, especially when it comes to the character of The Spirit.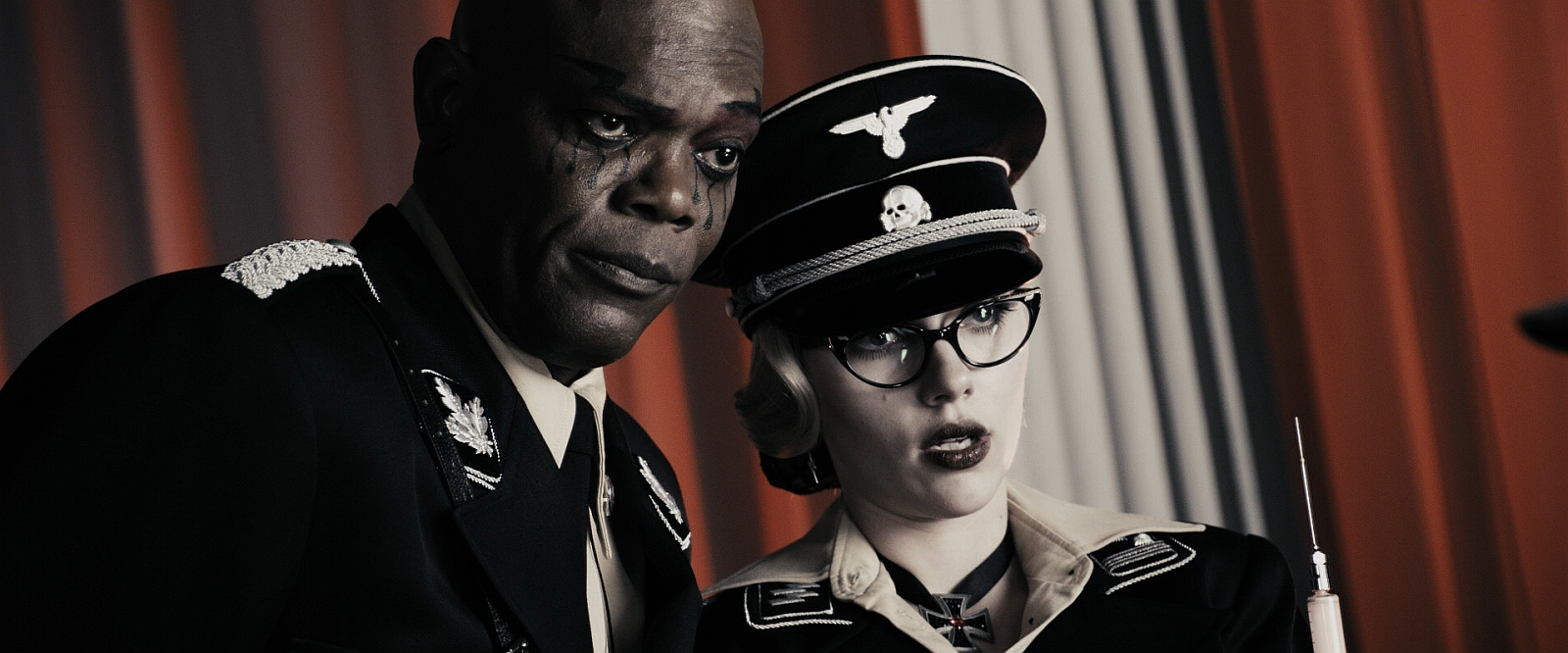 There's an appealingly offbeat goofiness to it – like a scene where The Spirit falls halfway down a building and is left trying to answer his cellphone as he hangs from a jutting statue and then tries to swing to safety using his belt as a rope while his pants are down around his ankles. And there are times when The Spirit seems to be frankly bizarre. Like a scene where Samuel L. Jackson and Scarlett Johansson are outfitted in Japanese kimonos on an all-white set and walk back and forth making plans while nonchalantly ordering Louis Lombardi to commit hari-kari in the foreground, with the back of the screen turning into a rising sun as he spills his blood. Although the most bizarre sequence is surely one with Gabriel Macht tied up in a dentist's chair as a madly overacting Samuel L. Jackson reveals his plans while he and Scarlett Johansson are outfitted in Nazi uniforms, along with Paz Vega as a sword-wielding belly-dancing assassin and a cat that undergoes a meltdown.
Not too understandably, most audiences failed to understand The Spirit and it ended up being a big box-office flop. The Spirit has even ended up on several Top 10 Worst Ever Comic-Book Adaptations around the internet. Contrarily, I liked it for Frank Miller's downright eccentricities, his enormous visual style and just the fact that it is a complete mindfuck of a film that one is still scratching their head about several days later. Alas, like the same problem with the madcap confection of the Wachowski Brothers' Speed Racer (2008) the same year, the current economic downtown that hit in the last half of 2008 is going to surely mean that such visually amazing follies where sums of money that most of us only dream about are given to mad creative geniuses to see what they can come up with is likely to be a thing of the past. All of which can only be a great loss that is going to make movie-going a much blander experience. One predicts in a few years time from now that The Spirit is going to be rediscovered as a cult classic.
(Winner for Best Cinematography, Nominee for Best Director (Frank Miller) and Best Production Design at this site's Best of 2008 Awards).
---
---