---
Crew
Director – Jeff Wadlow, Screenplay – Jillian Jacobs, Chris Roach & Jeff Wadlow, Based on the TV Series Created by Gene Levitt, Producers – Jason Blum, Marc Toberoff & Jeff Wadlow, Photography – Toby Oliver, Music – Bear McCreary, Visual Effects – Cutting Edge (Supervisor – Simon Maddison), Monsters Alien Robots Zombies (Supervisor – Ryan Freer), Nishimuraland & Tempest VFX, Special Effects Supervisor – Dean Clarke, Makeup Effects – Main Reactor, Production Design – Marc Fisichella. Production Company – Columbia/Blumhouse Productions/Tower of Babble.
Cast
Michael Peña (Mr Roarke), Lucy Hale (Melanie Cole), Maggie Q (Gwen Olsen), Austin Stowell (Patrick Sullivan), Jimmy O. Yang (Brax Weaver), Portia Doubleday (Sloane Maddison), Ryan Hansen (J.D. Weaver), Michael Rooker (Damon), Mike Vogel (Lieutenant Sullivan), Parisa Fitz-Henley (Julia), Kim Coates (Devil Face), Robbie Jones (Allen Chambers), Charlotte McKinney (Chastity)
---
Plot
Five people fly in by plane to Fantasy Island. By means that nobody knows, the overseer Mr Roarke will create their perfect fantasy, which he has determined by psychological examination. Their fantasies get underway. Gwen Olsen gets to go back and accept the proposal from her boyfriend that she regrets turning down. Melanie Cole enacts a revenge fantasy of torturing Sloane Maddison, the girl that tormented and made her life miserable in high school. Brothers J.D. and Brax Weaver have a fantasy of endless partying among available women and men. Patrick Sullivan lives out a fantasy of being in the army – only to find he is serving alongside his father who died in duty. However, as the fantasies progress, they begin to find that what they wish is not always a happy fantasy and that darker truths lurk not far beneath everything on the island.
---
Fantasy Island (1977-84) was a tv series created by Aaron Spelling, one of the great tv producers of the era also responsible for hit shows like Starsky and Hutch (1975-9), The Love Boat (1977-86), Charlie's Angels (1976-81), Dynasty (1981-9) and Beverly Hills 90210 (1990-2000). Spelling pitched the idea of a tv series where people live out their fantasies as a joke, not expecting the network ABC to take it up. After two tv pilots, Fantasy Island (1977) and Return to Fantasy Island (1978), the series was picked up where it proved surprisingly popular, lasting on air for seven seasons of a total of 152 episodes.
In each story, guests would arrive on the island and be greeted by Mr Roarke (Ricardo Montalban) and his dwarf manservant Tattoo (played by Herve Villechaize who appears in all but the final season where Villechaize was fired after increased salary demands). Each episode would follow the guests as they indulge their particular fantasy. The fantasies could range from everything from playing assorted roles, meeting lost loves or visiting settings like Ancient Greece and Ancient Egypt to Westerns and 1940s film noir to more fantastical adventures involving ghosts, Bigfoot, mermaids, Greek goddesses, dinosaurs, malevolent ventriloquist's dummies, psychic powers, pacts with The Devil and the like. The agency whereby Mr Roarke managed to stage some of these fantasies was never explained.
The series was briefly revived with Fantasy Island (1998-9) starring Malcolm McDowell as Mr Roarke and with Mädchen Amick as his assistant, although this was cancelled after thirteen episodes. This big screen revival comes from Blumhouse who have cornered the contemporary theatrical horror market with successes such as Paranormal Activity (2007), Insidious (2010), The Purge (2013) and Ouija (2014), all of which have produced sequels, along with a good many others (see below).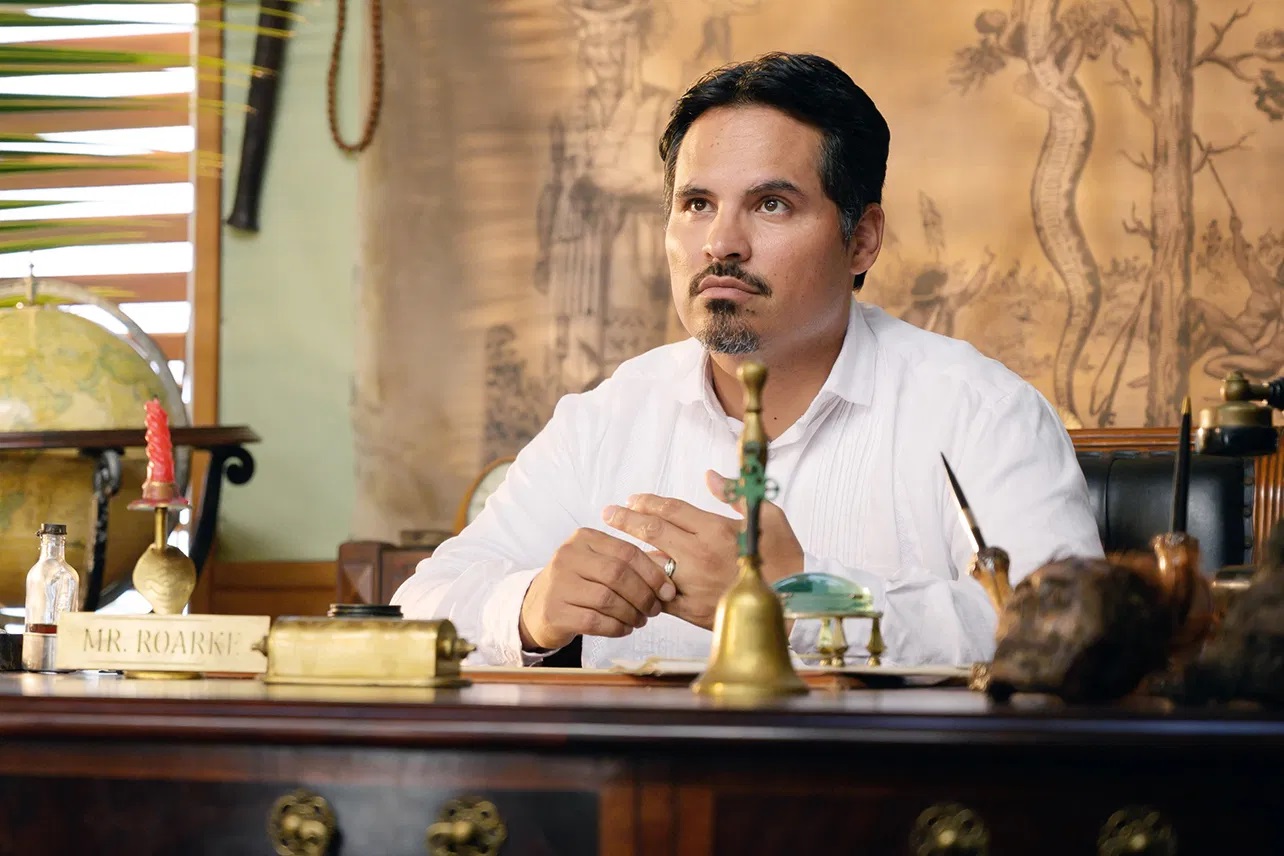 Director Jeff Wadlow first appeared with the martial arts film Never Back Down (2008), followed by the slasher film Cry Wolf (2005), Kick-Ass 2 (2013) and the non-genre True Memoirs of an International Assassin (2016). Wadlow first teamed with Blumhouse for the horror film Truth or Dare (2018)). Subsequent to this, he went on to make the Halloween film The Curse of Bridge Hollow (2022). He has also acted as a producer on the tv series' Bates Motel (2013-7), The Strain (2014-7) and Are You Afraid of the Dark? (2019-21) and wrote the Vin Diesel action film/comic-book adaptation Bloodshot (2020).
There has been a number of tv series remade as films on the big screen since the 1990s with the likes of The Addams Family (1991), The Beverly Hillbillies (1993), The Fugitive (1993), Car 54, Where Are You? (1994), The Flintstones (1994), The Brady Bunch Movie (1995), Flipper (1996), Maverick (1996), Mission: Impossible (1996), Leave It to Beaver (1997), The Saint (1997), The Avengers (1998), Lost in Space (1998), The Mod Squad (1999), My Favorite Martian (1999), Wild Wild West (1999), Charlie's Angels (2000), I Spy (2002); Scooby-Doo (2002), Starsky & Hutch (2004), Thunderbirds (2004), Bewitched (2005), The Dukes of Hazzard (2005), The Honeymooners (2005), Miami Vice (2006), Transformers (2007), Get Smart (2008), Speed Racer (2008), Land of the Lost (2009), Star Trek (2009), The A-Team (2010), Yogi Bear (2010), Dark Shadows (2012), The Sweeney (2012), 21 Jump Street (2012), The Equalizer (2014), Jem and the Holograms (2015), The Man from U.N.C.L.E. (2015), Dad's Army (2016), Baywatch (2017), CHiPs (2017) and The Munsters (2022).
Some of these big screen remakes have been more successful than others. There have also been ones – such as The Brady Bunch and Starsky & Hutch – that recognise that the original could never be replicated and set to parodying it, or in the case of Land of the Lost and CHiPs turning it into an excruciating comedy. Fantasy Island came out not long after The Banana Splits (2019) where both films set out to turn the more innocent original into a horror movie. That seemed an interesting direction to take Fantasy Island as it seems unlikely its premise would work as a straight telling. On the other hand, what we end up with is not quite a straight horror telling, it is more like a fantasy adventure with some moments that fall into horror territory but by no means a regular genre-identifying horror film.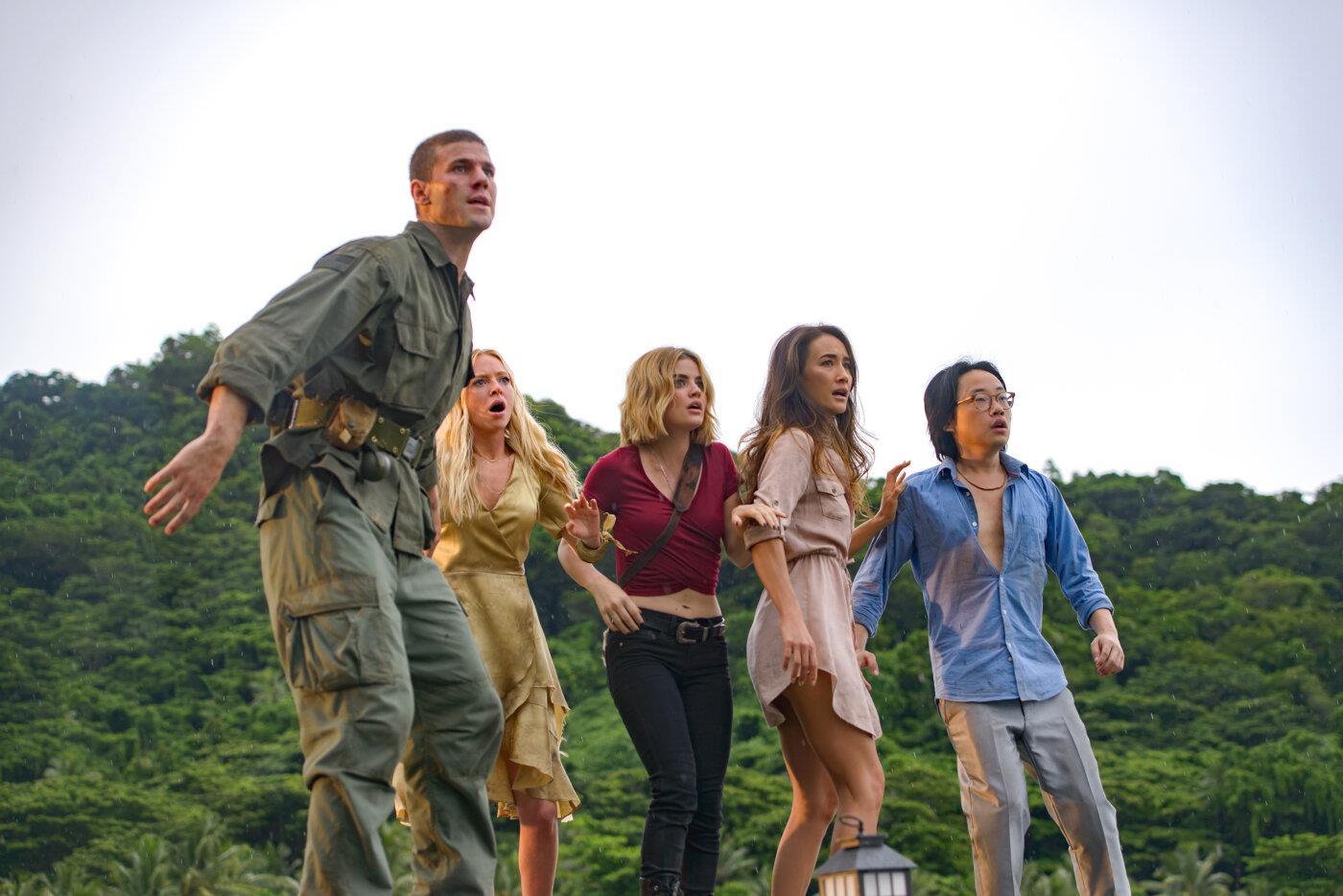 The film simulates many of the basics of the tv series. Michael Peña makes a passable Mr Roarke, although lacks the presence that the late Ricardo Montalban had. The island is very prettily photographed (shot on location in Fiji) with the beachfront scenes in particular looking much more lavish than one of Blumhouse's usual medium-budget films. The most egregious change is the lack of a Tattoo. Quite why the film wrote the character out is a scratch of the head as Herve Villechaize was such an iconic fixture of the original. We do get a Tattoo of sorts in the very last scene but he is no longer a dwarf and this seems inserted as a callback to the series more than anything else. In Tattoo's place, we do get Parisa Fitz-Henley as Julia who is presumably meant to be the Julie (Wendy Schaal) who became Mr Roarke's assistant in the fifth season.
The tv series deliberately avoided any explanation of how the fantasies were staged – how, for instance, Mr Roarke and co managed to bring in people from a guest's past, or else stage elaborate fantasies involving everything from dinosaurs to mermaids. It was a series that existed as fantasy in terms of pulling a magician's curtain across everything and hiding the hows and whys of things from us and simply engaging us in the story element of each fantasy. By contrast, the film does dig down into some explanations and talk of how the island is powered by a magical fountain and the suggestion that the various players are lifelike simulacra created by the island.
As in the series, the guests get to play out their fantasies and we get to see various of these here – Maggie Q gets to go back to meet up with her ex and accept the proposal she regrets turning down; Austin Stowell gets to live out a war fantasy and meets his father; brothers Jimmy O. Yang and Ryan Hansen live out a poolside fantasy surrounded by beautiful woman (and to balance things out hot-looking guys); and to justify the horror label, Lucy Hale gets to torture a former classmate before deciding she doesn't want to do that. In going with the horror label, the fantasies develop darker sides – more so than they ever did in the tv series – and turn against the guests often with horrific consequences – the film, for instance, ends with several of the guests dead.
On the other hand, even with the added horror focus, it is not that interesting to watch these fantasies play out. (It wasn't in the series either). Perhaps realising this, the film place some twists on everything from the mid-point, stitching the backstories of the characters together in a not entirely convincing way. The latter scenes have them fighting against the fantasy they are trapped in and trying to defy the island's control. I am not sure this adds anything other than giving the last quarter of the show some drama. Even so the twists seem contrived. Indeed, with the multiple twists about motivation – some of which make no real sense when we think back to what was going on during the initial fantasies – I reached the end of the film unclear as to whose fantasy everything had been all along.
Subsequent to the film, a new tv series Fantasy Island (2021- ) was launched with Roselyn Sanchez playing a female equivalent of Mr Roarke.
Jason Blum and his Blumhouse production company have produced a number of other genre films including:- Hamlet (2000), Paranormal Activity (2007) and sequels, Insidious (2010) and sequels, Tooth Fairy (2010), The Bay (2012), The Lords of Salem (2012), The River (tv series, 2012), Sinister (2012) and sequel, Dark Skies (2013), Oculus (2013), The Purge (2013) and sequels, the tv mini-series Ascension (2014), Creep (2014), Jessabelle (2014), Mercy (2014), Mockingbird (2014), Not Safe for Work (2014), Ouija (2014) and sequel, 13 Sins (2014), The Town That Dreaded Sundown (2014), Unfriended/Cybernatural (2014), Area 51 (2015), The Boy Next Door (2015), Curve (2015), The Gallows (2015), The Gift (2015), Jem and the Holograms (2015), The Lazarus Effect (2015), Martyrs (2015), Visions (2015), The Visit (2015), The Darkness (2016), Hush (2016), Incarnate (2016), The Veil (2016), Viral (2016), Amityville: The Awakening (2017), Get Out (2017), Happy Death Day (2017), The Keeping Hours (2017), Split (2017), Stephanie (2017), Bloodline (2018), Cam (2018), Delirium (2018), Halloween (2018), Seven in Heaven (2018), Truth or Dare (2018), Upgrade (2018), Black Christmas (2019), Ma (2019), Prey (2019), Don't Let Go (2019), Sweetheart (2019), Black Box (2020), The Craft: Legacy (2020), Freaky (2020), The Hunt (2020), The Invisible Man (2020), Nocturne (2020), You Should Have Left (2020), Black as Night (2021), The Black Phone (2021), Dashcam (2021), Madres (2021) and Firestarter (2022).
---
---