---
Crew
Director – Denis Villeneuve, Screenplay – Javier Dullon, Based on the Novel The Double by Jose Saramago, Producers – M.A. Faura & Niv Fichman, Photography – Nicolas Bolduc, Music – Danny Bensi & Saunder Jurriaans, Visual Effects – Rodeo FX (Supervisor – Vincent Poitros), Special Effects Supervisor – Mark Ahee, Prosthetic Effects – Adrien Morot, Production Design – Patrice Vermette. Production Company – Rhombus Media/Roxbury Pictures/micro_scope/Mecanismo Films/Telefilm Canada/Instituto de la Cinematograf'a y de las Artes Audiovisuales/Corus Entertainment/Television Espanola/Ontario Media Development Corporation/Societe de Developement des Entreprises Culturelles Quebec.
Cast
Jake Gyllenhaal (Adam Bell/Anthony Claire), Sarah Gadon (Helen Claire), Melanie Laurent (Mary), Isabella Rossellini (Adam's Mother)
---
Plot
Adam Bell is a history professor in Toronto. One day, a colleague recommends a local film to him. After renting it, Adam is perturbed to find that an extra in the film resembles him. Becoming obsessed, he tracks down information on the actor, Anthony Claire, and finds where he lives. After Adam calls to introduce himself, Anthony says he wants nothing to do with him. Anthony's wife Helen thinks the calls mean he is seeing another woman. Anthony calls Adam back and the two agree to meet, discovering that their lives are remarkably similar, right down to having the same scar and birthday. Anthony becomes obsessed with Adam and follows his girlfriend Mary. He then breaks in and accuses Adam of sleeping with Helen and insisting on payback by putting on Adam's clothes and taking Mary away for a weekend together. Adam then goes and takes Anthony's place and slots into his life with Helen.
---
Denis Villeneuve is a Quebecois (French-speaking Canadian) director who has gained some attention over the last few years. Villeneuve appeared with the French-language likes of August 32nd on Earth (1998), Maelstrom (2000) and Polytechnique (2009), all of which gained festival play. It was however the international hit of Incendies (2010), which won a host of awards and was nominated for a Best Foreign Language Film at the Oscars, with which Villeneuve's name began to be known. This led to Villeneuve's English-language debut with the grim psycho-thriller Prisoners (2013) also starring Jake Gyllenhaal, followed by Sicario (2015), the widely acclaimed alien visitors film Arrival (2016), Blade Runner 2049 (2017) and Dune: Part One (2021). Enemy is adapted from The Double (2002), a novel by acclaimed Portuguese writer Jose Saramago. Saramago's works have been adapted into several other films, most notably the excellent Blindness (2008).
There have been a number of films about doubles and doppelgangers. These range from twin thrillers like The Black Room (1935), Among the Living (1941), The Dark Mirror (1946), Dead Ringer (1964) and Scissors (1991) that play out around doubles and identity confusion or David Cronenberg's perversely brilliant Dead Ringers (1988) exploring the disturbed psychology and sexual fetishism of twins. Far more interesting have been stories that spin this out often to a more supernatural or allegorical level – works like the adaptation of Edgar Allan Poe's William Wilson in Tales of Mystery and Imagination/Spirits of the Dead (1968), The Man Who Haunted Himself (1970), The Other (1972), Doppelganger (1992), The Dark Half (1993), Gemini (1999), The Tiger's Tail (2006), I Know Who Killed Me (2007), Cam (2018) and Us (2019), which usually concern a sinister double that takes over someone's life.
Indeed, at the very same Toronto International Film Festival where Enemy premiered, also playing was Richard Ayoade's The Double (2013) featuring Jesse Eisenberg having his life taken over by a doppelganger, although that film played the premise more for oddball comedy, while around the same time there was also Another Me (2013) with English schoolgirl Sophie Turner encountering a double of herself and The One I Love (2014) where husband and wife Mark Duplass and Elisabeth Moss encounter idealised versions of themselves.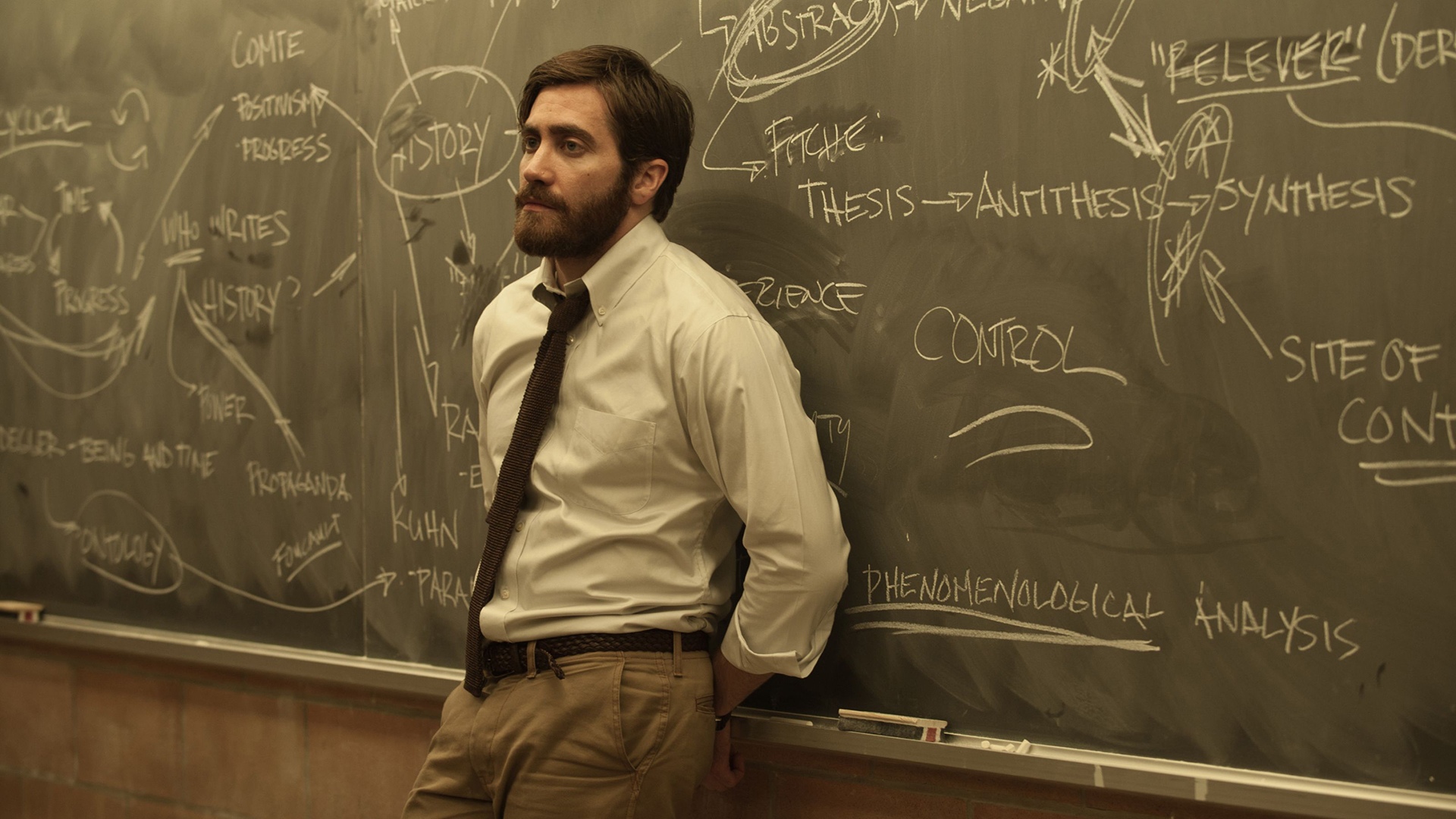 With Enemy, Denis Villeneuve directs with subdued quietude. The lighting levels in the film are brought down to almost a monochrome where it feels like the whole film is taking place at dusk in a room with the curtains drawn but for a small crack. Villeneuve keeps the film tight and the story is driven almost entirely by the four characters. It plays out in nuances and subtleties, in particular the silences – the way Sarah Gadon just sits and stares without speaking at Jake Gyllenhaal #1 on a neighbouring bench at the university. One of the finest scenes in the film is where Adam goes and takes Anthony's place and nervously gets into bed with Sarah Gadon and where she lies there for a long time looking at him where you can almost see that she is wondering to herself which man she has with her, all something that is implied without words.
The film opens with a quote from Jose Saramago "chaos is order yet undeciphered." The irony of the film is that it is a surrealist work and leaves us with no easy clues as to its decipherment. The film is peppered up with bafflingly surreal images – dreams of a naked woman with the face of a spider walking upside down along the ceiling; a giant spider striding across the Toronto skyline like something out of H.G. Wells' The War of the Worlds (1898). However, the aspect that has everybody coming out of the screening baffled is the ending. [PLOT SPOILERS] Here Jake Gyllenhaal hears an odd thump in the apartment and goes into the room to see Sarah Gadon and we see that she has turned into a giant spider, whereupon the film abruptly fades to black. Everyone exits going "WTF was that?" while everybody else is going "I haven't the slightest idea."
Enemy is an effective film so long as what you require of a film is that it never makes sense. What it reminds of in this regard is David Lynch films such as Lost Highway (1997) and Mulholland Dr. (2001), which both resemble a room built with a host of staircases all of which lead nowhere at all in terms of explanations. The film leaves you wondering what is going on – what was the spider at the end? What do the dream sequences mean? How do all of these spiders tie back in to the opening scene in the underground fetish club where we see two blonde women before an audience of men – one seemingly masturbating, another taking her clothes off and about to squish a spider with her high heel? Do these two women correspond in some way to the two blonde women in either Jake's lives?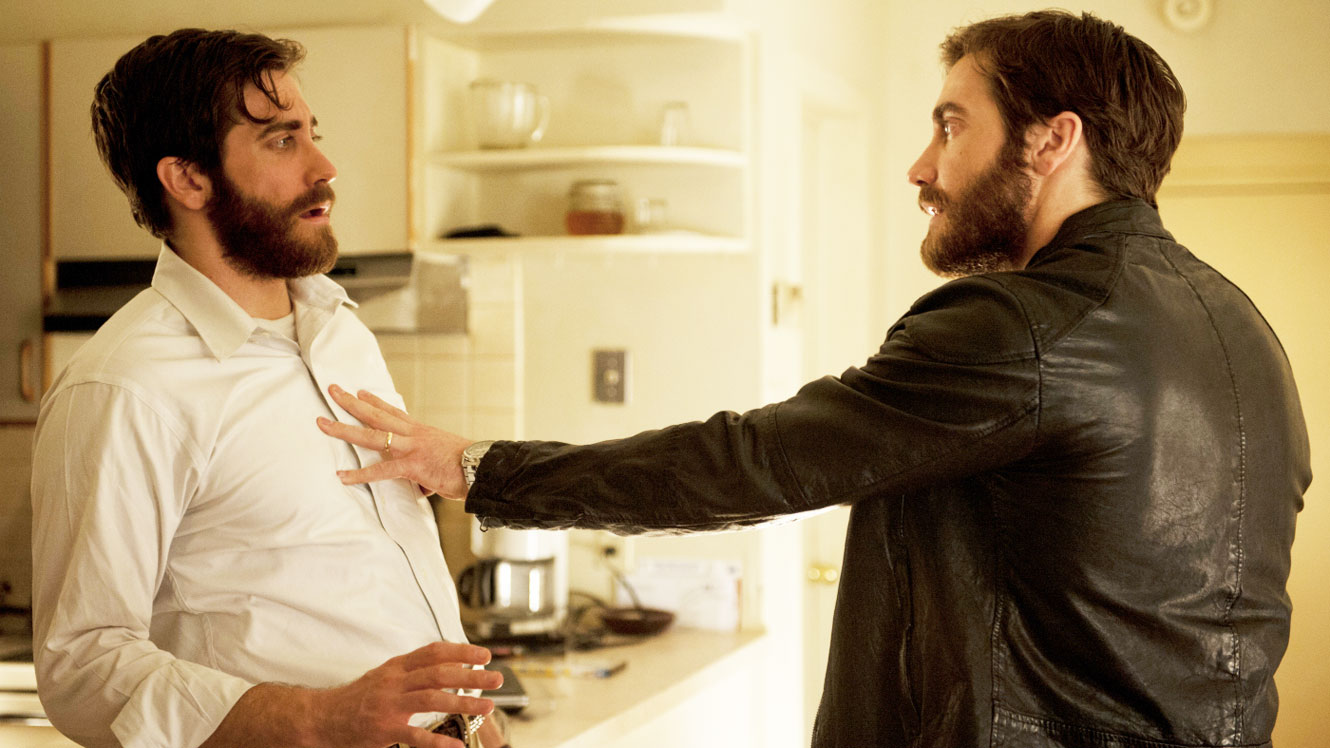 The nearest clues I can find to interpreting the film come in Denis Villeneuve's comments from the press release. [PLOT SPOILERS] There he states:- "A man who wants to leave his mistress and go back to his pregnant wife must confront his worst enemy: himself. Saramago decided, with all his ferocious humour, that this man should be in competition with another version of himself." In other words, what Villeneuve seems to be saying is that both versions of Jake Gyllenhaal are parts of a single man's divided self. That one of these is having an affair with a woman, another of these is married at home but both are in fact the same man, just objectifications of his outer and inner personalities. The resolution of the film, which kills off the mistress and the husband who has fled with her, sees both parts of Gyllenhaal's self figuratively integrated into one and he happily returning to be with his wife again. This is an interpretation that has to tune out quite a few other parts of the film – like why both halves seem to be two different men with different occupations and lead lives oblivious to their partners, and still fails to explain anything to do with the spiders.
Of course the David Lynch analogy falls down in other areas. Lynch directs in a process that seems to mainline the unconscious in much the same way that artists paint, whereas Denis Villeneuve is controlled and measured, pays more attention to plot and realism. You are tempted to call Enemy a very Cronenbergian film. There are a great many points of intersection between the two – the Toronto location, actress Sarah Gadon who was the female lead in Cronenberg's Cosmopolis (2012), even the use of the distinctive University of Toronto Scarborough locations where Cronenberg shot his first film Stereo (1969).
On the other hand, Cronenberg and Villeneuve are very different directors. In his twin film Dead Ringers, Cronenberg is interested in perverse headspaces. In his film, Villeneuve allows everything to take place in ordinary reactions to the surreal and amid the things that people aren't saying. You could perhaps see Enemy as one of Cronenberg's post-horror films – A History of Violence (2005), Eastern Promises (2007), A Dangerous Method (2011). Of these, perhaps the closest Cronenberg film that Enemy resembles is Spider (2002) that seems to take place in terms of internal headspaces where we are never given objective footholds as to the meanings of the symbols.
---
---