---
Crew
Director – Guy Maddin, Screenplay – George Toles, Producer – Ritchard Findlay, Photography – Michael Marshall, Music – John McCulloch, Production Design – Reginald Lebrie. Production Company – Marble Island Pictures.
Cast
Nigel Whitmey [uncredited] (Peter Glahn), Pascale Bussieres (Juliana Kossel), R.H. Thomson (Dr Isaac Solti), Shelley Duvall (Amelia Glahn), Alice Krige (Zephyr Eccles), Frank Gorshin (Cain Ball)
---
Plot
Just released from prison, Peter Glahn returns to his home in the land of Mandragora where the sun never sets. On the ship journey there, he meets and falls in love with the beautiful but mysterious Juliana Kossel. Upon his return, Peter finds his ostrich farmer sister Amelia engaged in a bitter battle with her hired hand Cain Ball who expects to be deeded the title of her farm. Zephyr Eccles, who has been abandoned pregnant by her husband, falls for Peter and gives her wedding ring to the ice nymph so that Peter might be hers. The object of Amelia's desire, the sinister Dr Solti, then arrives with his fiancee – none other than Juliana – whom he has hypnotized and made speak words of love to Peter. This circle of frustrated desires all comes to a head at once.
---
Canada's Guy Maddin is often alikened to David Lynch. Such a comparison is not particularly accurate and is probably born more of the lack of anything else that Guy Maddin's work can easily be easily compared to. Certainly, Lynch and Maddin have weird cinema pegged out between them. Where David Lynch's work has a dark obsessiveness tempered with a cod deadpan banality, Guy Maddin's is all cod deadpan banality – which is about the only point of intersection that the two have.
Guy Maddin's films – Tales from the Gimli Hospital (1989), Archangel (1990), Careful (1992), this, Dracula: Pages from a Virgin's Diary (2002) and later works like The Saddest Music in the World (2003), Cowards Bend the Knee, or The Blue Hands (2003), Brand Upon the Brain! (2006), My Winnipeg (2007), Keyhole (2011), The Forbidden Room (2015) and The Green Fog (2017) – feel as though it takes place in alternate worlds that have been constructed as kitsch homages to lost styles of filmmaking. Maddin is particularly fond of German cinema with his films frequently evoking Expressionism – the ghost of The Cabinet of Dr Caligari (1919) surely hangs over the character of Dr Solti here – and heimat cinema. At the same time, Maddin's stylistic evocations are run over with what sounds like the hysterical purple prose from a bad romantic novel.
Twilight of the Ice Nymphs is set in another Maddin make-believe world – one that seems to have emerged from some demented Wagnerian opera. As always in a Guy Maddin film, the world is created with a deliberate stagy artificiality – the sets look like they have been built for the enchanted forest in a high-school pantomime. The dialogue is suitably inscrutable Maddin-esque prose – "We are naked under these clothes," lovers solemnly proclaim. Or "When an agreement is signed, it is time to chop down the trees"; and after Alice Krige gives Nigel Whitmey a purple negligee to wear: "You can wear my clothes until doomsday but it won't make you any more of a woman, just less of a man."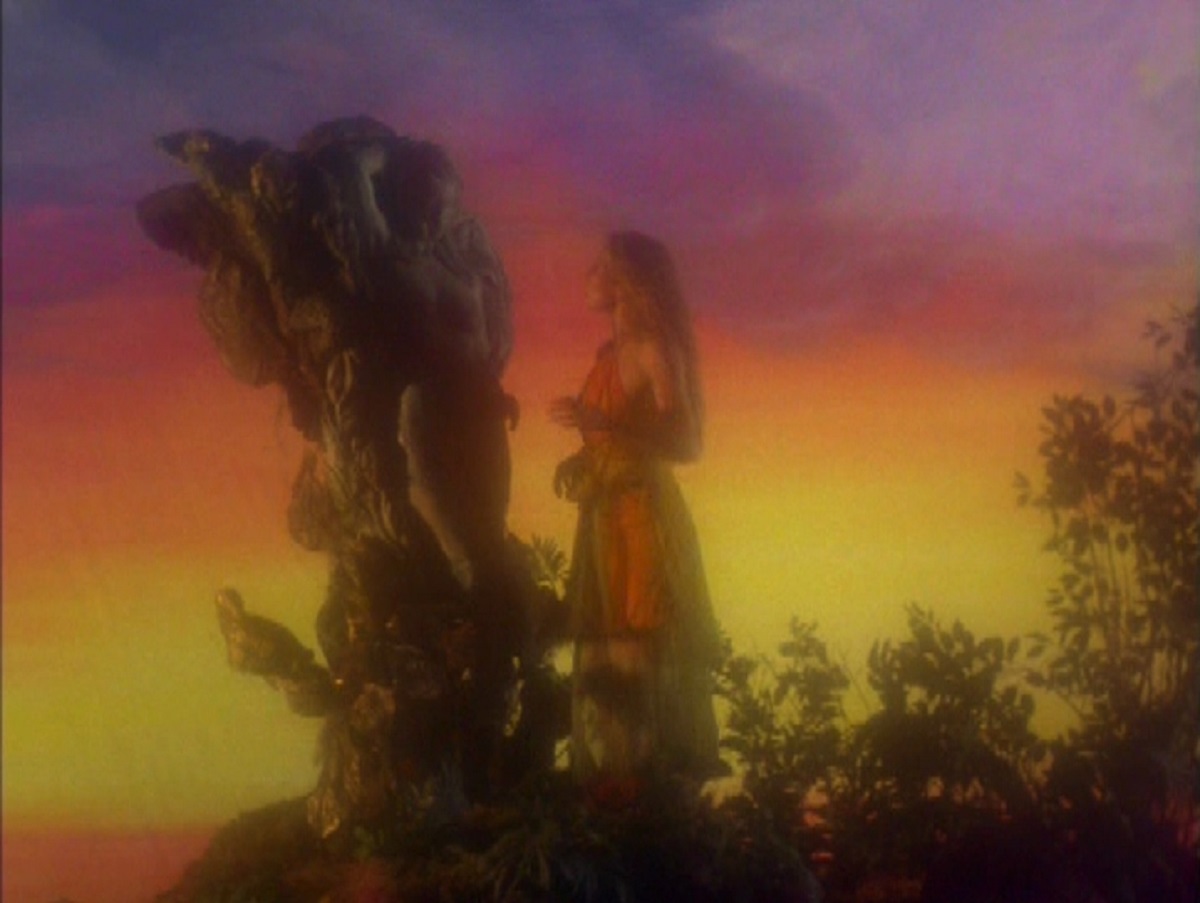 There are some notedly surreal moments – lovemaking in the trunks of trees or in beds with aluminium foil sheets as a wooden-floored bedroom slowly floods; or a scene where Pascale Bussieres departs and asks Nigel Whitmey for a baby, whereupon he presents her with the carcass of a wolf.
The story is an amusing rondeau of frustrated wants among the various characters. Here R.H. Thomson, intoning with an amusingly solemn gravitas, makes a memorable impression as the sinister Svengali figure Dr Solti. In the end, Twilight of the Ice Nymphs never strikes one with either the same sublime combination of stylised weirdness and melodramatic banality that Maddin's marvellous Careful did – it is more of the same but slightly lesser.
Twilight of the Ice Nymphs had Guy Maddin's largest budget up to that point – only about $2.5 million would one believe – which allowed him to shoot in colour for the first time and to employ name actors such as Shelley Duvall and Alice Krige. Curiously, lead actor Nigel Whitmey remains uncredited, taking his name off the credits after Maddin had his voice dubbed by another actor, owing to the fact (according to Maddin) that Whitmey failed to approach the dialogue with tongue adequately planted in cheek.
---
---