---
Crew
Directors/Screenplay – Chris Bavota & Lee Paula Springer, Producers – Chris Bavota, Matt Keyes, Albert I. Melamed & Lee Paula Springer, Photography – Nicolas Venne, Music – Tusk & Bruiser, Original Score – Julien Verschooris, Visual Effects Supervisor – Glenn Curry, Makeup Effects – Nina Anton, Production Design – Mark J. Pragai. Production Company – Post Code Films/Red Clay Productions.
Cast
Jillian Harris (Becca), Hestor Horwin (Richie), Matt Keyes (Matt), Kristina Sandev (Mel), Leyda Ayeli (Professor Martinez)
---
Plot
In Montreal, Becca finds her brother Richie has left a bunch of messages saying he urgently needs her to come over to his place. She takes time off work and goes over to Richie's apartment only to discover him dead on the floor. As she tries to adjust to the shock, Richie walks into the room perfectly alive. She discovers two other dead versions of Richie in the apartment. Richie explains that he was trying to kill himself but every time he does so, another version of himself emerges out of a hole in the wall, one that has all his memories up to the point he died. He wants her help in seeing what happens when he dies. As Becca helps in dispose of the other bodies, problems are caused by the neighbour Matt complaining about the noise.
---
Dead Dicks was a directorial debut for Chris Bavota and Lee Paula Springer who hail from Montreal. Only Bavota had prior film experience, having written the script for Brett Kelly's Ghastlies (2016) and episodes of the anthologies Minutes Past Midnight (2016) and Blood Clots (2018).
Dead Dicks has one of the most off-the-wall premises of any film I have seen in some time – a guy keeps killing himself whereupon a new copy of himself comes to life until his apartment is overflowing with dead copies of himself. Oh and the new bodies also emerge from out of a hole in the wall that looks like a large Freudian water stain – there is debate throughout whether it resembles a vagina or an asshole.
The only films I can think of that came anywhere near this was Triangle (2009) and Isaac Ezban's The Incident (2014) where people were caught in a timeloop and kept coming across copies of the same thing. There was also the unusual indie film Deep Dark (2015) where an artist has a disturbed relationship with a hole in the wall of his apartment that starts to become possessive of him. Otherwise one is stretching to find comparisons.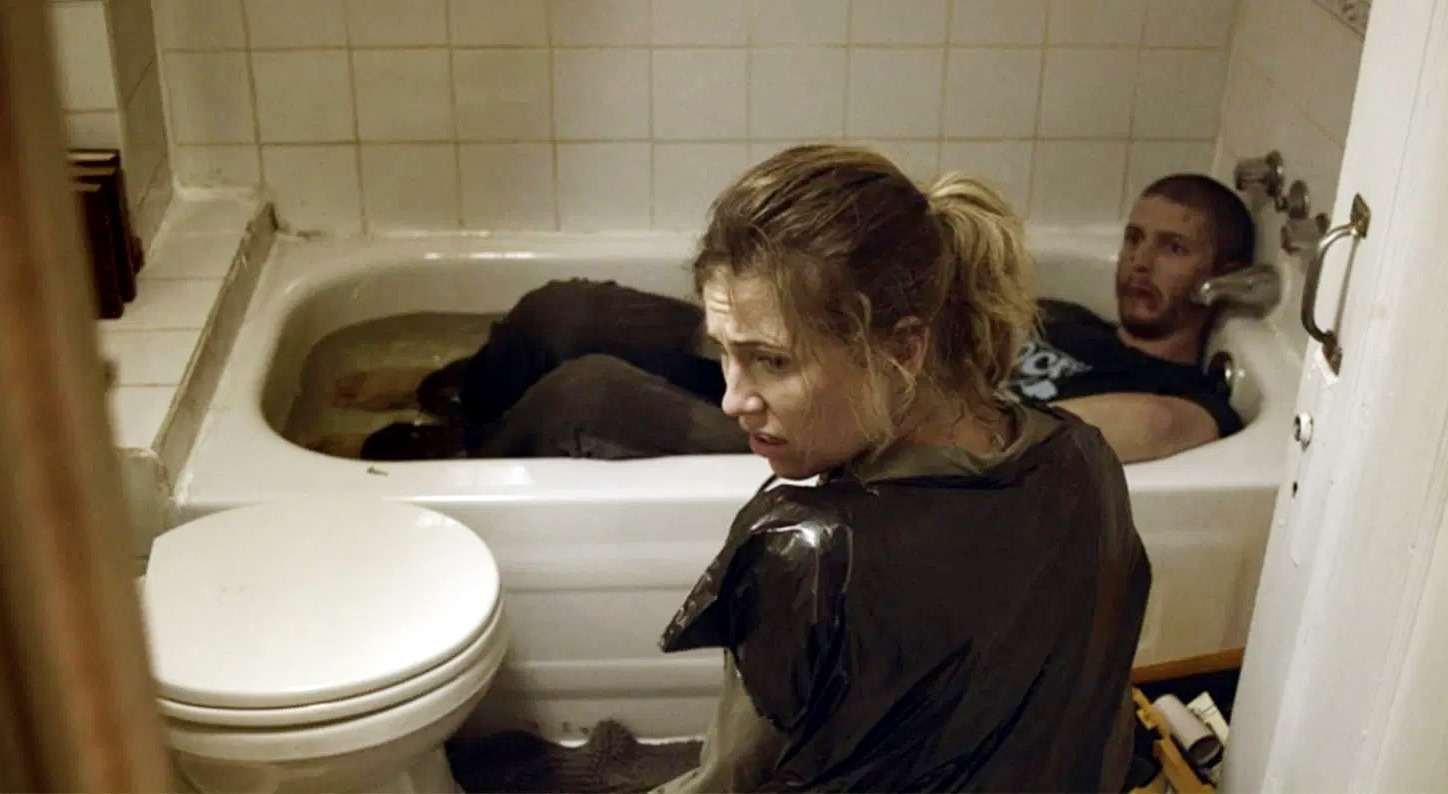 I liked Dead Dicks for its stripped simplicity. Almost every single scene in the film takes place in the apartment – the film does have a production designer credit but it has the feel that is could easily have been made inside the filmmakers' own apartment. The cast is reduced to three people as well as minor appearances at the start from Kristina Sandev as Jillian Harris's boss and Leyda Ayeli as the professor who interviews Jillian for the nursing program via video chat. That's it. I have to applaud a film that can conduct itself with such an elegant economy and be able to do creative things within those confines.
I can say I have never seen another film like Dead Dicks. One approach could easily have been to play the entire show as a comedy or black comedy. The situation spiralling out of control is the sort of premise that the Coen Brothers would have had a field day with – they love putting their characters into uncomfortable situations and twisting them. Or you could see it play out with broad farce of something akin to Simon Pegg in A Fantastic Fear of Everything (2012).
Rather though, the film keeps playing its unique idea out. Sometimes it seems on the verge of comedy but this never quite emerges. Instead what we get is a strong character drama around a unique and surrealistic idea. The end the film reaches is a little puzzling but you have to commend it for staying with its idea and without any need to have to explain it away.
---