---
Crew
Director/Screenplay – James Gunn, Producers – Charles Roven & Peter Safran, Photography – Henry Braham, Music – John Murphy, Visual Effects Supervisor – Kelvin McIlwain, Visual Effects – Cantina Creative, Framestore (Supervisors – Jonathan Fawkner & Andrew Saint Girdins), Scanline VFX (Supervisor – Bryan Hirota), Trixter (Supervisor – Alessandro Cioffi) &Weta Digital Limited (Supervisor – Guy Williams, Animation Supervisor – Michael Cozens), Special Effects Supervisor – Dan Sudick, Prosthetics/Makeup Effects – Legacy Effects (Supervisors – Shana Mahan & Lindsay MacGowan), Production Design – Beth Mickle. Production Company – Warner Bros./Atlas Entertainment/Peter Safran.
Cast
Margot Robbie (Harley Quinn), Idris Elba (Bloodsport/Robert DuBois), Joel Kinnaman (Colonel Rick Flag), John Cena (Peacemaker/Christopher Smith), Daniela Melchior (Ratcatcher 2/Cleo Cazo), David Dastmalchian (Polka Dot Man/Abner Krill), Viola Davis (Amanda Waller), Steve Agee (John Economus/On-Set King Shark), Sylvester Stallone (Voice of King Shark/Nanaue), Peter Capaldi (Thinker/Gaius Grieves), Michael Rooker (Savant/Brian Durlin), Juan Diego Botta (Presidente General Silvio Luna), Joaquin Casio (Major Genera Mateo Suarez), Alice Braga (Sal Soria), Jennifer Holland (Emilia Harcourt), Tinashe Kajese-Bolden (Flo Crawley), Storm Reid (Tyla DuBois), Fluva Borg (Javelin), Sean Gunn (Weasel), Jai Courtney (Captain Boomerang), Nathan Fillion (T.D.K.), Pete Davidson (Blackguard), Mayling Ng (Mongal), Lynne Ashe (Polka Dot Man's Mom), Taika Waititi (Ratcatcher 1), Dee Bradley Baker (Voice of Sebastian)
---
Plot
Amanda Waller recruits a team of super-powered prisoners informally nicknamed the Suicide Squad, headed by Colonel Rick Flag. They are sent to make a beachhead on the South American island of Corto Maltese but there all but Rick and Harley Quinn are wiped out by soldiers on the beach. Earlier, Robert DuBois aka Bloodsport was recruited by Amanda to head another team. They were told that Corto Maltese had undergone a revolution and that they were to go in to eliminate all evidence of Project Starfish, a captured alien that was being held at the Jotunheim laboratory, before the revolutionaries got their hands on it. Landing on the island and joining with Rick, Harley and the rebels, the Suicide Squad attempt to complete their mission, although their various quirks and peculiarities had a habit of causing this to go sideways.
---
Suicide Squad is a team of DC Comics super-villains that first appeared in a 1959 story arc in The Brave and the Bold. The actual Suicide Squad we have today was created by John Ostrander in a four-issue arc in Legends in 1987, which introduced Amanda Waller and the idea of various principally Batman villains being recruited into a black ops team. The Squad has undergone various revivals and changes of line-up since then, although is always comprised of C-list villains rather than the big name ones. (John Otsrander can be briefly scene on screen a few scenes in here as a scientist).
The team was then brought to the screen with the live-action Suicide Squad (2016) from David Ayer in what Warner Brothers were promoting as their DC Extended Universe in an attempt to rival the Marvel Cinematic Universe. A team made up of C-list super-villains seemed an odd choice but Warners seemed to be going through a phase a greenlighting whatever idea anybody pitched to them. Nobody much liked Suicide Squad but it did earn $746 million worldwide. The one success the film brought to the fore was Harley Quinn, as played by Margot Robbie, who became a major DC breakout character with Harley receiving her own animated film Batman and Harley Quinn (2017), an animated tv series Harley Quinn (2019- ) and then a flop film Birds of Prey and the Fantabulous Emancipation of One Harley Quinn (2020) where she headed a female-led team. There was also an animated Suicide Squad film with Suicide Squad: Hell to Pay (2018).
The new director to take over the Suicide Squad franchise is James Gunn. Gunn started working at Troma Films, co-writing Tromeo & Juliet (1996) and Troma founder Lloyd Kaufman's biography All I Need to Know About Filmmaking I Learned from the Toxic Avenger (1998), which later became the basis of the film Terror Firmer (1999). Gunn graduated to an A-list screenwriter of films such as Scooby-Doo (2002), Dawn of the Dead (2004) and Scooby Doo 2: Monsters Unleashed (2004) . He made his directorial debut with the alien monster movie Slither (2006), an affectionate homage to many of his genre favourites, the witty superhero spoof Super (2010), the Beezel segment of Movie 43 (2013) and then found wide acclaim with the Marvel Comics adaptation Guardians of the Galaxy (2014) and its sequels Guardians of the Galaxy: Vol. 2 (2017) and Guardians of the Galaxy: Vol. 3 (2023). He has also written The Belko Experiment (2016) and produced the anti-superhero film Brightburn (2019) and Avengers: Endgame (2019).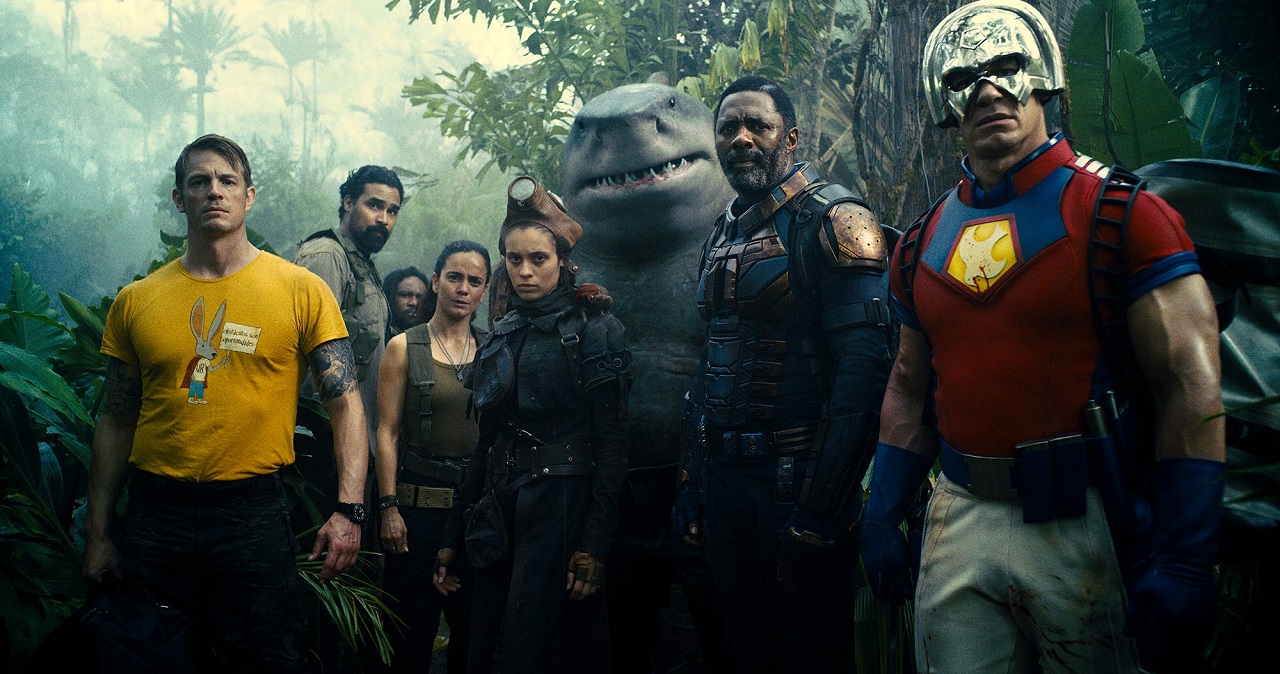 In 2018, Gunn ended up being fired from the Guardians of the Galaxy franchise by Disney after a series of tweets were unearthed from back in 2009 where he made jokes about rape and sex with underage boys. Amid the uproar, he was promptly snapped up by Warner Brothers to head The Suicide Squad. Gunn vociferously apologised and Disney later agreed to reinstate him to the Guardians franchise.
James Gunn's eccentric sense of humour is immediately evident soon into The Suicide Squad. Indeed, it should be evident from the scene where Michael Rooker tries to escape from the island and the explosive in his head is detonated and the splattered blood in the water forms into 'Warner Bros. Presents' as we segue into the opening credits. (Gunn has an enormous amount of fun throughout with scene transition titles – '18 Minutes Earlier', '3 Hours Earlier' etc, having them formed out of flames, junk, clouds and the like). This is a version of the Suicide Squad that unapologetically goes for the R-rating with numerous F-bombs, some minor shots of bare boobs and numerous scenes where we see assorted soldiers and rebels being killed, not to mention being eaten by King Shark. It is a welcomely adult Comic Book Adaptation that finds something of the irreverence that made Deadpool (2016) and sequel such pleasures.
David Ayer brought the characters to life but lacked a feel for the superheroics and action. This is something for which James Gunn by contrast has an instinctive grasp. This is evident in the highly entertaining scenes where the squad wipe out a rebel village and a triumphant scene in the middle where Margot Robbie singlehandedly eliminates an entire troupe of soldiers in her escape from the palace (although part of me kept wondering how a character who is meant to be a psychologist, as established in the first film, gained such world-class combat skills). Not to mention the climactic scenes of the film that feature the squad fighting around and escaping from a collapsing tower while combatting the unleashed menace of Starro the Conqueror (who incidentally was the first villain ever fought by the comic-book Justice League), a giant-sized starfish that in an entertainingly absurd image stomps across the city like a Japanese monster, while turning the populace into mind-controlled zombies with mini starfish. Not long after this, Starro also turned up in Batman and Superman: Battle of the Super Sons (2022).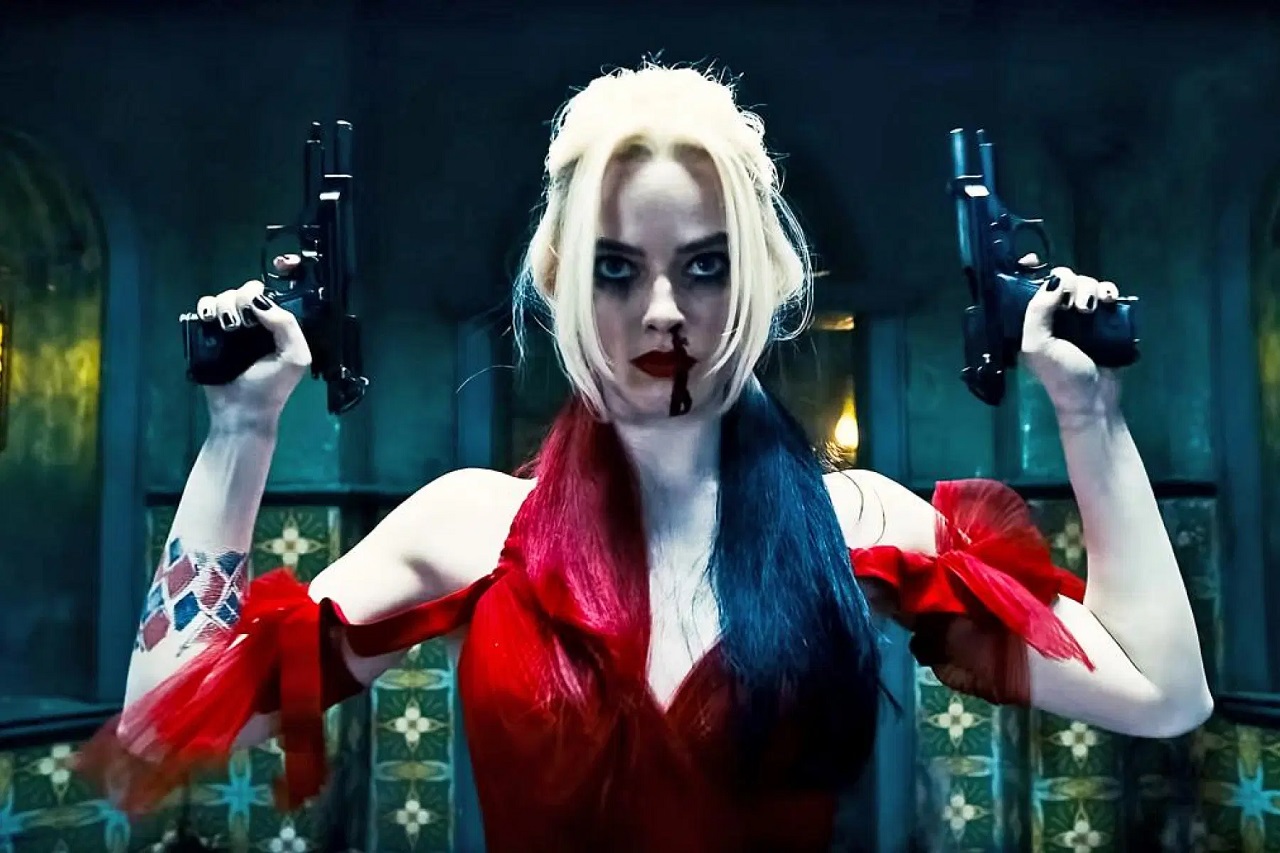 Gunn also has a great deal of fun with the characters. He has affection for all of them – even those that are essentially cannon-fodder in the prologue. (It is hard not to burst into laughter when T.D.K. goes into action with his disembodied limbs slapping soldiers or share an awww for the pathetically endearing Weasel). All of them come with an oddball likeability, which comes in contrast to David Ayer where they were no more than characters in costumes with an occasional backstory. The scene-stealer for much of the show ends up being King Shark, voiced of all people by Sylvester Stallone, for whom Gunn creates surprising sympathy in his search for friends or feeling abandoned in the bus. The second place is held by the oddly appealing character of Polka Dot Man who you wish had gotten more screen time. The front of the show is divided between Idris Elba (stepping into Will Smith's shoes in a similar but different character) and John Cena in a surprisingly comic turn where the two have an enormous degree of fun out mano-a-manoing one another.
The one thing the 2016 film does better in comparison is the character of Harley Quinn where her force of anarchy was a welcome breath of fresh air. Subsequently, she became a character where Margot Robbie where seemed to shaping her conception and Birds of Prey contained a surprising watering down of her maliciousness into something that even approached mawkishness. She gets some entertaining set-pieces here but there is also the same watering down you feel when it comes to her eliminating Juan Diego Botta and then having to stand around and lecture him about how she draws a line when it comes to killing kids. I think back to the original Harley in the animated Batman (1992-4), where she was created, and wonder would that version of Harley have been someone that would cared at all about the kids or would just give a blanket forgiving to whatever The Joker did.
James Gunn later spun John Cena's character of Peacemaker out into his own tv series Peacemaker (2022- ).
---
Trailer here
---