(Le Daim)
---
Crew
Director/Screenplay/Photography – Quentin Dupieux, Producers – Gregory Chambet, Sylvain Goldberg, Cedric Iland, Nadia Khamlichi, Dimitri Stephanides, Mathieu Verhaeghe, Thomas Verhaeghe & Jamal Zeinal-Zade, Visual Effects – Compagnie Generale des Effets Visuels (Supervisor – Alain Carsoux), Special Effects – Olivier Afonso, Production Design – Joan Le Boru. Production Company – Arte France Cinema/Nexus Factory/Umedia/Garidi Films/uFund/Cinemage 13/Centre National du Cinema et de l'Image Animee/Canal+/Arte France/OCS.
Cast
Jean Dujardin (Georges), Adele Haenel (Denise), Albert Delpy (Monsieur B.), Laurent Nicolas (Receptionist), Marie Bunel (Slut at Bar)
---
Plot
Georges arrives in a mountain village following a breakup with his wife. There he buys a second-hand deerskin coat. The coat's owner also gives Georges a video camera. Georges signs in to a hotel but finds that he has no money because his wife has frozen their joint account. When asked in the bar what he does, Georges says he is a filmmaker. Georges becomes enamoured of the deerskin coat. The coat talks to Georges and tells him of its dream to be the only coat in the world. Georges enlists the help of the barmaid Denise, who is an editor, to put together a film. Claiming that the rest of his film crew is held up in Siberia, Georges persuades Denise to give him money. He sets about shooting a film where he persuades various people to give him their coats and promise to never wear a coat again. When this does not achieve the coat's dream quickly enough, Georges begins killing people and taking their coats.
---
I discovered French director Quentin Dupieux several years ago with his third directorial outing Rubber (2010), a film about a killer car tire that achieved a mind-bending level of meta-fiction that proved quite side-splitting. Since then, Dupieux has made a regular output of films with the likes of Wrong (2012), Wrong Cops (2013), Reality (2014), Keep an Eye Out (2018), Mandibles (2020), Incredible But True (2022) and Smoking Causes Coughing (2022). Throughout these run a nonsensical deadpan surrealism and plots that contort into weird pretzels of meta-fiction and bizarre coincidence, all with undeniably appealing effect.
Deerskin was Quentin Dupieux's eighth film. It comes with all the eccentric touches that one expects of Dupieux. Jean Dujardin buys a second-hand deerskin jacket and then becomes obsessed with it. He believes other people in a bar are having conversations admiring the jacket. He makes extravagant claims to being a filmmaker despite knowing almost nothing about the process. The jacket then speaks up and tells him its dream to be the only jacket in the world, while Jean shares his dream to be the one wearing it.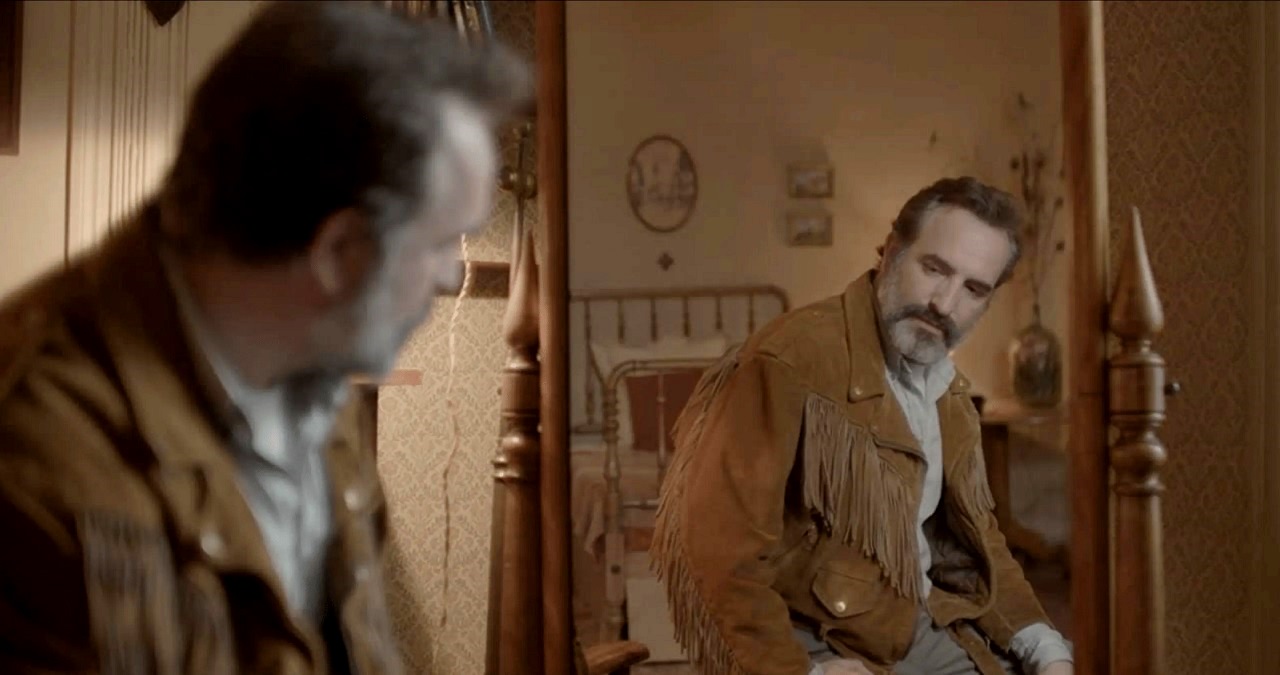 He then starts shooting a film with his video camera where he asks people to give him their jackets whereupon he simply drives off with the coats in his trunk, eventually burying them in the ground outside his hotel. His funds have been frozen so he hits up barmaid Adele Haenel for money on the pretext of hiring her as his editor, claiming his producers are being held up in Siberia, and then uses the funds to purchase more deerskin accessories.
The film becomes increasingly more bizarre as Jean Dujardin decides that he needs to start killing people as the means to fulfilling the jacket's dreams of being the only jacket in the world. Some of the conversations that go on between Dujardin and Adele Haenel are hilariously surreal. The whole film takes place in a peculiar state of deadpan. It is on the slighter side than the mind-bending contortions that some of Quentin Dupieux's other films achieve – one that remains a little head-scratching but a not unenjoyable journey.
---
Trailer here
---