---
Crew
Director – Isaac Ezban, Screenplay – Scott Blaszak, Producers – Garrick Dion & Matthias Mellinghaus, Photography – Karim Hussain, Music – Edy Lan, Visual Effects – Encore Vancouver (Supervisor – Adele Jones-Venables), Special Effects Supervisor – Tim Storvick, Makeup Effects – Amazing Ape Productions (Supervisors – Richard Darwin, Nicholas Podbrey & Werner Pretorious), Production Design – James Hazell. Production Company – The Realm/Creative Wealth Media.
Cast
Aml Ameen (Devin Parkes), Martin Wallstrom (Noel), Georgia King (Leena Fortier), Mark O'Brien (Josh), Alyssa Diaz (Carmen), Kathleen Quinlan (Marissa Whittachum), Chad Krowchuk (Seth Reed), Michael Kopsa (Edward), David Harewood (Martin Parkes)
---
Plot
In Seattle, four friends, Devin, Noel, Leena and Josh, have been living together in a house and pinning all their hopes on selling a mobile app. They then learn that a rival has underbid them unless they can come up with a finished product by Thursday. Feeling this deadline is impossible, they give up in frustration. They then discover an area of the house that has been walled up, leading to an attic containing a mirror. They find that they are able to step through the mirror into a parallel reality where versions of themselves live but in minutely different ways. As time goes slower in the parallel world, they use this to finish the app by Thursday. Basking in their success, they realise they can do other things with the parallel world. Leena copies artwork from the other world not known in this world and launches her own career as a successful artist. Noel copies technological discoveries and sells them as his own, becoming a highly successful tech entrepreneur in no time. However, the use of the mirror creates a number of problems for them.
---
Mexican director Isaac Ezban emerged in the mid-2010s with conceptual puzzle films such as The Incident (2014) about people trapped in a pocket universe where they are unable to leave and are stuck endlessly replicating the same objects over and over and The Similars (2015) where a group of people at a bus station start transforming into the protagonist. Parallel was Isaac Ezban's English-language debut, made with Canadian backing. Ezban also made one of the episodes of the anthology Barbarous Mexico (2014) and produced the horror film Presagio (Omen) (2015).
There have been assorted films on alternate timelines and multiverse themes – see Alternate Timelines for a more detailed discussion. There was a spate of such films around the late 1990s/early 2000s with the likes of Smoking/No Smoking (1993), Sliding Doors (1998), Run Lola Run (1998), Me Myself I (1999) and The Butterfly Effect (2004), plus others all the way to the more recent Spider-Man: No Way Home (2021) and Doctor Strange in the Multiverse of Madness (2022). The work that Parallel most resembles is Coherence (2018) where a passby of a comet causes people at a dinner party to start experiencing multiple minutely different versions of themselves.
The film comes with a kicker of an opening. Kathleen Quinlan is a middle-aged wife relaxing and getting ready to go to bed with her husband (Michael Kopsa) when she hears noises downstairs and goes to investigate only to find a masked intruder in the house. The intruder puts a pillow against her head and shoots her with a silencer and then takes off the mask to reveal a double of Kathleen who then takes the other Kathleen's place and goes and cuddles up to her husband as though nothing had happened.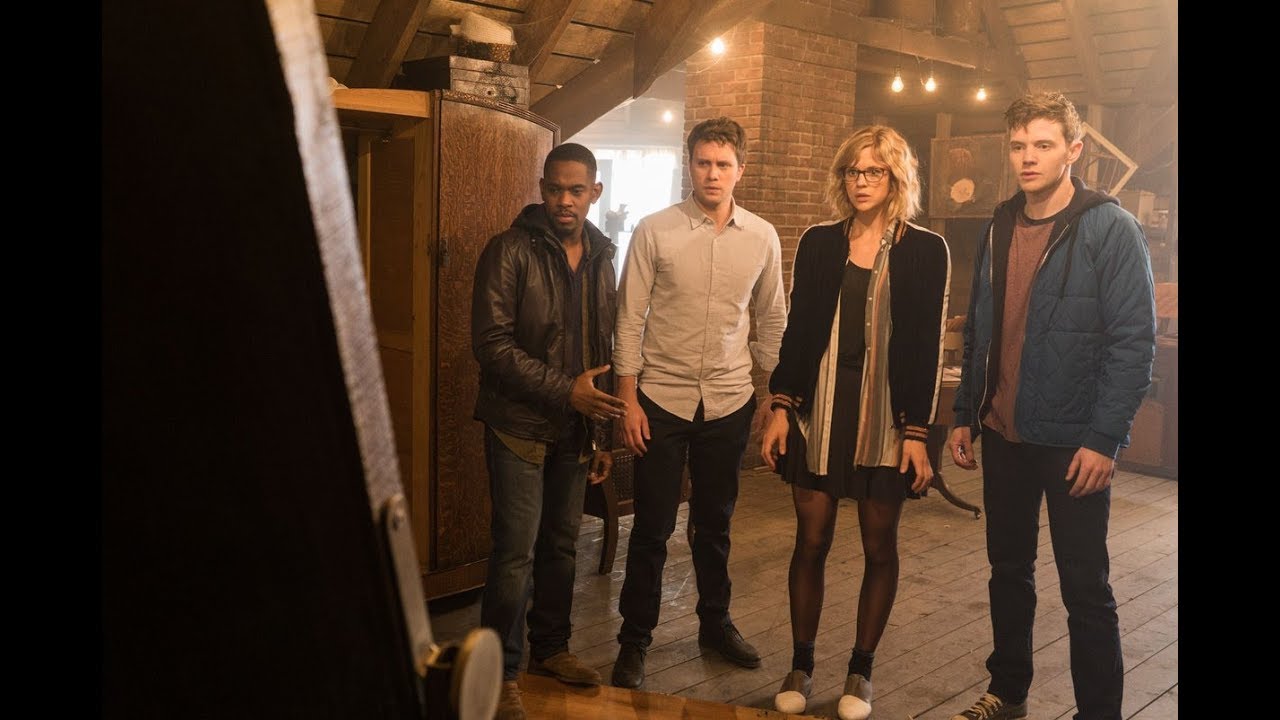 Isaac Ezban's previous films have come with wild conceptual premises but they also tend to be ones where he allows the idea to get away from him and doesn't wrap them up in fully satisfying ways. Working for a more mainstream outlet here and from someone else's script, the results are far more satisfying on a story level and make for a strong and absorbing film. The only quibble that got me is how things remain so nearly identical in the other timeline but Martin Wallstrom manages to pick up so much advanced tech – if society were that different there would surely be far wider changes. Surely also if time travelled more slowly in the other reality, would they not actually enter into the past rather than the present?
The film comes with a smart and clever series of twists. You are constantly watching the story to see how it complicates the premise – from Georgia King making a career as an artist with copied artwork from the other timeline and Martin Wallstrom building an empire of technology. This reaches the point when Mark O'Brien is shot (after making out with the other timeline's version of a girl he fancies) and they come up with a scheme to substitute him by using his doppelganger taken from the other timeline and then shuffling him off to a cushy job with a made-up story about selling the company.
The film even touches on some of the ideas from Mandela Effect theory with a scene where Mark O'Brien talks about a childhood book where the name has gone from Callahan to Callaghan – similar to the Berenstein/Berenstain Bears change that some people claim to experience. The various complications become pleasingly twisted towards the end of the film.
---
Trailer here
---