aka Think Dirty
---
Crew
Director – Jim Clark, Screenplay – Marty Feldman, Denis Nordern & Barry Took, Story – Herbert Krelzmer & Milton Shulman, Producer – Ned Shermin, Photography – Ken Hodges, Music – John Cameron, Animation – Richard Williams, Art Direction – Roy Stannard. Production Company – Example.
Cast
Marty Feldman (Teddy Brown), Judy Cornwell (Liz Brown), Shelley Berman (Nat Kaplan), Julie Ege (Inga Guteborg), Dinsdale Landen (Reverend Geoffrey Mellish), Harry Miller (Richard Brown), Moray Watson (Frank Chandler), Penelope Keith (Lotta van Gelstein), Patrick Cargill (Wallace Truffitt)
---
Plot
Advertising executive Teddy Brown is given the job of coming up with a campaign to use sex to sell frozen porridge on tv. He is told that he must go home and do nothing else but 'think sex'. Unaware of this, his wife Liz has joined 'England Clean, England Strong', a morality campaign that wants to clean up England's airwaves of smut. When Liz decides it would be best not to continuing having sexual relations with Teddy in reflecting the virtues she is trying to promote, both the resulting frustration and his creative endeavours combine to send him off into a series of bizarre fantasies.
---
Marty Feldman for a time seemed a promising up-and-coming name in comedy before his career was cut short with his death of a heart attack in 1982 at the age of only 49. What people always remember about Feldman are the eyes. He first emerged in the late 1950s writing gags for various British comedy shows and then eventually appeared in his own series Marty (1968-9). His real fame began after his memorable appearance as Igor in Young Frankenstein (1974). Feldman subsequently became a regular in the Mel Brooks camp in films like Silent Movie (1976) and the tv series When Things Were Rotten (1975) and Gene Wilder's The Adventures of Sherlock Holmes' Smarter Brother (1975). Feldman's star rose sufficiently that he was given the opportunity to direct two films – the Foreign Legion parody The Last Remake of Beau Geste (1977) and religious comedy In God We Tru$t (1980), although neither of these were particularly successful.
This rather silly comedy co-written by and starring Feldman was his first attempt to create a vehicle for himself. Every Home Should Have One seems to set out to be a satire on tv advertising and censorship. However, this quickly dissolves into a standard British tits-and-bum comedy – the film has been made in a clear desire to emulate the sort of softcore comedy that was very popular around the time with Benny Hill's various tv shows and the series of Confessions films starring Robin Askwith.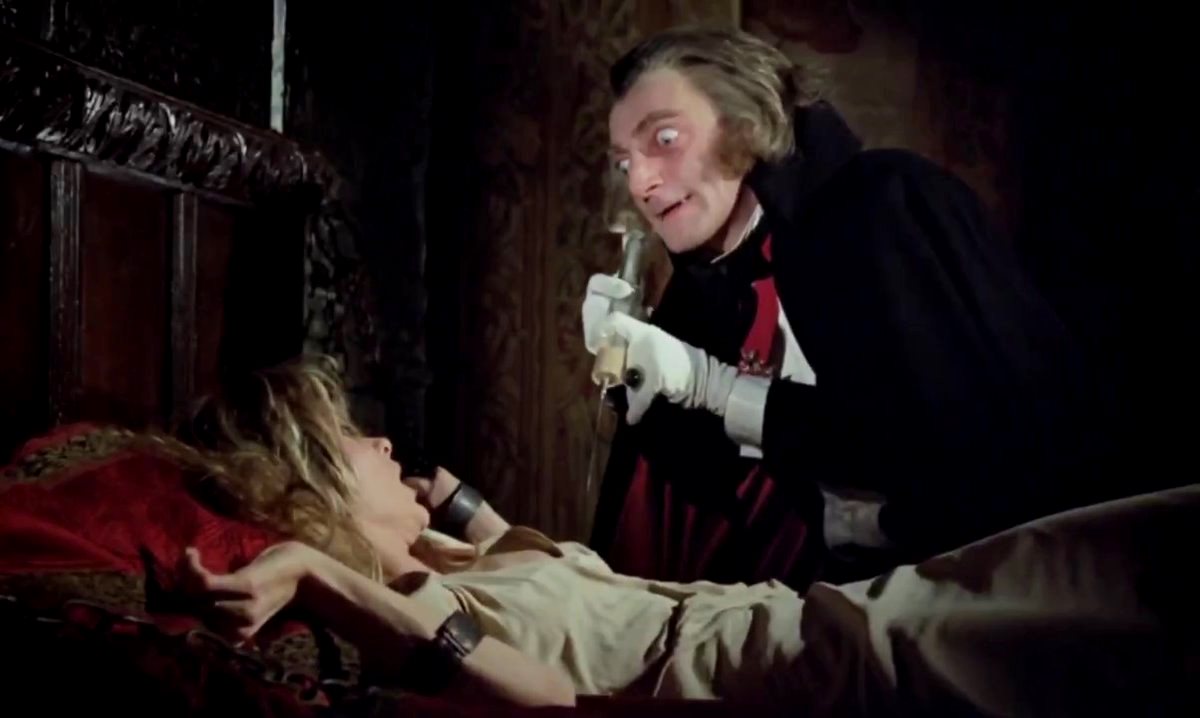 The plot is very shapeless. At best it is a sort of Benny Hill variation on The Secret Life of Walter Mitty (1947) or perhaps even more closely the delightful French fantasy Beauties in the Night (1952). The film conducts some amusingly bizarre pastiches of 70s softcore porn, Hammer movies (with Feldman transformed into a vampire) and Swedish cinema, and even turns animated at one point in a sequence made by the celebrated Richard Williams, director of the legendary The Thief and the Cobbler (1994).
While there is occasional amusement to be found, at worst the film is so slight and silly as to be instantly forgotten. In the end, there is not even a token nod in the direction of its controversies.
---
Trailer here
Animation sequence available here:-
---