---
USA. 1970.
Crew
Director/Music – Melvin Van Peebles, Screenplay – Herman Raucher, Producer – John B. Bennett, Photography – W. Wallace Kelley, Art Direction – Malcolm C. Bert & Sydney Z. Litwack. Production Company – Columbia/Johanna Productions.
Cast
Godfrey Cambridge (Jeff Gerber), Estelle Parsons (Althea Gerber), Howard Caine (D.J. Townsend), Kay Kimberly (Erica), D'Urville Martin (Bus Driver), Mantan Moreland (Counterman), Kay E. Kuter (Dr Wainwright), Scott Garrett (Burton Gerber), Erin Moran (Janice Gerber)
Plot
Jeff Gerber is a white middle-class insurance salesman, living in the suburbs with a wife and two children. Jeff has crudely intolerant views on race and loudly voices these. One morning, Jeff wakes up and is horrified to find that he is now a Black man. He and his wife try to clean it off but it appears his entire skin has changed. Despite this, Jeff refuses to accept that he is now a Black man. As he returns to work, this has an effect, including having him being refused entry into clubs and forced to move out of his home by his neighbours.
---
Watermelon Man is a fascinating artifact from the 1970s. This was a period when the Civil Rights movement had just started to kick in in the US and the African-American population were achieving a relative degree of equality. It was an era when cinema started to celebrate the rise of the African-American as their own distinct social entity. The Blaxploitation film was popularised by Shaft (1971), which celebrated the Black man as an incredibly virile and cool hero, and produced a great many imitators.
Amid this, there were a great many films dealing with African-American social issues in the likes of Guess Who's Coming to Dinner (1969) and Putney Swope (1969). This was a period when even the casting of a Black hero in Night of the Living Dead (1968) or William Shatner and Nichelle Nichols kissing on screen in Star Trek (1966-9) was considered controversial. A number of films of this period dealt with people changing their race and ending up in other's bodies – the non-fictional Black Like Me (1964), the science-fiction film Change of Mind (1969) and on a less serious note The Thing with Two Heads (1972).
Watermelon Man was made by Melvin Van Peebles. Melvin is the father of Mario and has a minor career as an actor and a director. Melvin's directorial career is undistinguished – outside of Watermelon Man, his one other film of note is the subsequent Sweet Sweetback's Baadasssss Song (1971), which is regarded as the first Blaxploitation film. The two other Melvin Van Peebles films I would love to see would be Don't Play Us Cheap (1973), based on his own Broadway musical, about two demons who appear in human form at a Harlem house party, and Identity Crisis (1989) where Mario plays a rapper who ends up with the soul of a fashion designer in his body.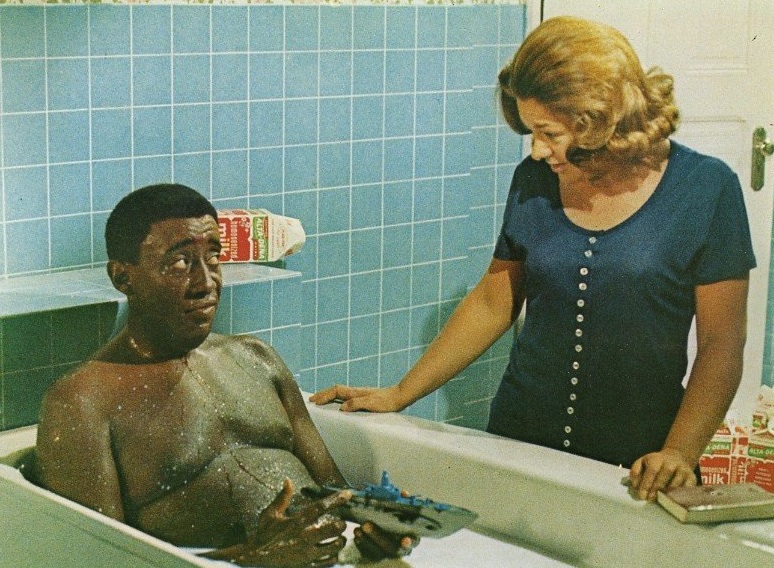 I felt disappointed with Watermelon Man. It could have been – and has often been seen as – a film that takes a savage bite out of race relations. Contrarily, Melvin Van Peebles spends much of the film with Godfrey Cambridge running around in an hysterically one-note performance that the film sustains on a single manic pitch. Much of the middle of the film seems to involve Cambridge in raucously loudmouth mode getting in people's faces about racial matters, doing comedy riffs on how he is "the Black Scourge", about tap-dancing lessons, women's fear of rape by a Black man and switchblade knives.
Van Peebles certainly gets a snapshot of the racial tensions of the day – the Watts Riots and fears about this plays out across tv; when Godfrey Cambridge goes into a convenience store, the clerk automatically raises his hands expecting a hold-up and so on.
However, what is missing is sociological bite – the film is all slapstick. The most the film seems to deal with big issues is one scene where Cambridge is turned away from a gentleman's club and another scene where Cambridge's neighbours buy his house, not wanting him in the neighbourhood. Certainly, in terms of sinking its teeth into race issues of the day and what it could have been, this is absurdly tame.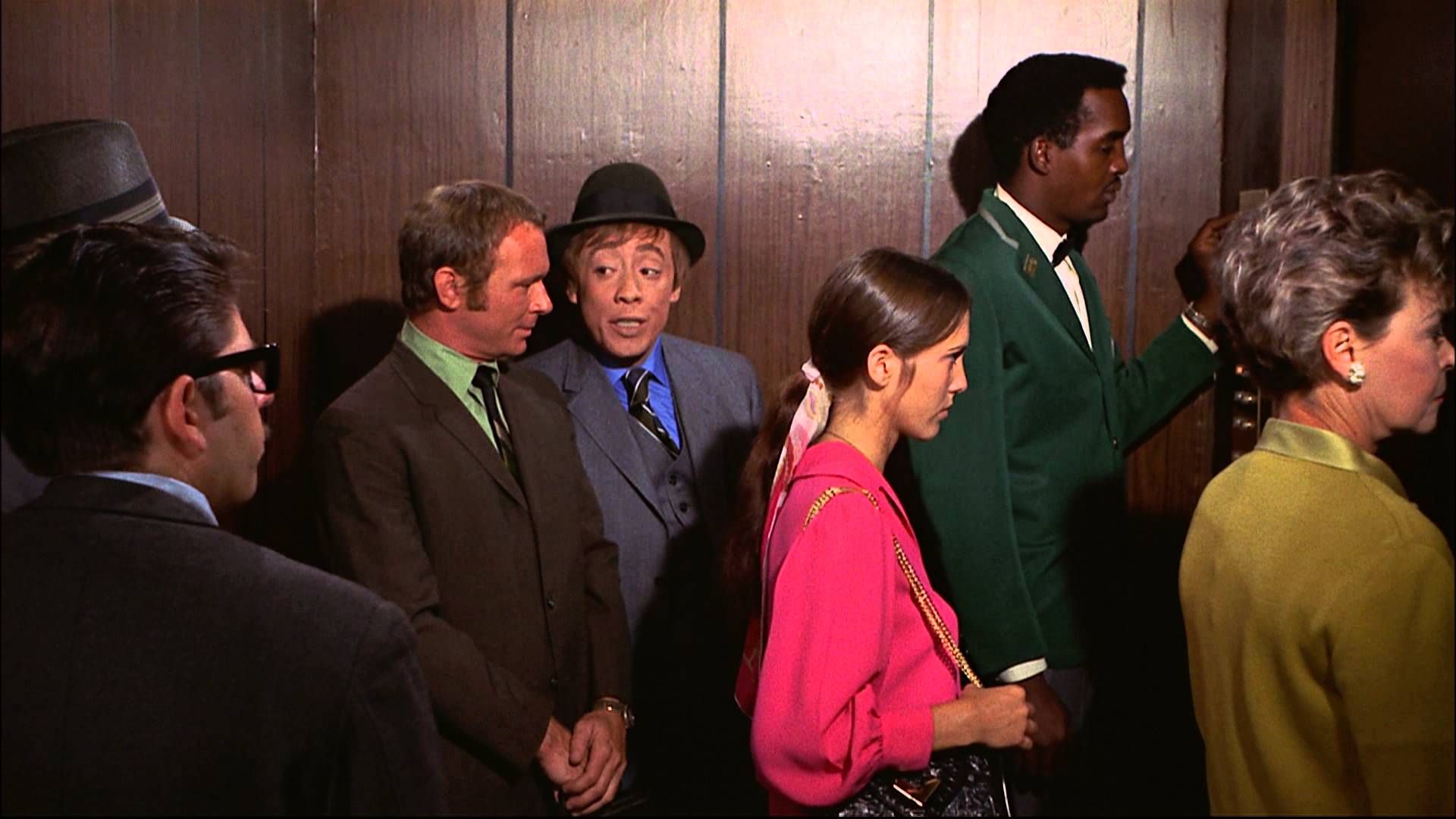 Moreover, in both of these scenes, the potential bite of the scene gets upstaged by Godfrey Cambridge doing his raucous, loudmouth thing. Cambridge keeps his motormouth sarcasm going through every scene – whether it be losing his job or being forced out of his house. What we end up with is not so much a social parable about the disparity between the white man's happy middle-class lifestyle and the Black man's disadvantaged lot but rather about how to keep up a barrage of wacky, acidic stand-up lines no matter what the circumstances. It is a film that might have worked as a stand-up comedy routine but fails as one that tries to make any message about social issues of the day.
The other complaint might be that Godfrey Cambridge does not look at all like a white man during the scenes where he is playing the middle-class Jeff. Cambridge's African-American features clearly show through and it merely looks like a Black man has been made up with white-faced makeup while still retaining the same bone structure and features. Similarly, in playing the white guy, Cambridge has made no effort to tone down his natural Ebonics. In contrast to almost any other bodyswap fantasy where someone ends up in another's body, this ends with Godfrey Cambridge still a Black man and not returning to his original body.
---