---
Crew
Director – Dorian Walker, Screenplay – Robin Menken & Vernon Zimmerman, Producers – Rafael Eisenman & Alana H. Lambros, Photography – Marc Reshovsky, Music – Richard Elliot, Songs – Larry Weir, Special Effects – Eddie Surkin, Production Design – Stephen Rice. Production Company – Trans World Entertainment.
Cast
Robyn Elaine Lively (Louise Miller), Zelda Rubinstein (Madame Serena), Dan Gauthier (Brad Powell), Joshua Miller (Richie Miller), Mandy Ingber (Polly), Shelley Berman (Mr Weaver), Dick Sargent (Frank Miller), Lisa Fuller (Randa), Marcia Wallace (Edith Malloy), Caren Kaye (Margaret Miller), Jared Chandler (David), Noah Blake (Rhet), Cindy Valentine (Shana)
---
Plot
Louise Miller is a nerdy teenager in California, unpopular and treated badly by others at school. After her bicycle gets a flat tire, she goes to the house of the fortune teller Madame Serena to call home. Serena recognises Louise's amulet and tells her it means she will have the powers of a witch when she turns sixteen in a few days' time. After her birthday, Louise starts to discover her powers, including transforming her annoying brother into a dog, causing a date to disappear and embarrassing a bullying teacher with a voodoo doll. She then decides she wants to cast a love spell on handsome Brad Powell and become the most popular girl in school.
---
There is claim made (at the IMDB) that Teen Witch was made as a female variant on the popular Michael J. Fox comedy Teen Wolf (1985) and its sequel Teen Wolf Too (1987). This seems an unsubstantiated claim – Teen Witch is not made by the same company, nor any of the same producers or features any of the personnel or cast from the Teen Wolf films. At best it can be considered a film attempting to exploit the same 'teen ____' title.
That said, Teen Witch follows the same essential story arc that both Teen Wolf films do – nerdy, bullied teenage underdog undergoes some type of fantastical transformation (becomes a werewolf/witch); much focus on the comical possibilities this presents in a US high school environment, including comeuppance against bullying students and pompous teachers; teen becomes popular due to their powers (here Robin Lively literally casts a spell to become popular) before finding that this can also be a curse and proceeds to win the girl/guy of their dream without their powers. There's also the arc familiar to 80s teen films where they learn that becoming popular means neglecting the best friend(s) they had when they were just regular nerds with the implication that everyone else's friendship was false.
Teen Witch is made with slightly more than a B budget but the effects are conducted on an economy budget – no more than some cheap animated flashes and stop-camera substitution effects like where Robin Lively turns brother Joshua Miller into a dog or causes nerdy date Jared Chandler to vanish. There is mildly more amusement to the scenes using a voodoo doll to embarrass bullying teacher Shelley Berman.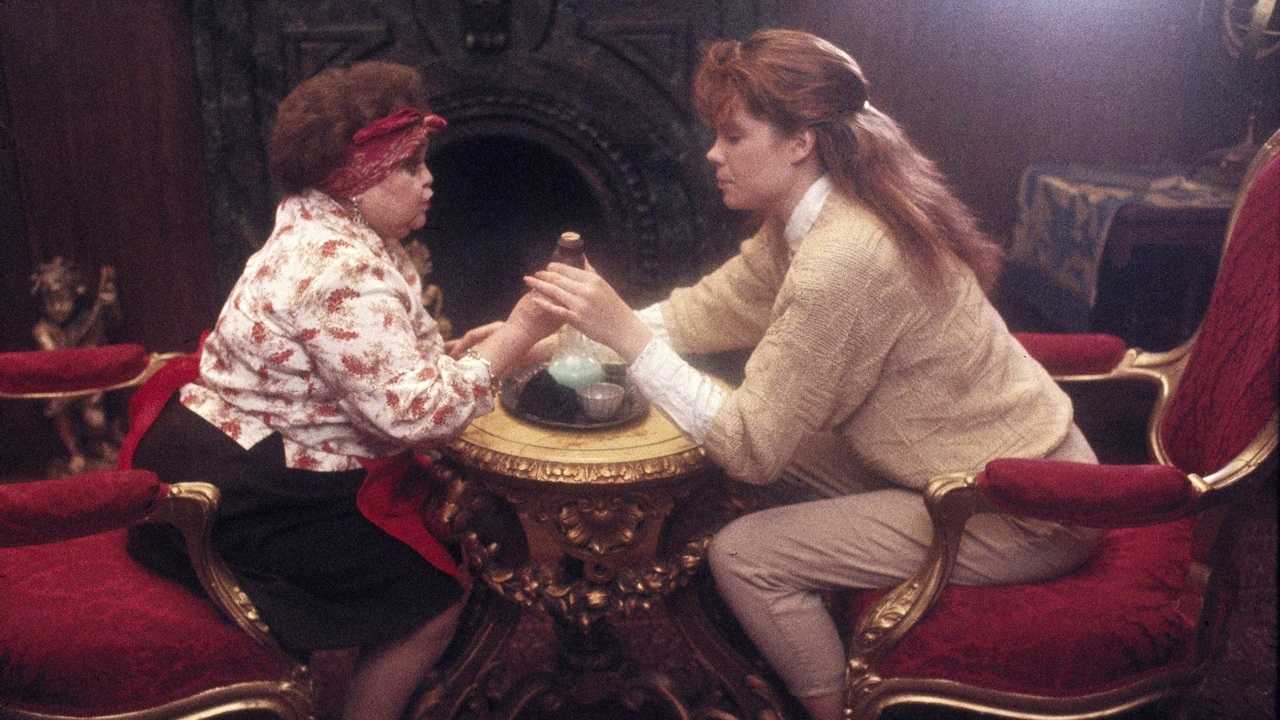 Everything runs in fairly predictable directions with easy gags like the aforementioned or one sequence where Robin Lively invites Dan Gauthier over to study and makes a big play out of having hidden all the chairs in her room to get him to sit on her bed and fall under the love spell. In one scene, Zelda Rubinstein even turns a frog into her own handsome prince – the gag is that he goes "ribbit" as she goes to kiss him.
Teen Witch is made with an amiable lightness that never gets particularly deep. The comedy routines are all familiar. Director Dorian Walker even has various cast members break into song and dance routines at various points. The rest of the film is showcase of all those things that were peculiarly 80s – spandex leotards, ghetto blasters, some early rap songs, and Cindy Valentine as a pop star whose look has clearly been modeled on early 80s Madonna.
Lead actress Robyn Lively (billed here as Robyn Elaine Lively) had a minor career as an actress since the 1980s, appearing in The Karate Kid Part III (1989), episodes of Twin Peaks (1990-1) and assorted other roles mostly in tv. Her most famous connection is that she is the older sister of these days high-profile actress Blake Lively. Zelda Rubinstein was the 4'3" actress who came to fame in Poltergeist (1982) and played in a number of genre films up until her death in 2010. Dick Sargent, who plays Robyn's father, was best known as the actor who became the second Darrin in tv's Bewitched (1964-72).
Director Dorian Walker never appears to have done much else of note. He had previously made the college comedy Making the Grade (1984) and the subsequent Civil War film The Greatest Adventure of My Life (2002). The more interesting name on the credits is that of Vernon Zimmerman whose main claim to fame is the almost culty Fade to Black (1980) about a psycho movie fan.
---
Trailer here
---