---
Crew
Directors – Derek Drymon & Jennifer Kluska, Screenplay – Nunzio Randazzo, Genndy Tartakovsky & Amos Vernon, Story – Genndy Tartakovsky, Producer – Alice Dewey Goldstone, Music – Mark Mothersbaugh, Visual Effects Supervisor – Seth Maury, Animation – Sony Pictures Inageworks, Senior Animation Supervisor – Dylan Reid, Production Design – Richard Daskas. Production Company – Sony Pictures Animation.
Voices
Andy Samberg (Jonathan), Brian Hull (Dracula), Selena Gomez (Mavis), Kathryn Hahn (Ericka), Jim Gaffigan (Van Helsing), Steve Buscemi (Wayne), David Spade (Griffin), Keegan-Michael Key (Murray), Brad Abrell (Frankenstein), Molly Shannon (Wanda), Fran Drescher (Eunice)
---
Plot
It is the 125th anniversary of Hotel Transylvania and Dracula is preparing to retire and hand the hotel over to Mavis. However, Dracula cringes at seeing Jonathan's bumbling attempts to add to the revelry. After Jonathan learns of Dracula's pending retirement, Dracula abruptly changes his mind and makes up a story to say that Transylvanian laws forbid transferring property from monsters to humans. A disconsolate Jonathan wanders into the laboratory of Van Helsing who shows him a crystal ray that can transform humans into monsters. He uses it on Jonathan who is delighted to grow scales, claws and a tail and turn into a monster. When Dracula finds out what has happened, he grabs the ray and turns it to the reverse setting and pursues Jonathan through the halls of the hotel, trying to return him to human before Mavis finds out. However, Dracula ends up zapping himself while another shot ends up in the punch bowl where the irradiated water is drunken by Wayne, Frankenstein, Griffin, Murray and Blobby who are all returned to their original human selves. As Dracula tries to reverse this, he finds the crystal is out of energy. And so the now-human Dracula and the monstrous Jonathan set out on an expedition into the South America jungle to find a replacement crystal, all without alerting Mavis what is going on.
---
Sony Pictures Animation's Hotel Transylvania (2012) was a reasonable box-office hit. The basic premise took the Famous Monsters – Frankenstein's monster, the mummy, the Invisible Man et al but especially the Adam Sandler-voiced Dracula – and put them through a series of light-hearted comic escapades. This led to two sequels Hotel Transylvania 2 (2015) and Hotel Transylvania 3: Summer Vacation (2018) featuring the return of all the principal talents, as well as an animated tv series Hotel Transylvania: The Series (2017-20). Transformania is the fourth film in the series. Although originally as such, this was the only of the Hotel Transylvania films not to be given a theatrical release due to theatrical closures during the pandemic and premiered directly to the Amazon streaming service.
Transformania is the first of the series to be made without Genndy Tartakovsky, the director of all three previous entries, in the driver's seat, although Tartakovsky is present in terms of co-writing the screenplay, coming up with the story and as executive producer. The most notable absence is Adam Sandler who voiced Dracula in all the other films and is replaced here by Brian Hull who does a perfect mimicry of Sandler's outrageously fake East European accent. Also absent is Kevin James who voiced Frankenstein in all the other films and is replaced by Brad Abrell.
It can fairly much be said that if you enjoyed the other Hotel Transylvania films then you will probably enjoy Transformania as well. It offers much the same mix as before – cartoonish versions on the Famous Monsters in a series of light-hearted slapstick sequences; more extruded dramas set around the family and characters that had been established by the previous films. On the other hand, I don't count myself as a fan of the series. I prefer my Famous Monsters threatening and scary as they were back in the original Universal and Hammer incarnations, not turned into some toothless parody aimed at family-friendly audiences. That said, the series is popular, with each of the previous films having earned between $350-550 million worldwide at the box-office.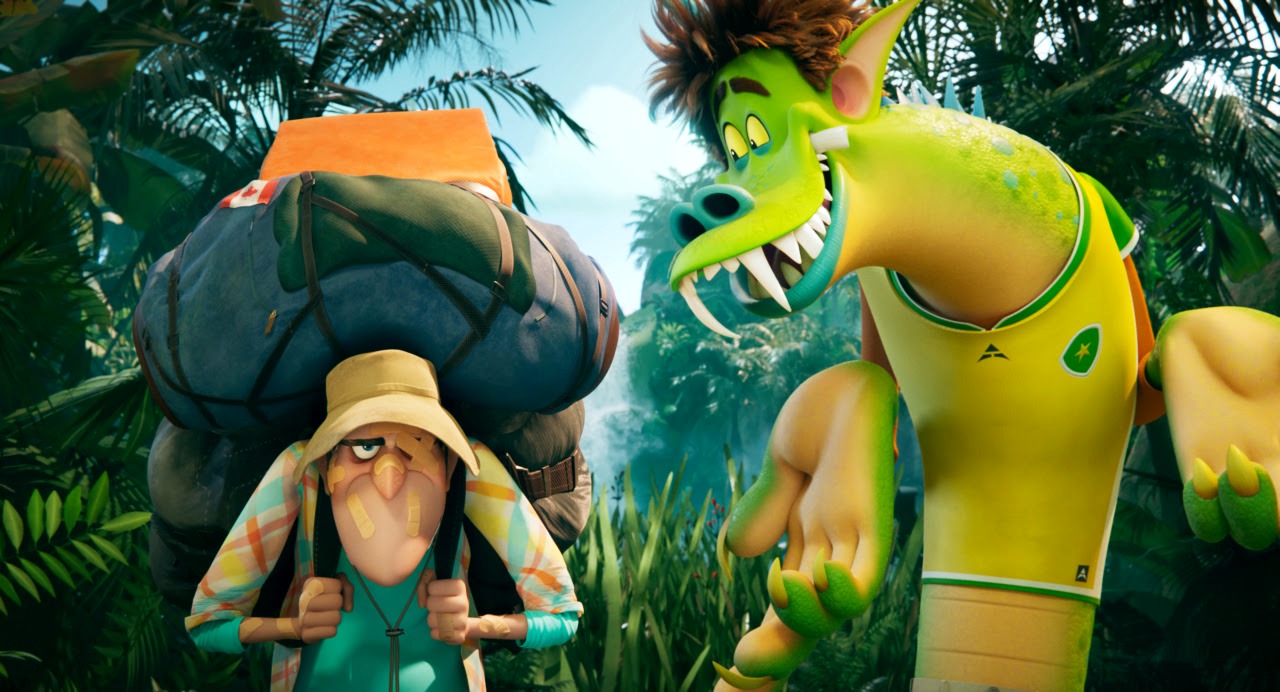 I have been critical before of how modern Animation has moved from creating a series of artistically beautiful and emotionally tender works during the Golden Age of Disney (1937-42) and Pixar (1995-2009) to name the two most prominent eras to animation as business to lure family audiences with familiar characters and easy comedic escapades. The sequels to Blue Sky's Ice Age (2002) reach a particular nadir in this case. The films become creative dead-ends through the need to constantly bring the same characters back and find more things for the growing ensemble to all do, which in most cases proves to be the unimaginative thing of settling down, having families and then the children going off on their own adventures. I used to enjoy watching animation but this low-effort creativity based around finding a hit intellectual property and then endlessly extruding it in minute variations has switched me off wanting to cover many of the animated films in recent years.
It often feels that these animated series end up creatively straining for ideas of what to do with their characters. They will throw in a new character – a parent/grandparent, a previously unknown relative, a love interest – or else will take the ensemble of characters on a journey – where they go on a holiday/road trip or some plot complication where they are uprooted from their familiar surroundings and forced to relocate. Or you can go the desperate extent of a film like Shrek Forever After (2010) and do a It's a Wonderful Life (1946) and spill over into an alternate timeline where the central character never existed. Transformania operates in the same space where its basic conception is the idea of turning the familiar characters on their heads and asking what would happen if the monsters were turned into humans and the one human turned into a monster. While you can gain very mild amusement out of seeing what the Invisible Man looks like, what is under Murray's bandages and so on, this is a lame idea that smacks of creative desperation.
Outside of the upending of its characters, Hotel Transylvania: Transformania seems to only be strung out around a series of slapstick set-pieces – Dracula chasing Jonathan around the hotel with the raygun; Van Helsing rearranging his mechanical parts to fit through a series of narrow crooks and crannies in his laboratory; more silliness with the gremlin-flown airline; the cave of collapsing crystals at the climax. Much of the middle of the film is stretched out around a series of sequences charting the miseries of the newly human Dracula as he passes through the jungle, dealing with mosquitos and swamps, falling from mountain-tops unable to fly and the like. I have zero enthusiasm for going and rewatching the other Hotel Transylvania films but I don't remember this slapstick element being allowed to take over them as much as it does here. It all reaches a predictably banal character redemption where Dracula realises the error of his ways.
---
Trailer here
---