---
Canada. 2011.
Crew
Director/Screenplay – Bruce Ramsay, Based on the Play by William Shakespeare, Producers – John Cassini, Jacqueline Gould & Bruce Ramsay, Photography – Michael C. Blundell, Music – Schaun Tozer, Visual Effects – Etch Media, Production Design – Paul Joyal. Production Company – Hamlet Productions
Cast
Bruce Ramsay (Hamlet), Lara Gilchrist (Ophelia), Peter Wingfield (Claudius), Gillian Barber (Gertrude), Duncan Fraser (Polonius), Haig Sutherland (Laertes), Russell Roberts (The Ghost), Stephen Lobo (Horatio), John Cassini (Butler), Brent Stait (Rosencrantz), Martin Sims (Guildenstern)
---
Plot
Hamlet returns home to the family home of Elsinore following the death of his father, the king. His mother Gertrude has remarried his uncle Claudius within a matter of weeks, much to Hamlet's disfavour. Hamlet is then visited by the ghost of his father who tells how Claudius poisoned him while he slept. Hamlet becomes haunted by the knowledge of Claudius's guilt at the same time as wondering if he is not going mad.
---
This Canadian production is something like the 150th film version of William Shakespeare's Hamlet (1602). Hamlet is thought in some academic quarters to be the greatest play ever written. The classic film versions are regarded as Laurence Olivier's Hamlet (1948) and Kenneth Branagh's Hamlet (1996). The problem with any story that is retold so many times is in each version finding some new spin to put on the tale, while at the same time remaining faithful to the essence of the text, especially something that is in held in such high regard as Shakespeare that almost mandates a word-for-word faithfulness. As with viewing many other multiply adapted versions of popular stories – see the genre likes of Frankenstein (1818), Dr Jekyll and Mr Hyde (1886) and Dracula (1897) – is that being a reviewer aiming for completism leaves each version with an over-familiarity after you have seen a few of them.
This version is directed, written and the title role played by Canadian actor Bruce Ramsay, known for genre roles such as the lead character and his ancestors across different eras in Hellraiser: Bloodline (1996) and as the Conquistador Pizarro in Riverworld (2010). Bruce Ramsay shot Hamlet on a budget of $27,000 on a three-day shooting schedule using the historic Hycroft House in Shaughnessy, British Columbia as the sole setting.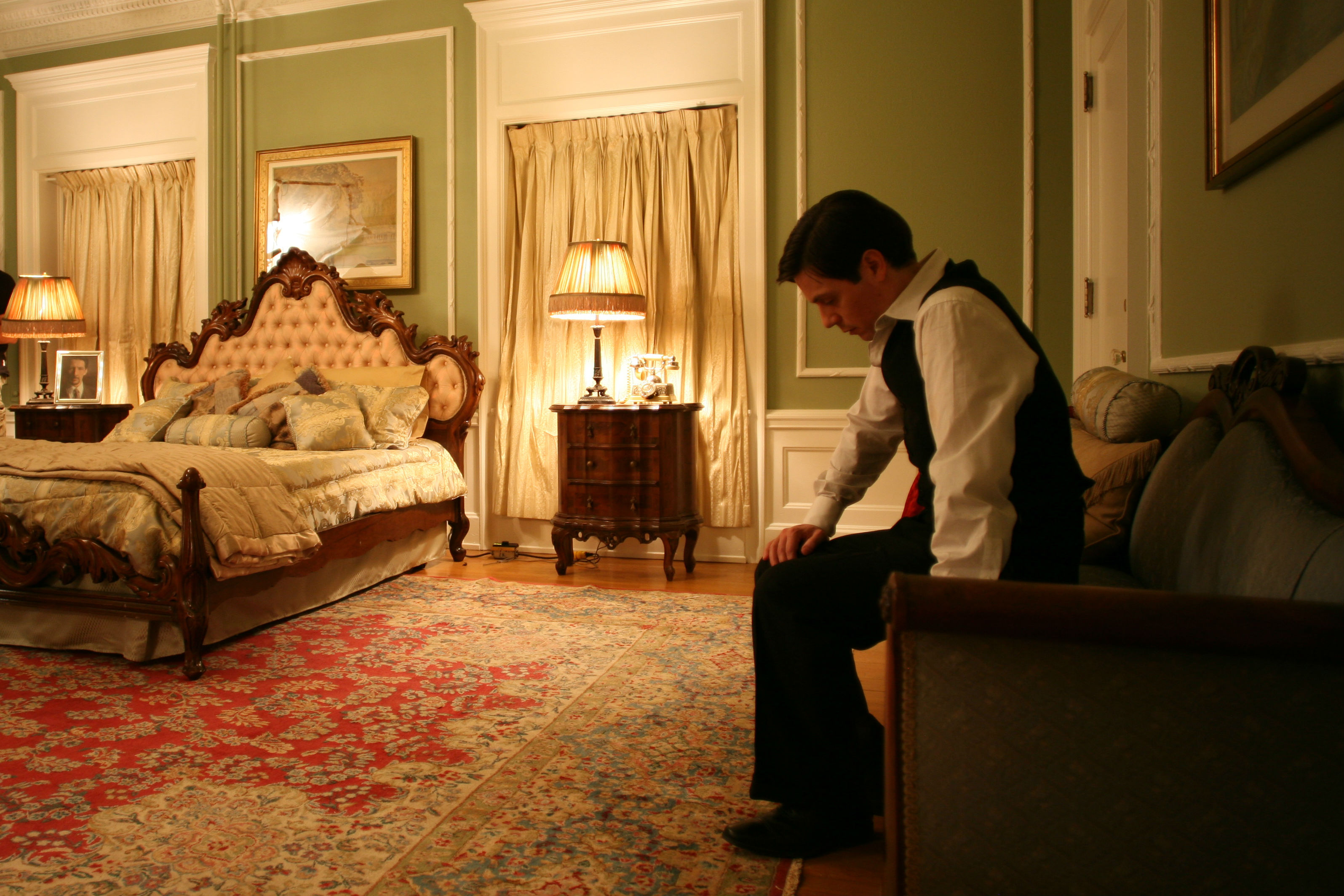 Ramsey has made a number of changes to the original text to offer up a stripped-down production of Hamlet that is minus several scenes – by his own admission in order to fit the film around the location and to give the story more psychological immediacy. He states that he wanted the entire film to take place (somewhat improbably) with a 90-minute timeframe. He has also updated the play to a 1940s setting, even though the characters still speak Elizabethan English.
I ended up being disappointed by Bruce Ramsay's Hamlet. For any Shakespeare adaptation, the question automatically becomes one of what the film does to give the text something new. The genius of Kenneth Branagh's Shakespeare adaptations – Henry V (1989), Much Ado About Nothing (1993) and his Hamlet, which remains the definitive film adaptation in this author's opinion – is that he gave Shakespeare a visual dynamism and for the first time opened the plays up to work as films. Previous Shakespeare adaptations up to that point had felt to a large extent like the camera was doing little more than filming a stage production.
The problem for Bruce Ramsay is that he is attempting to make his Hamlet after Branagh made his version and only ends up standing in the other work's far superior shadow. Moreover, while Branagh and the other Shakespeare adaptations of the 1990s/00s made a virtue out of cinematically opening Shakespeare up, Bruce Ramsay goes the other way – in constraining Hamlet to a single location he takes it back to being merely a filmed stage play once again. There is the odd scene where Ramsay lets his Hamlet work as a film – Hamlet's amusing amateur staging of the play-within-the-play The Mousetrap, Ophelia's meltdown – but mostly the film is unexceptional. The appearances of the ghost remain disappointingly corporeal and earthbound.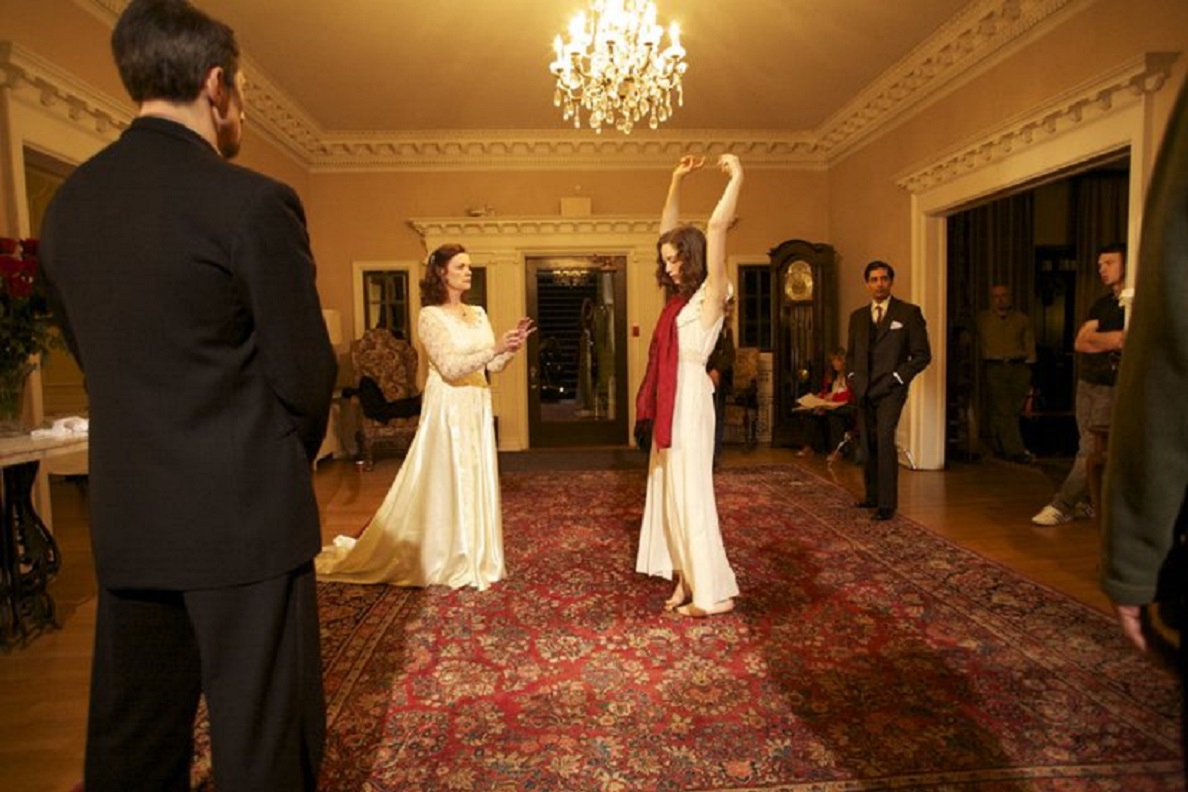 Moreover, the low-budget nature of this version of Hamlet works against it. Bruce Ramsay has appropriated a 1940s setting but with such a change you keep asking why. The way the film was pitched in the Vancouver International Film Festival program, it gave the impression that what we would be seeing is a film noir version of Hamlet – an idea that seems filled with intriguing possibilities.
Such however is not the case. At most, what it feels is that Bruce Ramsay has transplanted Hamlet into the setting for an Agatha Christie murder mystery – an idea that also has intriguing possibilities. However, with the film's rushed shooting schedule and the at times obvious looking set dressings, the feel is more like the cast have been placed in rented period costumes and are playing out parts in a Murder Mystery Weekend.
---
---